Your yoga teacher has you continually moving from tree pose to downward dog to warrior, and the sweat and oils from your body transfer to your mat and start to build up. Yoga offers a series of movements and postures that are beneficial for the mind, body, and spirit. As yoga becomes increasingly popular, so does the demand for knowing how to clean a yoga mat.
Finding a yoga class online is now just as easy as attending your local yoga studio. Whether you practice ashtanga vinyasa, Bikram, or hot yoga, knowing the best way to clean your yoga mat keeps you from slipping during yoga practice and coming in contact with bacteria and fungi.
Cleaning a yoga mat is done in a variety of ways. Many of us walk around our home and yard barefoot. Combine what household dirt is on our feet with sweat and dead skin cells from physical activity, and you've made an enticing breeding ground for bacteria.
These things start to grow, and soon enough, your skin may break out or become exposed to plantar warts, ringworm, athlete's foot, and other skin rashes and issues.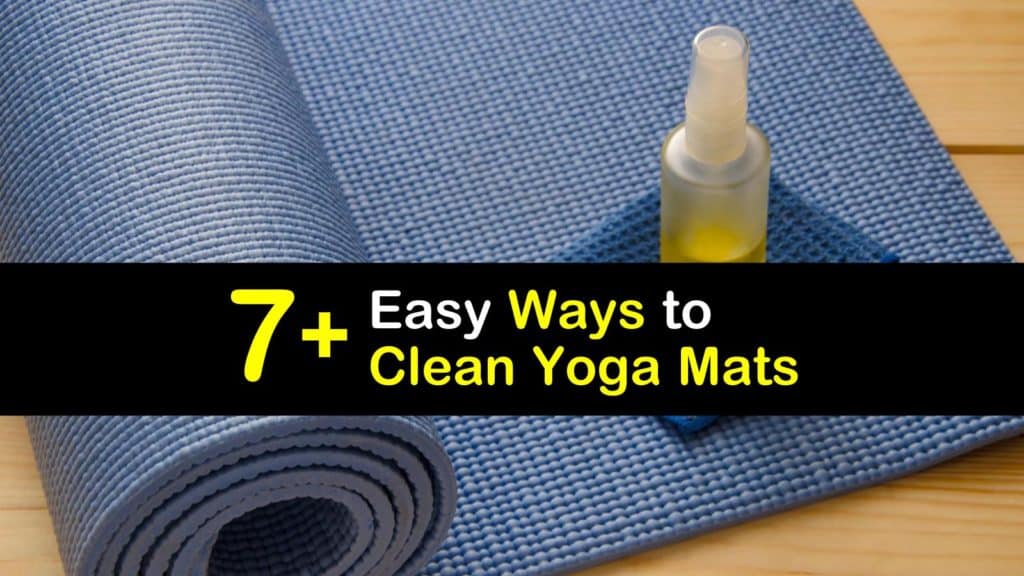 Finding the Best Way to Clean Your Yoga Mat
There are tons of different yoga mat materials that all require various cleaning methods. Always check the manufacturer's guidelines. These recommendations provide you with material make-up and proper care and cleaning instructions.
PVC is one of the most common yoga mats. These mats are non-porous and don't absorb liquids. Polyurethane mats are porous, which makes them non-slip. Because of the pores, they become ruined if soaked in water and accept spraying only.
Natural rubber mats are also popular in the yoga world. These are meant to biodegrade over a long period and require extra caution when cleaning.
Cork yoga mats are also standard. They are naturally antibacterial but also require gentle handling when cleaning. If you haven't bought a yoga mat yet, ask your yoga teacher for suggestions.
Discovering the best way to clean your yoga mat is all dependent on the mat you have. Using a homemade yoga mat cleaner is both cost-effective and straightforward. The proper cleaning care extends the life of your mat and makes your classes more enjoyable.
How to Clean a Yoga Mat
Ideally, you clean your yoga mat after each use. However, we know that not a lot of people have the time to do that. Once you finish your class, it's time to hop in the shower and run off to work or other obligations.
If you use your mat several times throughout the week, it's safe to assume that your mat requires a good cleaning at least once per month, just like when cleaning a silicone phone case. This number, of course, is adjustable based on the number of times you use it.
Soaking Yoga Mats
Before you submerge your yoga mat in water, double-check that it won't get damaged. The more grime you see on your mat, the longer time required for soaking. Soap and water go a long way with basic rubber mats and PVC mats.
Fill your bathtub halfway with warm water. Add a mild detergent like dish soap or laundry detergent until suds begin to form. Sprinkle about a tablespoon of baking soda into the water.
Submerge the yoga mat in the liquid and let it soak for five to ten minutes. Use a soft cloth to scrub the grime while the mat is in the tub. Drain the dirty water from the tub and rinse the mat with fresh water.
Lay a large, soft towel on the floor next to the tub. Lift the mat out of the bathtub and allow extra water to drain while you hold it in the air. Lay the mat on the towel and roll them together to remove excess moisture.
Unroll and flip the mat to repeat on the other side. Place the mat on a drying rack or drape it over another surface to air dry. Your yoga mat received a deep clean without being damaged in the process.
This mixture is also appropriate for cleaning silicone rubber like on phone cases.
Regularly Cleaning a Yoga Mat
Every time you use your mat, you transfer dirt, sweat, and oil onto the material's surface. These break down the material. Sometimes a quick wipe is all your mat needs to maintain its integrity.
A homemade sanitizing spray recipe is a great way to remove recently transferred oils and dirt. Store-bought cleaning products may contain ingredients that degrade the mat's material, so making cleaners yourself is always ideal.
Combine all listed ingredients in a spray bottle. Shake well and spray the mixture all over the mat. Let the spray sit for five minutes. Use a damp cloth to scrub away grime and remove the leftover spray.
Finish by letting your yoga mat air dry. The tea tree oil helps remove rubber smell from a yoga mat while the witch hazel sanitizes.
Try this simple recipe as a mattress spray, too, if your bed has started smelling a little musty or has a lingering odor of urine.
Using Wipes to Clean Yoga Mats
A quick way to clean your yoga mats is to wipe them down after each use. Disinfecting wipes and baby wipes require only a few passes over the mat to remove sweat and oils immediately after a class. Simply grab a couple of wipes, gently scrub the entire mat, and let it air dry.
Hose Your Mat Down
Before using this cleaning method, make sure your yoga mat is composed of a material that is safe to use with water. Take the mat outside and use the garden hose to spray down the mat.
If necessary, use a damp cloth to scrub grime that won't come off. Rinse again with the hose water and let air dry in a cool, shady area.
Cleaning Yoga Mats in the Washing Machine
Most yogis avoid using the washing machine to clean their mats, but sometimes they require a more in-depth cleaning that isn't always achievable with a hand wash. First, check to make sure your yoga mat is machine washable.
If it is, wash the mat on your machine's gentle cycle. Hang on a laundry rack to air dry. Yoga mats last much longer with less exposure to the washing machine, so only do this if it's necessary.
Aside from causing your mats to degrade more quickly, some fibers found in yoga mats are not suitable for the environment and should be avoided as much as possible.
Cleaning Yoga Mats with Vinegar
Always double check to make sure vinegar is safe to use on the material of your mat. Sometimes the acids in white vinegar degrade the fabric.
Because vinegar has hefty cleaning qualities, this cleaning product is also safe for disinfecting a mattress. Instead of combining in a bowl, mix in a spray bottle and dab the stained areas.
To treat sweat stains and other issues with your yoga mat, mix equal parts water and apple cider vinegar in a medium bowl. Dip a clean rag in the liquid and ring it out to remove excess moisture.
Use the damp rag to scrub away dirt and grime on the mat. Fill another bowl with hot, clean water. Dunk a clean cloth in the water and thoroughly wipe away the vinegar-based cleaner to get rid of the vinegar smell.
Simple Soap and Water Cleaning Recipe
One of the most popular and the best way to clean your yoga mat is often with a pure soap and water combination. Dish soap has degreasing qualities that tackle tough dirt and grime in no time. Use this most basic recipe to get stains off a yoga mat quickly and easily.
In a large glass bowl, combine warm water and a few drops of dish soap. If you'd like, add a few drops of your favorite essential oils to remove rubber smell from a yoga mat.
Dip a sponge in the bowl and scrub your yoga mat with the soapy water. Use a clean rag to rinse the suds off the mat. Dry with a paper towel.
Use this same simple solution for how to clean a cricut mat and other rubber-type mats around your home. Most stains don't stand up to soap and water.
How Storage Impacts Cleanliness of Yoga Mats
Yoga mats can be kept clean based on your storage methods. Bacteria and fungi prefer warm, damp environments. Before you store your mat, make sure it is completely dry to prevent mildew and mold growth. Always place your mat in a dry and clean area.
Sometimes a yoga studio offers communal mats. If that's the case, always bring a disinfecting wipe to clean your mat before and after each use and let it dry before rolling it back up.
Store-Bought Cleaners
If you are not interested in making your own cleaner or taking the time to hand wash your yoga mat, there are tons of yoga mat cleaners on the market.
Find these products for sale online, at your local studio, or the local sports equipment store. Most of these cleansers are cheap and quick to use.
Above all else, always protect yourself from potentially dangerous bacteria and fungal infections. Cleaning a yoga mat often takes only a little amount of work for continuous health benefits.
Finding the best way to clean your yoga mat is all dependent upon your lifestyle and cleaning preferences. Many choose to sanitize their mats immediately after class, while others prefer to do one deep cleaning each month.
Regardless of what you decide to do, none of the cleaning methods in this article disappoint you. Getting rid of the dirt, grime, sweat, and oils that come with practicing yoga has never been this easy.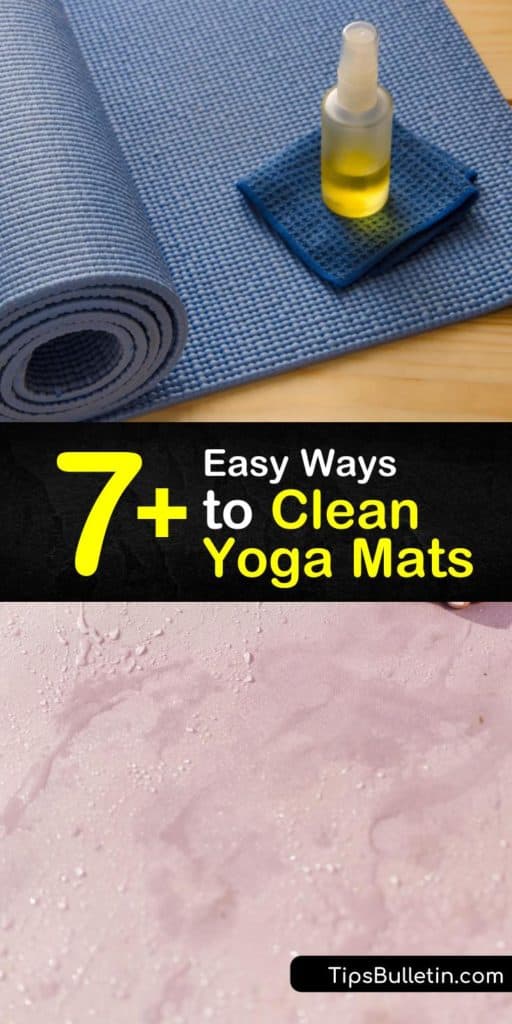 If learning how to clean a yoga mat has prolonged your mat's life span, feel free to share these yoga cleansers on Facebook and Pinterest.