People who are looking to find a new, relaxing hobby often turn to painting. Acrylic painting is one of the first types people start with, but the quick drying time might cause issues whether you're a novice or someone with a little more experience. Learning how to clean acrylic paint off brushes will save you from wasting paint and spending extra money on more art supplies.
When you remove acrylic paint from brushes, it's important to get as much color out as possible so that the brushes' integrity holds up longer and makes them usable again.
Learning how to clean dried acrylic paint brushes may seem daunting. Cleaning wet paint is one thing, but cleaning paint after it dries is a whole new challenge. With these clean-acrylic-paint-brushes methods, you can care for your art supplies properly.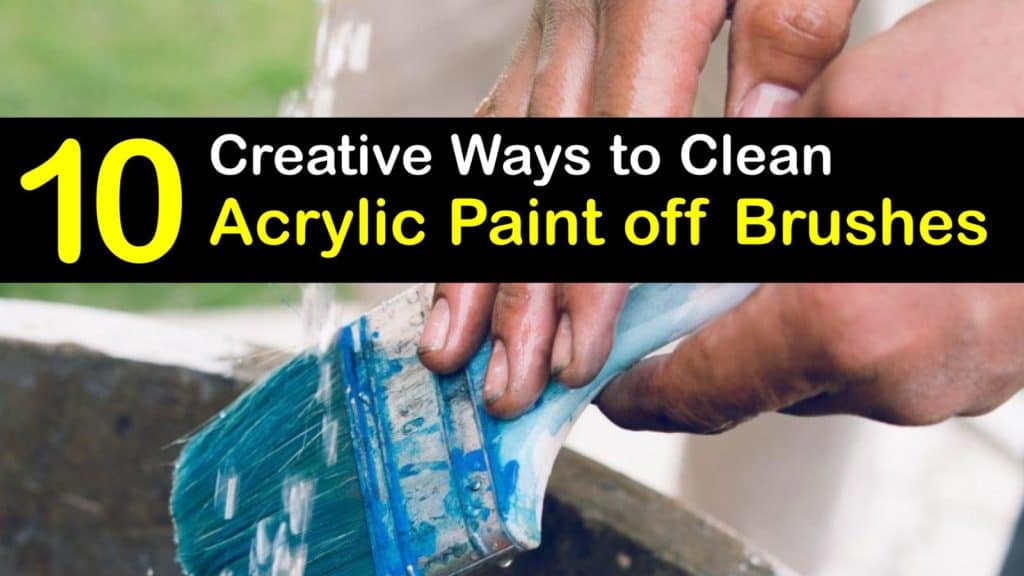 What is Acrylic Paint?
Acrylic paint is water-based paint filled with pigment particles and is typically made up of pigment, binder, and vehicle. Pigments are small granules that give the paint its color.
Binder keeps the pigment in place after the acrylic paint dries, and most acrylics use polymer as the binder. The vehicle is the part of the paint that holds both the pigments and binder together.
Water-based acrylics use water as the vehicle, which eventually evaporates and leaves behind only the pigment and binder.
Some people love acrylics because they dry quickly, are flexible, and clean up easily with water. They also stick to nearly any surface and have minimal fumes, so they don't require a well-ventilated area when working with them.
Other types of paint, like oil paint, take much longer to dry, which is either a good or bad thing, depending on the artistic work you want to create. Because of acrylic's fast drying time, you must work quickly to remove acrylic paint from brushes so they don't get damaged.
How to Clean Acrylic Paint off Brushes
Dried paint isn't as easy to remove as wet paint, and clean up should start immediately after a painting session if possible.
Many factors go into properly cleaning paint brushes, so skim through these tips on how to clean acrylic paint off brushes to use all your art tools properly.
Types of Paint Brushes for Acrylics
Using acrylic paints requires you to understand the difference between natural and synthetic brush bristles.
A natural bristle brush uses natural hair and is favored by many people because it holds up well to the heavy texture of paint and keeps its shape longer.
Synthetic brushes use synthetic bristles and come in a range of options, from soft to stiff. Synthetic brushes are more suitable for acrylic painting because they hold up better in water.
Acrylic paints require water to clean them because they contain water. Synthetic bristles hold up much better than natural hair that absorbs moisture, and causes them to swell and get damaged.
Natural brushes cleaned with something other than water repel the acrylics, and the paint won't stick well to the brush if they are not thoroughly cleaned.
Natural hair brushes might not be the go-to for acrylic painters, but they hold up to harsh chemicals used to clean them, while synthetic ones might dissolve or break down over time.
Whichever brush you choose, make sure that you know how to wash and care for them correctly.
How to Remove Acrylic Paint from Brushes
Take care of cleaning paint brushes right after finishing a painting session because acrylic paint dries faster than other types.
Start by wiping off all the excess paint from the brush on a clean paper towel or dry rag. Keep brushing the bristles on the towel until the brush no longer leaves behind pigment.
Once there is no color coming off your brush, dip it into a cup of cold water and swish the bristles gently on the bottom for several seconds.
Wipe the wet brush once more on a clean paper towel until no pigment shows and repeat as often as necessary until all the pigment in the brush is removed.
Cleaning Paint with Soap and Water
Soapy water is one of the best tools to use when cleaning paint from your brushes as well as to get acrylic paint off concrete. Turn your faucet on to dispense lukewarm water and hold the brush under it for about ten seconds.
Remove the paint brush from the water and put a small amount of gentle hand soap on it. Rub the brush in small circles and lather it in the palm of your hand to remove the paint. Rinse the soap again under running warm water until all the suds are gone.
Complete this process as often as necessary until all the color is gone. Dry the brush on a clean cloth and use two fingers to pinch the bristles to form them into an ideal shape and remove excess water. Store the brushes horizontally so they don't get bent out of shape for your next painting.
How to Clean Dried Acrylic Paint Brushes
If the paint has already dried and has a lot of buildup, you might not be able to use water to clean the brushes anymore. Finding a more potent solvent to clean dried acrylic paint brushes is the only way to salvage them.
Acetone is a common household ingredient that you might have stashed away in your medicine cabinets. Nail polish remover contains acetone and is safe to use on your brushes.
Fill an old container with a small amount of acetone and swirl the end of your brush in the liquid. Rinse the bristles under hot water and repeat the process until all the paint comes out of the brush.
Avoid the Ferrule
The metal ferrule of the brush is the part that holds the bristles to the handle. This area of the brush has bristles that are tightly packed together. The more paint you get into that area, the harder it is to remove.
Messes happen when painting, and it isn't always easy to use caution when you find yourself in a groove, but keeping paint away from the ferrule will make your brushes last a lot longer and keep them clean.
Cleaning Brushes with Rubbing Alcohol
Isopropyl alcohol or rubbing alcohol is another strong solvent that breaks down wet and dried paint on brushes. To make a homemade acrylic paint brush cleaner, fill a small bowl with some rubbing alcohol. Rinse your brush under warm water and swirl it in straight rubbing alcohol.
Rinse the brush once more, replace the old alcohol with fresh alcohol, and rinse it again in the alcohol. Use soap and water to remove excess alcohol so it doesn't dry and damage the brush.
Cleaning Brushes in Lacquer
Whether you call it lacquer thinner or paint thinner, this is one of the most obvious solutions for getting dried paint out of a brush or to clean dried paint rollers.
Rinse your brush in a few inches of lacquer thinner, and rinse it under some water. Shake out the excess moisture and repeat the process as many times as needed until all the pigment is gone. Wash the brush in soapy water.
This solution is the most popular to get oil paint out of brushes. Always use in a well-ventilated area.
Using Vinegar on Paint Brushes
You might find a tutorial on the internet that shows you ways to clean dried acrylic paint brushes, but few recommend using vinegar to clean them. Vinegar is perfect for breaking down hardened substances and helps lift the dried paint from the bristles.
Fill a small saucepan with equal parts water and white vinegar and bring it to a boil with the brushes in it. Remove the small pot from the heat and let it cool for three minutes before taking your brush out and rinsing it under warm water.
Use your fingers to comb the bristles out. If any more pigment comes off, dip the end of the brush in the vinegar again and rinse it once more.
Reshape Your Brushes
After so many uses, your paint brushes tend to become damaged and fray at the ends. Instead of giving them a haircut and destroying them even further, it is possible to reshape them.
Dunk your brushes in a pot of boiling water and use two fingers to pinch the ends and remove the excess water. Depending on the type of brush, they should either come to a point or have a clean, flat end.
Conditioning Paint Brushes
To help your brushes stay clean and last longer, don't forget to condition them before and after using them.
Conditioner enables you paint with smoother lines but also doesn't clog the pores of the bristles. If your pores clog too quickly, they become even more difficult to clean later.
Trying to remove acrylic paint from brushes isn't always the most effortless process. Sometimes you must cut your losses and splurge on some new art materials.
When you know how to clean and care for your art supplies properly, you can save some money and create a painting that is even more beautiful.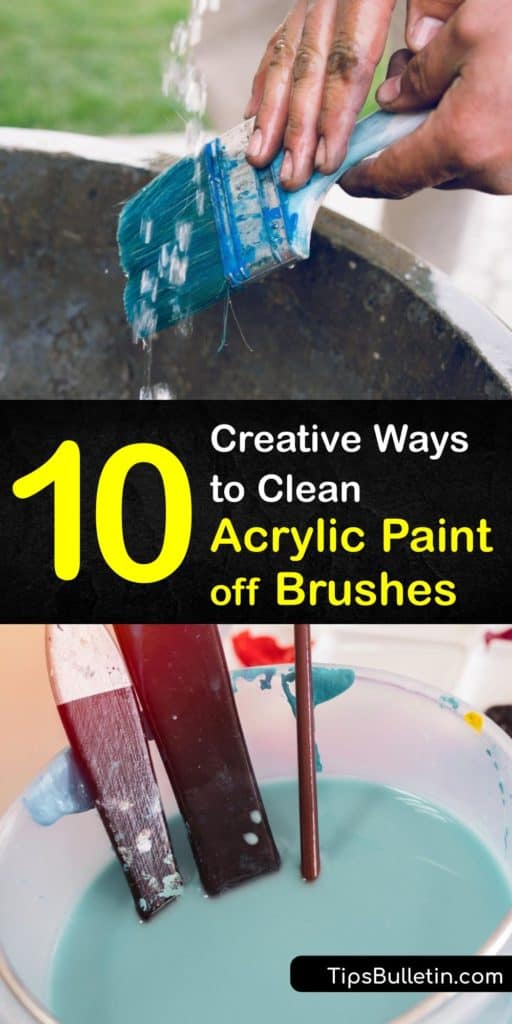 If these tips for how to clean acrylic paint off brushes have helped you prolong a trip to the art store, share these ways to clean dried acrylic paint brushes on Facebook and Pinterest.