Aluminum cookware allows us to enjoy restaurant-grade cooking equipment at home; it heats quickly and evenly and is often oven-safe. But, aluminum pots and pans stain as easily as cast iron or stainless steel, and it's crucial to know the best cleaning approach to use on them. Knowing how to clean aluminum pans prepares you for any stains, gunk, and grime that you encounter.
When you have a plan for cleaning aluminum pans, they stay looking spotless and beautiful. Our guide helps you ensure that you have good-looking and stain-free pots and pans all year long.
We show you how to clean aluminum pots with time-tested daily cleaners, and you also get options for heavy-duty cleaners that can handle the worst buildup and tarnish. Our article provides you with tools to clean burnt aluminum pots and bring them back from the dead. It's the ideal addition to your home care toolkit.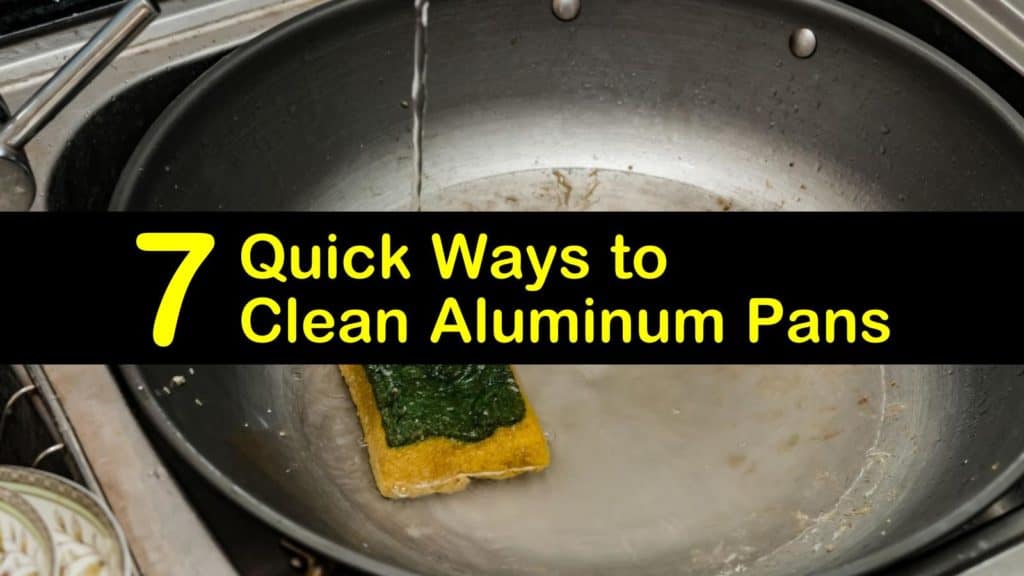 How to Clean Aluminum Pots and Pans
When taking on a household task, whether it's discovering how to clean aluminum pans or finding out the best way to grease a cake pan, the most straightforward choice often works best. There's no need to reach for the most robust cleaner right off the bat when you want to get aluminum pots clean.
Cleaning Aluminum Pans – Daily Treatments
This section examines clean-aluminum approaches that are gentle enough to use every day if needed but can deep clean a baking pan if needed. The cleaning solutions in this portion of the article get aluminum clean under most circumstances, and you probably already have the ingredients for them in your cupboard.
Hand Wash the Cookware in Soapy Water
The dishwasher might not be able to deal with the sorts of burnt-on food and grime that aluminum nonstick cookware accumulates in the oven and on the stove top.
Instead, use elbow grease, warm water, and mild dish soap to get the aluminum clean and sparkling. You can use the same process when you clean brushed aluminum – just be sure to go with the grain to avoid scratching it.
Hand washing your aluminum is easy if you avoid using cleaners and equipment that might damage the metal. Don't clean the pots with a scouring pad that includes an abrasive such as steel wool; if you do use a scrubbing pad, make sure it's aluminum-safe.
Avoid cleaning with bleach or oven cleaner, both of which eat into aluminum and cause pitting. Dish soap and a nylon scrubbing pad are often enough to clean baked on grease from pans. However, if you encounter a stubborn patch, try one of these recipes below.
Treat the Aluminum with Vinegar
Vinegar is one of our most prized home remedies for all sorts of homemaking challenges, including removing tarnish from brass and preventing insect invasions. It's just right to get your aluminum back into fighting form, too. Use vinegar to deal with stuck-on food and other organic stains in aluminum pots.
To clean cast aluminum or other aluminum pieces, put on the gloves first. When cleaning a pot, fill it with vinegar so that it covers the stained area. Place the container on the stove top over a burner set to medium heat and let the mixture bubble for ten or so minutes.
Pour out the vinegar, let the pan cool for a minute, and scrub it with a sponge or soft cloth. Rinse with dish soap and clean water.
For other aluminum cleaning, scrub the item with a vinegar and water mixture, then use the dish soap and water to wash and rinse. Dry thoroughly to keep from getting water spots.
This recipe is also one of the best ways to clean aluminum windows. Scrub the metal surface and rinse well for a nice shiny window frame that complements your sparkling windows.
You can also use a double or triple mixture of this recipe to clean aluminum siding with vinegar. Add the solution to a pressure washer or scrub it in by hand. Rinse well after application.
Try it as one of the ways to clean an aluminum trailer, too. Vinegar is such a versatile product that it can be used for almost everything.
Give Your Pans a Peroxide and Baking Soda Poultice
Hydrogen peroxide is a strong cleaner that knocks out stains in a hurry, and the addition of baking soda multiplies this cleaning product's power. This cleaner is one of our main standby selections and is perfect to remove oxidation from aluminum, as well as regular cleaning.
Combine the peroxide and baking soda into a paste, and use a sponge or scrubber to spread it over any stains. Wait ten minutes, then scrub at the dried paste to crumble it away and clean the pan surface. Rinse with hot water.
This solution is one of the ways to clean rust from aluminum, as well. After cleaning, rub just a little oil on the surface of the aluminum pan to deter further rust formation.
How to Clean Aluminum Pans
Most of the time, our daily cleaning options are all that's required to keep your aluminum gear in top shape. Tougher stains occasionally arise, though, and those circumstances call for more potent solutions.
Cleaning Stubborn Stains
In this portion of the guide, we look at ways to bring your aluminum sink, aluminum baking pans, and other aluminum surfaces back from the brink. We give you a recipe for a dynamite homemade aluminum cleaning solution as well as one that turns salt and hot water into powerful cleaning tools.
Use a Dryer Sheet
Dryer sheets are a fantastic hack for a few different homemaking tasks, like sharpening scissors and removing toilet rings. They also work magic on scorched food in aluminum pans. Cleaning a burnt pan with a dryer sheet is easier than you might imagine.
Place a dryer sheet in your pot or pan, and add enough cold water to cover the stuck-on stain by a few inches. Wait an hour. Clean the pot in soapy water to remove lingering chemicals from the dryer sheet.
Hit the Stains with Boiling Water and Salt
When combined with heat and water, salt does a fantastic job of eating away at stains on aluminum. The next time you square off against a stain, give this simple and effective treatment a try. Add a piece of aluminum foil to the mixture to give your pans new shine.
For cleaning a burnt cookie sheet or one with heavy grease stains, fill the pan or pot with water deep enough to cover the stuck-on food or discolorations, and add two teaspoons of salt.
Add the foil piece, if you wish. Boil the salt solution for 15 to 20 minutes. Pour out the liquid, let the pan cool, and clean as usual.
Clean the Pans with a DIY Cleaning Solution
Our homemade aluminum cleaner eats through organic matter and leaves the pots and pans looking gorgeous. We prefer using cream of tartar for an extra cleaning boost, but replacing it with either lemon juice or white vinegar works well to handle stains, too.
Fill the stained pan with water, and add two tablespoons of cream of tartar. Stir the water to combine the ingredients, and place the pan or pot on the stove top. Boil the cleaner for 15 minutes. Drain the container, allow it to cool, and clean it as you usually would.
Use this simple recipe to clean oxidized aluminum wheels and restore their brilliant shine, too. They will look like new again in no time at all. For stains on your boat, use this recipe for a simple homemade aluminum boat cleaner, too.
Make Your Pots Shine with Bar Keepers Friend
If you're plagued by aluminum with persistent stains, use Bar Keeper's Friend to give the pans a silver polish-like gleam. Whenever you clean with Bar Keepers Friend, give the cleaned surfaces a good wash with soapy water afterward.
Wear gloves and all other safety gear when using commercial polish and follow the manufacturer's directions to ensure their customer support department is there for you if you require them.
We hope you had a top-notch experience reviewing our aluminum-cleaning suggestions. Aluminum cookware makes producing gourmet-level meals a breeze, but burnt-on food and other stains ruin them in a hurry. Our examination of ways to clean aluminum helps to keep your pots and pans spotless.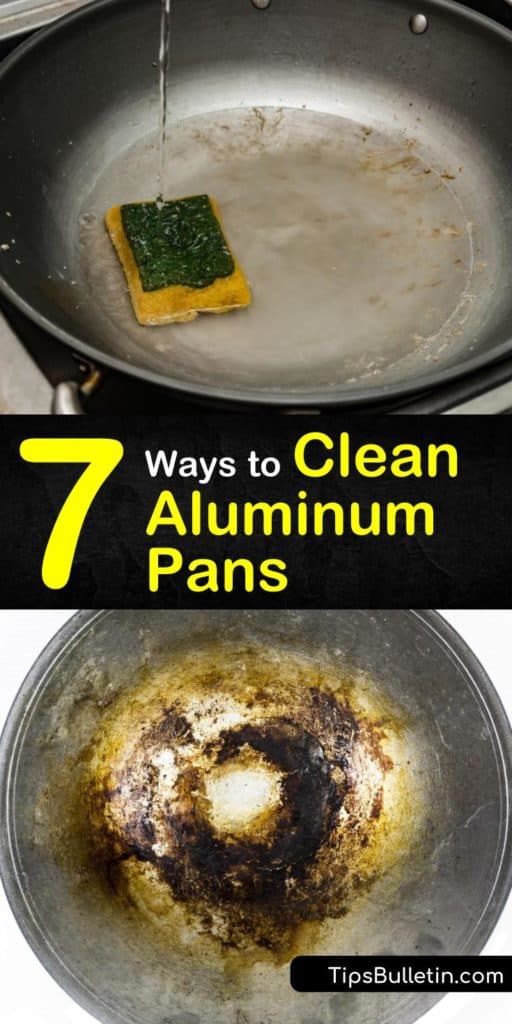 Thanks for reading our pan care methods. Help other DIYers learn how to clean aluminum pans by sharing this educational pan-cleaning guide on social media platforms like Pinterest and Facebook.