Are you confused about how to clean aluminum patio furniture? Aluminum furniture is the go-to for outdoor spaces; it's stylish and sleek and adds interest to any area. It's also durable, and your aluminum seating will withstand the test of time better than other popular outdoor furniture options, like teak wood furniture or wicker arrangements.
Perhaps you sat down for brunch recently and noticed a bit of rust is starting to form or an unsightly stain. Furniture left outdoors has to tolerate sunlight and humidity, which eventually takes its toll on the stunning look your metal patio furniture used to have. Dirt and moisture degrade outdoor materials quickly, turning cute, thoughtfully curated aluminum patio pieces into dingy junk.
Thankfully, cleaning aluminum patio furniture is a breeze and is simply done with everyday household items. Discover how to wash aluminum patio furniture so you can freshen up your outdoor area and make it look picture-perfect.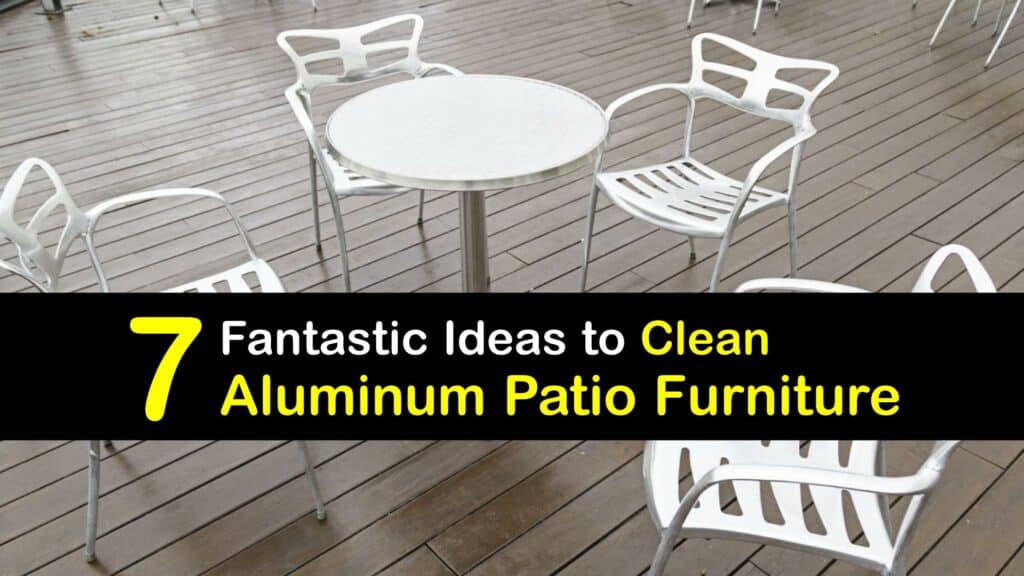 How to Wash Aluminum Patio Furniture
Metal furniture needs routine maintenance to keep its luster and shine. Knowing how to clean aluminum patio furniture is the difference between tossing it early from damage or years of enjoyment.
Find out how a few household items mean the difference between dingy outdoor furniture and a stunning brunch venue. Dish soap, white vinegar, olive oil, and even a potato make cleaning aluminum patio furniture easier than you may have thought. The best part is you won't have to run to the store for ingredients.
How to Clean Aluminum Patio Furniture With Dish Soap
The first hack on this list uses something that generally any household has on tap – dish soap. A soft cloth and a pail of warm, soapy water might be just what you need to get unseemly stains off your patio furniture.
Since dish soap is a mild detergent, it's gentler than abrasive cleaners. It won't degrade your powder coated aluminum, and the soapy water is excellent for cleaning plastic outdoor furniture as well. Try scented varieties for a fragrant finish to your cleanup job.
White Vinegar Makes Cleaning Aluminum Patio Furniture Simple
Calcium buildup is something to look out for when cleaning cast aluminum patio furniture. The chalky white residue, or limescale, consists of calcium carbonate and is a consequence of lasting hard water damage.
The acetic acid in white vinegar destroys calcium deposits and dirt. A white vinegar and water cleaner helps to scrub the unseemly grime without risking the metal of your patio chairs.
Mix the white vinegar into water, and use a microfiber towel to clean off your metal furnishings. White vinegar is also great for removing mold and mildew.
Use the cleaner and a soft cloth to give your non-aluminum outdoor items a wipe-over to keep your space clean and tidy. Be careful not to clean painted tables and chairs with white vinegar because it may loosen the paint and ruin the finish.
Washing Aluminum Patio Furniture
Unlike traditional chlorine bleach, oxygen bleach is approved for use outdoors as its only byproducts are oxygen and water. You may already have oxygen bleach in the laundry room. Grab a bucket, brush, and oxygen bleach to eliminate sap, dust, and grime from patio furniture quickly.
Dip the soft bristle brush into the oxygen bleach mixture and scrub filth off your stainless steel or aluminum patio furniture. Hose the metal off, and leave it to dry before covering or storing.
Polish Outdoor Aluminum Furniture
Save money and a trip to the hardware store to polish and clean tarnished aluminum. Create your own aluminum furniture cleaner with everyday ingredients from the pantry and kitchen, and use olive oil as a metal polish.
Fill a bottle sprayer halfway with water and white vinegar, then add a few drops of dish soap. Before spraying the mixture onto the metal surface, shake the container to combine the ingredients. Wipe away debris, filth, and stains using a soft cloth.
Pour olive oil onto a microfiber cloth and buff the metal surface in circular motions to bring out the inherent sheen of the aluminum. After wiping off the entire surface, rub away any greasy residue with a soft, clean cloth.
No olive oil polish is needed for aluminum furniture with powder coating. Help brighten aluminum with a homemade polish. Try using baby oil as a "polish" for textured finishes to prevent dirt from clinging to the frame
Removing Rust From Aluminum Patio Furniture
Rust converters come in aerosol cans, similar to spray paint, and provide a rapid solution to oxidation. A rust converter is ideal way to fix rust on oxidized aluminum patio furniture or remove rust from a surface, especially if you intend to paint your garden furniture once the rust has been removed.
If your chair has cracked or peeled paint, sand it with steel wool before administering the converter according to the manufacturer's directions. Spray rust converter onto the corroded metal to turn it into a protective layer.
If you're still struggling with rust or oxidization on patio furniture, follow our easy ways to fix aluminum that has oxidized and keep your furniture looking clean and new.
Cure Cast Aluminum Patio Furniture of Oxidation
It may seem odd, but a potato, dish soap, and salt are an excellent aluminum restoration cleaning solution. Potatoes are sources of oxalic acid, a key component in many cleaning treatments to remove rust. The potato method is a convenient way to remove rust from your furniture without relying on toxic solvents or chemical cleaners.
Cut the potato in halves, apply dish soap to the cut portion, and sprinkle with salt. Scrub the rusty stain with the potato cut side down. The salt is a mild abrasive as it dissolves, and the mild soap and oxalic acid soften the rust. Thoroughly rinse and dry your aluminum outdoor furniture. Repeat the procedure if rust spots remain.
Commercial Cleaners for Aluminum Patio Furniture
Consider purchasing a commercial cleaner if you don't feel confident using a home remedy to get rid of dirt on aluminum patio furniture. Sometimes the odd chair or table may need a tougher chemical cleaner to get the job done, so take a trip to your local hardware store to peruse your options.
Be aware of manufacturer guidelines and the safety warnings on the product label. Select a cleaner safe for aluminum and test it in an inconspicuous region before making a widespread application.
Did this article help you figure out how to wash aluminum patio furniture? The sleek metal design of aluminum patio furniture is gorgeous, durable, lightweight, and easy to clean.
A filthy patio set dulls your outdoor space and deters you from spending time there. Don't toss your patio table if the finish starts to look worn. Use proven hacks to make cleaning your aluminum garden furniture a breeze.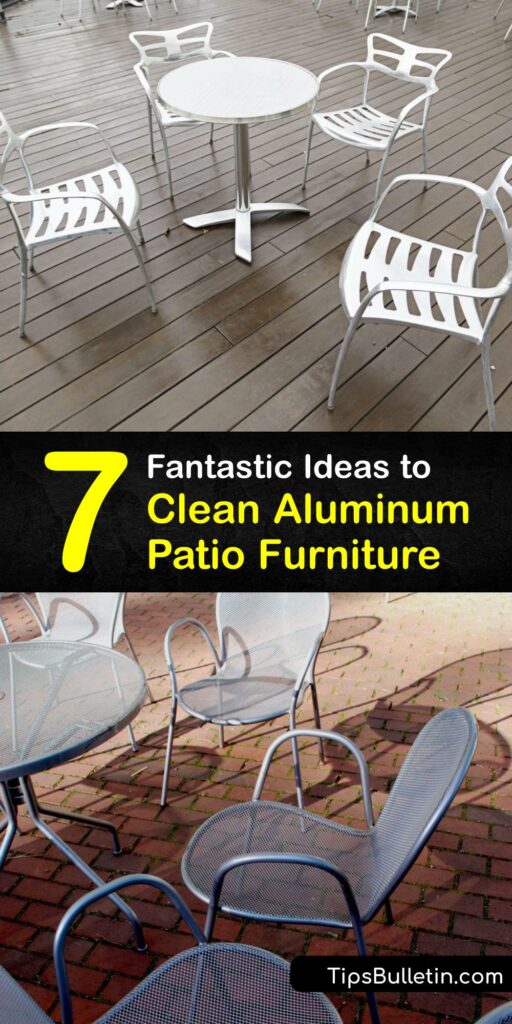 If you loved this explanatory article on how to clean aluminum patio furniture, please share it with your friends and family who are cleaning aluminum patio furniture on Pinterest and Facebook.