Aluminum siding is a home investment worth maintaining for a beautiful house. The material requires little care to appear its best, making it an excellent choice. Compared to vinyl siding, learning how to clean aluminum siding is much easier.
Aluminum is also much more low maintenance and inexpensive. Keeping the siding in proper condition means you'll clean it once per year to get rid of debris and dirt build-up. But, as with everything, issues arise sometimes.
You may face more stubborn cleaning if you see things like chalking, mold, and mildew. Each problem comes with different cleaning methods and materials. Do you know how to perform regular cleaning and remove severe mildew? There are many ways to try.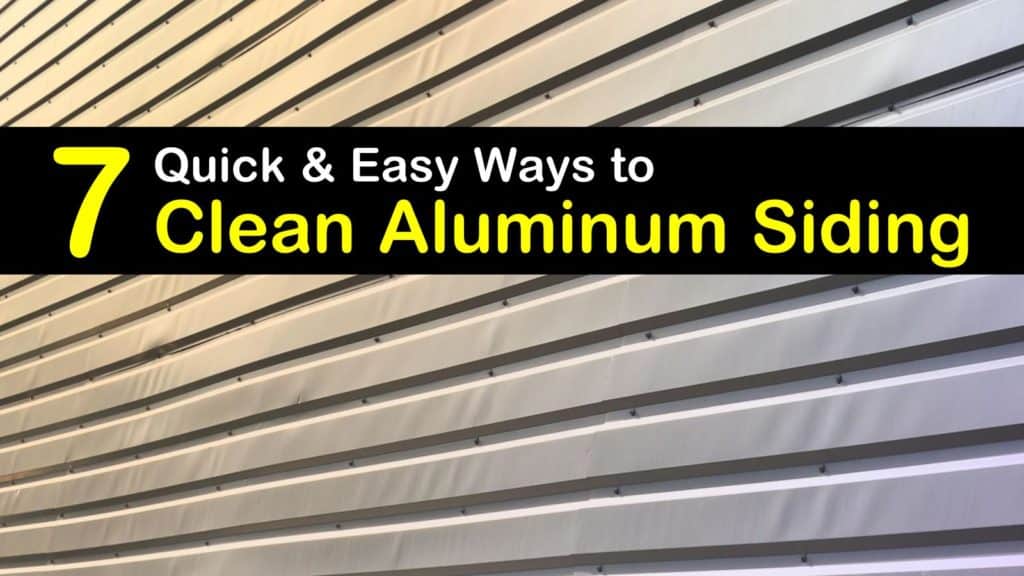 Quick & Easy Ways to Clean Aluminum Siding
We'll show you tricks you may not know already, from making homemade aluminum siding cleaner to learning how to remove mold from aluminum siding. Whether you prefer homemade or store-bought cleansers, we have an option for you.
Before you clean the siding, prepare your house. Close all the doors and windows, so water doesn't get into your home. Clear any items away from the area that your cleaning solution may damage, cover outdoor plants nearby with plastic.
Collect safety gear like goggles and gloves if you plan to use chemicals. Once you gather the cleaning tools, begin rinsing the siding with warm water first.
Use either a pressure washer on the low-pressure setting or a traditional garden hose to dislodge the grime. Power washing on high-pressure may dent your aluminum siding. Next, you're ready to scrub.
How to Clean Aluminum Siding with Laundry Detergent
After your home and items around it are safely put away, grab the laundry detergent for scrubbing your siding. You have a few choices. Use either liquid or powder detergent as long as it mixes well.
There are also eco-friendly alternatives like nontoxic laundry detergent or trisodium phosphate, also known as Borax, which is water-soluble. A power washer makes this process fast and easy, but a soft brush works too.
Make sure the pressure washer has the right degree nozzle to prevent damage. If you can't find a soft bristled brush with a long enough handle, try using a mop or wrap an old towel on a broom.
Fill one of your five-gallon buckets with water and laundry detergent, mixing to create soapy water. Grab the scrub brush, dip it in your soapy water, and begin scrubbing from the top down.
Use a garden hose or pressure wash on a low-pressure setting to dislodge grime or get paint off vinyl siding and rinse the soapy water away as you work your way down the siding. Move around your entire house, continuing to clean a three to a five-foot section at a time.
Large homes may take a while. If you're pressure washing, the process is much shorter. Not power washing may require you to use a ladder as well.
If you have some textured aluminum furniture or decorations outside, you can also use this remedy to clean hammered aluminum. A hose rather than a pressure washer is likely better in this situation.
You may also modify this recipe for mold and mildew or for removing rust from aluminum surfaces. Add one part bleach and five parts water to the bucket and remove mildew using a scrub brush.
Homemade Aluminum Siding Cleaner
There are many ways to make homemade aluminum siding cleaner, from scrubbing with cream of tartar to lemons. However, you can also use rhubarb or tomatoes as an unusual cleaning agent to clean aluminum siding.
For any of these cleaning solutions, fill a bucket with water from your garden hose. Add in a few stalks of rhubarb, tomatoes, or lemons and boil the mixture. Turn off the heat and allow the liquid to cool before scrubbing your siding with it.
Clean Aluminum Siding with Vinegar
If you adore do it yourself house washing solutions and cleaning products, try to clean aluminum siding with vinegar. It helps the metal not to corrode or tarnish over time. Sometimes soapy water just isn't enough to restore the shine. Plus, vinegar is a perfect cure for light or medium staining.
Use a vinegar mixture to clean an aluminum boat with accumulated grime and salt. The vinegar shines it right up.
As one of the ways to clean brushed aluminum or another aluminum surface, combine a few slices of fresh lemon, vinegar, and warm water in a five-gallon bucket. Directly scrub the aluminum siding with a soft scrubber dipped in the mixture.
Rinsing with the solution may also help remove soap scum if you started with the laundry detergent method. How much you use depends on the size of your home.
Using vinegar is often the best way to clean aluminum rims on your vehicle, as well. Make your rims shine with the rest of your car.
Remove Mold from Aluminum Siding with Borax
Banish light mildew, mold, and chalky build-up from aluminum siding or other metal siding by cleaning with trisodium phosphate or Borax. Like using homemade deck cleaner with Borax, there are eco-friendly alternatives for cleaning without bleach or store-bought chemicals.
Trisodium phosphate is powerful, so be cautious. It can strip paint and pose health dangers. Wear goggles and protective clothing, and cover the windows with plastic.
Use either the bucket and brush method or apply diluted Borax directly from a sprayer. A power washer is an ideal tool for added safety. They're available for rent from home centers near you.
Start by combining the Borax and water in a bucket. Pour it into a power washer or use a soft bristles brush to scrub problem spots.
Clean Aluminum Siding and Stubborn Mildew with Bleach
For stubborn mildew or heavy staining, bleach is perfect. It even removes mildew from vinyl siding. Always wear protective clothing and read warning labels before use for the best results.
To remove aluminum oxidation and get rid of an unsightly rust stain, mix two parts water and one part bleach in a bucket. Add ⅓ cup of laundry detergent if desired. Clean the siding or clean aluminum doors by scrubbing each section at a time, dipping your cleaning tool in the mixture. Rinse thoroughly with the garden hose.
Bleach helps you tell the difference between mildew and grime as well. Dab a little bleach directly on the troubled area. If the color lightens, it's mildew. If the spot stays dark, it's only dirt. A detergent like Spic and Span also helps you determine the difference.
Clean Chalky Aluminum Siding with Cleaning Products
The white, chalky residue on your siding often takes place from weathering, mildew, or exterior paint chipping. It's not hard to clean oxidized aluminum patio furniture or siding if you have the right materials.
Spic and Span detergent or trisodium phosphate may help a chalky appearance, but stubborn stains are tough to clean without cleansers from your local home improvement or hardware stores.
Clean chalky aluminum siding with a store-bought product, following the directions on the label carefully. Always rinse your siding thoroughly and use protective gear.
How to Use Store-Bought Cleaners
Head to your local hardware store for cleanser designed to tackle mold and mildew. If you don't already own one, buy a soft brush to scrub with as well. Avoid tough bristles, which can cause scratches.
Rinse the siding first. Apply your cleaner following the directions, and scrub from the top down. Rinse again after cleaning each section, or the solution may dry and leave a residue or drip marks down the side.
Avoid spraying water directly on doors and windows. There's a chance that water may leak inside.
Vinyl Siding vs. Aluminum Siding: What's Easier to Clean?
Vinyl siding is more durable than aluminum. While vinyl siding traditionally requires less maintenance than aluminum, aluminum is more cost-efficient.
You may spot treat and rinse aluminum slightly more to prevent mold and mildew. Cleaning aluminum siding is also easier with natural options like vinegar, but are not ideal for vinyl.
When Do You Call a Professional?
If you can't tackle a huge problem using any of the methods above, seek advice. Professionals are there to help. You may feel like calling a professional to handle cleaning if you.
Search for professionals on Angie's List or Home Advisor. Call local companies for quotes in your area.
How Do You Clean Siding Less Often?
To clean siding less, try prevention. Sometimes another problem causes mold and mildew issues. Prevent these issues down the road.
Inspect your home regularly. If you do notice a threat to your aluminum siding, treat the issue immediately.
Regular Care Leads to Ever-Gorgeous Siding
Whether performing regular maintenance or a full-on home improvement project, scrubbing aluminum siding regularly is ideal. The cleaning process is easy enough for just about anyone. Deep-clean siding once per year, spot treat small issues before they grow, and try pressure washing the siding often for the best results.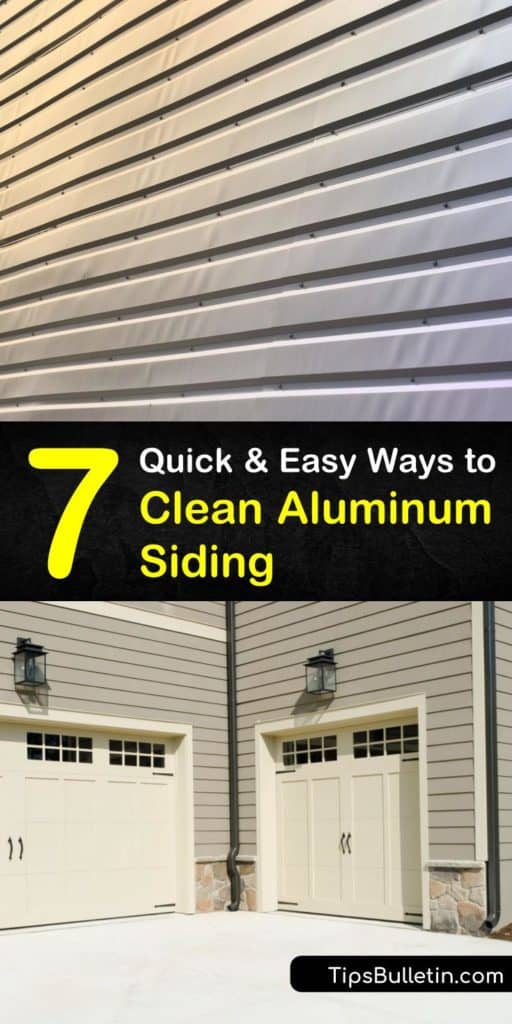 How often do your friends and family clean their siding? If you found these tips on how to clean aluminum siding helpful, please share our homemade aluminum siding cleaner recipes with your friends and family on Facebook and Pinterest.