When you decide to purchase a trailer, you'll have to give it regular upkeep. Learning how to clean aluminum trailers the right way is vital for keeping your trailer looking great and having it last a long time.
There aren't infinite ways to clean an aluminum trailer, but there are some tips that keep your trailer looking well-maintained. Frequent washing and polishing enhance your aluminum trailer's appearance, but it adds resale value if you no longer require one or want to purchase a new one.
Whether you bought your trailer from big brands like Aluma or GMT or purchased used from a dealer or friend, giving aluminum the love it deserves ensures that you'll love your aluminum trailer right back.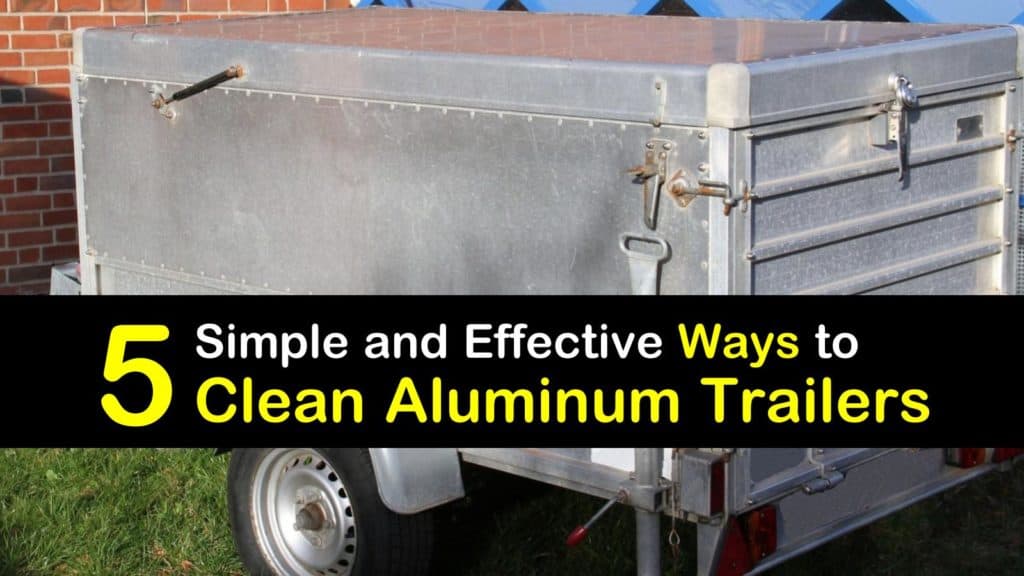 Ways to Clean an Aluminum Trailer
A homemade aluminum trailer cleaner works on pontoons, horse trailers, RVs, and other large aluminum products. No matter how big or small your aluminum cleaning project is, it's essential to have your trailer look clean and safe for use.
There are a limited amount of ways to clean an aluminum trailer or for cleaning aluminum boats and other large items. When doing things like cleaning aluminum horse trailers, it's crucial to get a strong understanding of the type of material you're working with.
Aluminum isn't only used as the foil that you wrap around containers of leftovers. This element is the second most abundant metal found in the Earth's crust. It is found in packaging, automobiles, phones, aircraft, appliances, and more.
Don't mistake aluminum for stainless steel, either. They may look similar in appearance, but aluminum is just as sturdy while being lighter in weight.
When it comes to purchasing a trailer, most consumers choose aluminum for its light frame and durability. There are plenty of DIY aluminium cleaner and polish recipes out there, and finding your favorite shouldn't take too long.
Once you begin utilizing the different ways to clean an aluminum trailer, you'll discover what works best for you and the aluminum product you have.
How to Clean Aluminum Trailers
How do you know it's time for cleaning oxidized aluminum? Look for built-up grime, oil, rust, and black streaks. Once you notice an excess of these signs, you know it's time for a good scrubbing.
If you're someone who doesn't use your trailer often enough to notice the dirt, wash your trailer once every six months for regular upkeep.
Making Homemade Aluminum Trailer Cleaner
Cleaning aluminum trailers takes a little time but is simple to do. All that's required is soap and water, but there are other homemade RV cleaning products and trailer cleaners that work well when cleaning aluminum horse trailers, trucks, and other large objects.
You may find that this remedy will also remove oxidation from galvanized metal parts, as well.
To clean an aluminum trailer or even to clean fiberglass, mix up this simple recipe. In a large bucket, add two tablespoons of vinegar for every one quart of water. Soak a large sponge in the solution and apply it to all surfaces of the trailer or to polish aluminum truck wheels, including every joint where the individual pieces bind together.
Let the trailer sit for ten minutes. Empty the bucket and refill it with dish soap and warm water. Dip the sponge in the soapy water and scrub a small area until it is clean.
Repeat this step until all surfaces shine. Use a hose for rinsing away the suds and let the trailer air dry.
If you need to get tree sap off your car and trailer, vinegar works well for this, too. Let the mixture sit on the spot for several minutes before wiping off.
Cleaning Trailers with a Pressure Washer
Power washers are extra tough against oil, grime, and bugs. This machine attaches to the hose and shoots out a pressurized stream of water. Test the pressure washer on small areas of painted surfaces to make sure it doesn't chip.
Fill a large plastic bucket with warm, soapy water and use a big sponge or scrub brush to apply to soapy water. Let the suds sit for five to ten minutes to break down the dirt.
Use the power washer to move along the trailer's frame and begin buffing out any dirt marks. Make sure all suds are gone from the aluminum and let air dry.
A pressure washer also works well for washing aluminum siding. Ensure that the spray jet is not too strong, as you don't want to damage the material.
Cleaning an Aluminum Trailer at a Truck Stop
We can't think of an easier trailer cleaning method than pulling your trailer through the truck wash. Find a local auto wash location near you.
All you have to do is pull your trailer into the washing station, pay with a few quarters, and give your trailer the cleaning it needs. Don't forget to take care of cleaning tire rims while you're at it so the entire trailer gleams.
Acid Washing Your Aluminum Trailer
If you prefer having a like-new finish on your trailer, giving your aluminum an acid wash helps make it sparkle is effective for cleaning aluminum oxidation and preventing further damage.
Using a cleaning product containing hydrofluoric acid, like Streakmaster or Star Brite, easily removes road film, algae, lime deposits, and other grime while being a brightener for the metal.
These products are also non-toxic to humans compared to other strong chemicals used. Whenever using an acid washing product, follow the rules listed on the back of the packaging for the best results.
Using Aluminum Polish and Clear Coat
Polishing is one of the most valuable steps to know when learning how to clean an aluminum trailer or polish aluminum window frames. After your trailer or windows are clean, apply a store-bought polish from your local hardware store and use a rag to apply some to small areas.
While the polish is still moist, use another clean cloth to begin buffing the polish into the metal. Continue this process until the entire trailer is polished.
Polishing protects the metal from outside elements and gives it a glossy, bright finish. Oxidation still occurs over time, but polishing is the best protection you have to prevent the aluminum from rusting.
It doesn't matter if you're making a homemade aluminum trailer cleaner or purchasing store-bought products. Regular upkeep and knowing how to clean aluminum trailers are the most practical ways to care for your aluminum products.
Although there aren't hundreds of ways to clean an aluminum trailer, there are enough options to keep your belongings looking good for years to come.
Regular maintenance takes a little time out of your day, but they pay off when you go to sell your trailer.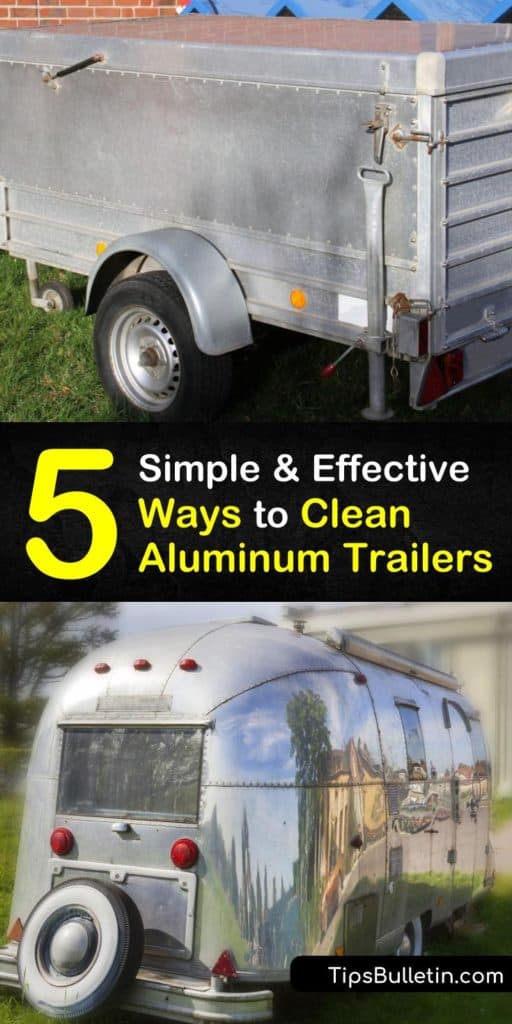 If you found these directions on how to clean aluminum trailers beneficial, please share these trailer cleaning methods on Facebook and Pinterest.