Discover how to clean an air hockey table to ensure you always get a great playing experience. Despite air hockey tables being around since the 1970s, they've only become widely accessible to play at home during the last ten years. If you get an air hockey table, it's a lot of fun at first, and your family and friends will enjoy it.
Over time, however, the puck doesn't slide, part of the board won't blow air, or the tabletop becomes scraped or filthy. Not to worry. There are quite a few moving parts on an air hockey table, and they all have to be clean to keep everything running.
If you're concerned about how to get scuff marks off an air hockey table or need a place to start with cleaning an air hockey table, the process is easy. Explore our suggestions and proven hacks to keep your hockey table clean and functioning.
How to Get Scuff Marks off an Air Hockey Table
Don't know how to clean an air hockey table? It's easy. While cleaning an air hockey table may seem daunting, it's an uncomplicated process. Use specialized DIY cleaning tips and keep your table looking its best. Good maintenance and frequent cleaning are the keys to ensuring your air hockey table lasts a long time.
Notes on Cleaning an Air Hockey Table
Whether you're brand new to the air hockey game or a pro on the playing field, no doubt you invested in the best air hockey table for your game room. An air hockey table is a table surface with an air blower forcing air through many tiny holes to create air flow. Several models have a digital scoreboard for electronic scoring.
Though learning air hockey rules and practicing is important, keeping your table's surface clean and maintained is just as vital. Like a pool table or table tennis top, tabletop air hockey tables require maintenance to ensure the playing surface remains in peak condition.
Dust and debris build up and slow the puck, and dirt clogs the air holes, leading to dead spots on the field. These interruptions slow your game and degrade the performance of your table. Fortunately, with a few uncomplicated strategies, you can keep your table clean and sure you enjoy games for many years.
How Often to Clean Air Hockey Table Tops
Cleaning your air hockey table every week is recommended to prevent dust buildup. However, actual times vary depending on the amount of dust in the area. A general surface wipe-down is ideal for weekly maintenance to stop dust from accumulating. Routinely check your pucks and mallets, which don't require cleaning but may require sanding if progress lags.
How to Clean an Air Hockey Table
Isopropyl alcohol makes an excellent streak-free glass cleaner, which is brilliant for cleaning your air hockey table. Find isopropyl alcohol in the first aid section at the pharmacy.
Fill the spray bottle with isopropyl alcohol. Instead of using the cleaner on the table, apply it immediately to a soft cloth. Don't spill extra liquid on the table. Use the smallest amount possible since the liquid evaporates quickly.
Turn on the air blowers before cleaning the table to help keep dust out of the air holes. Use the rag to wipe the table clean with the rag. If you don't have isopropyl alcohol, a commercial window cleaner is a suitable alternative. Choose window cleaner without ammonia to avoid degrading the playing surface.
Use a Cotton Swab to Dust Air Hockey Table Holes
You'll only need to clear the holes yearly if you regularly clean the surface. Though removing dust and dirt from such little openings might appear complex, it's simple.
Cut the end of a cotton swab so it forms a little tube, or use a 1/32-inch drill bit or smaller. Your table's holes determine the ideal bit size; never use anything that may alter the holes.
Make sure you have airflow by turning on the blower. To press the dust and debris onto the tool, slowly and carefully put the swab or drill bit into a hole. Limit your depth to 3/8″. If your table is small or has delicate components beneath, go even shallower. Repeat the process for each air hole.
Sand Pucks and Mallets for an Interactive Air Hockey Table
Pucks experience minor flaws and regular wear and tear. Examine your puck if it isn't floating evenly on the tabletop. Sanding the hockey puck to make it flat is worthwhile, even if you can't see anything. Manufacturers typically suggest sandpaper with a grit of 150 or 240.
The mallets also sustain tiny abrasions that are often undetectable. Use the same sandpaper on the mallets' bottoms or swap out the felt pads if yours have material on the bottom.
Remove Scratches From an Air Hockey Table Surface
Getting scuff marks off an air hockey table is straightforward. If the surface of your table is scratched or scuffed, repair it with clear epoxy. Mix the epoxy per the directions, and fill the depression so it's level with the rest of the table surface. Let it cure.
To prevent accidentally covering an air hole, insert a portion of a plastic drinking straw into the hole to keep it safe from getting filled with epoxy. After the epoxy hardens, use extremely fine sandpaper to level out the filled area with the rest of the table.
Be as careful as possible not to sand the tabletop itself. Wipe away the epoxy dust with a damp cloth and leave it to dry.
Use Silicone Lubricant to Polish an Air Hockey Table Top
It is advisable to polish the table with silicone lubricant once thoroughly cleaned. The spray varieties work best for air hockey tables because you can quickly cover a sizable area. Spray a little in the center and at either end.
Apply the lubricant evenly throughout the surface with a polishing cloth. Let this dry before you try to play again. Otherwise, it may rub off the table. Check the table for dead spots and clean any holes as necessary.
Silicone lubricant has a variety of other uses. You can polish galvanized steel easily and improve the appearance of older metal.
Polishing Individual Parts of an Air Hockey Table
Like most furnishings, your air hockey table benefits from occasional polishing to keep everything looking clean and sleek. The primary concern with polishing is to avoid scratches or scuffs. Never use abrasive tools such as a wire brush. Always opt for a soft cloth such as a microfiber cloth.
While feather dusters or other kinds of material are gentle enough, they risk dropping bits of feathers, fabric, and other debris into the air hole. Microfiber doesn't shed, making it the superior choice for this task. Aim to polish all the individual table parts once a month or whenever you notice them becoming dull.
Cleaning the Tables Surface After a Spill
Spills pose a significant risk and must be prevented. Food and beverages are among the most frequent sources of damage to air hockey tables. Keep these items away from your air hockey table.
Immediately wipe off food or fluids that enter your playing area. Use an absorbent material like a paper towel or soft cloth and focus on soaking up the liquid rather than spreading it. Having the blower running aids in evaporation and assists in expelling liquid.
Invest in an Air Hockey Table Cover
Whether you have an MD Sports air hockey table or another brand, using a cover increases longevity – cover your air hockey table when not in use. A cover prevents dust from entering the perforations and settling there. In addition to blocking the airflow, dust could accumulate inside the motor.
Dust stresses the engine and accelerates wear, necessitating an expensive replacement. Covers are available from sports stores or online. They are an affordable way to protect your investment and increase the lifespan of your table.
Air hockey is an incredible game. Don't panic if you don't know how to get scuff marks off an air hockey table. Having your own table offers hours of fun but comes with some responsibility. Use our step-by-step instructions to make cleaning and maintaining your air hockey table a breeze to protect your investment and keep you playing.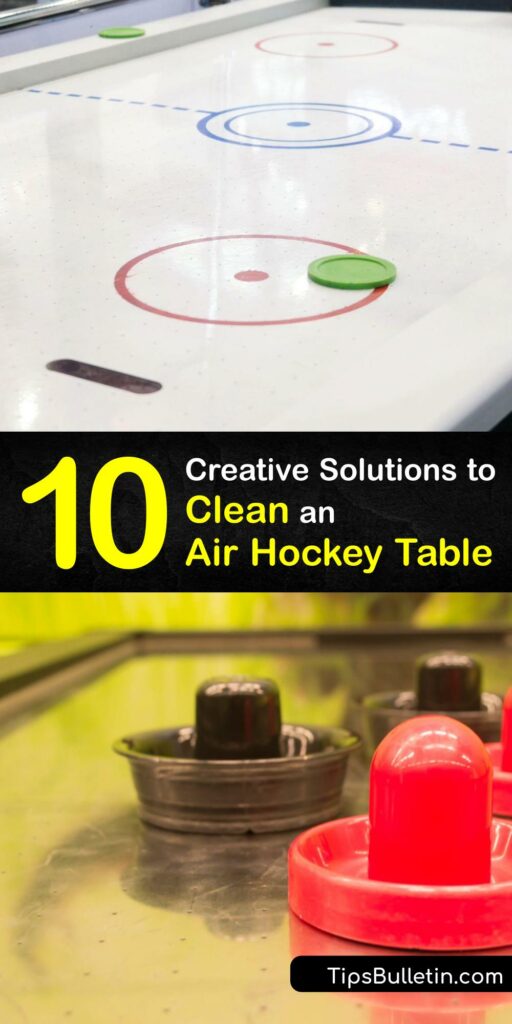 If you loved this comprehensive article on how to clean an air hockey table, please share these brilliant tricks with your friends and family who are cleaning an air hockey table on Pinterest and Facebook.