The wellness benefits of essential oils are countless, and diffusing is a wonderful way to bring the power of aromatherapy to your home or office. Read on for quick and easy tips on how to clean an essential oil diffuser.
Depending on the individual oils or essential oil blends you choose, aromatherapy helps to focus your mind, boost your immune system, calm your nerves, and promote restful sleep.
However, if you don't regularly clean your essential oil diffuser, you may not be getting the full benefits from your efforts. All essential oil diffusers require regular maintenance to keep functioning correctly. Your diffuser care routine should include a quick clean after each use and a monthly deep clean.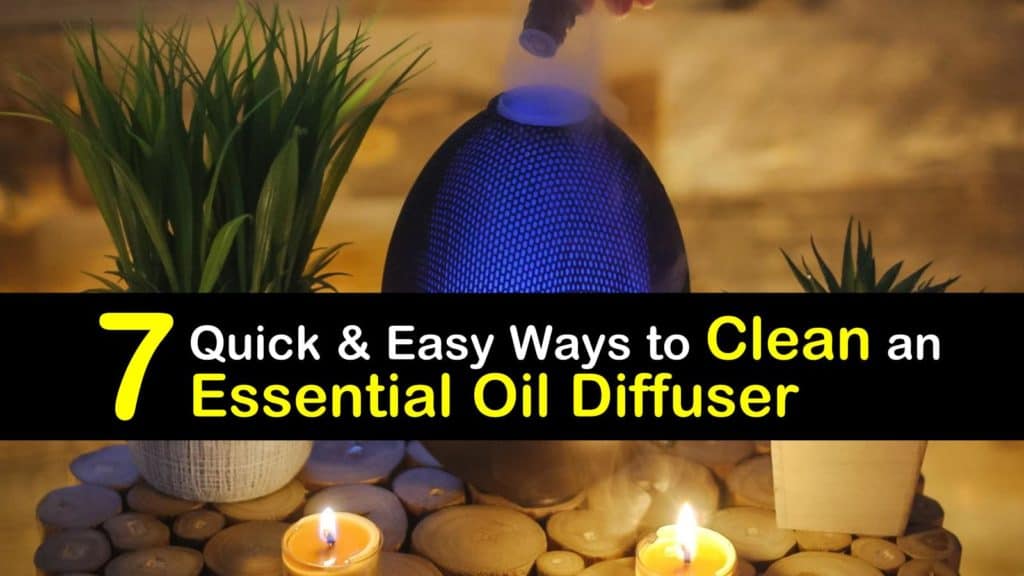 How Does a Essential Oil Diffuser Work?
Whether you need to know how to unclog a diffuser, or you bought one for the first time, and you're looking for advice for cleaning your essential oil diffuser, we have the perfect solution for you.
Although you can make a DIY air freshener without essential oils, these natural oils are great ways to clean the air and leave a pleasant scent behind.
Essential oil diffusers work by dispersing a vapor of essential oil blends into the air. The most common types of diffusers are ultrasonic and electric.
How does a diffuser work? An ultrasonic diffuser works by using an ultrasonic chip to generate electronic vibrations that create mist, break the oil into microscopic particles, and disperse them throughout the room in water vapor.
Electric diffusers use a fan to blow air at the pad or water containing the essential oil blends to circulate vapor through the air. The best essential oil diffusers don't use heat, which changes the oil's chemical composition and reduces its healing properties.
How to Clean an Essential Oil Diffuser
Regularly cleaning your essential oil diffuser is vital to avoid problems with buildup and mildew. According to doTerra, you should wipe out your diffuser and let it dry completely between each use, and deep clean it monthly.
Follow these simple steps for how to clean your essential oil diffuser and keep it running well for years to come.
How to Prepare Your Diffuser for Cleaning
Whichever cleaning method you use, there are a few preliminary steps to get ready. Always turn off and unplug your diffuser when cleaning.
First, empty any excess water or remaining oil mixture. Rinse the water reservoir with clean water, then fill it halfway to the fill line with clean water. Plug it back in and let the diffuser run for 3-5 minutes to rinse the system.
Use one of the following DIY approaches for how to clean an oil diffuser using safe and natural cleaning products. Check the manufacturer's instructions before choosing your cleaning method to avoid damaging the device or voiding the warranty.
Clean Your Essential Oil Diffuser with Vinegar
White vinegar contains acetic acid, which has antibacterial and antiviral properties. It also helps eliminate oil residue that builds up inside the diffuser and is also ideal to disinfect and clean your humidifier.
To implement this quick way to clean a diffuser, fill the water reservoir to the fill line. Add the vinegar to the reservoir, and run your diffuser for 3-5 minutes to allow the vinegar to disperse throughout the system. Turn off and unplug the diffuser, then empty the water reservoir.
Dunk a cotton swab in white vinegar and clean the edges and corners of the diffuser. Rinse the water reservoir with clean water, and dry each part of the diffuser with a soft cloth or paper towel.
Cleaning your diffuser is only one of tons of things to do with white vinegar, from cleaning and cooking to disinfecting virtually any surface.
How to Clean an Oil Diffuser with Rubbing Alcohol
Rubbing alcohol effectively disinfects your essential oil diffuser and removes mold from the reservoir.
Remove all washable parts and wipe them with a microfiber cloth. Saturate a cotton swab in rubbing alcohol and gently clean all surfaces. Rinse the water reservoir with clean water, then thoroughly dry each part of the diffuser with a dry cloth.
How to Clean an Essential Oil Diffuser with Castile Soap
Castile soap is a mild, eco-friendly cleaning solution that is perfect for removing buildup and bacteria from your essential oil diffuser. All-natural dish soap is an acceptable alternative.
Mix the Castile soap with warm water in a bowl. Dip a microfiber cloth in the soapy water and wipe the inside and outside of the diffuser.
Use a cotton swab to clean small pieces, edges, and corners, and completely dry each part of the diffuser before reassembling.
Use Citrus Essential Oil to Clean Your Diffuser
Lemon or orange essential oil is useful for cleaning a clogged essential oil diffuser. Citrus oils are antimicrobial and work to break down oil residue and mineral buildup.
Remove all washable parts of the diffuser, and dip a cotton swab or soft-bristled cleaning brush in the citrus oil. Gently scrub all surfaces of the diffuser, taking extra care around problem areas. Rinse with clean water, then dry each part before reassembling.
Cleaning a Clogged Essential Oil Diffuser with Baking Soda
To combat oil residue and mineral deposits in the water reservoir and lid, soak them in warm water with a little baking soda. Never submerge any electronic components of your diffuser.
Fill a medium-sized bowl with warm water, add the baking soda and a few drops of Castile soap or dish detergent and stir well.
Soak the water reservoir and lid for at least one hour. Rinse the diffuser with clean water, and dry all parts thoroughly with a microfiber cloth or paper towel.
You can also add vinegar to this mixture for a powerful solution that acts like a homemade vinegar and baking soda drain cleaner in the kitchen or bathroom.
Clean Specialty Diffusers with the Manufacturer's Products
Always check the manufacturer's instructions for cleaning your diffuser. Some essential oil diffusers have precise cleaning instructions, and improper cleaning will damage the device and void the warranty. In this case, order your cleaning solution directly from the manufacturer.
Troubleshooting Common Diffuser Problems
If you're diffusing essential oils regularly, your diffuser may occasionally malfunction. Don't worry; there's usually a straightforward solution. Here are a few common problems you may experience.
Insufficient Diffusion
If your essential oil diffuser isn't functioning at its optimal level, there are several possibilities. If it's clogged, refer to the section about cleaning a clogged essential oil diffuser. Otherwise, check the water level and mist settings.
Overheating
Overheating is usually a result of the water level being too high or a blocked fan intake.
The Light Turns On, But the Diffuser Won't Run
If the indicator light comes on, but your diffuser still isn't working properly, the system may have detected a problem. This is a built-in safety measure to keep the device from operating unsafely.
Diffusing essential oils throughout your home or office helps promote a calm mood, a focused mind, and a pleasant atmosphere. It's vital to keep up a regular cleaning routine for your diffuser to get the maximum benefits from your aromatherapy.
Our tips for how to clean an essential oil diffuser ensure that your device will be running well for years. If your diffuser becomes clogged, you'll be able to quickly and efficiently fix the problem.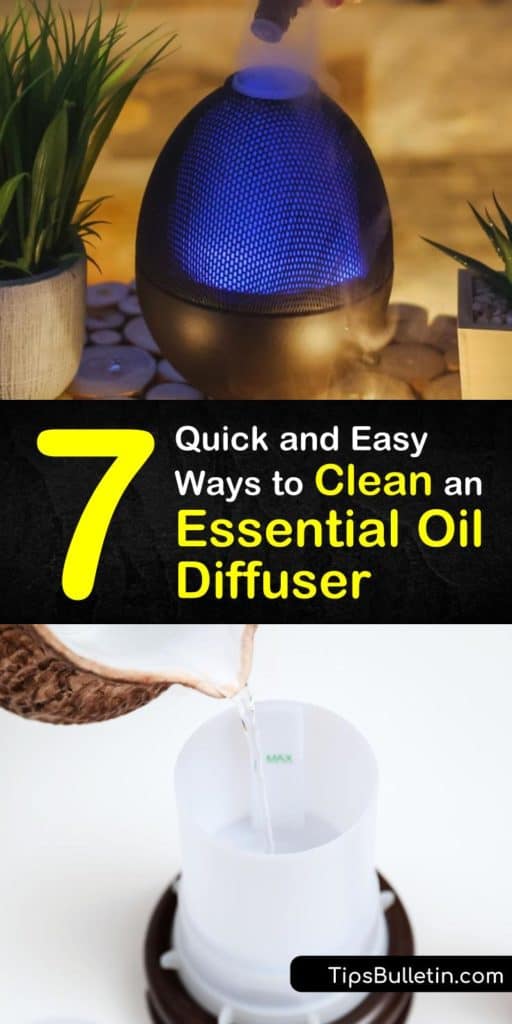 If you enjoyed reading about how to clean an oil diffuser, please share this article on Facebook and Pinterest with all of your family and friends who are aromatherapy enthusiasts.