I can show you how to clean an oven easily and affordably.
I gather my natural cleaning supplies, like baking soda, white vinegar, and lemons.
I mix the ingredients to create a powerful yet gentle oven-cleaning solution.
I apply the cleaning paste to the oven's interior and let it sit to loosen the grime.
I scrub the oven with a sponge or cloth, focusing on the tough spots.
I rinse the oven with water and dry it for a sparkling finish.
To clean your oven without chemicals, first, gather baking soda, vinegar, and lemon juice from your pantry. You'll be surprised how effective these natural ingredients are! Mix them into a paste and spread it inside your oven to target the grime. Give it some time to work its magic; I usually wait a couple of hours.
Afterward, take a sponge, and you'll find that scrubbing away the build-up becomes remarkably straightforward. Rinse everything off, and you'll see your oven shine without spending extra on specialized cleaners or exposing your home to toxic chemicals. It's truly that simple and cost-efficient!
Whether or not we feel we know how to clean an oven, cleaning the oven is one of the most dreaded chores on anyone's list. However, leaving an oven dirty and greasy can be dangerous.
The grimier the build-up, the more likely a fire will be when you use it or that you'll get harmful bacteria in your food. Even if you avoid food poisoning or fires, a dirty oven leads to smoke, which is unpleasant and can easily set off your fire alarm.
Read on to learn how to clean your oven properly with natural homemade oven cleaner without chemicals, so the next time yours gets dirty, you won't put off cleaning it until it's to late. All the supplies you need you can find under the sink or in your kitchen cupboard.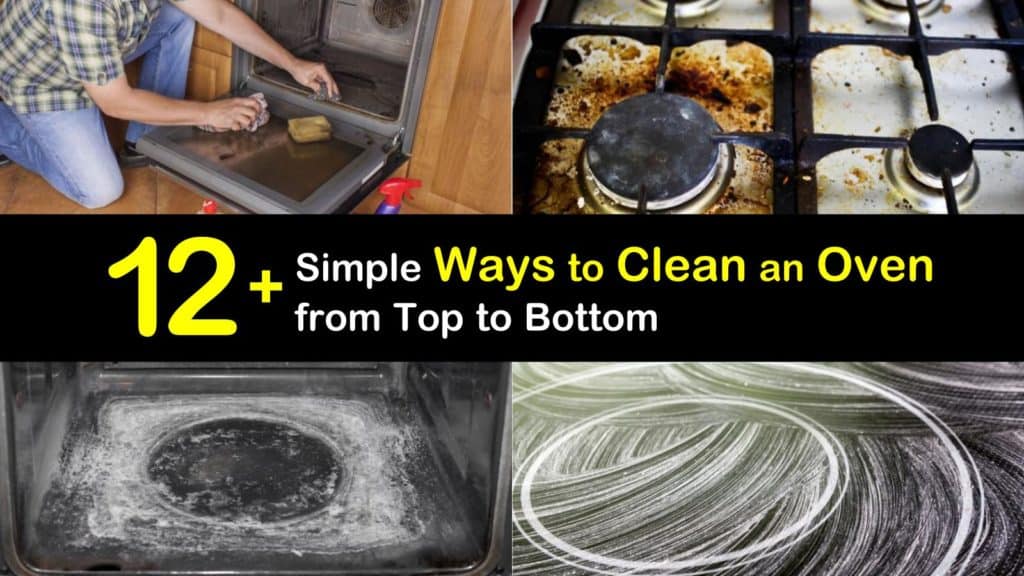 Clean an Oven Stove Top
You'll be grateful for our oven cleaning hacks that make an unpleasant job easier and faster, without worrying about harmful fumes and buying expensive cleaners. The first step in cleaning an oven is cleaning the stove top. However, different stove tops require different cleaning methods.
While one solution may work for electric or gas stovetops, you may need to know how to clean baked on grease from pans and other types of cooktops without damaging the surface.
Having an arsenal of cleaning supplies ready for your stove and oven can make the job even easier. A natural stove degreaser made with vinegar or a dish soap like Dawn saves both time and money.
Cleaning a Ceramic Glass Cooktop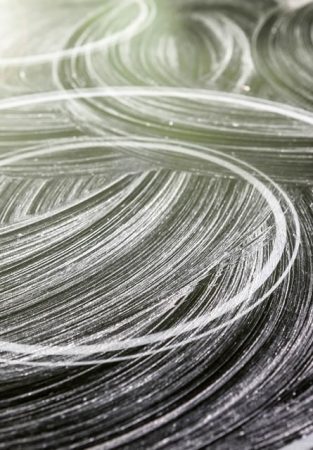 They're modern and efficient, but glass top stoves can be difficult to clean. Luckily, there are specialty cleaners for glass tops. Before doing any cleaning, make sure you turn it off and allow it to cool.
It seems counter-intuitive to leave any problem messes on the stove, but if you spray anything on a hot stove top, it can burn into the glass. It is important to know the right method for how to clean a stove top so you don't damage the surface.
Specially-made cleaners for glass top stoves or a homemade glass stovetop cleaner are usually creamy. You apply the cream, then let itdry. Once dry, wipe it down with a soft cloth.
If your stove has stubborn stains, apply the cleaner and then use a scraper to remove the food.Some people use a razor, but you risk damaging your stovetop, so use a special scraper made for ceramic and glass cooktops.
It's important to never use abrasive surfaces on your stove top, like steel wool or even cast iron pans, because you can inadvertently damage the surface of your stove. Use a homemade degreaser to clean grease off a stove top safely, instead, and get the top shining again.
Always follow the directions for cleaning different surfaces to ensure you don't harm the material.
Natural Oven Cleaner without Chemicals
For a cheap natural homemade oven cleaner for your cooktop, mix lemon juice or vinegar with baking soda to a soft paste. It is the best way to clean your ceramic stovetop without any chemicals. Lastly, make sure you clean your glass top stove regularly. Reheating old food spills can make them even harder to remove.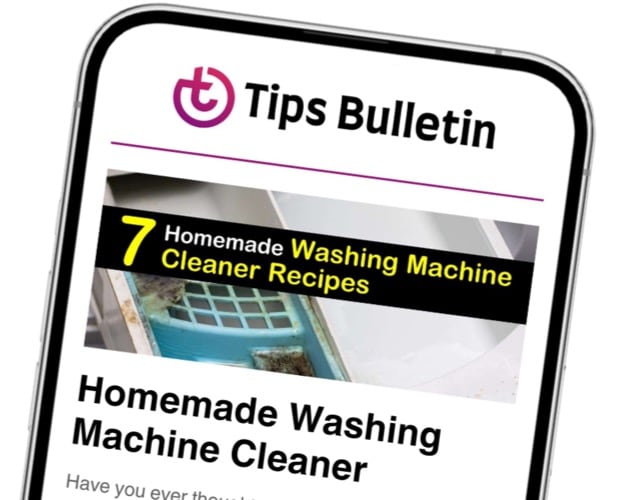 Finally, an email that Transforms Your Home.
Get the latest home and garden tips from our experts, delivered straight to your inbox.
Mix a soft paste of vinegar or lemon juice with baking soda. Apply to the stove and let sit on burned food stains for a couple of minutes. Scrub with a microfiber or soft sponge.
Note: Make sure glass-top stove is turned off and completely cooled before cleaning.
Check that glass top is fully cooled off. Apply a special glass stove top cleaner with a paper towel. Buff with a microfiber cloth to shine.
You can also use this glass stove top cleaner method to clean fireplace glass. The glass door on a real fireplace will often become sticky and burnt, like on a glass stove top.
Tip: On areas of massively burned food or residue, apply and let sit for 5 minutes before scrubbing with a soft sponge.
If you have a regular stove with burners, either gas or electric, your cleaning methods will be similar. There are, however, a few fundamental differences.
How to Clean an Electric Stove Top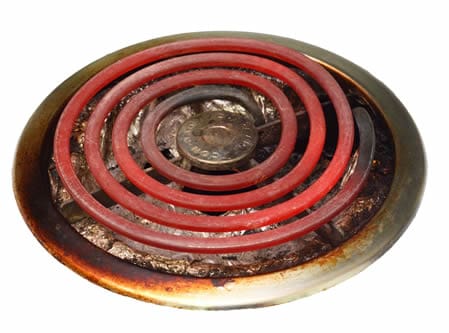 To clean an old-style electric stove top burner, first, remove the coils and drip pans. You should be able to pull them straight out from their sockets gently. Wipe down the coils with a damp sponge, and clean the drip pans with water and soap.
They may need soaking in hot soapy water. If the coils require more work, use dish soap, however, be careful not to submerge the coils in water or get any electrical part wet.
Spray the stove top with a natural degreaser recipe cleaner and wipe clean. Ingredients like dish soap and vinegar add to the cleaning power and make your job much easier.
You can clean underneath the top of the stove by pulling it up and propping it open with the metal rods. A vacuum cleaner with a hose attachment is ideal for getting rid of hard bits of old food and stains.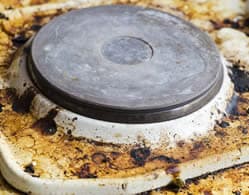 Replace the drip pans and coils carefully when everything is clean and dry.
On newer electric stove-tops you can spray oven cleaner and wipe the entire area with a sponge. Alternatively, use a paste of white vinegar and some baking soda, let it sit, and wipe it with a microfiber cloth.
Cleaning a Stainless Steel Cooktop
Before you can learn how to clean a stainless steel stove, it's very important to make sure that the stove-top is completely cooled down before cleaning. You can use the recipe below or make your own stove cleaner solution with vinegar.
If you don't like the smell of vinegar, and many people find it distasteful, you can add a few drops of your favorite essential oil to the mix so that you are left with a nice, fresh scent after cleaning.
Many very popular cooktops are made from stainless steel. Unfortunately, stainless steel is rather difficult to clean.
Be careful not to use anything abrasive or harsh on stainless steel surfaces. Stainless steel scratches very easily, and cooking leaves stains and scorch marks. When cleaning, rub in the direction of the grain, like wood. And as with glass top stoves, always clean when cooled.
Moisten the area. Apply powdered cleaner such as Bar Keepers Friend. Rub in the direction of the grain of the steel. Wipe clean with a microfiber cloth.
To clean stainless steel cooktops, use a powdered cleaner, such as Barkeepers Friend. Moisten the area, apply the powder, and wipe clean. Repeat the process as many times as needed. This is also an excellent way to clean a burnt pot or pan.
You can make a pastefrom powdered cleaners as well (using water) for more set-in stains and messes. While cleaning stainless steel may not be simple, keeping your stainless steel clean is easy. Wipe up spills as soon as possible with a damp cloth to get grease off the oven door to prevent a nasty buildup.
How to Clean Gas Stove Burners and Oven Grates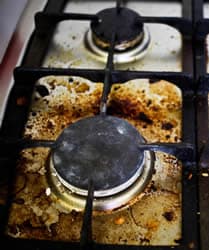 For how to clean a gas stove top or for an effective grill cleaner, remove the grates from the top of the burners. Clean the grates with water and soap as a homemade stove cleaner, or if they have a thick layer of dry spills, use oven cleaner. Alternatively, use vinegar or a thick paste of baking soda and water.
Allow to sit for 15-20 minutes before you and scrub it with a sponge. If tougher stains cover your burner grates, you can use ammonia. Put the burner grate into a plastic bag and fill it with 1/2 cup of ammonia.
Let the sealed bag sit overnight before scrubbing the gas stove burners with a sponge. It will remove even the toughest stains. However, before you consider such a lengthy procedure to clean gas stove grates, check the prices of new burner grates for your stove, as most of these can get replaced for a few bucks.
The same procedures go for cleaning stove drip pans. Vinegar, baking soda, a degreasing soap, or your regular oven cleaner work quite well and quickly to get rid of debris from boiled-over food and debris. However, replacement drip pans can be bought very cheaply if necessary. If your drip pans are beyond repair, check your local dollar store.
Make sure the fuel ports, where the fire comes out, are clear of any blockages. Then, clean and wipe down the top of the stove, careful not to get the igniter wet. Remove and clean the knobs as well and dry the stove top carefully before replacing the burner grates.
This process is similar to how to clean grill grates on your charcoal or gas grill that you use for BBQ. The grates should be removable. You could use a garbage bag with ammonia in it for them to soak, or you could lay a towel on the bottom of the bathtub and place the grates on it. This makes it easier to scrub the grates, preferably with a grill brush or something similar.
Use white vinegar or a thick paste of water and baking soda. Let it sit 30 minutes and scrub with a sponge. For very dirty burner grates, use half a cup of ammonia in sealed plastic bag. Let it sit at least 12 hours and scrub with sponge. Methods work equally well for stove burner grates and drip pans.
Spray with oven cleaner and let sit at least 30 minutes. Scrub the cleaning solution with a sponge. If needed, apply multiple times.
Tip: Before spending money on an oven cleaner, make sure you check the price for new stove burners or dripping pans. Depending on your gas stove they might be very inexpensive.
How to Clean an Oven
Now that the stove top is sparkling, the next step is to clean the inside of the oven. This is a task that many dread if they don't have a self-cleaning oven. It can be time-consuming and messy.
However, aside from the self-cleaning feature, there are other ways to clean an oven that make the task easier than ever before. If you have the proper tools and a little time, cleaning your oven doesn't have to be an unwelcome chore.
How Does a Self Cleaning Oven Work?
Your oven might come with a self-cleaning feature. It sounds too good to be true. So what does this button on your oven do?
When you run a self-cleaning cycle on your oven, the door locks and the oven heats up to almost 1000 degrees Fahrenheit. This burns all of the food particles inside into ash, making clean-up a breeze.
However, although older ovens have exposed heating elements, which is bad for food spills but better for self-cleaning, there are problems with self-cleaning ovens, particularly newer ones.
Such a high temperature can produce smoke while burning off the food residue and set off smoke alarms.
Newer ovens have hidden heating elements. These areas getmuch hotter and mayblow fuses and cause other problems from getting too hot.
Any problem with these hidden heating elements ismuch harder and more expensive to fix.
Basically, self-cleaning ovens can be handy and save you some elbow grease, but they may be more trouble than they're worth.
How to Clean a Self Cleaning Oven
Remove all oven racks. Clean oven racks separately with dish soap and water. Run the self cleaning function on your oven according to the instruction manual. Once finished, let the oven cool down for a minimum of two hours.
If you want to use your oven's self-cleaning function, first remove the oven racks and start the self-cleaning cycle. You can soak the oven racks in water and dish soap while the oven is cleaning itself.
Once it is finished and the oven has cooled down for at least two hours, clean out any ash residue and wipe the oven clean with a sponge, including the oven door. Replace the racks and you're done.
If you would prefer not to use the self-cleaning function, learninghow to clean a self-cleaning oven is the same as a non-self cleaning one.
Oven Cleaning by Hand
It's also possible to clean a self-cleaning oven without using the self cleaning feature. To clean the old-fashioned way and remove splatters you may have gathered from when you use a pizza stone or cookie sheet, the first step is to remove the oven racks and let them soak.
Some ovens also come with an easy way to remove the oven door in order to better reach inside and clean all the surfaces without worrying about the racks being in the way. Then, use a specially-designed oven cleaner as directed to clean the inside of the oven.
It is practical to lay down newspaper to protect the floor and have your kitchen well-ventilated. You can also wear rubber gloves and old clothes to protect your skin.
Follow the directions to wipe down the inside of the oven after using oven cleaner, making sure to clean all surfaces including the oven door inside and out.
Mix baking soda with water in a spray bottle for a much more environmentally friendly and chemical-free way to clean the oven interior. Spray the inside of the oven thoroughly.
Let the mixture sit for two hours before wiping the oven with a sponge. Repeat spraying and let it soak again if needed. To get an even more aggressive solution, add white vinegar to the spray bottle and you have a dynamite oven cleaner.
Mix four tablespoons of baking soda with water in a spray bottle.Spray thoroughly and let it sit for two hours. Wipe the oven with a sponge and repeat if needed. To up the cleaning power even more, add one tablespoon of white vinegar.
Apply an excellent fume free oven cleaner and let it sit according to the instructions. Wipe the oven clean with a microfiber cloth Note: Make sure the oven is cool when cleaning.
General Purpose Natural Oven Cleaner
While there are products specific to cleaning stove tops and ovens, some things you have around your house can work just as well as a natural oven cleaner.
Baking soda is one of the best products for cleaning stoves and ovens. It's abrasive enough to scrape up stubborn food messes but won't scratch up your appliances. You can sprinkle it onto surfaces, then either wipe it up with water or spray on vinegar to make it fizz and really tackle that cleaning job.
You can mix baking soda with water to make a paste that can be applied directly to the oven, or mix it with more water in a spray bottle for a misty cleaner.
Cleaning an oven with lemon and water is another way to get that oven interior sparkling again and you are left with a delightful citrusy scent. You can make a spray of the two liquids and spritz down the inside of the oven. Let the mixture sit and wipe clean. Yes, it is that easy.
Vinegar is also a great natural oven cleaner as it is a natural disinfectant. Mix it with water in a spray bottle to clean your surfaces, whether you are cleaning wood stove glass or your oven. No matter what kind of oven it is, these methods show you how to clean an oven effectively. So, get to cleaning yours before it becomes dangerous to cook in!
How to Best Clean Between Oven Glass
It's not only important to know how to clean your oven, but how to clean an oven window, too. This part of the oven gets just as dirty as the interior. A good homemade cleaner can go a long way. You may have noticed that the top of your oven door has vents leading down inside the door.
If your oven door is double-panes and you spill anything inside, you may have a hard time cleaning it. Read the instruction manual that came with your oven to see how to open the parts of the door. The door is often held in place with screws. However, taking apart your oven door can void your warranty.
If you are not sure how to take the oven door apart, a repairman may take it apart and clean it for you, especially if the oven is still covered by a warranty. However, you could use this Dawn and vinegar oven cleaner to make your glass nice and shiny or even use it to clean stains on the inside of the oven. The two ingredients are versatile enough to use on a variety of surfaces in the kitchen and the rest of the home.
Mix the vinegar and water in a spray bottle. When you have taken the door apart, you can then clean between the panes of glass with this simple glass cleaner or a good homemade window cleaner.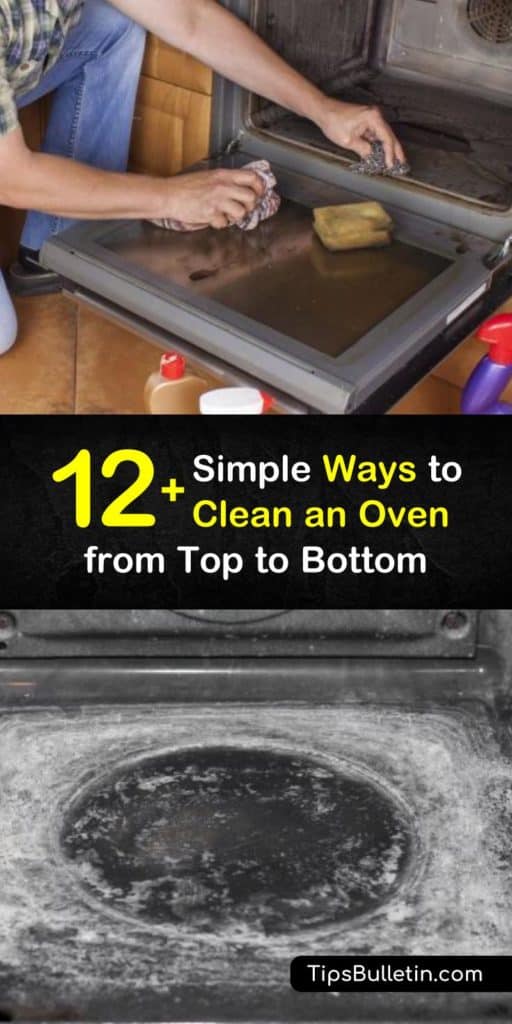 If you enjoyed learning how to clean an oven, please share our oven cleaning tips with friends and family on Facebook and Pinterest.