There are so many benefits to having a humidifier in your home, but using one that's filthy is not only bad for the unit but your health as well. We show you how to clean an ultrasonic humidifier in a few simple steps for daily care and routine deep cleaning. We often think of a humidifier as the device we bring out to increase the humidity levels when someone in the home is sick with a head cold.
However, these handy gadgets are beneficial throughout the year. They ease allergies, reduce snoring, and moisturize dry skin and lips. Just like any other appliance, they require maintenance and cleaning to run properly. Over time, the insides of these units accumulate scale and mineral deposits.
As if that isn't bad enough, they are also a breeding ground for mildew and microorganisms such as germs and bacteria. According to the EPA, a dirty humidifier disperses these particles into the air you breathe.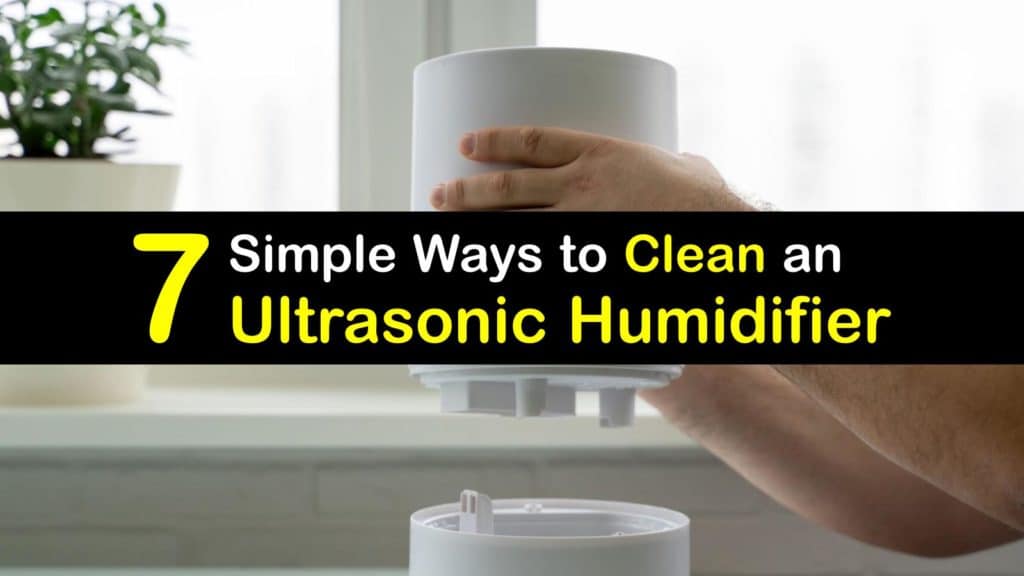 Ways to Clean and Maintain an Ultrasonic Humidifier
Here are several easy ways to clean a Vicks vaporizer to remove mineral buildup and maintain it to keep the humidifier clean and stop the growth of bacteria and microbes.
What is an Ultrasonic Humidifier?
It's easy to purchase something like a Honeywell humidifier, take it home and plug it in, and let it do its job without giving it much thought.
However, it's a good idea to know how something works to ensure it runs correctly. So, how do ultrasonic humidifiers work?
Ultrasonic Humidifiers
Ultrasonic humidifiers work like traditional mist humidifiers, but they have two ceramic discs rather than a heating element.
These discs vibrate at high frequencies, which draws water through and vibrates them into very fine water droplets that release into the air.
Way to Clean an Ultrasonic Humidifier Daily
Running your humidifier each day is a great way to prevent your indoor air from being too dry, but this means that the unit requires regular maintenance. The best way to clean an ultrasonic humidifier is to use a basic solution and perform a cleaning routine daily.
Unplug the unit after each use and move it to the kitchen counter for quick and easy cleaning. Take the mist nozzle off the top, rinse it with cold water, and wipe it with a paper towel before setting it off to the side.
Remove the tank from the basin, empty all the water into the sink, and then set it to the side, with the cap off, to air dry.
While the tank dries, use a soft towel to wipe down the water basin to remove any water residue. Once all parts are completely dry, replace them accordingly and store the humidifier until the next use.
Do humidifiers work better with routine maintenance? Like all machines, humidifiers work best when clean.
Ways to Clean Mold Out of an Ultrasonic Humidifier
If your humidifier sits with standing water for long periods, there is a good chance that it collects and grows mold.
Not cleaning the unit distributes the mold particles into the air, which is harmful to breathe. Bleach is the best liquid to clean mold out of the humidifier and kill bacteria.
Take the water tank off the base and fill it halfway with warm water. Add a small amount of bleach, screw the cap in place, and then shake the tank gently to distribute the cleaning solution throughout the interior.
Set the tank in an upright position for about half an hour to soak and then dump the liquid down the kitchen drain. Rinse it completely with clean water and let it air dry before placing it back on the base.
How to Clean an Ultrasonic Humidifier with Vinegar
To descale your humidifier naturally, consider using white vinegar. This liquid contains acetic acid that breaks up and dissolves residue and white dust left behind by hard water and mineral deposits from tap water.
Pour about a gallon of warm water into the water tank until it's half full, and then add a tablespoon of white vinegar in your humidifier. Put the lid in place, shake the container to coat the inside, and set it aside for about half an hour.
Swish the liquid inside the water tank once more, and then dump out the cleaning fluid. Rinse it well with running water and set it aside to air dry.
While the tank is drying, fill the basin halfway with warm water and a tablespoon of vinegar and let it soak for 20 minutes.
Dump the liquid down the sink and rinse it with clean water. Do not immerse the unit in water or get the power cord wet, and dry it thoroughly with paper towels.
Cleaning an Ultrasonic Humidifier with Hydrogen Peroxide
Another natural way to clean an ultrasonic humidifier without using harsh chemicals is to use hydrogen peroxide. This antiseptic liquid is inexpensive, and it cleans away bacteria in the humidifier water tank through oxidation.
Remove the water tank from the basin. Combine four parts warm water and one part hydrogen peroxide in the tank and put the cap in place.
Shake the container well to disperse the cleaning solution to all parts of the tank and then set it aside to soak for half an hour.
Pour the liquid down the drain and rinse the inside of the tank with clean water. Place it in a dish rack with the cap off and let it air dry before replacing the tank on the basin.
Deep Cleaning the Humidifier Nebulizer
The tank and water reservoir are not the only areas of the humidifier that require cleaning. If your unit is equipped with a nebulizer, this also needs a routine deep washing. Here is how to clean mold and hard water buildup from around the nebulizer.
Follow the instructions for removing the nebulizer and soak it in a container with two cups of water and a tablespoon of vinegar for half an hour.
Clean the piece with a small brush, such as a soft-bristled toothbrush, to remove small particles and debris and rinse it under warm running water. Use this solution for cleaning your oil diffuser, too, to get rid of oil buildup in the machine.
How to Maintain an Ultrasonic Humidifier
Maintenance is vital to ensure that your unit runs properly and fills your home with a mist of clean air, whether you have a warm or cool mist humidifier or impeller humidifier. Here is how to care for your ultrasonic humidifier for the best performance.
One of the most important tips we have when caring for your humidifier is to let the unit breathe.
After each use, dump out the leftover water, rinse the water tank and basin with fresh water, wipe the outside with a clean cloth, and allow all parts to dry completely before reassembling the sections.
If you have hard water in your house, avoid filling the humidifier with tap water. Instead, use distilled or filtered water to prevent mineral buildup in humidifier.
To stop mold and bacteria growth, consider adding an antimicrobial to the water, such as tea tree oil, humidifier tablets, or hydrogen peroxide.
If you use your ultrasonic humidifier regularly, make sure to give it a deep clean with a vinegar or bleach solution once a week. Always follow the cleaning guidelines for your humidifier model before using a new cleaning product.
Ultrasonic humidifiers improve the indoor air with a warm mist to help you breathe better. However, using a dirty unit often has the opposite effect. It's vital to keep your humidifier clean through daily and routine maintenance using the right cleaning solution.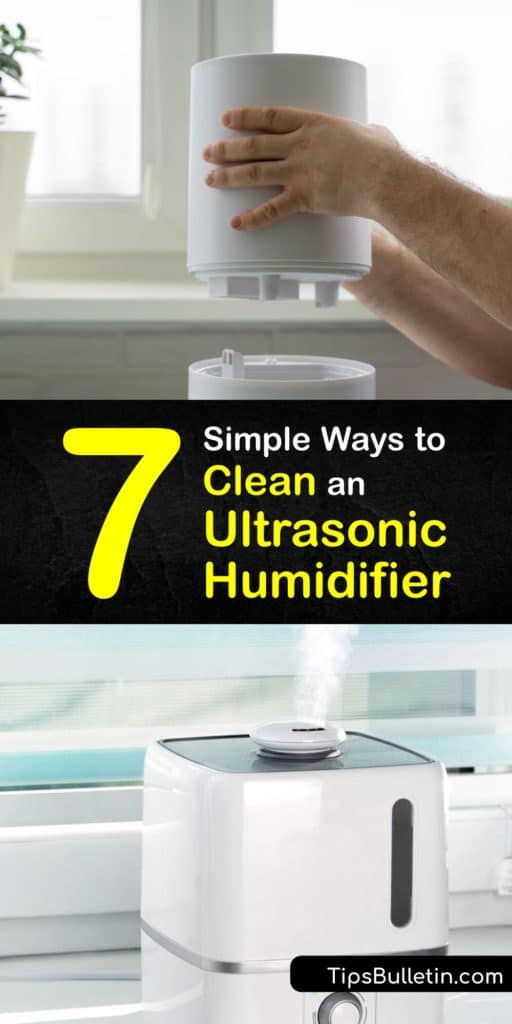 We hope that learning how to clean an ultrasonic humidifier keeps the air you breathe clean, and we'd love it if you'd share our humidifier cleaning tips with your family and friend circle on Facebook and Pinterest.