Kitchen countertops see a lot of messes. The countertops serve as a preparation area for food, so they need to be kept spotlessly clean and sanitized, preferably without leaving behind a lot of chemical residues. We'll discuss how to clean granite countertops in more depth, but the best strategy is to clean up messes when they happen, then come back for a deep cleaning session regularly to sanitize the entire area.
How you clean your countertop depends on the kind of material you have. Natural stone countertops and floors, such as marble, granite, and travertine, need special care.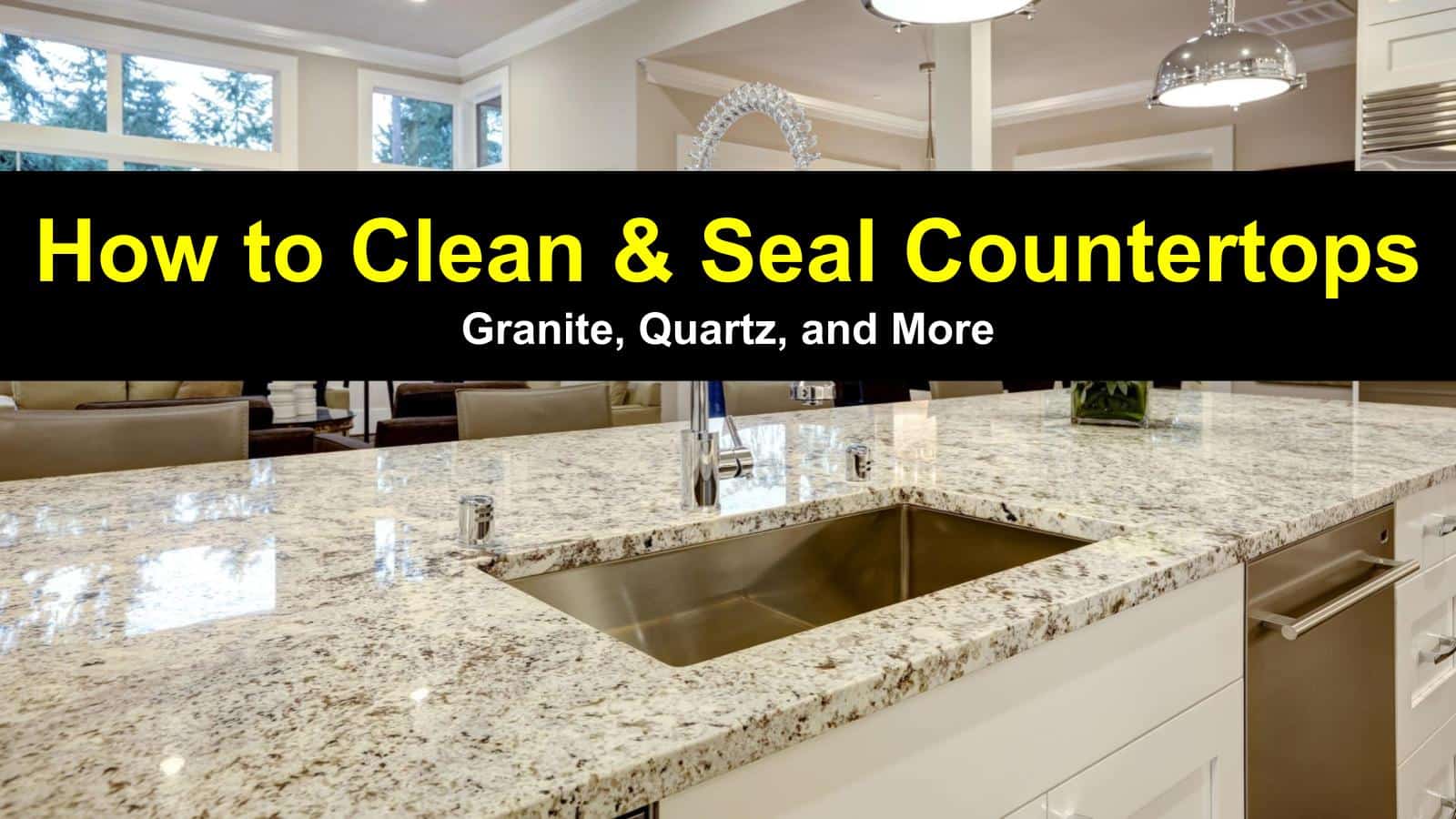 Never use bleach, ammonia, vinegar, citrus, abrasive cleaners, or harsh chemicals on your natural stone countertops or to polish marble floors, as you can damage them. We will discuss cleaning these types of countertops later in the article.
We will cover how to clean kitchen countertops, how to disinfect them, and when necessary, how to seal countertops using all natural homemade granite cleaner and polish recipes. Additionally, we will explain how to make natural countertop cleaners and disinfectants from ingredients you probably already have.
How I Clean Granite and Corian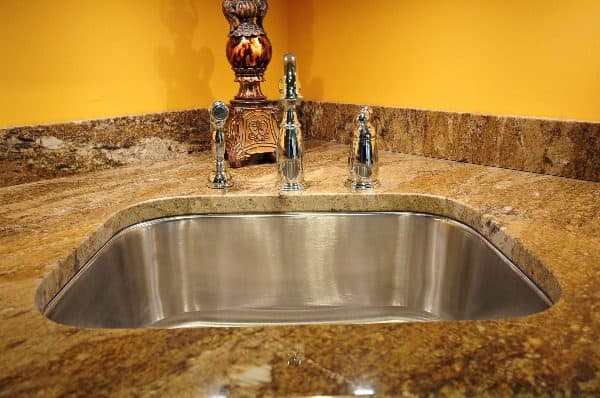 Corian, granite, marble, travertine, and quartz stain quickly, so wipe up spills immediately whenever possible, then clean with a pH balanced cleaner. Similar to cleaning a granite sink, avoid vinegar, lemon juice, bleach, ammonia, or any cleanser with acidic or abrasive ingredients to prevent damage to the surface. Follow our easy ways to clean Corian countertops or any other stone surface.
When in doubt about how to clean granite and these other types of counter materials, look for cleaners specifically designed for natural stone countertops. If your countertops are Corian, granite, or another type of stone, use the following directions to ensure they remain clean and beautiful.
One of the best ways to clean marble countertops and those made from granite or other stone materials is to use a mild soap and water mixture. Remove all items from the countertop so you'll have a clear space to work.
Dust away the big stuff, like dirt and crumbs. Add mild dish soap to your sink, or a bucket of warm water to make this homemade quartz cleaner.
Saturate a microfiber cloth in the soapy water and wring it out. Microfiber is preferred because it doesn't fall apart like paper towels, but it's still soft enough to clean surfaces without scratching or damaging them.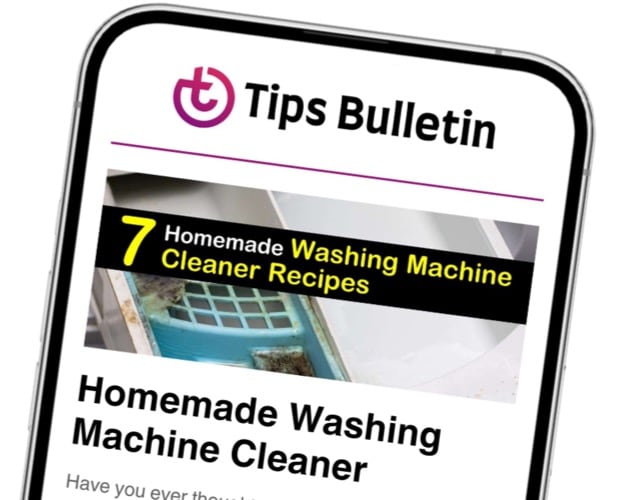 Finally, an email that Transforms Your Home.
Get the latest home and garden tips from our experts, delivered straight to your inbox.
Wipe down the countertops completely, being sure to get into all the corners and edges. Use a new dry cloth to dry and buff the counters, leaving them with a sparkling shine.
I Remove Stains from My Natural Stone Countertops
Stains that have soaked into the countertop can be difficult to remove if not treated immediately. When cleaning water stains from a granite countertop or if you have a stain that does not yield to soapy water, you can try gently removing it with a little hydrogen peroxide applied directly to the stain.
How to clean quartz of tough stains or oily stains requires soaking the stain up with a baking soda paste. For oil-based stains, mix baking soda with mild dish soap, and enough water to make a runny paste.
For water-based stains, mix baking soda with mild dish soap and just enough hydrogen peroxide to make a runny paste. Gently apply the paste to the entire stain and cover it with plastic wrap.
Let the baking soda paste stand on the stain for a day or two, then wipe it up and clean the area again with soapy water. Buff dry with a microfiber cloth. Repeat as needed until the stain is gone. You may find that this method will get super glue off granite, too.
Baking soda paste can be helpful if you need to remove super glue from a countertop, too.
How I Seal Countertops – Marble, Travertine, and Concrete
The best defense against stains on a natural stone countertop is to seal it completely. A sealed countertop will repel moisture and stains, while unsealed stone will soak it up.
Your stone countertop was probably sealed when installed, but over time the sealant wears thin and needs to be re-coated. For best results, reseal your granite countertop every couple of years to prevent stains.
Sealing My Granite Countertops
One way to check your seal is to splash a little water on the surface. If it beads up quickly, your seal is good; however, if the water no longer beads, or if it soaks into the stone, it is time for a new seal.
Choose the right commercial sealer for your countertop type. Clean your countertop thoroughly with warm soapy water or a commercial cleaning formula recommended for your countertop.
Dry the granite completely, buff it to remove streaks, then allow it to air dry for another 10 to 15 minutes before sealing. Transfer the commercial sealant formula to a clean, dry spray bottle. Spray the sealant over the entire surface, making sure it is completely covered.
Wait for 10 to 15 minutes for the sealant to soak into the stone. Wipe away the excess sealant with a paper towel. Clean the newly sealed countertop to remove any haze left behind.
Cleaning My Kitchen Countertops Naturally – Laminate, Stainless Steel, Corian, Glass
My Routine Cleaning of Laminate Countertops
Start by removing everything from the area, so you have a clear surface to work. Clean up any dirt, debris, or spilled food quickly. That way, you're minimizing the likelihood of letting a stain develop.
Spray the area down with a good cleanser and allow a few minutes to clean and disinfect it. Then, use a clean paper towel or kitchen cloth to dry the surface.
Disinfecting My Countertops with Vinegar and Hydrogen Peroxide
This natural disinfectant method is not suitable for marble, granite, travertine, or other natural stone countertops. Clean the area thoroughly. Spray the entire area with regular 5% vinegar and then spray it with undiluted 3% hydrogen peroxide.
Allow time for the vinegar and peroxide to mingle and disinfect the countertop. Wipe the area dry with a paper towel.
Disinfecting My Countertops with Bleach Solution
Diluted bleach has been the go-to standard for many years for removing burn marks from quartz countertops. It doesn't take much bleach to do the job; the solution needs to be made and used the same day for maximum effectiveness. Caution: Do not use bleach on marble, granite, travertine, or other natural stone countertops.
Mix bleach with cold water in a spray bottle. Spray the area and allow it to sit for a few minutes. Dry the area with paper towels or let it air dry.
My Homemade Kitchen Cleaner Recipes
You don't need heavy chemical cleaners for most household cleaning chores. Here are a few recipes for natural cleaners to get stains out of linoleum countertops. Make sure you are following the guidelines and using the right cleaners on each surface.
Antibacterial Kitchen Cleanser
This antibacterial and antifungal cleanser cleans your kitchen surfaces naturally with essential oils. For a fantastic antibacterial kitchen cleanser, add distilled water, tea tree oil, and lavender to a 16-ounce spray bottle. Shake the bottle well to mix the ingredients, and begin cleaning.
My Homemade Citrus Cleanser
This easy to make citrus cleanser is suitable for use on most countertops, except marble, granite and other natural stone surfaces. Both vinegar and citrus peel have natural cleaning and anti-microbial properties.
Start by filling a jar with citrus peels. Use grapefruit, orange, lemon, lime, or tangerine peels with all the fruit removed. Cover the citrus peels with white vinegar and cover the jar with a tight-fitting lid. Allow the vinegar and peels to sit in a cool, dark place for one to two weeks.
Strain the vinegar through a fine sieve or cheesecloth and pour it into a spray bottle. Dilute the orange vinegar with an equal amount of water and shake.
How I Clean Concrete Countertops
Concrete or cement countertops are similar to natural stone in many ways, and the way to clean concrete counters is similar to cleaning cement driveways or floors.
The surface can be sealed or unsealed and prone to staining. Unlike when you remove oil stains from a concrete garage floor, a sealed concrete countertop resists stains well, but abrasive cleaners and sharp objects tend to damage it. Unsealed countertops require more aggressive scrubbing to prevent or remove stains.
How I Clean Wood Countertops
Butcher block countertops and wood cutting boards are easily cleaned using soap, water, and vinegar. Cleaning up spills immediately and regularly scrubbing the countertops will keep them in good shape.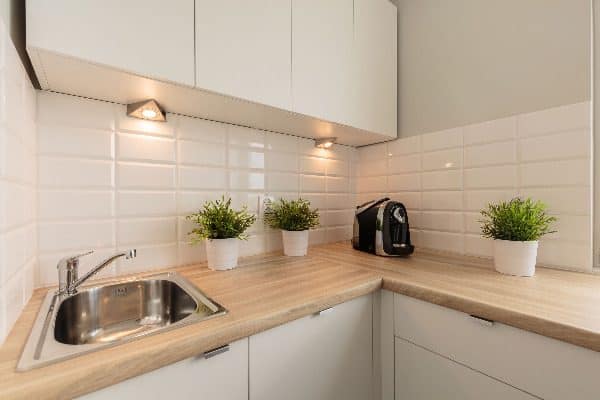 Remove food residue and crumbs from the counter. If necessary, scrape the area with a spatula or pastry scraper. Wash the wood using hot water and mild dish soap on a sponge or scrub brush. Rinse the wood with clean water on a clean dishcloth or sponge.
Spray the area with undiluted white vinegar and allow it to sit a few minutes to sanitize the wood. Wipe off the vinegar with a damp dishcloth, then dry the area with a clean dish towel or paper towel.
Cleaning My Tile Countertops
Tile countertops can be tough to keep clean. Dirt and stains tend to seep into the grout lines and give them a dingy, dirty look. Clean your tile countertops with any household cleaner or tile cleaner, then give the grout a little extra attention.
Wear gloves to protect your skin. Spray the grout with a simple tile grout cleaner or a diluted bleach solution and allow it to sit for ten minutes. Scrub the grout lines with a toothbrush or small scrub brush.
Rinse the counter with a damp sponge, removing dirt, debris, and cleaner. Repeat as needed until the grout lines are clean. Allow the grout to air dry. Seal the grout with a commercial grout sealer.
I hope this tutorial was helpful and answered all your questions about how to clean kitchen countertops. Cleaning and disinfecting your kitchen countertops keeps them looking great longer and keeps your food preparation safe.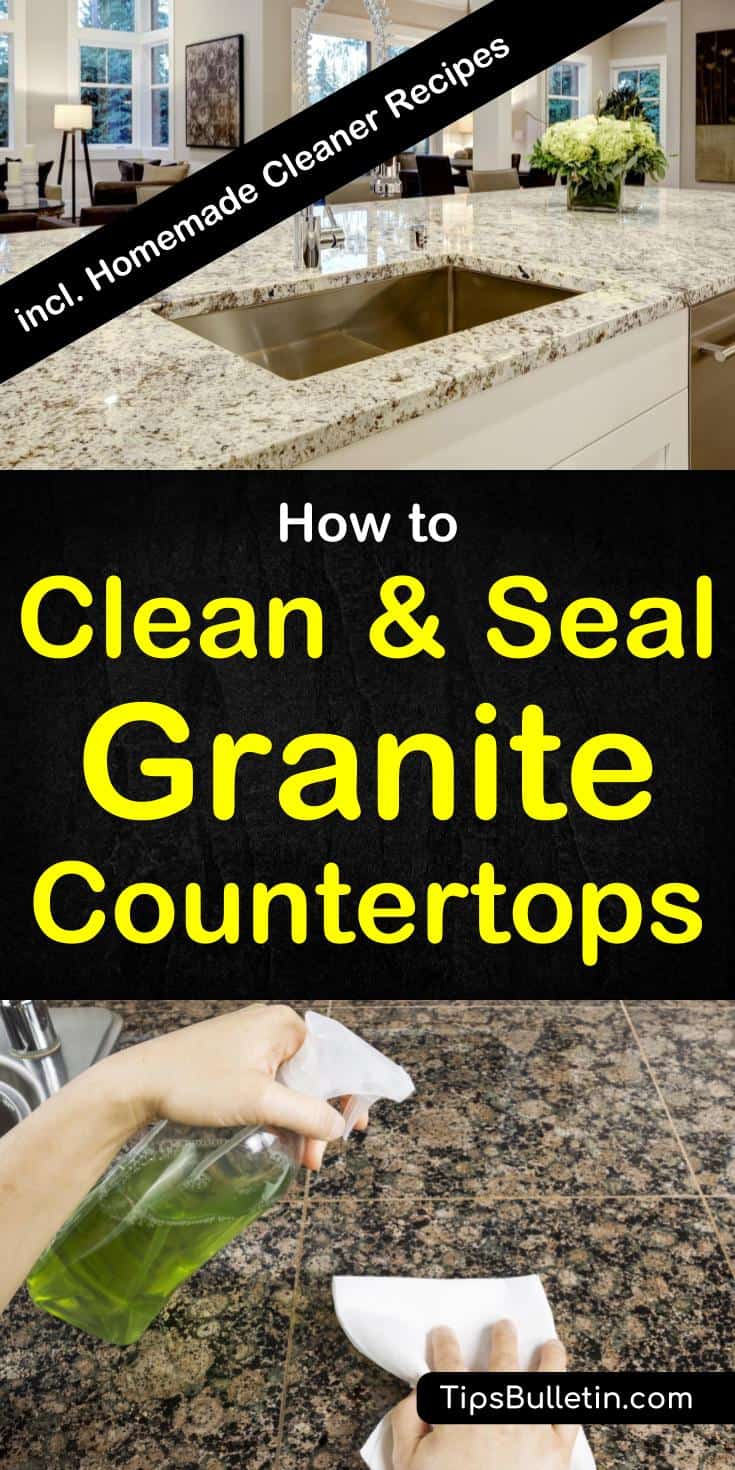 If you found this information helpful, please use the buttons below to share to Facebook, Twitter, and Pinterest so others can benefit as well.