Anodized aluminum is a type of treated metal that affects its overall appearance and durability. There are endless pieces of metal that are handled this way, and you're likely to find it around your home, car, and workplace. Many people wonder how to clean anodized aluminum because they don't know if it has any special care needs.
There are a few safe ways to clean anodized aluminum, and they likely include tools and ingredients you already have stored around your home. Cleaning anodized aluminum requires having a basic understanding of what it is.
The anodizing process happens when a piece of aluminum gets submerged in an acid-electrolyte bath. Electric currents pass through the metal, and oxygen ions attach to the aluminum atoms, creating aluminum oxide. This process leaves a metal surface with the anodized finish on popular items like cookware.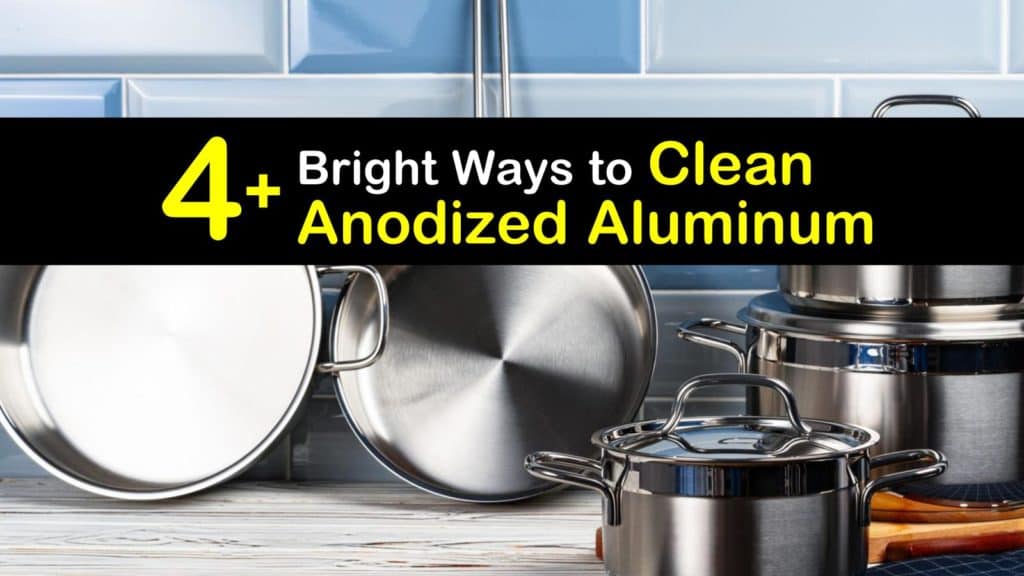 Benefits of Anodized Aluminum
Aluminum is already known as a durable metal, but the anodization process makes it three times tougher than before. This new aluminum surface won't even chip or peel.
The process prevents discoloration is customizable from matte to shiny, and there are a variety of color options. It is more lightweight than other similar metals like stainless steel and costs much less to manufacture. Find it in coffee makers, microwaves, architecture, and transportation.
Ways to Clean Anodized Aluminum
Anodized aluminum might be extra hardy, but using the wrong cleaners is the fastest way to damage it. Gentle cleaning solutions and tools are the safest bet when cleaning aluminum patio furniture and anodized aluminum in the home to eliminate stubborn stains while still being useful in removing grime and build-up.
How to Clean Anodized Aluminum with Dish Soap
Always use a mild soap like Castile when cleaning anodized aluminum. Cleaning products with a neutral pH are the safest and quickly get to the job done.
Fill a container big enough to clean an aluminum cookie sheet or whatever aluminum item you have with warm water and add a few drops of mild soap to the water so that suds form. It's always smart to test a new cleaner in a small part of the anodized aluminum surface before jumping right in.
Once you know the cleaner is safe for the metal, wet a soft cloth or sponge in the soapy water and use the cloth to wipe down the entire anodized aluminum product, whether you are trying to restore old aluminum windows or your boat trailer.
Cover large areas at one time with soap. Sponges with a small amount of abrasion, like ScotchBrite pads, are safe to use for sites with grime build-up, like when you deep clean aluminum wheels on your car or RV.
Once you finish scrubbing the anodized pan, rinse with clean water. Use a fresh dry towel or microfiber cloth to remove all excess water.
Cleaning Anodized Aluminum with Homemade Cleaner
Making aluminum cleaner at your home is easy because most people already have the products lying around the house. Homemade aluminum cleaner and polish are often safe to use on aluminum because of their gentle ingredients and always give it a shiny finish.
Increase the proportions in this recipe for cleaning an aluminum boat trailer or another large item.
For hard anodized cookware, mix all ingredients for this cleaner in a medium bowl until a paste forms. Spread the paste over the anodized aluminum and let it sit for five to ten minutes. Use fresh water to remove the paste and dry the aluminum with a clean cloth.
This is the best way to clean aluminum pans that have a lot of accumulated grease and gunk build-up.
Use this simple recipe outdoors too. It will remove brake dust from aluminum wheels if you use a wheel brush and is one way to clean chalky aluminum siding.
Using Vinegar to Clean Aluminum
Vinegar is a powerful ingredient that is effective against dirt, stains, and grime. If you have a small piece of aluminum, fill your sink with warm water and add a healthy splash of white vinegar.
To clean cast aluminum pots, soak the aluminum piece in the vinegar mixture for about 30 minutes. Drain the sink and rinse the metal with clean water. Allow the aluminum to air dry completely before using it again.
Try this remedy for cleaning an anodized aluminum shower door, too, as well as to remove rust from aluminum rims with a little scrubbing. You'll be amazed at the excellent results!
How to Polish Anodized Aluminum
Like other metals, a regular polish helps to give your anodized aluminum a clean surface. Begin by buffing out marks on the aluminum with extremely low grit sandpaper or steel wool as one of the natural ways to polish aluminum surfaces.
Spray the metal with aluminum polish, begin buffing it with a soft cloth, and be careful of streaking marks. Consider adding a clear coat for aluminum with a paintbrush or sponge to add an extra layer of protection.
How to De-Anodize Aluminum
There may be a time where you don't like the anodized finish on your aluminum. It is possible to remove this finish if you want to get rid of it without buying all new products.
Drain cleaner contains sodium hydroxide, a chemical that removes the aluminum's outer coating by deoxidizing it. To de-anodize your aluminum, start by putting on rubber gloves for protection from the chemical.
Fill a large bucket with a tablespoon of drain cleaner for every gallon of water. Mix the drain cleaner and water so it's well combined, and put your aluminum pieces into the solution for five minutes. Remove the aluminum from the bucket, rinse with clean water, and allow to air dry.
What to Know about Anodized Cookware
Cookware is one of the most common anodized aluminum products in our lives, and it's essential to get the facts before purchasing a new set of pots and pans. Anodized cookware is sealed so that the metal won't leak into your foods when cooked.
It isn't reactive to acidic foods and is non-stick and scratch-resistant. Anodized metal closely resembles stainless steel and is a fast conductor of heat.
Anodized cookware has some disadvantages as well. These products aren't great when cooking with high heat. Dishwashers frequently damage the non-stick surface, and it also doesn't react well to cooking sprays.
Of all the ways to clean anodized aluminum, we always recommend checking the company's sitemap from where you bought the product. Most companies list the proper care instructions for their aluminum with specific details.
Cleaning anodized aluminum is something that all of us can do on a budget and only takes a few moments out of your day to make it look like new once again.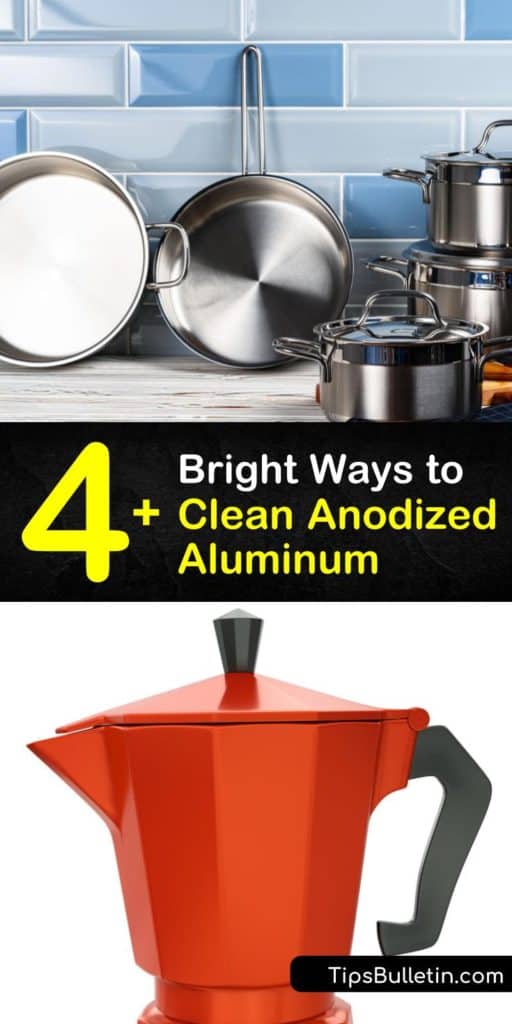 If this article helped show you how to clean anodized aluminum safely, share these homemade aluminum cleaners on Facebook and Pinterest.