If your family's heirloom china cabinet or that antique coffee table in your living room has been accumulating dust and dirt, you might assume that it's time to consult an antique furniture restorer. In this article, we'll show you simple steps for how to clean antique wood furniture on your own.
You're right to be careful with your precious antique and don't want to damage the layer of patina that gives the piece its aged appearance. However, it's not necessary to call in an expert unless your item is in exceptionally poor condition or is rare and valuable.
Whether your item is a desk or a chair, if it's coated with lacquer, shellac, or another finish altogether, and no matter if you're dealing with dust or mold, you're sure to find a way to clean antique wood furniture that suits your situation.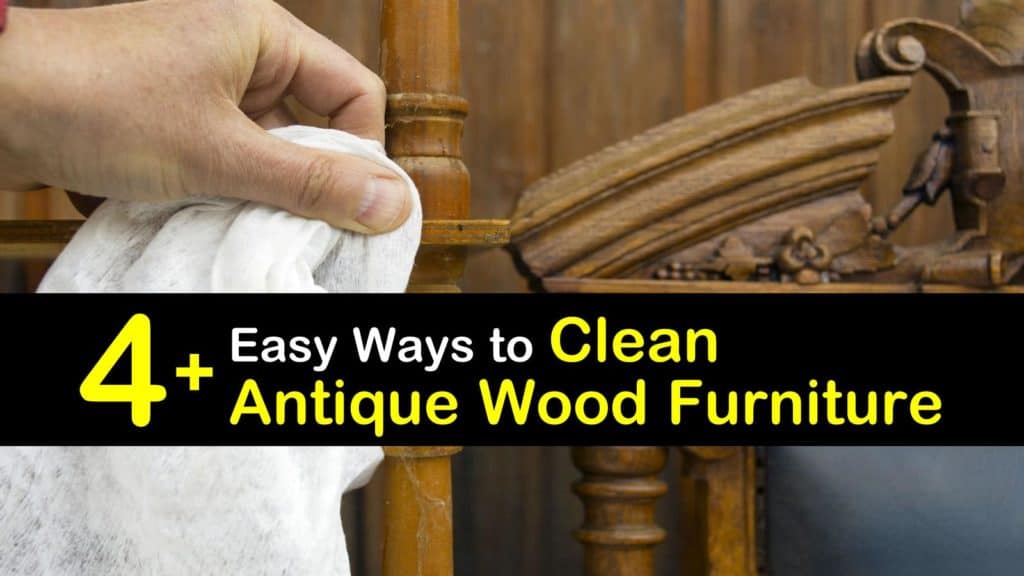 Simple Ways to Clean Antique Wood Furniture
Cleaning antique furniture doesn't need to be a pain. With a simple cleaning method and a little elbow grease, make your antique furniture look "like new" again and feel the satisfaction of crossing that niggling item off your to-do list.
There are different levels of commitment for cleaning old wood furniture, from wiping off grime to applying a furniture polish or wax. We'll take you through them all so that you'll be confident knowing how to clean antique wood furniture and equipped to restore your item to good condition.
If your furniture has brass accents, use a solution for cleaning brass to get them shining again.
Diluted Dish Soap: An Excellent Way to Clean Antique Wood Furniture
Antique furniture items have had many years to accumulate oily fingerprint stains. Thankfully, it's easy to find ways of removing oil stains from a wood table by wiping them away using a standard household product.
Using soap and water is also ideal for cleaning teak furniture that is dirty and stained.
Gently rub down your item's wood surface with a little of the cleaning solution on a soft cloth. Continue wiping, making sure to follow the grain of the wood, until the cloth no longer collects dirt.
For more resistant grime, consider using a diluted oil soap, such as Murphy's Oil, although experts caution against using oil on very old furniture. Gently rub away tough stains using #0000 steel wool, available at your local hardware store.
Use a toothbrush dipped in the cleaning mixture to reach areas that you would otherwise have trouble accessing. Finish by wiping down the furniture item with a clean cloth.
How to Clean Antique Wood Furniture
This simple spray for cleaning old wood furniture is a simple but effective DIY wood furniture cleaner that leaves antiques shiny without relying on harsh chemicals.
For cleaning wood with vinegar and oil, shake the ingredients in a spray bottle then squirt the mixture onto your old furniture, wiping with a microfiber cloth. This superstar all-natural furniture cleaner also works on leather and patio furniture.
You may also find that this simple spray will remove paint from cabinets without sanding them.
It can be beneficial to get paint off wood furniture, too. Use care to ensure you do not damage the wood when removing paint.
Touch Up Your Antique Furniture's Finish
If the old finish on your antique is starting to wear away, it may be tempting to remove old paint from wood and replace it with a new coating of finish. However, it's often best to leave the wood finish alone because, besides lowering the market value of your antique, refinishing may be more work than necessary.
If you do decide to explore refinishing, try to stick with the original type of finish, as opposed to a newer kind, such as polyurethane. For small imperfections, loosen up the original finish by using a cloth or paintbrush to apply a little denatured alcohol, if your antique is finished with shellac, or lacquer thinner for a lacquer finish.
Move the finish around to cover up small dents. Another option is using #0000 steel wool lubricated with linseed oil to carefully rub away only the damaged layer of furniture finish.
Furniture Polish for Antiques
If you've repaired any issues with the wood finish and have given your item a good cleaning using one of our recipes, why not complete the job by applying a polish? This coconut oil furniture polish leaves items shiny.
Melt the coconut oil over low heat before adding it to a spray bottle along with the vinegar and lemon juice. Shake the bottle every time you spray it onto your furniture item, then wipe the polish around with a cloth.
Make sure to store the polish somewhere cool and dark. Replace it about once a month because coconut oil spoils.
Apply Furniture Wax to Protect Your Antique Wood Furniture
Waxing is an effective alternative to liquid furniture polish for protecting the wood finish against moisture and dust. A type like paste wax, which contains bees wax, is easy to apply and gives wood furniture that glossy glow. If necessary, the wax comes off relatively easily using mineral spirits.
Rub a little of the wax polish into the wood with a soft cloth in a circular motion, using light wax for light finishes and dark wax for dark ones. Aim to rewax once a year, especially if you use the furniture frequently.
How to Identify the Type of Wood Finish
Knowing what type of finish coats your antique wood furniture affects how you decide to clean it. For example, it's essential to treat a shellac finish carefully, since it reacts to both water and chemicals. Thankfully, there's a simple method to nail down the type of finish – just make sure to wear gloves.
Rub a little denatured alcohol onto a small area of the furniture item. If the finish comes off each time that you apply the alcohol, then it's shellac.
Otherwise, repeat the same process with lacquer thinner to determine whether you're dealing with lacquer or, if no finish has ever come off, a varnish.
Cleaning Old Wood Furniture: Water Stains and Mold
You may have assumed that those water stain rings on your antique coffee table were there for good, but there are several easy ways to remove water spots on furniture. For example, rub a little mayonnaise onto the affected area.
Leave the condiment sitting there for at least one hour or overnight, then wipe it away with a damp cloth, making sure to dry the surface after you're done.
To clean mold off wood furniture, move the item outside or to a well-ventilated area and vacuum away the spores using the soft brush attachment, being sure to wear protective gear like a mask and gloves.
Slowly stir 1/4 cup of bleach, one gallon of warm water, and one tablespoon of laundry detergent. Dampen a cloth with this solution, then wipe away the mold. Let your antique dry, then coat it with linseed oil using a cloth. This cleaner is also great for disinfecting a wood dining table or another wooden surface where germs congregate.
We get it: antique wood furniture can be intimidating. From its old age to its potential monetary value, you might not even feel comfortable touching it. We hope these tips showed you that antiques don't have to be scary and that, for the most part, you can maintain them just like any other piece of wooden furniture.
If you've been looking for a DIY project and wondering how to clean antique wood furniture safely, giving your antique a quick wipe-down, performing small repairs to the finish, or applying a new layer of polish or wax often does the trick.
Keep your antique item looking great by dusting it regularly with a lint-free cloth or non-feather duster.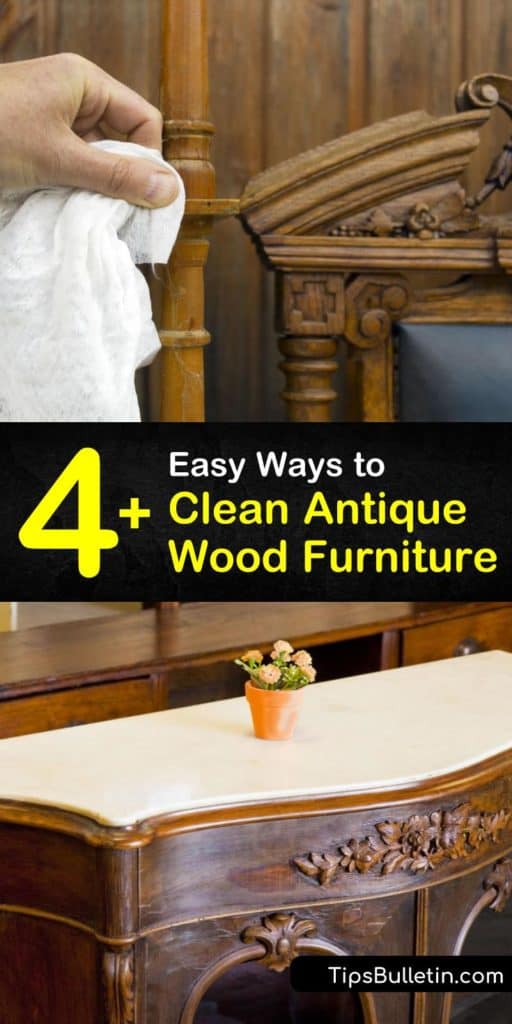 What's your new favorite way to clean antique wood furniture? If you found these antique furniture cleaning tips useful, please go ahead and share these suggestions for cleaning wood furniture with your friends on Facebook and Pinterest.