Everyone has had an unfortunate grease spill or spatters in the oven. This nasty mess gets baked on with repeated oven use and seems almost impossible to remove. So, we need to learn how to clean baked on grease from an oven, even for a self-cleaning oven.
All you need is some household cleaners like baking soda, white vinegar, and the surprisingly adequate hot water. Grab some paper towels and a scouring pad along with some elbow grease and get ready to implement these cleaning methods.
Even heavy-duty build-up will have no chance against these cleaning products, even though we are not using any harsh chemicals. You will learn how to clean the worst grease off of oven racks, the stovetop, and the oven door. After you finish, you will be amazed by your sparkling clean oven.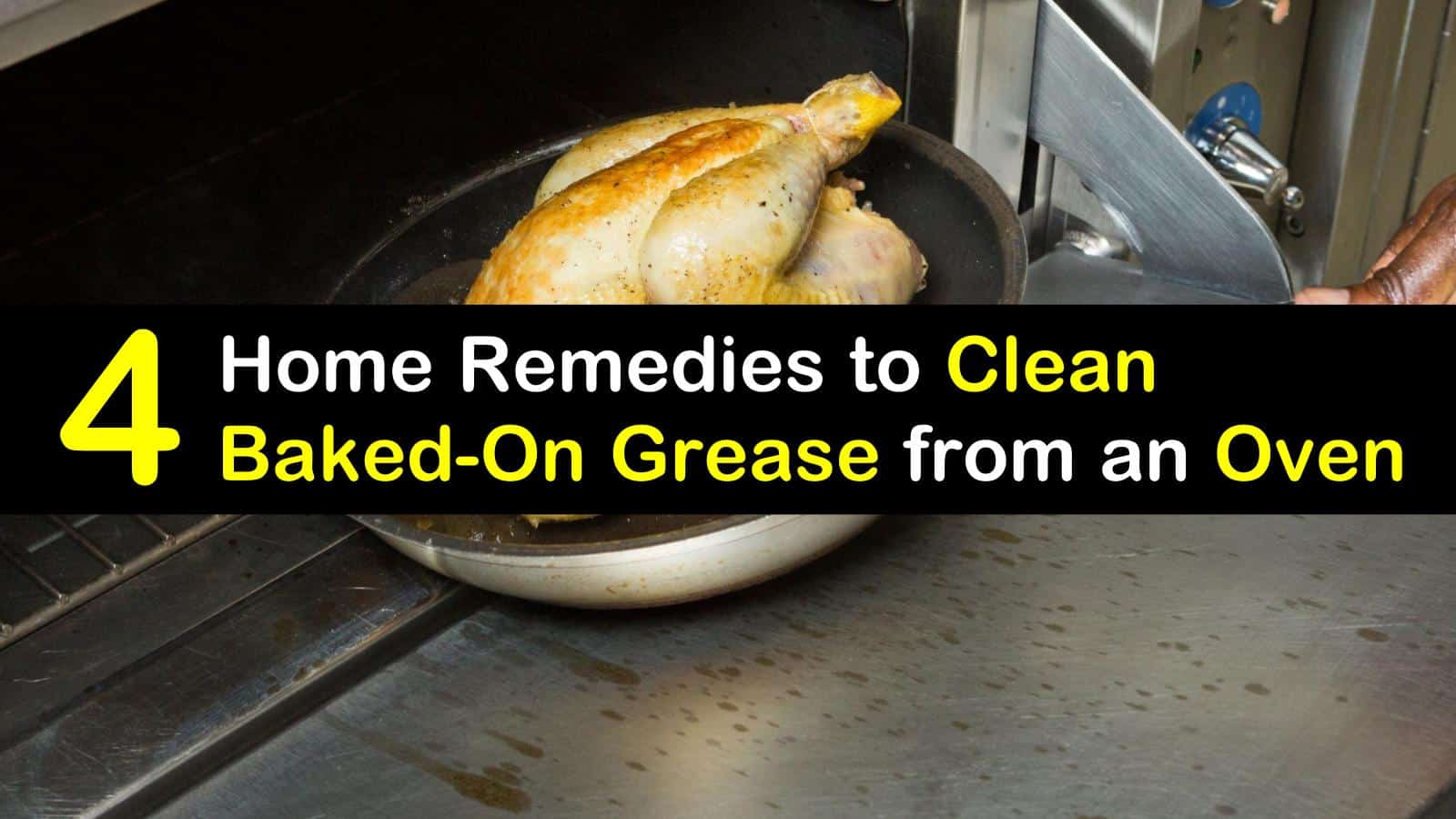 Cleaning Baked on Grease in an Oven
Baked on grease has always been a problem for range hoods, stovetops, and even in self-cleaning ovens. It accumulates over time no matter what you do or how often you clean. So, we have come up with these tips for getting rid of that hardened grease.
Use a natural oven degreasing solution with one or more of our recipes. We will even tell you what the best homemade oven cleaner for baked on grease is!
How to Clean Baked on Grease from an Oven with Vinegar
Even the power wash settings on your dishwasher can't remove all the grease from your cooking trays. That means you'll have to use some alternate options to have a clean oven. We think the best cleaning agent for burned on grease is baking soda paste. This homemade natural oven cleaner is easy to make and just takes a bit of elbow grease for it to work.
We will work a two-step process first to get rid of those grease stains. Let the oven cool before you attack the fat. Sprinkle two cups of baking soda on the bottom of the oven. Do not worry about getting it on the heating elements.
Now, with a cup of vinegar in a spray bottle, spray the vinegar all over the stove. Make sure to empty the spray bottle. Wait overnight for everything to work its magic.Wipe down with warm water on a damp cloth.
Presto, you can now remove grease from oven with ease! This cleaning process is one of my favorite ways how to clean baked on grease from an oven. If this remedy doesn't work for those hardened grease stains, repeat the treatment or try the next tip on this list, or maybe you can use these DIY oven rack cleaner tips, too.
Vinegar is also an excellent solution as a no-streak glass cleaner for the oven glass and other glass surfaces in your home. There is no need to dilute it.
How to Clean a Greasy Oven with Hydrogen Peroxide
How to clean a greasy oven is not always the easiest household chore. We struggle to find the perfect solution and can see that even the chemicals at the supermarket often do not work. However, these cleaning tips will not let us down.
This recipe is the best cleaner for baked on grease. It's even better than a store-bought oven cleaner like Easy-Off. Remove the oven racks.
Mix the baking soda, peroxide, and dish soap to form a paste and wipe down the whole oven with it. You could use a spatula to get the grime in the hard to reach corners, and around the heating elements. After finishing, squirt three tablespoons of lemon juice in the oven.
The next morning, use a damp cloth and wipe up all the splatters of grease and gunk. The cleaning function of the ingredients should have had more than enough time to work, and you might find that you have found an ideal homemade oven cleaner for baked on grease. This is the best degreaser for oven and range hood that you can find with ingredients you already have.
However, an oven isn't the only place we need to clean. Barbeques made from cast iron accumulate grease, too, and a cast iron grill cleaning needs different tips.
How to Get Baked on Grease Off Oven
We have an unusual trick to get baked on grease off oven, whether you have a gas oven or your dirty oven is electric. Even the bottom of your oven will benefit from this tip. All you need is aluminum foil.
Scrunch the aluminum foil into a ball, and clean burnt food from the oven with it by rubbing it over the grease stains. The edges of the aluminum cut into the grease, and will not hurt your oven.
Use baking soda or soapy water on a damp sponge to quickly rinse down the oven when done. This tip truly is one of the best cleaning agents for burned on grease!
Magic Erasers are the Best Homemade Oven Cleaner for Baked on Grease
Even self-cleaning ovens have problems when being cleaned. The oven door and the gaskets aren't affected by the self-cleaning cycle. The self-cleaning feature does not clean the stovetop either. That's why you need the best homemade oven cleaner for baked-on grease.
Mix the ingredients in a bowl, and place a sponge in it. Give the sponge about five minutes to soak up everything in the container. Wear a kitchen glove when picking it up.
Follow along for more recipes to find out how to clean an oven glass door without baking soda. Make your oven door shine with whatever cleaning ingredients you have on hand.
Get your oven clean by scrubbing the sponge on the remaining grease in the stove. Use some elbow grease for your greasy oven cleaning! That's the heavy duty way for how to clean a greasy oven.
We've gone through several steps about how to clean an oven. If you've followed every step, your stove should be sparkling clean, with no safety issues. Congratulations, now you can use the oven for baking once again.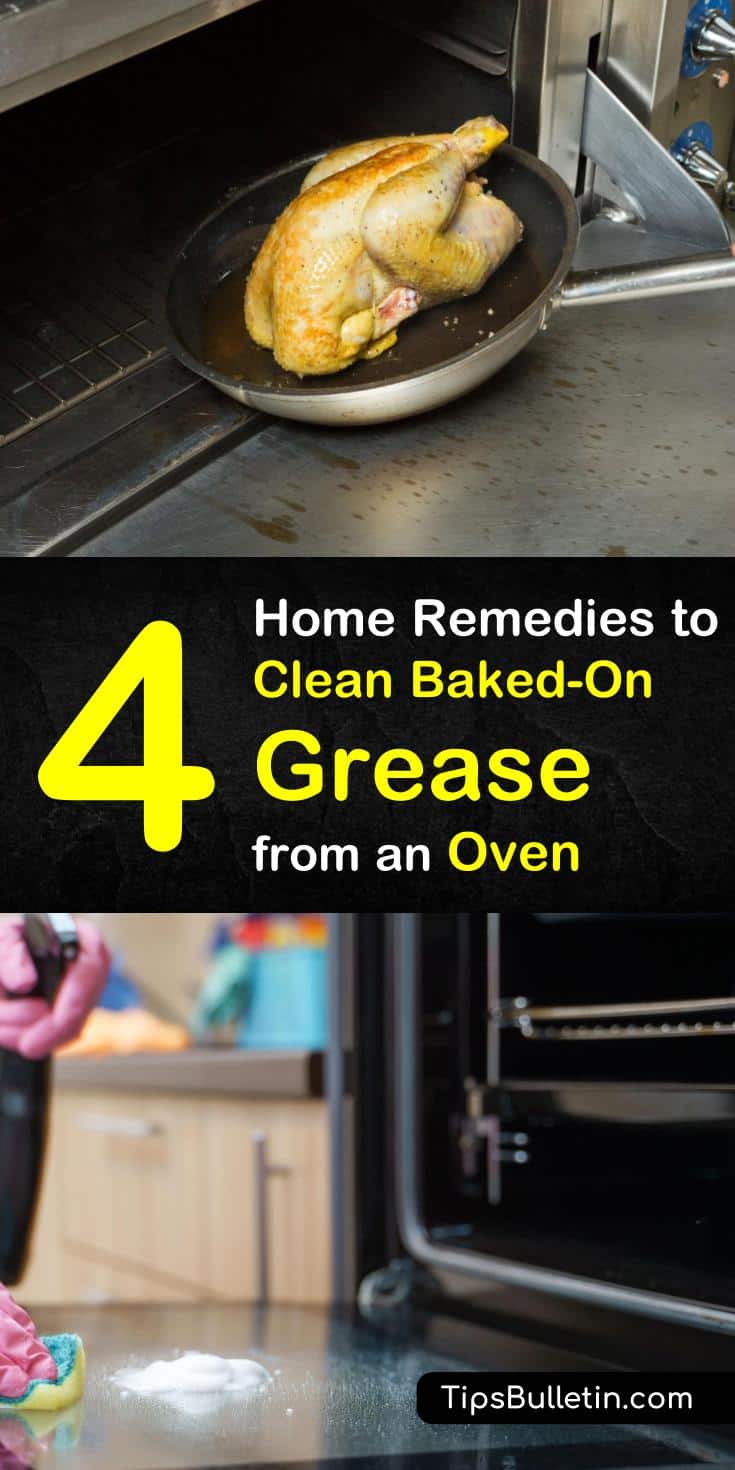 Now that you know how to clean baked on grease from an oven, share these oven cleaning tips with everyone on Pinterest and Facebook!