We all know that feeling of dread when our favorite pots and pans get coated with impossible-to-remove grease and grime. It often feels like the end of the world when our ideal cookware gets that stubborn coating of baked-on gunk, and we have no idea how to clean baked on grease from pans.
Not even non-stick pans are safe; cookie sheets, cast iron skillets, and stainless steel pans can all fall victim to the dreaded gunk. However, there is hope! In this guide, we'll teach you how to clean baked on grease from pans.
Frying pans and baking pans alike can come out looking brand new again with the tips and tricks in this cleaning guide. However, keep in mind that the material of your pan makes a difference; if you have copper pans, for example, try to stick to natural copper cleaner if you can.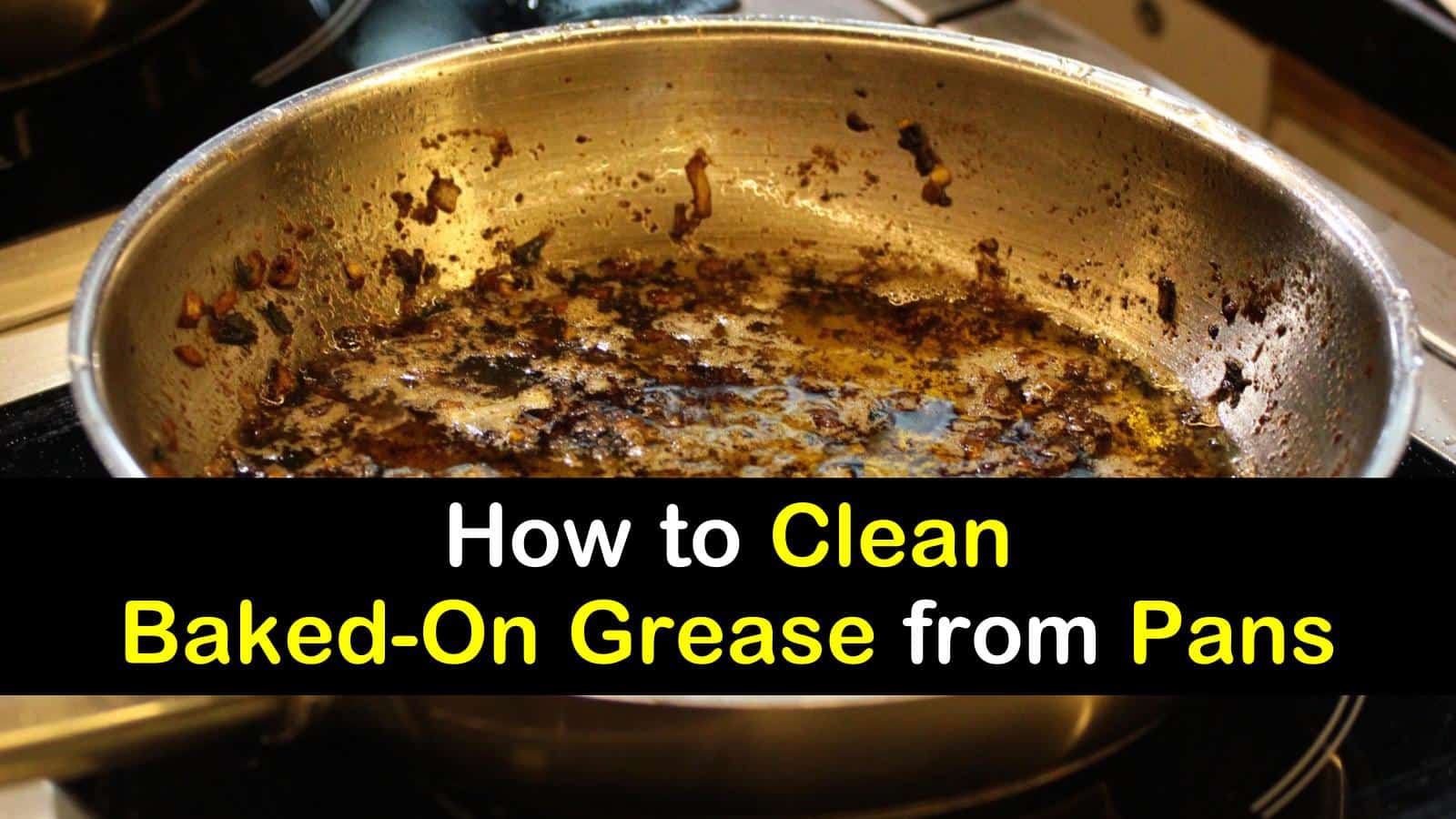 How to Clean Baked On Grease from Pans
Different types of baked-on grease require different solutions. Fortunately, we explore several of the best cleansers in this guide, so you will undoubtedly be able to find one that works well for you. If you're looking for how to degrease a pan, you've come to the right place!
How to Remove Grease from Pan with Baking Soda
Baking soda is a versatile all-round cleaner that's a powerhouse when it comes to fighting grease. Baking soda is lovely because it tends to be gentle on surfaces, yet powerful on grease – even on stove tops! If you're wondering how to remove grease from pan with baking soda, the secret is in how it reacts with hot water to lift stains and grease away.
Baking Soda Method

3 parts baking soda
1 part warm water
Add three parts baking soda to one part boiling water to create a thick baking soda paste. Make sure to use hot water, as this helps to activate the baking soda to do its job. Spread as much baking soda paste as you need onto the burnt-on areas of your pans or baking sheets.
Leave the baking soda paste in place for at least ten minutes, then scrub it off with a scouring pad. Don't use a scrubber, scouring pad, SOS pads, or steel wool on non-stick pans or pans with fragile coatings! If you have numerous areas of baked-on grease, you may need to repeat this process, but it should eventually lift the oil away from your pots and pans.
Alternatively, you can add hydrogen peroxide to your baking soda instead of warm water for a more pronounced grease-lifting effect. A mixture of baking soda and water makes an excellent kitchen counter cleaner, too.
Clean Burnt Grease from Bottom of a Frying Pan with Ketchup
When you're thinking of how to clean burnt-on grease from a pan, you might not initially consider ketchup as a solution for washing your cookware! Cleaning a burnt pan with ketchup might seem off-the-wall, but the high vinegar content combined with ketchup's other ingredients work well to clean burnt grease from bottom of a frying pan or sheet pans.
Ketchup works similarly to white vinegar, so you should be able to use the two somewhat interchangeably if desired. To clean the bottom of the pan with ketchup, spread a liberal amount on the one you want to clean, then let it sit for at least 30 minutes.
You'll need to use a bit of elbow grease when rubbing the ketchup around to complete the process of wiping down your cookware, but if you've done it right, your pans will look like new! Copper pan lovers, don't forget that tomato paste and ketchup work exceptionally well for shining and degreasing copper pans, so this method for how to clean copper pans and pots is just for you!
Cleaning Greasy Pans with Dish Soap
Dishwashing soap and other grease fighters (such as Bar Keepers Friend) are the perfect gunk-fighting remedies that we've used for years. While not all dish soaps may pack a punch necessary to get at hardened, baked-on grease, they're still worth using! 
Since dish soaps and cleansers come in many types and strengths, always follow the manufacturer's directions before using them. This will get you the best results every time!
Bar Keepers Friend, for example, can be used the same way as baking powder, but with a stronger effect. Don't forget that you can make an excellent natural homemade dishwasher soap out of scraps you can find around the house, too!
Did you like our tips and tricks about how to clean greasy pans? We tried several other grease-fighting remedies, like cream of tartar, oven cleaner, and dryer sheets, but these three methods are our favorites. Of course, if you want to avoid grease altogether, you can always use aluminum foil, too!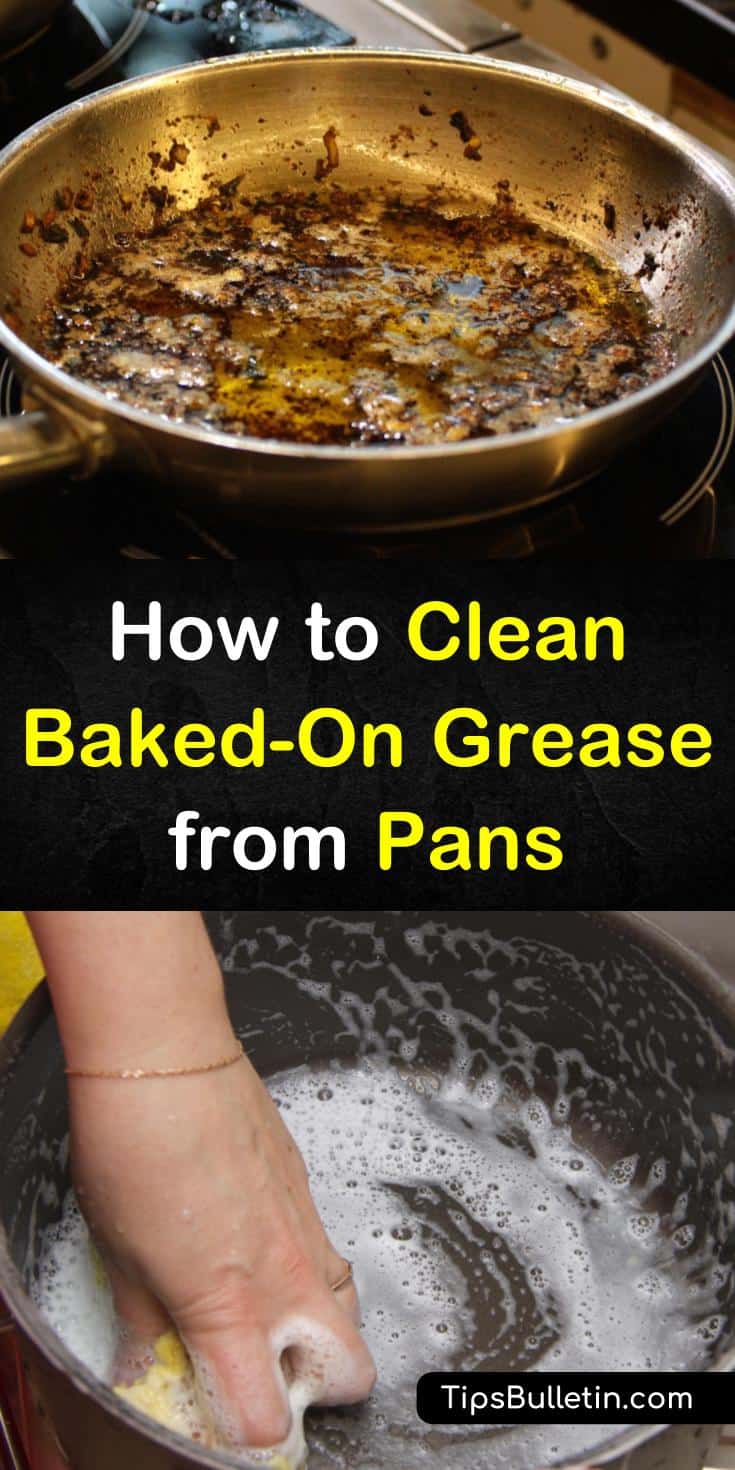 If you liked this baked-on grease cleaning guide, it would be great if you could share the information on how to clean baked on grease from pans on Facebook or Pinterest!