Bamboo flooring is growing in popularity, and more people are opting for bamboo flooring over other hardwood flooring choices. Bamboo floors are considerably cheaper than traditional hardwood flooring and provide the same beauty and benefits. Bamboo requires very little maintenance and care, but if you have it installed, you have to learn how to clean bamboo floors correctly to ensure they last.
Many people assume that the best way to clean bamboo floors is with a broom and a mop. Although those are useful when cleaning bamboo floors, there is a bit more to taking care of them. Bamboo flooring is considered durable, but how durable and sturdy the flooring is will depend on the type of bamboo floor you have installed.
Solid bamboo is the most sustainable choice and can withstand a lot of wear and tear. Engineered or carbonized flooring is not quite as durable, it is about 30% weaker than solid bamboo, so it will show wear and tear quickly. No matter what flooring type you install learning how to clean bamboo floors correctly will keep your floors looking better longer.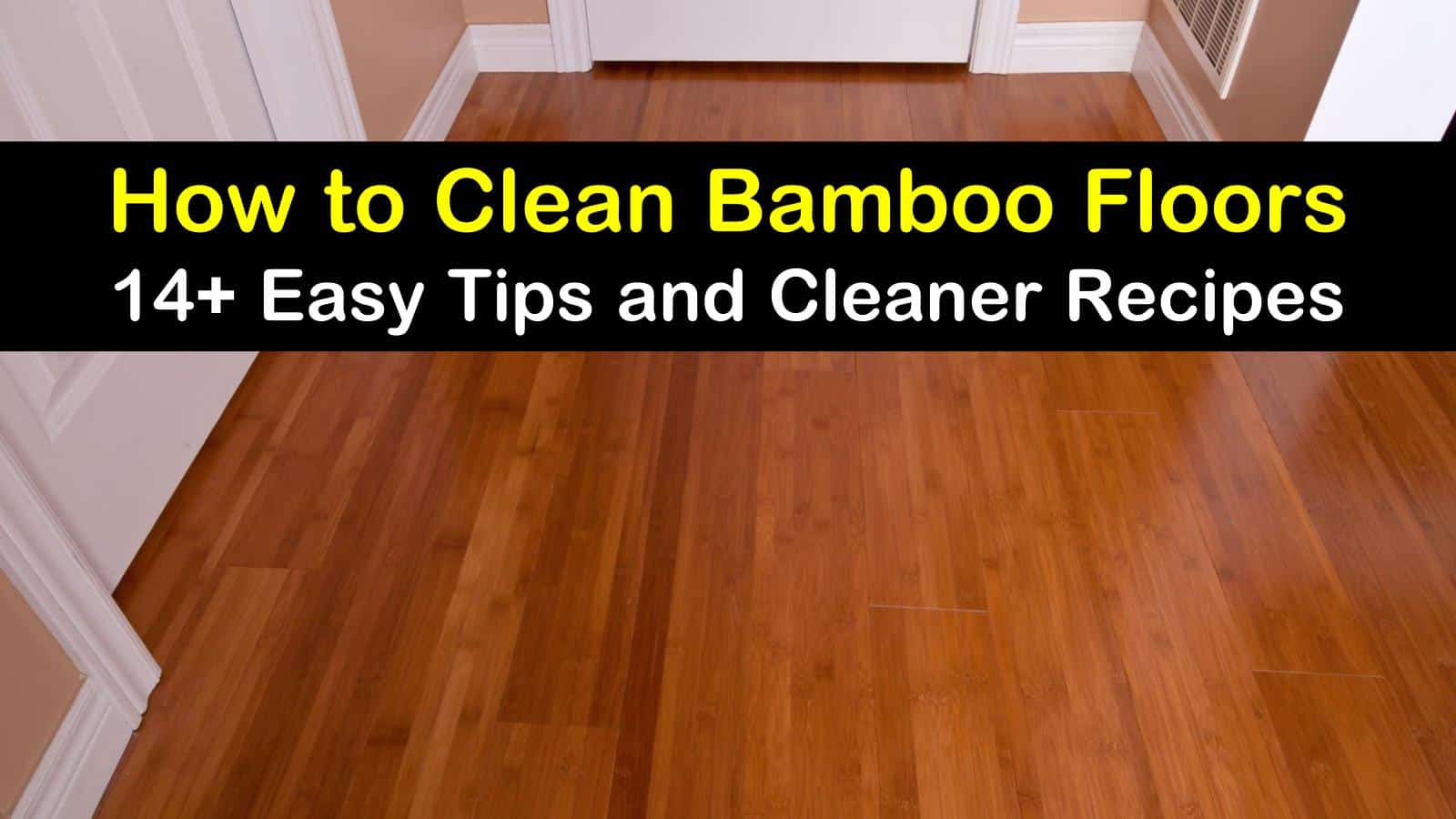 Tips and Recipes for Cleaning Bamboo Floors
Although your bamboo flooring is durable, you still want to take special care with it. Use doormats at all exterior doors, preferably both inside and outside. Doormats help reduce the amount of gravel, dust, grime, and dirt tracked inside onto your floors.
To further protect your floors, you should also remove all footwear before walking on the flooring, especially muddy, extremely dirty, or wet shoes. Use area rugs for high-traffic areas, as well as in bathrooms or kitchens where spills are more likely to happen.
Floor Care Tips for Bamboo Floors
In terms of furniture, use something under the base or feet of each piece, even the ones you think don't need it. Felt pads or rubber caps on furniture legs are an excellent way to protect your flooring from dents and scratches.
For larger pieces, use a rubber shelf mesh liner underneath to prevent moisture from becoming trapped between the furniture and flooring in the case of accidental spills. Consider placing mesh liners under doormats and rugs for the same reason.
If you move more substantial pieces of furniture regularly for cleaning, invest in moving coasters. You can leave the coasters underneath the furniture or remove them once you have put the furniture back in place. Moving coasters or large quilted moving blankets allow you to slide larger pieces of furniture across the floor without scratching or denting it.
If your bamboo flooring receives a lot of direct UV exposure through windows, take some precautions to prevent the floor from discoloring. Curtains or blinds in the windows will aid in limiting UV exposure, so there is a lower risk of discoloration and warping. If you prefer open windows for lots of sunlight, consider light-filtering options to protect your floors.
Best Way to Clean Bamboo Floors with a Vacuum
Investing in a high-quality vacuum will cut your cleaning time drastically, as vacuuming is the fastest way to lift off any dirt and grime off your floors. The problem is, though, not all vacuums are safe to use on your bamboo floors or for cleaning old hardwood flooring either.
The first thing to look for when selecting a vacuum is how heavy it is; avoid heavy ones as they can create dents and cracks in your flooring over time. You need a lightweight vacuum that you can lift off the ground with a single hand.
You can opt for a stick-style upright vacuum, an in-home vacuum, or a canister vacuum as long as it has enough suction to remove the dirt from floor joints. If you have pets, you want something designed for pet hair removal.
The most important thing to consider is having a removable beater bar because it can damage your bamboo flooring or wood floors. Always remove the beater when vacuuming bamboo or wood floors to protect the surface.
Choosing the Right Broom for Your Bamboo Floors
You don't always have the time to pull out your vacuum. Brooms are a great alternative if you are looking to clean up a quick mess or give your floor a quick cleaning. Yes, a soft bristle broom and dustpan will work to clean your floors, but may not do the best job.
The best broom to keep on hand is a microfiber dust mop. These brooms feature a flexible head with a microfiber cloth that is designed to attract everything from dust to hair. The microfiber dust mop doesn't just push everything around the floor; instead, it lifts it and traps it in the cloth.
If you have a matte, hand-scraped, or textured floor, finishing with a microfiber dust mop is not the best choice. Instead, you want a dust tile mop. The tile mop won't scratch or harm your floors and will clean various floor types without trapping the dust and dirt inside the crevices.
Have a Dedicated Wet Mop for Bamboo Floor Cleaning
The last thing to use on your new floors is an old string mop. Instead, invest in a quality microfiber mop. You can use your microfiber dust mop wet and dry, but we don't recommend it and encourage you to have a separate one for wet mopping.
The ideal choice will have a flat head, but strips of microfiber that resemble a string mop will also work. The difference is the flathead covers a larger surface so that you can clean faster. When choosing the mop, make sure the head is washable.
Cleaning Bamboo Floors with a Mop
Before you begin mopping your floors, you want to inspect the mop and mop head for anything that could scratch your floor's surface. You also want to apply a clean cover, so you are not spreading dirt and grime while you are trying to clean.
Grab your favorite floor cleaner; be sure you are using one that is safe for bamboo floors. Not all hardwood floor cleaners are safe to use on bamboo, and the last thing you want to do is ruin your floor's finish. Do not dip your mop into the soap; instead, spray the cleaner directly onto the floor.
Always clean small sections at a time and test a small area first before using a new cleaner. Mop the floor in a figure-eight, making sure to go with the wood grain rather than against it. Start mopping in the farthest corner and work backward towards the door.
This will prevent you from walking on areas you have just cleaned. If your floor is not drying fast enough, use a clean, soft cloth to wipe the floor or open windows and turn on fans to speed up the drying process.
Cleaning Up Accidental Spills
No matter how careful people are, somebody will end up spilling something on your bamboo. How often spills occur doesn't matter; the secret to extending the life and beauty of your floors is how you handle accidental spills. Liquid spills or accidents require immediate attention.
The longer you leave the liquid on the floor, the higher the risk of damage. Use a clean cloth or paper towels to absorb the liquid as soon as you notice it. Accidents are not always liquid; no matter what is spilled on your floor; you need to tend to it immediately.
Dirt, food, vomit, etc., should all be cleaned up as soon as they happen using a clean rag or towel to absorb any liquid and pick up any solid pieces. Follow up with a floor cleaner to spot clean the area.
General Tips on How to Clean Bamboo Floors
Sweep your bamboo floors with a soft-bristled broom or a dry dust mop once a day. A quick sweeping keeps your floors free from any dust, dirt, or fine grit that has the potential to scratch your floors. Always sweep or vacuum your floors before doing any other type of cleaning.
Once a week you want to mop your bamboo floors with Bona hardwood floor cleaner or Murphy's wood soap. These products not only clean your floors, but they also help protect the floor's surface and keep it shiny. When you clean bamboo flooring, you may use a hardwood floor mop, such as Bona or Swiffer, as long as the refill you are purchasing is safe to use on hardwood floors.
When using commercial cleaners, always follow the manufacturer's instructions. If diluting the soap is required, do not over dilute as this will render the cleaner useless. Only use a slightly damp mop, and wring out as much excess liquid as possible. Never allow liquids, including cleaners, to pool on the floor as the liquid may seep between the cracks causing damage deep down.
Tips on Removing Water Stains from Bamboo
Water stains can be tricky to eliminate. Sometimes a tablespoon of real mayonnaise will work to remove an old water stain. Spread a dab of mayo onto the stain and allow it to sit for 15 minutes or longer.
Wipe the mayo off with a rag and buff or polish the floor with a second soft cloth. The stain should be less noticeable or, if you're lucky, gone. Even if the mayonnaise doesn't do the job, it will fortunately not cause any further damage.
Best Way to Remove Scuff Marks
No matter what you do to avoid it, scuff marks are going to happen on your floors. To remove scuff marks, apply a small amount of your favorite floor cleaner to a rag. Rub the scuff marked area gently with the cloth until gone.
Dry the area thoroughly, and it should look just like new. When removing any marks, avoid using steel wool or a scouring pad as they will ruin the finish and damage your floors.
Homemade Stain Remover for Bamboo
If you prefer to avoid commercial cleaning products to remove stains, there are homemade cleaners you can try. A vinegar cleaning solution is an effective cleaner for the bamboo floor as it removes dried-on dirt and stains.
Mix white vinegar with a quart of water in a decent-sized bucket. Swirl ingredients together to mix. Dip a soft sponge or mop into the cleaner and wring out any excess liquid.
Mop or wipe the floor in circular motions. Do not make the solution any stronger than directed, as too much vinegar will ruin your floor's finish. Never use vinegar at full-strength. Use this cleaner sparingly.
Maintain Proper Temperature and Humidity Levels
Proper care for bamboo flooring includes maintaining the correct room temperature and humidity levels. Unlike other laminate flooring options, bamboo is more sensitive to temperature and humidity levels. To prevent warping, maintain a consistent temperature, ideally between 60° and 80°F.
Humidity is even more important than room temperature to protect your bamboo flooring. Keep levels between 40 to 60%. If you have high humidity levels inside your home, invest in a dehumidifier.
Simple Bamboo Floor Cleaner
When making this bamboo floor cleaner, it is important to use exact measurements. Lemon juice is acidic, so not diluting it properly with water can cause irreparable damage to wood floors.
Mix the ingredients inside a bucket. Dip a cloth or mop into the solution and wring out well. Using circular motions, mop your bamboo floors, taking one section at a time.
The lemon juice and hot water work to clean your floors and get rid of stains, while the olive oil gives it a much-needed and beautiful shine. Allow the floor to air dry for a streak-free finish.
This cleaning recipe also works as a wood floor polish, but again, be careful with the measurements to ensure that you do not damage the wood surface.
Best Disinfecting Floor Cleaner for Bamboo
With this floor cleaner, you can set some aside in a spray bottle to use for spot cleaning and stain removal. It also makes an excellent natural hardwood floor cleaner for other types of floors, including wood flooring.
Mix hot water and Borax in a bucket until dissolved to make this simple but effective natural disinfectant cleaner. Pour some of the cleaner into a spray bottle to use later. Be sure to label the bottle.
You may also use a spray bottle to apply the cleanser in small areas to prevent too much liquid from sitting on the floor. If using a spray bottle, spray floor directly and immediately use a dry dust mop to clean the floors.
You may also dip a mop into the solution. Before mopping floors, make sure mop is wrung out well. If the floor appears wet in some areas, dry flooring with a cloth. Otherwise, allow the floor to air dry.
Can I Use a Steam Mop to Clean my Bamboo Floors?
Steam mops are gaining in popularity because they leave floors clean without the addition of harmful chemicals or cleaners. While the idea behind steam mops is excellent, they are not the ideal choice for bamboo flooring.
The steam it creates is often absorbed by the floors, which leads to severe water damage over time. Steam mops create more damage to bamboo floors than a spill left unattended.
What to Avoid When Cleaning Bamboo Floors
Now that you know what to do when cleaning your bamboo floors, it is essential to understand what things to avoid, so you don't do irreparable damage to your new floors. The most important thing to remember is never to use any cleaning tools that are abrasive or rough. This means no scrubbing sponges, even on scuff marks.
Avoid any brooms, mops, or any scrub brush with hard or stiff bristles. Don't use beater bars, heavyweight vacuums, and ones made from metal as they will beat up your floors.
When you mop your floor, avoid saturating the floors with cleaners or water. Too much liquid on wood flooring increases the odds of the floors swelling, splitting, cracking, warping, and buckling.
If any of this type of damage occurs, you cannot fix it; you will have to replace it. When mopping with water, wring out the mop as much as possible; you want the mop head damp, not dripping.
Pay close attention to the floor cleaners you use. Many cleaners claim they are safe to use on bamboo floors, but they ruin the finish or leave behind a milky residue you will find difficult, if not impossible, to remove.
Other cleaners to avoid include bleach, ammonia, waxes and furniture polishes such as Swiffer Wet Jets, oil soap, undiluted Castile Soap, Pledge, baking soda, and any cleaning products designed for ovens, bathrooms, and cars.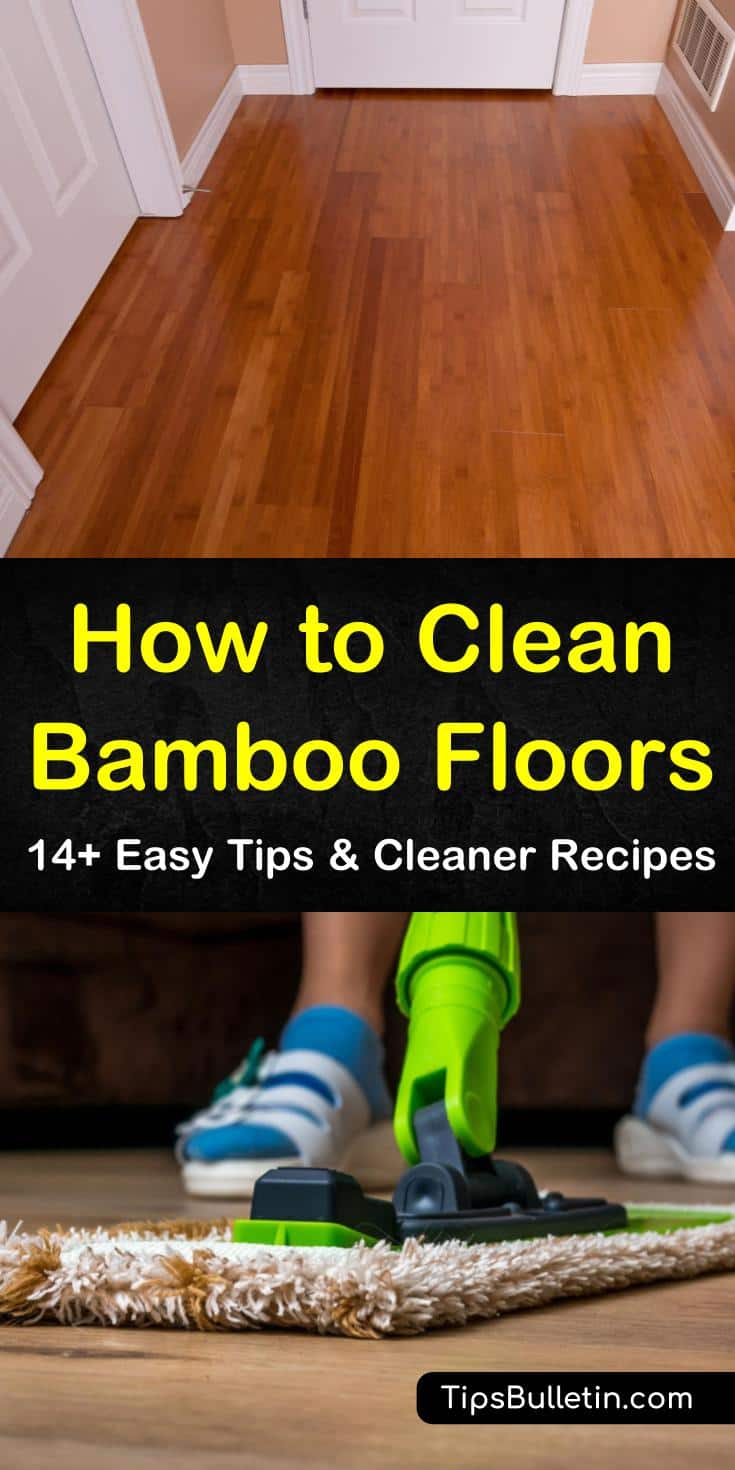 Thank you for reading our tips and recipes for your bamboo floors. If you found any of our bamboo care tips or cleaner methods helpful, please share with others on Facebook and Pinterest so they can learn how to clean bamboo floors correctly, too.