We don't think about them much, but our baseboards make a big impression on guests and family. Clean baseboards make a room pop and brighten up the whole house, but it's easy for our baseboards to get scuffed and soiled. When that happens, our rooms seem dingier and less tidy. It's essential to know how to clean baseboards to keep our homes beautiful, but which method should we use?
In this article, we show you five different tried-and-true cleaning techniques for cleaning painted white baseboards. We show you how Magic Erasers will bring your baseboards back to new condition, and we see how humble soap and water can do the trick, as well.
We also take a look at some unorthodox but effective baseboard cleaning methods that will amaze you. Cleaning wood baseboards doesn't have to be a home improvement slog. Once you know how to do it, your baseboards will sparkle, and your home will glow!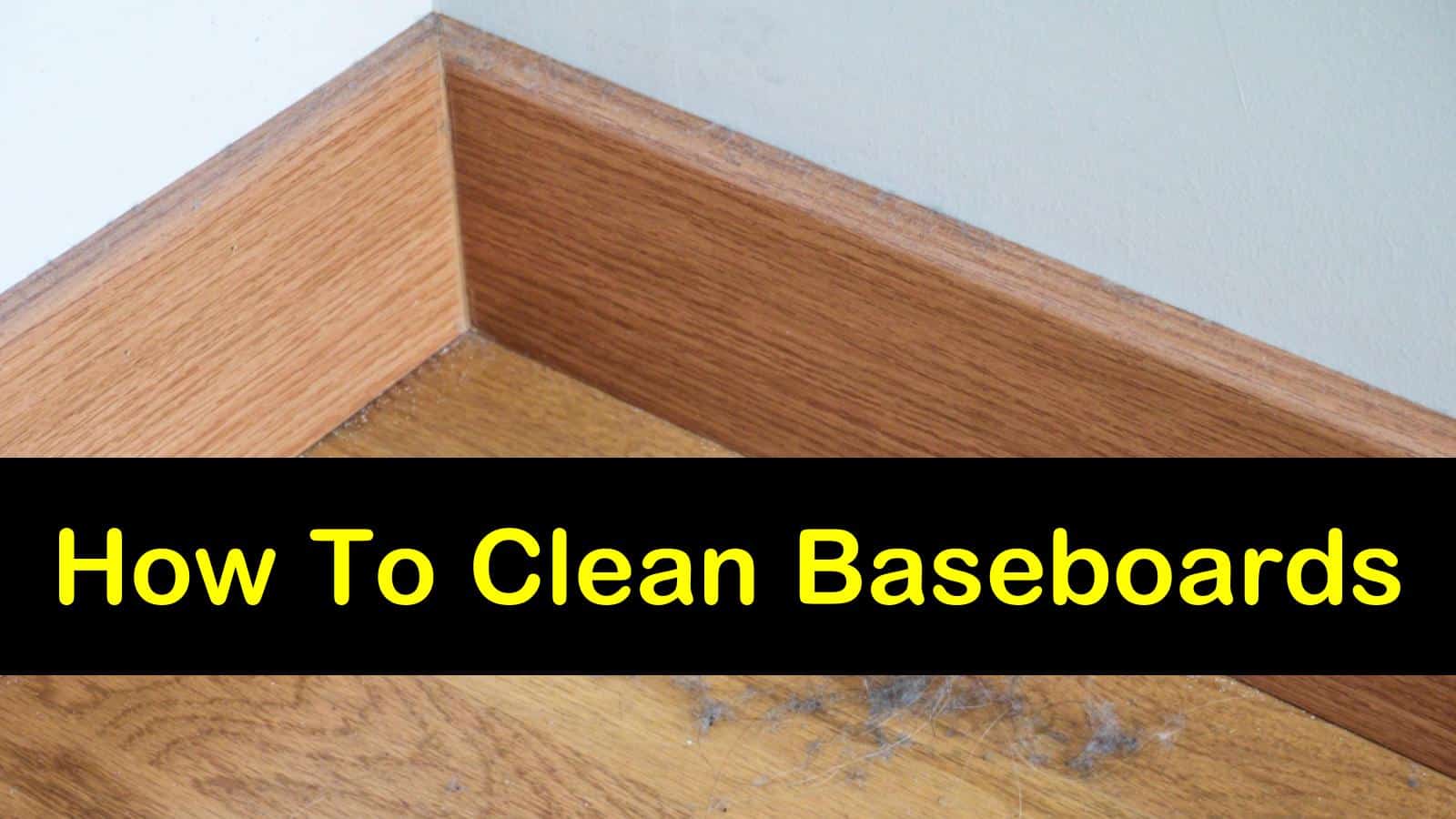 Fast, Easy Ways to Clean Baseboards
Before you mop hardwood floors or those made from another material, take care of the baseboards. This way, the entire floor area will be clean at the same time. While you clean your baseboards, you may notice that you have stains on the bottoms of the walls that you haven't noticed before.
Take time to clean these areas, as well, for nice, shiny surfaces on all sides. Get grease off walls that may have spattered there or take care of a stray crayon mark while you're at it. Your walls and baseboards will gleam with the extra attention.
How to Clean Baseboards with Baby Wipes
Sometimes, the most straightforward methods are the best. If your baseboards aren't filthy, a cleaning wipe such as a baby wipe is an easy way to clean baseboards.
It's the best way to clean baseboards in a hurry. Using this method, you'll go through wipes in a hurry, so be sure you have enough on hand before you start cleaning.
Use your vacuum cleaner brush attachment to clean loose dust or dirt. Wipe the baseboards with the baby wipes, rubbing gently until stains and scuff marks are gone. Rub the baseboard with dryer sheets after you finish cleaning to create a dust-repellent layer over the wood and reduce future stains.
Try Using Vinegar
Vinegar is a fantastic household cleaner and a crucial ingredient in many DIY home remedies. It's one of the best cleaning supplies you'll run across. You can use vinegar to clean metal, and cleaning hardwood floor with vinegar and water is a snap.
It also makes an excellent baseboard cleaner. Vinegar contains acetic acid, which gives it serious cleaning power, and it's natural and safe to use around animals and children.
Combine the two liquids in the bucket, and soak the sponge. Or you could make up a 5:1 mixture of vinegar and water in a spray bottle to create a homemade dust spray for baseboards or other wood surfaces in the home.
Use the sponge to wipe down your baseboards, and be sure to exert a light pressure as you do so. Allow the mixture to sit for a few minutes and wipe away the vinegar mix with the cloth. Repeat until the baseboards come up clean and free of all dust and debris.
Tackle Your Baseboard Grime with Wood Cleaner
If you have an unpainted wood baseboard, you have an additional option in wood cleaner.
Commercial wood cleaners are cleaning products formulated to clean untreated and varnished wood without damaging it, which makes it the perfect cleaning product for your unpainted wood baseboards, especially during those intense spring cleaning sessions.
Best of all, because they are commercial products, they come with a manufacturer guarantee.
Pull the sock over the toilet wand head, and wet it with the wood cleaner. You can use this method to keep from bending over while you buff the baseboard; a baseboard cleaning brush will work, too.
Rub the sock on the baseboard until all scuffs and marks are gone. Wood cleaners leave a waxy residue that will build up over time and dull your wood's finish, so it's best to only use wood cleaner for cleaning baseboards occasionally.
Get Your Baseboards Clean with Soapy Water
When it comes to cleaning household items, nothing beats good old soapy water. Dishwashing liquid is amazingly versatile; it can wash clothes and is one of the best natural remedies for cockroaches.
A little dishwashing liquid and water works miracles on your scuffed and dirty baseboards. You won't believe the difference some water and soap will make; in many cases, it's the best way to clean baseboards.
Mix the water and dish soap in the bucket. Soak the sponge in the cleaning solution, and rub the baseboard gently until the stains lift away. Re-wet the sponge as needed.
Use the cotton swabs to clean in corners and hard-to-reach spots. When the area is clean, spray clean water on the baseboard, and wipe with the cloth.
Make Your Baseboards Shine with Magic Erasers
If nothing else has worked, you can turn to modern cleaning magic to take care of your dirty baseboards. Melamine foam erasers, more commonly known as Magic Erasers, do a fantastic job of cleaning most surfaces.
Once you see how they clean your baseboards, you'll add Magic Erasers to your house cleaning list and include them in your cleaning routine. You will be amazed that you managed without them for so long.
Rub the Magic Eraser on your baseboard using consistent, gentle pressure. If you produce any residue as you clean, wipe it away with the microfiber cloth. Do not use too much pressure, as Magic Erasers have enough cleaning power to strip away paint and other surfaces if you get too enthusiastic in your cleaning.
We hope you liked learning how to clean baseboards. Having clean baseboards makes your whole home more beautiful, so it's essential to know the best way to clean your stained baseboard so you can have a clean house.
Cleaning painted white baseboards, and unpainted wood baseboards don't need to be a frustrating chore. With our help, you'll finish in no time flat, and your rooms will shine!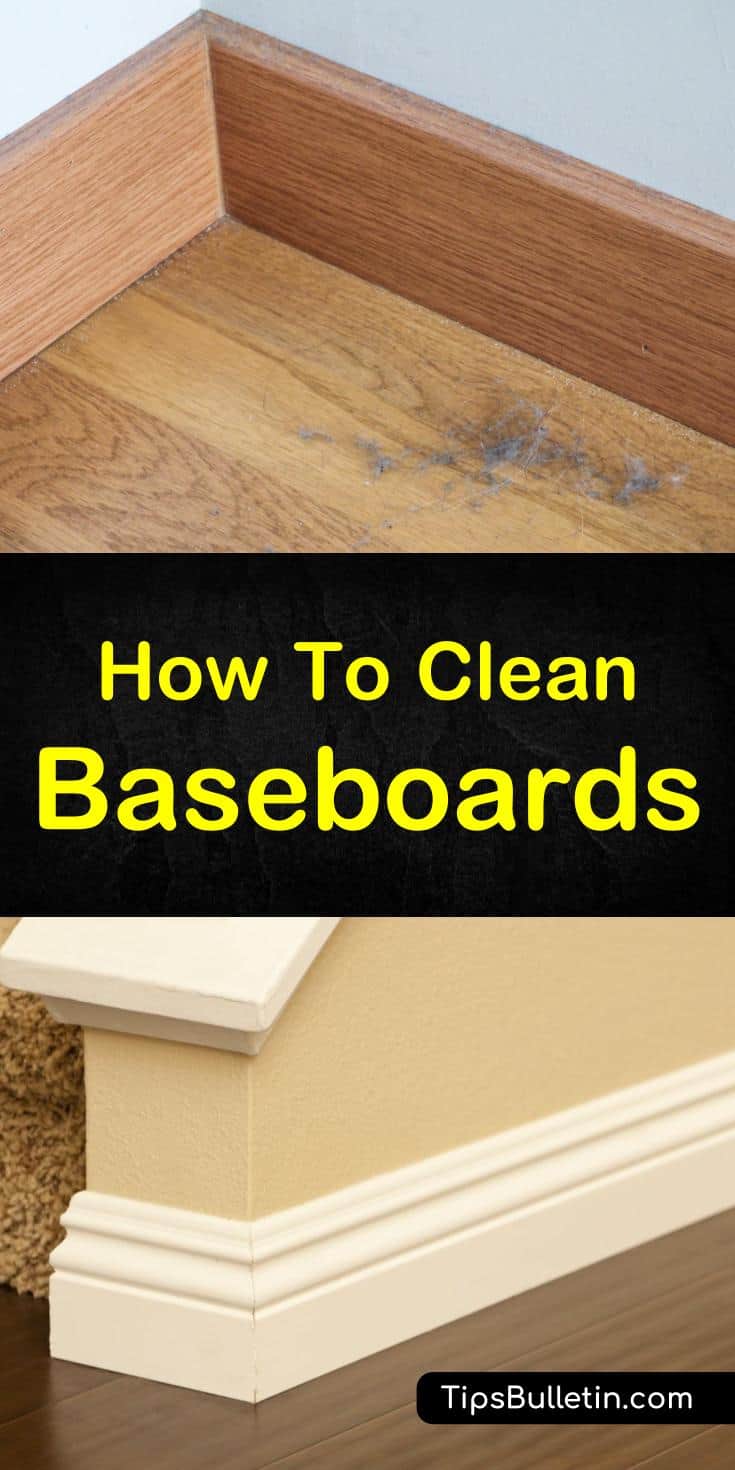 Thanks for reading our guide on how to clean baseboards. If you found these tips for cleaning white painted baseboards and wood baseboards useful, share our baseboard cleaning tips with others on Pinterest and Facebook.