While grout is necessary for keeping tiles in place and preventing water from going where it shouldn't, it is a porous material that not only stains easily but traps soap scum and dirt. We all know that grout lines, grime, and moisture are good friends with mildew. Therefore, it's essential to understand how to clean bathroom grout.
Cleaning bathtub grout is probably not on the top of your list of things to do. It usually involves getting into the bathtub, donned with rubber gloves, and armed with an overabundance of harsh cleaning products; not to mention the elbow grease. If this is the case, then you've probably made more of the chore than is necessary.
The act of cleaning shower grout doesn't have to be that dreaded all-day deep clean event you keep putting off. You don't have to use harsh chemicals for cleaning grout either. You only need a few simple ingredients, a little bit of your time, and the right cleaning solution to remove stubborn stains from tile grout.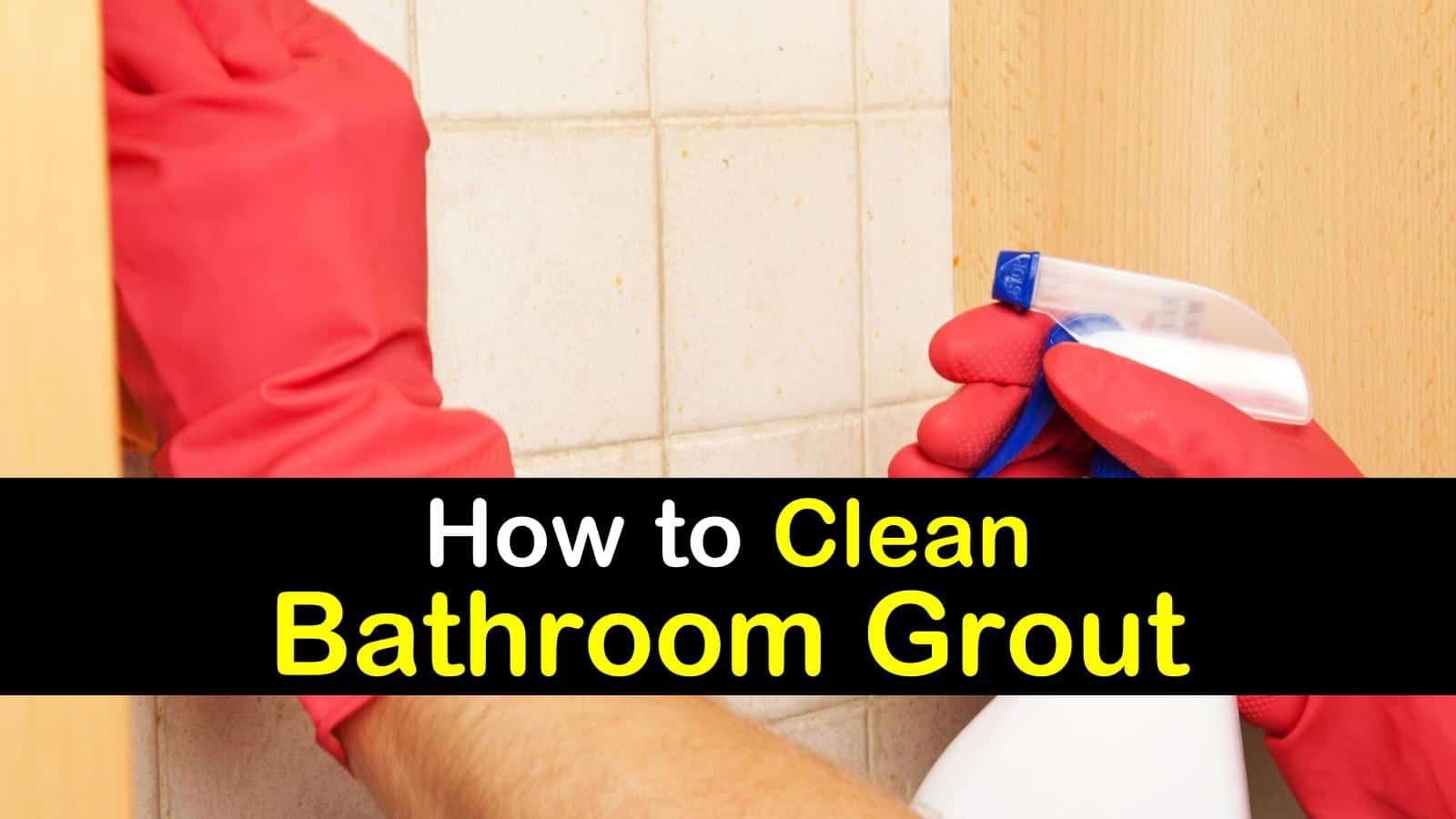 Cleaning Bathroom Grout
It's important to add grout cleaning to your bathroom cleaning checklist. While it's not something that requires daily cleaning, if it is not cleaned regularly, mold and mildew will form.
The first thing you'll need when cleaning bathroom grout is a good bathroom grout cleaner. You may opt to use a chlorine bleach such as Clorox for cleaning bathroom grout, but this is generally unnecessary. You can also find many grout cleaners at the store, but they aren't always environmentally sound.
These cleaners can also cost you a pretty penny or two. That's why we've compiled a list of DIY bathroom grout cleaning methods that are both easy to make and safe to use. Cleaning bathroom grout may be a little tedious initially if it hasn't been done in for some time.
We recommend an initial deep cleaning to all areas, including the shower walls and shower door. After that, future cleanings will feel like a walk in the park. Well, maybe not quite, but you get what we mean. You can follow up on the deep cleaning using one of our other grout cleaning methods to easily maintain a fresh and clean bathroom.
Bathroom Grout Cleaner Deep Cleaning
This cleaning method is not only the best natural shower cleaner but an excellent grout cleaner, as well. The solution uses a combination of baking soda (an alkaline mild abrasive) and vinegar (an acidic liquid) to break up old soap scum and dirt that builds up in grout lines.
This incredible combination can even be used to remove hard water stains, for removing rust from bathtub, and for cleaning the dishwasher.
Mix the baking soda and enough water to form a thick paste in the bowl. Work the baking soda paste into the bath tile grout with the bristles of the grout brush to clean paint from tile grout or another type of staining. You can also use a standard scrub brush or even an old toothbrush for this step.
Fill the bottle with equal parts of the water and vinegar and spray onto the grout area. Let sit and bubble for about half an hour. Use the brush to work the vinegar and baking soda mixture into the dirty grout using a circular motion. Finish by rinsing the area with clean water.
Cleaning Bathroom Grout with a Steam Cleaner
You can try a DIY bathroom tile cleaner, or you can get a grout steam cleaner. This is an ideal way to clean bathroom tile grout. The steam from the cleaner works its way into the porous material of the grout, grout lines, and crevices without damaging the grout sealer. There are some essential steps you'll need to take to ensure it is done correctly.
Steam Cleaning Bathroom Grout
There are a variety of grout steam cleaners on the market, so you'll want to read the instruction manual before use. To clean the grout lines of the bathroom, you'll need to attach a small brush to the steam lance.
Begin by steaming along the grout lines, using the brush to gently scrub as you go. Finish by attaching a microfiber cloth to the rectangular attachment and make another pass over the grout areas, wiping away loosened grime.
Easy Bathroom Grout Cleaning Solution with Vinegar
You can make a homemade bathroom cleaner with vinegar and Dawn to remove dirt and soap scum. For prevention of the growth of scum and mold on the grout, you'll need to make a handy spray for use as maintenance.
The following cleaning solution will inhibit bacterial growth that leads to grout stains and discoloration. We recommend spraying onto the bathroom grout surface two to three times per week.
Mix equal parts of the water and vinegar in the spray bottle to make this simple DIY cleaner for bathroom tiles and grout. Label the spray bottle and store the vinegar solution in an area out of the reach of children. Spray down the shower, bathtub, and other regions of bathroom grout using the solution at least once a week.
Easy Bathroom Grout Cleaning Solution with Tea Tree Oil
The overuse of vinegar for long periods can be erosive to tile and grout. We recommend you alternate your daily and weekly cleaning methods with this alternative. The following process is another ideal way to inhibit mold growth and clean grout.
There are many different tea tree oil uses around the home that include cleaning and sanitizing, as well as pest elimination. Tea tree oil contains compounds that are effective at killing certain bacteria and fungi that can make an appearance in the kitchen or bathroom. This makes it suitable for fighting mildew that creeps into dirty grout.
Fill the bottle with water and add up to 20 drops of tea tree oil. Give the spray bottle a good shake to mix well. Label the spray bottle for secure storage.
Spray down the shower and bath grout a couple of times a week after showering or bathing. Remember to shake the spray bottle before each use. This DIY grout cleaning solution makes the job much easier and less time-consuming.
Easy Bathroom Grout Cleaning Solution with Hydrogen Peroxide
This method is an ideal daily and weekly maintenance grout cleaner to be used as an alternative to vinegar. Hydrogen peroxide is a mild bleaching and anti-bacterial agent that won't harm the tiles or grout and is readily available in most bathroom medicine cabinets.
Fill the spray bottle with the hydrogen peroxide. Make sure to label the container and store it out of the reach of children. Use the cleaning spray a couple of times per week on the shower and bath tiles after taking a bath or shower.
How Can I Remove Odors While Cleaning?
Making your cleaning products at home using natural ingredients doesn't mean you can't have the fresh scent that many store-bought products have. You can add just about any scent you want, and it will still be natural.
Essential oils are excellent for adding a fresh scent to the home while eliminating bad odors. Add essential oils to your cleaning solutions that require vinegar if you can't tolerate the smell. You can even make your own essential oil toilet cleaner.
How Can I Prevent Bathroom Grout from Getting Stained?
One of the most important things you can do to prevent discoloration to the bathroom grout is to maintain weekly cleanings and to keep the tiles dry in between showers. Rinse the tiles with hot water after showering to clean up any leftover soap residue.
Wipe down the tiles with a dry towel or use a squeegee to remove excess moisture and prevent the build-up of stain-causing mildew and mold. Make sure that tile floors and the sink backsplash are also wiped dry after use.
There are times when cleaning with simple dish soap and warm water no longer works at removing tough stains from bathroom grout. On the other hand, it's not always necessary to use harsh cleaning products on the bathroom floor to get the job done, either.
Many times a happy medium is just perfect. It's especially ideal when that happy medium uses ingredients you have in your own home and that they are not harmful to the environment!
Now that you know how to clean bathroom grout using simple household ingredients, we hope you'll share these bathroom grout cleaning tips with your family on Facebook or Pinterest.