We're firm believers that one of the objects that most people forget to clean is a bath mat. Bathroom rugs are positioned right outside the bathtub or shower and directly in front of the sink. Put learning how to clean bathroom rugs with rubber backing on your to-do list.
Taking care of our things prolongs their life. A non-slip bath rug is excellent for preventing slipping, but allowing water that drips off you, the shower curtain, or sink without washing them creates an open invitation for bacteria and mold growth.
Wash bath mats once per week. It may seem frequent, but throwing a bath rug in with a load of laundry or bath towels only takes a few extra seconds. Be careful, though. The rubber backing on the mats requires proper handling, or it may permanently damage your rugs. Knowing how to clean bathroom rugs helps keep a typically dirty room even more sanitized.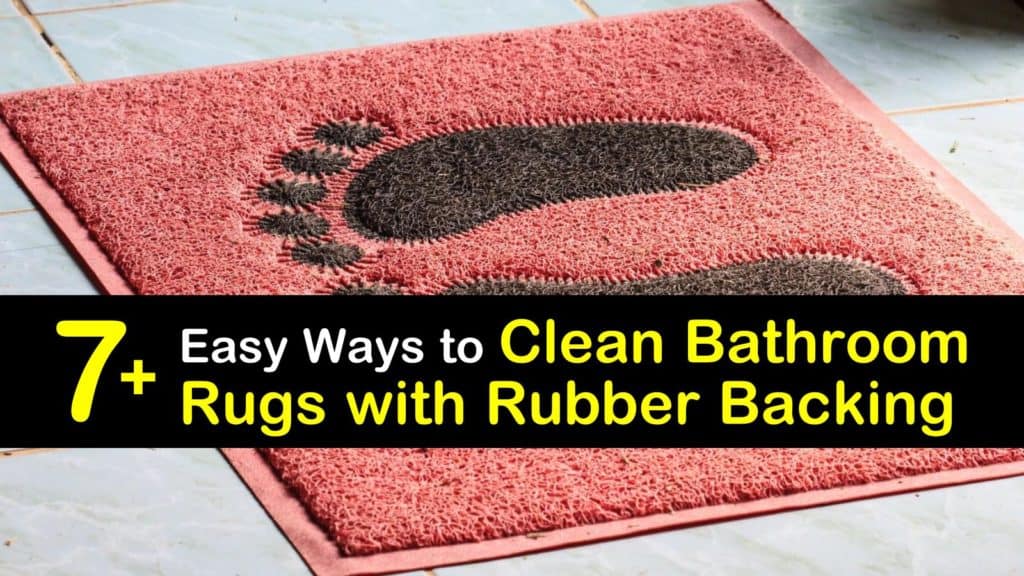 How to Clean Bathroom Rugs without Damaging Them
There are a few primary steps to take before you throw your bathroom rugs in the washing machine and put it on whichever cycle you deem fit. The first step on how to clean a bath mat is to check the care label.
Find this small tag on the bottom of your rugs and look for specific instructions on whether the mat is machine washable. If it is, there are safety instructions for how to clean bathroom rugs in both the washing machine and the dryer.
You might find it beneficial to write down the information for each bath mat, so you don't have to check the care label each time you wash them. Once you've determined the correct way to wash-bathroom-rugs, move forward in the cleaning process.
Always try to shake your rugs off outside to remove as much dirt and debris as possible. Hold the mats vertically by the two corners and shake them in an up and down motion. Shaking off the dirt makes the cleaning process more manageable and saves your washing machine from extra debris and grime.
How to Clean Bathroom Rugs with Rubber Backing
If you've ever skidded across the wet bathroom floor, you know the importance of bath mats with rubber backing.
Unfortunately, these types of rugs aren't always safe to clean with standard bathroom cleaning products. There are plenty of gentler approaches to take and prolong the life of your bathroom rugs.
A Quick Clean for Bathroom Rugs
Sometimes our bath mats don't require a deep clean. Sometimes, the best way to clean carpet is to give it a quick clean a couple of times a week. Take your bathroom rugs outside and shake them off to remove excess dirt.
Flip the carpets over on a clean surface, so the rubber side is facing up. Grab a clean, microfiber cloth and begin wiping the rubber backing. It's unnecessary to use water because the microfiber clings to even the smallest dust and dirt particles.
How to Clean Bathroom Rugs in the Washing Machine
One of the quickest ways to wash bathroom rugs is to throw them in the washing machine by themselves or with bath towels. The products you use in the load are essential for getting the smell out of carpet and giving it proper sanitization.
Add two capfuls of bleach, your regular amount of laundry detergent, and half a cup of Borax to your load of laundry. This combination is used for black mold cleaning and killing other mildew and mold and spores.
Do not use regular bleach or white vinegar because they sometimes break down the rubber backing and damage the carpet. Wash the rugs in cold water on a gentle setting. Hot water loosens the fibers and may cause them to fall out from the rubber backing.
Warm water is also safe. Air dry the clean rugs on a clothesline outside. If you must use a dryer, put them in the machine for 20 minutes on tumble dry. Make sure the heat is on the lowest setting and remove them immediately to prevent wrinkles.
The ingredients in this recipe work quite well for cleaning bathroom grout, too. Use them alone or together to get your white grout back to gleaming.
How to Clean a Bath Mat by Handwashing
Handwashing is gentler than machine washing and works with equal efficiency. Shake your rugs outside, and you're ready to get started.
Use a regular vacuum or a handheld vacuum to remove loose dirt from the carpet fibers. In a large bucket, add a cup of detergent and fill the container with warm water. Dip a soft, clean cloth in the mixture and begin dabbing the rug to loosen the dirt.
Flip the rug over and repeat on the other side. Dip a toothbrush in the bucket and scrub stained areas on both sides of the rug. Hang the carpets outside to air dry.
Cleaning Bath Mats with Baking Soda
The powers of baking soda are endless. This ingredient is used to clean just about anything around the home and is a necessity for all homeowners. It's no surprise that it's efficient in cleaning bathroom rugs as well.
Combine baking soda, vinegar, and water in a spray bottle until it is full. Spray the mixture on stained areas of the rug. Use a clean cloth or rag to scrub the stain in circular motions. Rinse the rug in the tub or shower.
How to Clean a Bath Mat Made from Memory Foam
Memory foam is meant to absorb moisture and feel nice because it perfectly fits your feet. Cleaning memory foam rugs isn't much different than rugs made from carpet fibers.
Fill the tub or sink with fresh, lukewarm water. Add laundry detergent until suds begin to form and sprinkle in one tablespoon of baking soda. Place the mat in the cleaner and let it soak for two hours.
Begin squeezing the rug in your hands while still in the liquid. Lift the rug out of the water and squeeze the excess solution out. Place on a clothesline outside to air dry.
Rinsing Bathroom Rugs
Sometimes people can't use a washing machine and don't like to take the time to handwash their rugs. If and when you're in a pinch for time, there is a quick way to clean your bathroom rugs.
Shake out your bathroom mats. Apply a small dab of hydrogen peroxide to a dry rag. Dab stains on the rug with the peroxide and let it sit for ten minutes. Take the rugs outside and rinse the mats with a hose to remove all of the peroxide. Let air dry outside.
The Hardiest Bathroom Rug Cleaner
Knowing how to clean bathroom rugs with rubber backing requires extra work sometimes. If your bath mats are especially dirty with lots of stains, it's probably time to try a more powerful cleaner. This cleaning tactic involves bleach.
Check your care label on your bath mats to ensure it is safe and always wear rubber gloves when handling bleach. Open a window and leave the door open to protect yourself from fumes.
Fill your tub with about ten gallons of cold water. Add one cup of oxygenated bleach and one cup of white vinegar to the water. Let the rug soak for up to an hour. Grab a soft bristle brush and scrub the bath mat.
Lift the mat out of the water and squeeze out the excess liquid. Hang it on a clothesline to air dry. Drain and thoroughly rinse the tub to remove excess chemicals and grime.
Cleaning Bath Mats with Dish Soap
If you don't have many cleaning products on hand, use your everyday dish soap. Dish soap has degreaser qualities but won't ruin your rugs.
Fill your kitchen sink with cold water and add soap until the water becomes sudsy. Soak a bath mat in the water for one hour. Squeeze out the excess liquid, take the rug outside, and rinse with fresh water from a hose.
Use this solution for wool rug cleaning, as well. If you don't want to submerge your wool rug, spritz the cleaner on the surface and scrub with a microfiber cloth. Rinse as above.
You've now learned how to clean bathroom rugs and have plenty of safe and straightforward options for keeping your bathroom as clean as possible. Regular cleanings help keep your bathroom rugs looking fresh.
It also prevents mildew, mold, and fungus growth, all things that you don't want hanging around your home. If your bath mats appear to be extra dingy, it may be time to replace them.
If your rubber backing is peeling, the carpet has loose threads, or there are stains you aren't able to get rid of, it's probably time to invest in some new rugs.
Buying new bathroom rugs is a small investment, and now that you know how to clean bathroom rugs, you'll be able to prolong having to purchase another set of bath mats for even longer.
Buying the most expensive bathroom rugs in the market isn't necessary. These simple cleaning recipes work on all rugs in all price ranges.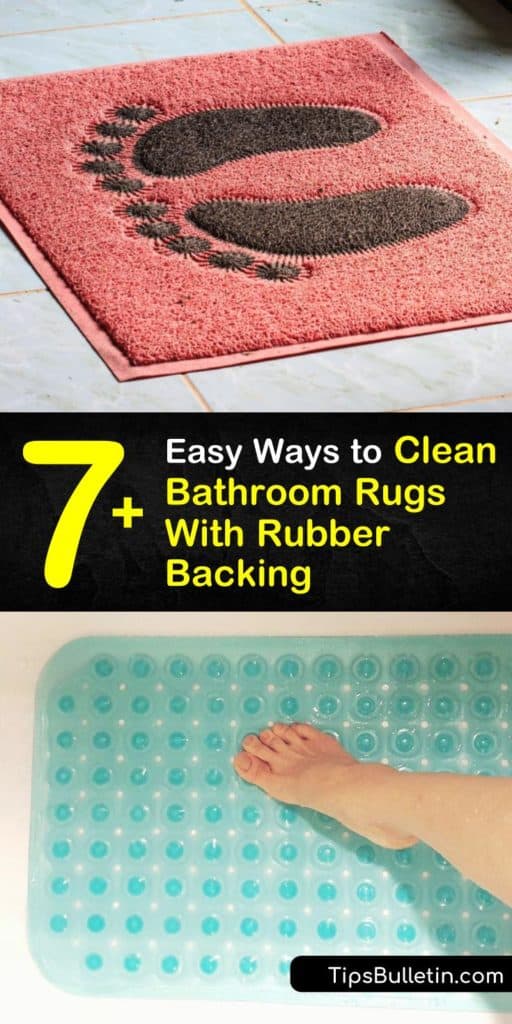 If you found it beneficial to learn how to clean bathroom rugs with rubber backing, share these bath mat cleaning solutions on Facebook and Pinterest.