If you have ever looked at your bathroom sink, you can't miss the things it has been filled with at one time or another. Bathroom sinks handle a myriad of activity from hair brushing, makeup application and removal, tooth brushing, hand washing, etc.
Your bathroom sink has seen it all. All this action leaves your sink less than sparkling, so you need to learn how to clean bathroom sink the best way. Learning how to clean the bathroom sink the right way involves deep cleaning.
Disinfecting wipes are great for minor touch-ups. However, deep cleaning not only allows you to get rid of the germs, but it also keeps your bathroom sink looking new. Cleaning bathroom sink stains is not an easy task, but with the right bathroom sink cleaner and a lot of insider knowledge, it can be done.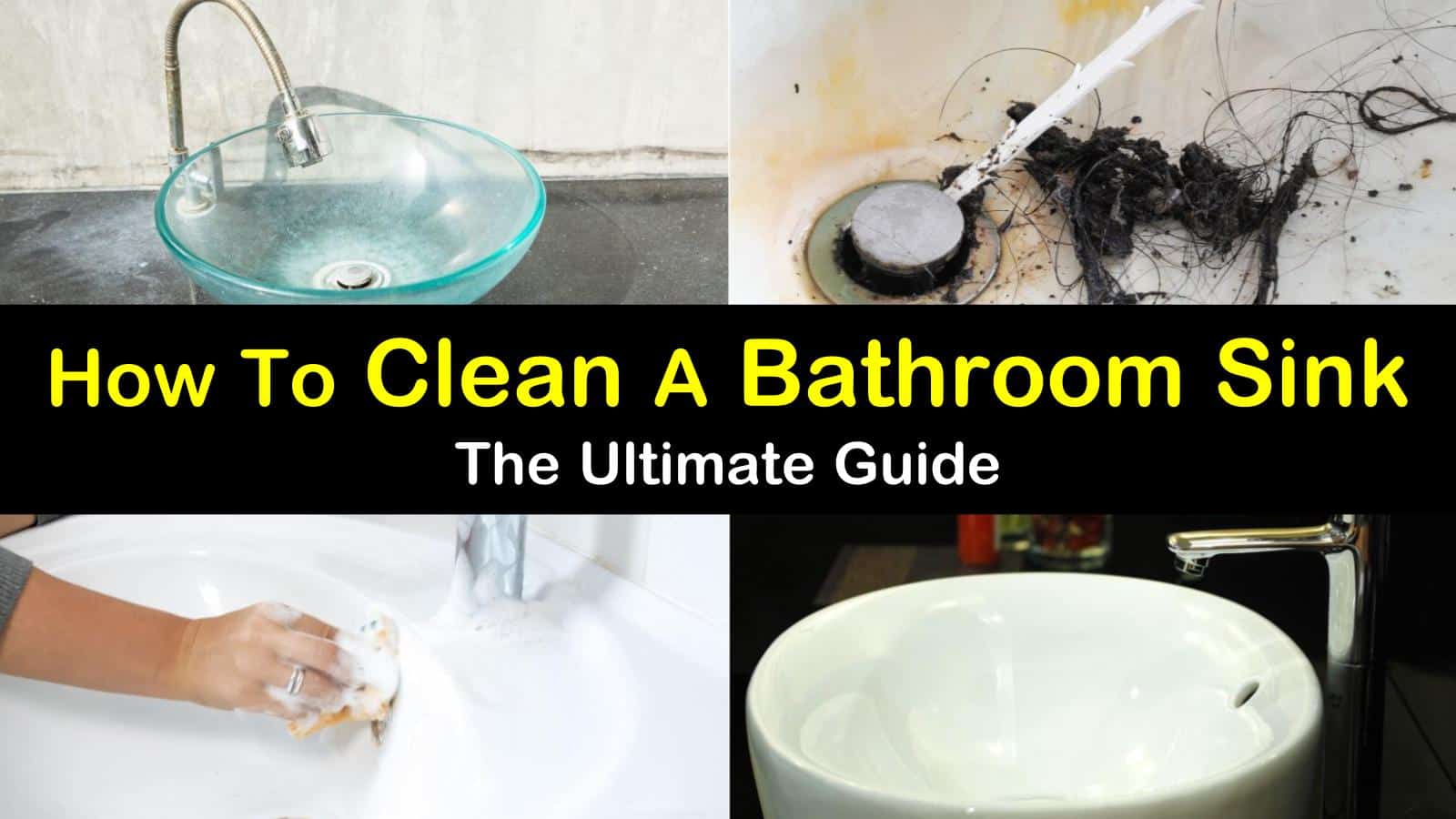 What You Need to Know about Bathroom Sink Cleaning
How to Clean Stainless Steel Bathroom Sinks
Use warm water and ensure that the entire surface of the sink is wet. Sprinkle with baking soda. Use an old, soft cloth to rub the baking soda in until paste forms. Use an old toothbrush and some baking soda paste from inside the sink and scrub the caulk seal around the outside edge.
The baking soda cleaner can also be applied to the faucet and underneath the drain flaps. Cleaning a sink drain should be the last area addressed as it gets the dirtiest. Rinse everything with clean water. Make sure to remove all residue from the sink.
Dry with a clean cloth. Soak five to ten paper towels in white vinegar. Cover the entire surface with the drenched paper towels and allow to sit for 20 minutes. Remove paper towels and throw them in the garbage.
Rinse with warm water and dish soap to remove all residue. This method also works on kitchen sinks. Use boiling water in the sink drain or use the powerful combination of vinegar and baking soda to remove built-up grime that can lead to clogs.
Cleaning Bathroom Sink Stains
Part of your bathroom cleaning involves cleaning bathroom sink stains, including hard water and rust stains.
Mineral deposits are found frequently on faucet handles. To remove these stains, wrap a vinegar-soaked paper towel around the stains and leave for ten minutes. Remove paper towels and buff area with a dry paper towel.
For rust stains, use an oxalic acid cleaner or sprinkle a lemon with salt and scrub the rusty area. A 1:1 mixture of vinegar and water also works. These methods also work to remove rust stains from the tub.
Clean Your Copper Bathroom Sink
There are several different ways to clean a copper sink to maintain its attractive appearance without damaging the surface. However, chemical based bathroom sink cleaner should never be used on a copper sink as it harms the metal. If your copper sink has a patina finish, avoid using an acidic cleaning product, including lemon or vinegar, as it will eat away the finish.
Copper sinks have natural antibacterial properties, so mild dish soap is more than sufficient for regular cleaning. Always use a soft, dry cloth to dry after cleaning to prevent the formation of water spots.
Cleaning Stone Bathroom Sinks
Stone sinks are porous, so they absorb any liquid used in cleaning them. Never use chemicals or acidic cleaners to get hard water stains off a granite sink. Clean after each use with mild soap and some warm water. To disinfect the stone, purchase a special cleaner made for the specific stone.
Routine Cleaning of a Porcelain Sink
Cleaning a porcelain sink the right way eliminates stains while maintaining the integrity of the material. The best way to clean a porcelain kitchen sink or bathroom sink is to wipe it down first using a wet cloth or a sponge.
Remove as much dirt and accumulated gunk as possible, paying close attention to the drain. Wiping down is easiest when the sink is dry. To loosen soap scum or other hard to remove grime, rinse with hot water before scrubbing.
Use one of our natural cleaners for bathroomor make a simple bathroom cleaner by mixing equal parts vinegar and water inside a small spray bottle. Spray the cleaning product on a soft cloth and clean the sink.
To remove unwanted smells, wipe it down with a dryer sheet after cleaning. Cleaning a white porcelain sink doesn't have to be difficult. If vinegar and water don't take care of ugly stains, use peroxide and water or a dab or two of bleach with water.
These solutions work best on white porcelain since you don't have to worry about creating additional stains with the brightening agents these products contain.
How to Clean Your Bathroom Drain
As you clean your bathroom sink, you also need to clean your sink drain. How to clean a bathroom sink drain first involves removing all debris weekly from sink drain stoppers or drain-guards. Rinse and replace the guards and stoppers.
Sometimes removing the debris is not enough, so you need a drain cleaner. This easy-to-make solution will take care of most issues with your bathroom sink drains.
Pour about a half-gallon of boiling water slowly into the drain. Slowly spoon one cup of baking soda directly down the drain and allow to sit for several minutes. Next, pour in vinegar.
Cover drain to force the foam down into the drain. Rinse with half a gallon of boiling water. This method is also one of our favorite ways to unclog a sink.
Keep Your Sinks Clean
To keep the sink clean and looking new, wipe it down after each use. You can use disinfecting wipes to get the job done quickly, but rinsing it out with warm water and a paper towel also does the trick. Adding this task to your daily bathroom checklist will ensure that this critical cleaning gets done regularly.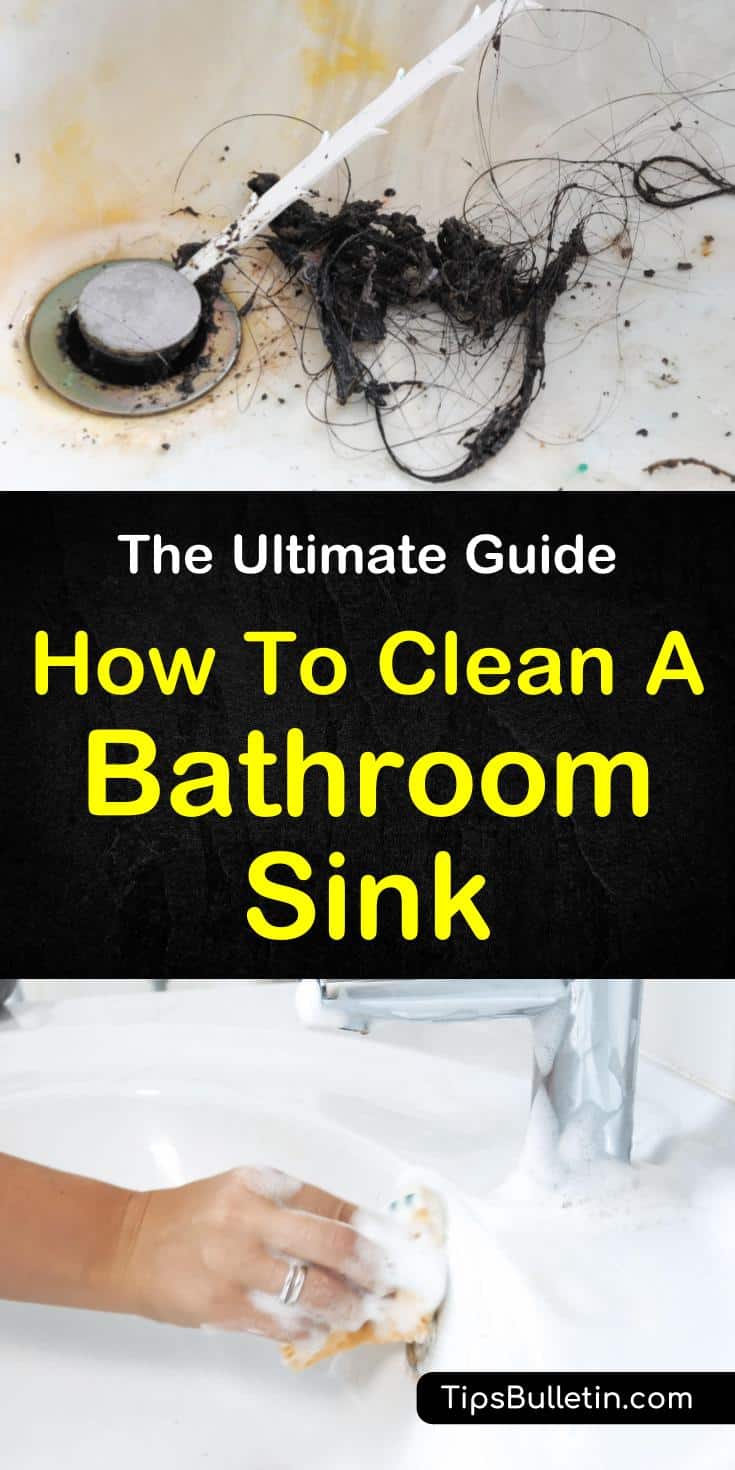 Thanks for reading our article on how to clean a bathroom sink. If you found any of our cleaning tips or ideas useful, please take a minute to share how to clean bathroom sink with others on Facebook and Pinterest.