Bed bugs are prolific pests, and many homeowners experience them at some point. In addition to their painful, itchy bites and unwanted presence, they make unsightly stains around the house. If you're hoping to find out how to clean bed bug stains on the wall, you're likely going through, or have just gained control of, a bed bug infestation.
The black spots left behind by bed bugs are typically observed on walls, baseboards, and wooden furniture, such as the bed frame, desks, and nightstands. These spots make your home seem unhygienic and ruin the ambiance of a room. Thankfully, cleaning them off is simple once you understand how to remove bed bug stains from walls.
Getting bed bug stains off walls is paramount for hygiene. Choose a technique to best suit you, your home, and the supplies you have to work with. Ditch toxic commercial cleaners and turn to familiar products like distilled white vinegar, baking soda, and more to eliminate every trace of bed bug feces from your home.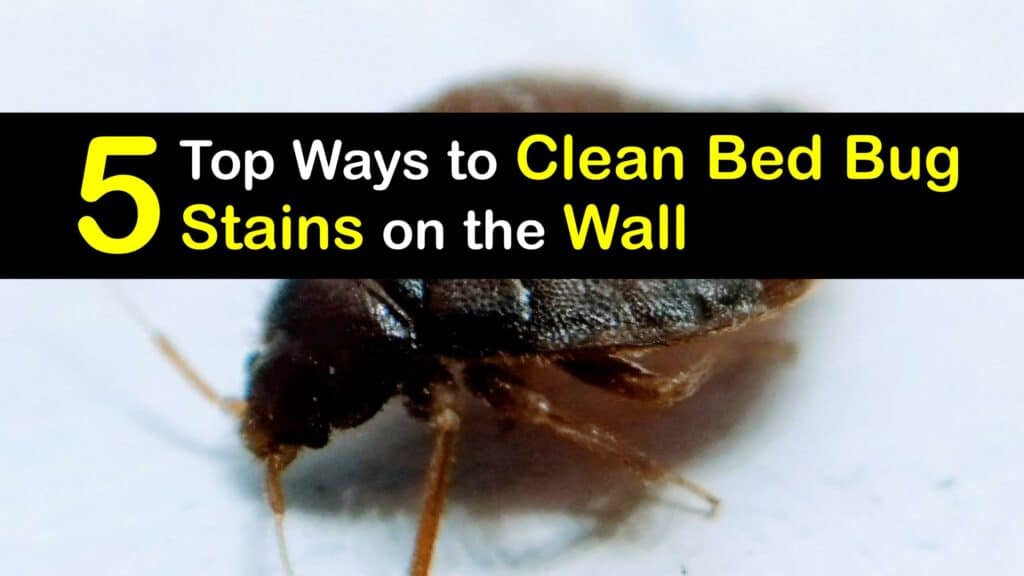 How to Remove Bed Bug Stains from Walls
Bed bugs can be a big problem as they can be challenging to eliminate completely. Seeing if you have bed bugs is only the first step. If you've had a bed bug problem, you need to know how to clean bed bug stains on the wall. Like an itchy bed bug bite or seeing bugs in your home, blood and poop stains are inconvenient.
Once you've treated the pests, it's prudent to check for bed bugs around the room. Getting bed bug stains off walls and other areas may seem overwhelming. Luckily, with just a few tips, you'll know everything required for how to remove bed bug stains from walls with economical and readily available supplies.
Why Getting Bed Bug Stains Off Walls is Crucial
A bed bug problem is miserable for every homeowner. Bed bugs infest your mattress, box spring, and bed sheet, leading to itchy and painful bed bug bites and black spots on your walls and wood furniture. If you see the bugs themselves, the quickest way to kill bed bugs is with rubbing alcohol or diatomaceous earth. Sporting a poop stain on your walls makes your home seem unclean and unappealing.
After you achieve bed bug control, the final stage in restoring your home to its pre-invasion state is to remove residue from your walls and furniture. These black spots may be blood stains, fecal matter, or bed bug eggs. Tie up any waste from the clean-up in a plastic bag and dispose of it outside your home to prevent reinfection from hatching eggs.
How to Clean Bed Bug Stains on the Wall
Stained walls are a common side effect of a bed bug infestation, as the bugs defecate on your walls, bed frame, and wooden furniture, leaving unsightly bed bug droppings requiring removal.
Baking soda is an efficient stain remover and makes the best homemade wall cleaning solution. Mix the baking soda powder into a paste for easy application and effortless blemish removal.
Mix the baking soda powder and water into a thick paste, adding extra water if required. Smear the paste onto walls and furniture, covering the dark marks completely, and let it sit for 30 minutes.
Wipe your walls with a clean, damp cloth, allowing them to dry naturally. Take care to test baking soda before using it on dark-colored surfaces, as it may lighten them. This home remedy is also great for nicotine stains on walls. It eliminates yellow staining easily.
Clean Bed Bug Feces Off a Wall with Hydrogen Peroxide
Hydrogen peroxide is ideal when it comes to bed bug stain removal or to get blood off walls and floors. This commonplace item is helpful to not only clean but also sanitize your wood furniture after having bed bugs, as it's a strong antibacterial and all-purpose cleaner.
Hydrogen peroxide works by oxidizing the dark pigments in bed bug feces and blood, so they rinse away. Mix hydrogen peroxide into a solution with water before application for best results.
Shake the peroxide and water together and saturate the poop and blood stains. Use a toothbrush or scrub brush to rub away the marks gently, and rinse with clean water.
Removing Bed Bug Stains from a Wall
Magic Erasers are revered for their ability to remove tough stains, and they are excellent for eliminating all traces of bug droppings from your home. A Magic Eraser is formulated from melamine foam, a dense foam containing hundreds of tiny air pockets. It cleans fecal spots through abrasive contact without damaging the surface beneath.
Magic Erasers are available at most home and hardware stores and have a range of uses beyond erasing the evidence of a bed bug issue off your walls. Test your Magic Eraser on a small spot before using it over a larger area, and follow the product guidelines. Wash dirty walls fast with this sponge and get the job done right the first time.
Eliminate Bed Bug Fecal Matter and Blood Stains
Toothpaste is an efficient stain remover for naturally occurring bed bug stains because it removes natural stains from our mouths, such as food that gets stuck between our teeth after eating.
Grab a soft-bristled brush or an old toothbrush. Use a little blob of toothpaste and gently massage it into the bedbug excrement. Any toothpaste is good for removing bed bug feces, but make sure it's the traditional kind and not the gel-based version.
Rinse with cold water and pat with a paper towel to remove any remaining moisture or undesirable color. Your room will be stain-free and smell incredible.
Bed bug control is a chore; afterward, you're left to contend with bed bug poop, blood, and bug egg material clinging to places around your house. These marks pose a health risk, so it's vital to get rid of the stains promptly.
Fortunately, erasing embarrassing bed bug stains doesn't have to be a headache. Rely on commonplace items like distilled white vinegar, toothpaste, and baking soda, to remove the final traces of pesky bedbugs from your home and leave your space fresh and clean.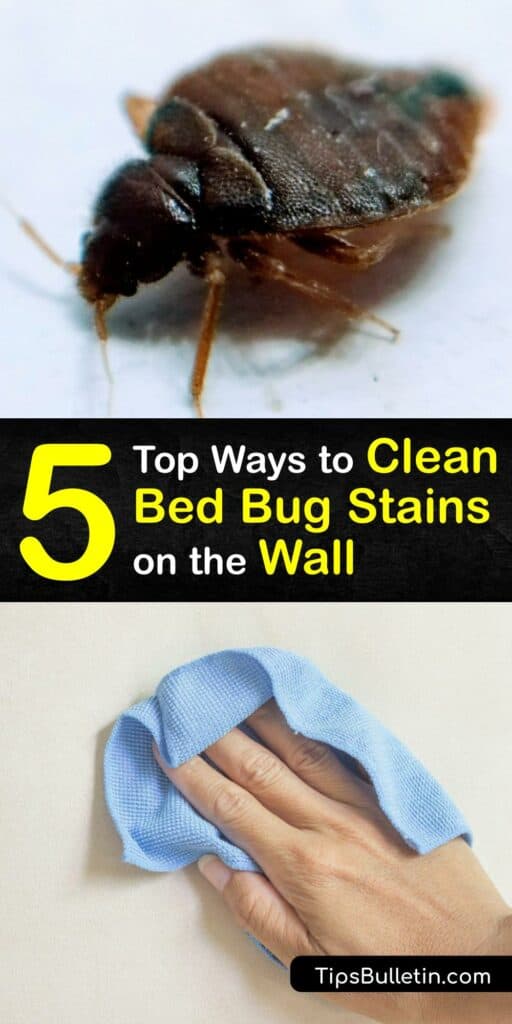 If you loved this article on how to clean bed bug stains on the wall, please share these brilliant tips on getting bed bug stains off walls with your friends and family on Pinterest and Facebook.