No matter what you call it, bird poop is one of the leading causes of paint damage to cars. The reason why bird poop is so harmful to car paint is its high uric acid levels cause irreparable damage to your car's exterior. Learning how to clean bird poop off your car will protect both your car's clear coat and paint itself.
When removing bird poop from a car hood and the rest of the exterior, the sooner you do it, the better, as the longer it sits there, the more damage it will do. The corrosive element of bird poop allows it to eat away at the clear coat and bleach the paint.
Knowing you need to remove the bird droppings sooner rather than later is one thing; how to remove bird poop from a car correctly is another story. We are here to show you several methods you can try to clean off your vehicle before damage occurs.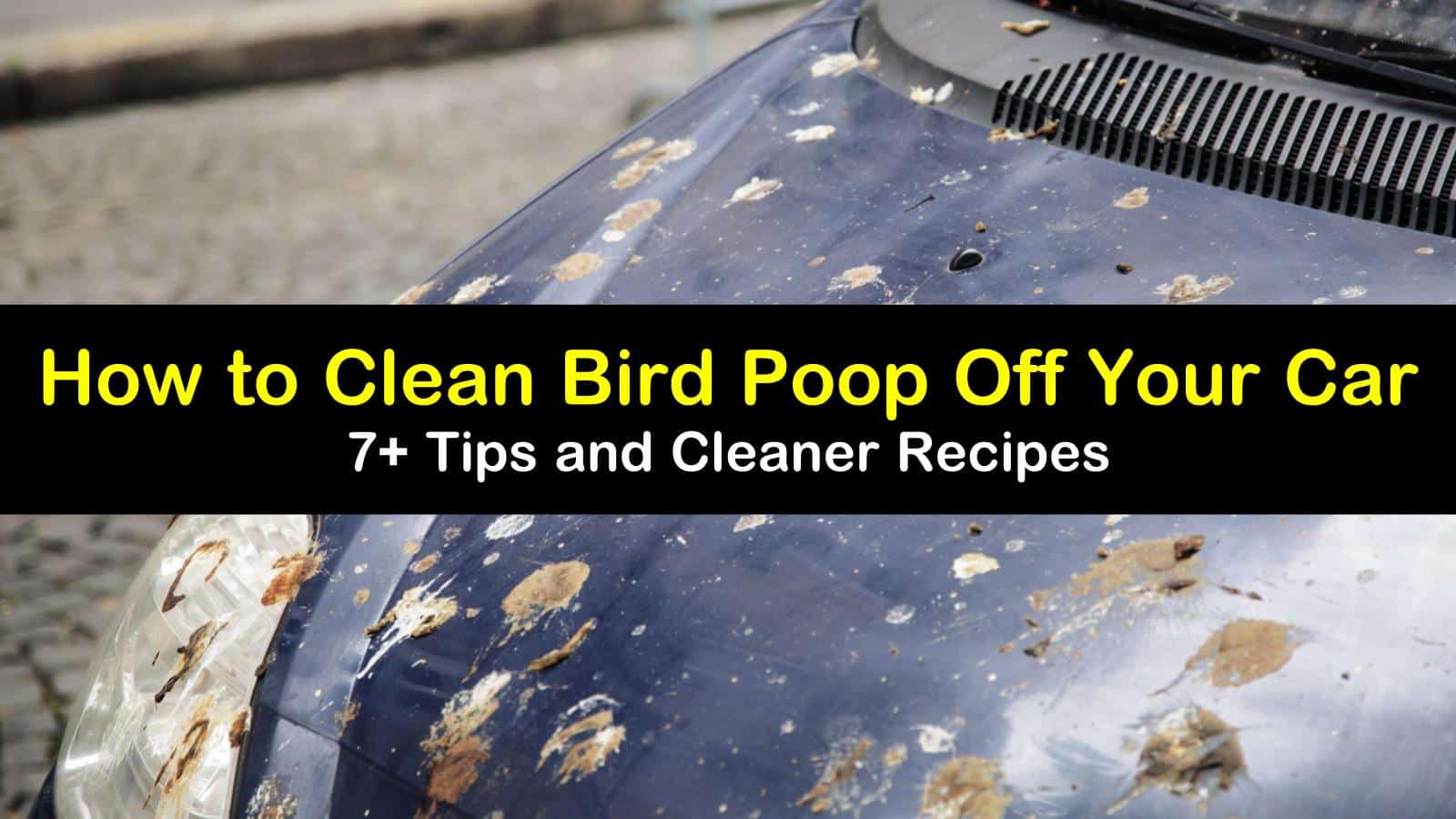 Best Tips for Cleaning Bird Poop Off a Car
Car washing is just one way to remove bird poop from your car. The problem is sometimes a car wash isn't enough, as the bird poop has dried on and is nearly impossible to remove. If ordinary car maintenance isn't enough for your car, try one of these proven methods to help prevent any permanent damage to your car's sealant.
Removing Bird Poop from a Car Hood with a Cloth
Bird poop is going to dry on your car, no matter what you do to try and avoid it. Removing dried on bird poop is quite challenging, and the longer it sits there, the harder it is to remove. One way to tackle dried bird dropping is with a microfiber cloth and a specialized cleaning solution.
Soak your microfiber cloth in the soap. Wring out any excess cleanser and apply the material directly to the bird poop. You can try rubbing the bird droppings way, or you can allow the fabric to sit on the droppings for up to 15 minutes.
Rinse and repeat as needed; stubborn stains take longer to remove. After all, droppings are gone, use a clay bar or some car polish to smooth out your car's paint by buffing until the paint and finish match the rest of the vehicle.
This recipe is also the best way to clean rims of bird poop, tree sap, or everyday road grime. Stubborn stains may respond better to one of our methods listed here.
Best Tip for Removing Bird Poop from a Car
As strange as this may sound, a company has designed a specialty cleaning wipe made for removing bird poop. These wipes are called Drop Wipes, which are made from composite bamboo and are environmentally friendly since they are biodegradable.
The cleaner inside the wipe neutralizes the acid found in bird dropping, so all you do is wipe it off. There's no need to rinse the cleanser away or buff out the paint. These are a great thing to keep in your glove box for when you park under trees or at ponds, as you can use them as soon as you spot the droppings.
Removing Semi-Fresh Bird Poop
Not all bird poop is dried on when you finally locate it. If you find semi-fresh bird droppings, use club soda or seltzer water to remove it effectively.
The carbonation in the soda water breaks down the acidic properties of the poop, making it easier to remove. Pour some club soda or seltzer water on the poop, allow it to soak for several minutes, then wipe clean with a microfiber rag.
Use a Car Detailing Spray to Remove Poop Off Car
Bird poop leaves behind wrinkled looking paint, as the acid in the excrement begins to etch into the clear coat and paint. The longer the poop sits there, the worse the wrinkling becomes. A great way to not only remove bird poop but to help restore the paint is to use a car detailer spray.
The spray dissolves the poop; then, you wipe it down with a damp microfiber towel to fix the wrinkled paint. The specialized cleaning solution restores your paint's original shine, as it removes unsightly bird poop stains. You can find it at your local body shop.
How to Use Baking Soda to Clean Bird Droppings from a Car
If you use homemade cleaning ingredients, you already know just how amazing baking soda is, as it cleans and deodorizes just about everything. What you may not realize is that it's one of the more popular car soap alternatives as it safely removes bird poop and other blemishes.
Inside a plastic spray bottle, mix a small squirt of dish soap with the baking soda and then fill with hot water. Shake the spray bottle until the baking soda fully dissolves.
To use, squirt the solution directly onto the poop and let soak for up to 15 minutes. Rinse the crud away with a hose and repeat as needed until all bird droppings are gone.
Use this simple recipe for messes on the windows, the paint or even for the bumpers. It's also the best way to remove bugs from front of car where they tend to accumulate in the spring and summer months.
Clean Bird Droppings on Upholstery
If you park under a tree with your sunroof open, there is a chance of bird poop ending up inside your car. Sometimes you park your convertible in the wrong spot and end up with excrement on the cloth top.
Cleaning up in these situations involves allowing the poop to dry, as it's far easier to clean dried feces off upholstery, as wet feces may smear and spread. Once dried, use a plastic scraper, nail file, or something else that won't rip the fabric to scrape the dried poop off.
This will leave behind a chalky residue; the white stain is easily removed using a small drop of unscented laundry detergent. Make sure its liquid and not powdered detergent.
Blot the poop stain with a damp cloth. Rinse out the towel, and then scrub the stain until gone. Allow the upholstery or fabric to air dry.
Use WD-40 to Clean Dried Poop
Although not an all-purpose cleaner like baking soda, WD-40 is one of the best multipurpose cleaning products around. It has over 200 automotive uses, plus it is used in a variety of home remedies.
Not only is a squirt of WD-40 a great bird poop remover tool, but it is also an excellent way to remove hardened tree sap from a car. Spray the tree sap or bird droppings and allow the WD-40 to sit for several minutes.
Use a wet cloth to wipe the area or rinse off your car with a garden hose. The sap may benefit from a gentle nudge with a plastic scraper or the edge of an old credit card.
Remove Dried Poop from Paint and Windshields
Never scrape dried poop from your car as it can damage the paintwork. Instead, soften the stain with some liquid first. Use plain water, club soda, or a safe all-purpose cleaner. With the all-purpose cleaner, read the label carefully to ensure it is safe to use on painted surfaces, as you don't want to ruin your car's paint job.
Soak a clean cloth in your chosen liquid, apply to stain and let sit for up to 15 minutes. Remove the towel and squirt the stain with a small amount of your preferred liquid.
After a few minutes, wipe the stained area with a dry cloth. Use firm pressure, but do not scrub as that may cause car paint damage.
Rinse the area thoroughly with clean water to ensure all traces of chemicals are removed. To prevent streaking or water spots, dry the area with a clean cloth. If you are cleaning the windshield, know what to use to clean car windows to prevent streaking. Always use your wipers to avoid watermarks that decrease visibility.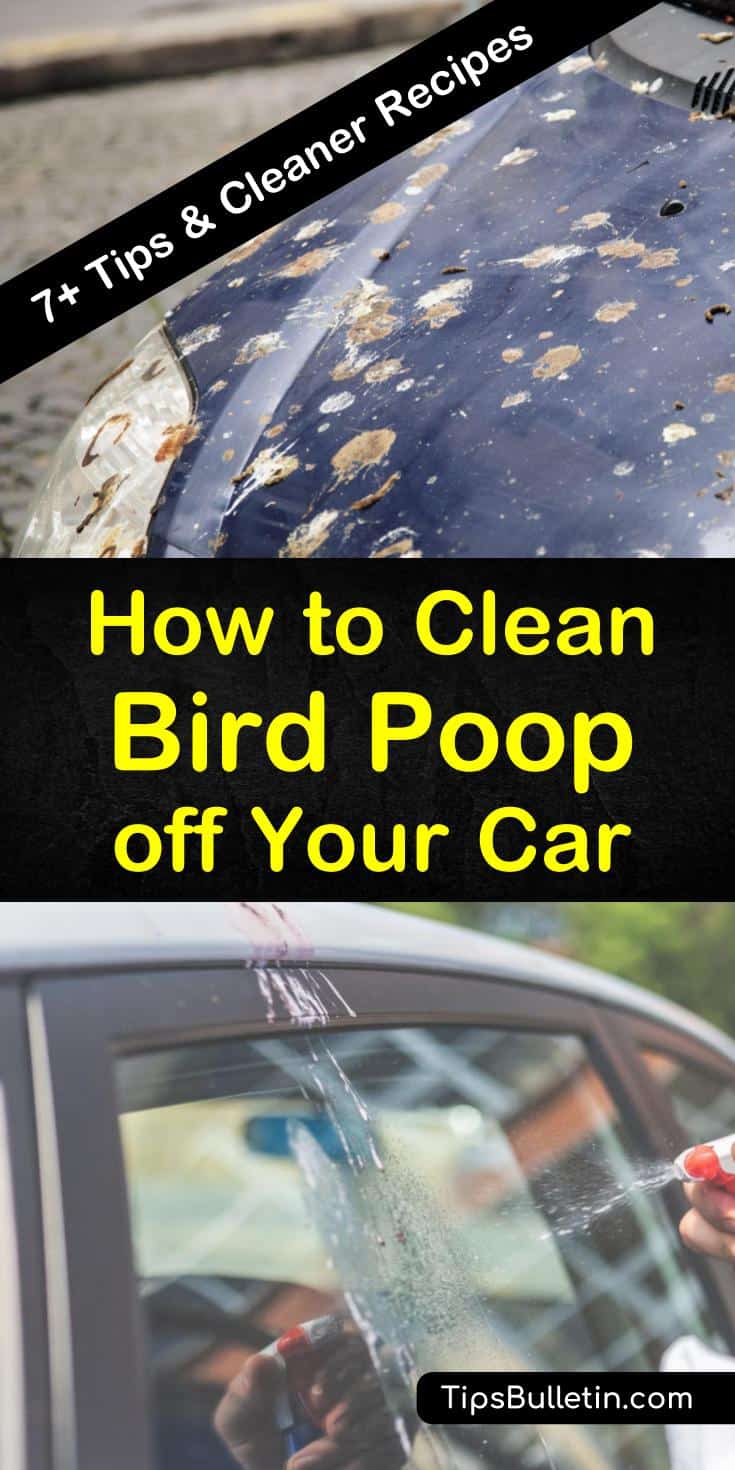 Thank you for wanting to learn more about how to remove bird poop from a car. If you found our ideas on removing bird poop from a car hood useful, please share these bird poop removal ideas with others on Facebook and Pinterest so they can also learn how to clean bird poop off your car, too.