Black mold brings several health problems with it, leaving a narrow window between the first moment you notice it and the time you clean it. Knowing how to clean black mold spares you and your family from debilitating health concerns, including allergy-related lung concerns and an increase in infections for those with a compromised immune system.
Luckily, there are not only plenty of solutions to remove black mold from your home but also available resources and methods to prevent the occurrence of black mold in the first place. Black mold is a type of fungi classified under the genus Stachybotrys.
Mold is often black, or even a greenish-black, in appearance and can be found both indoors and outdoors. Stachybotrys is a toxic mold that can create many concerns for homeowners after repeated mold exposure.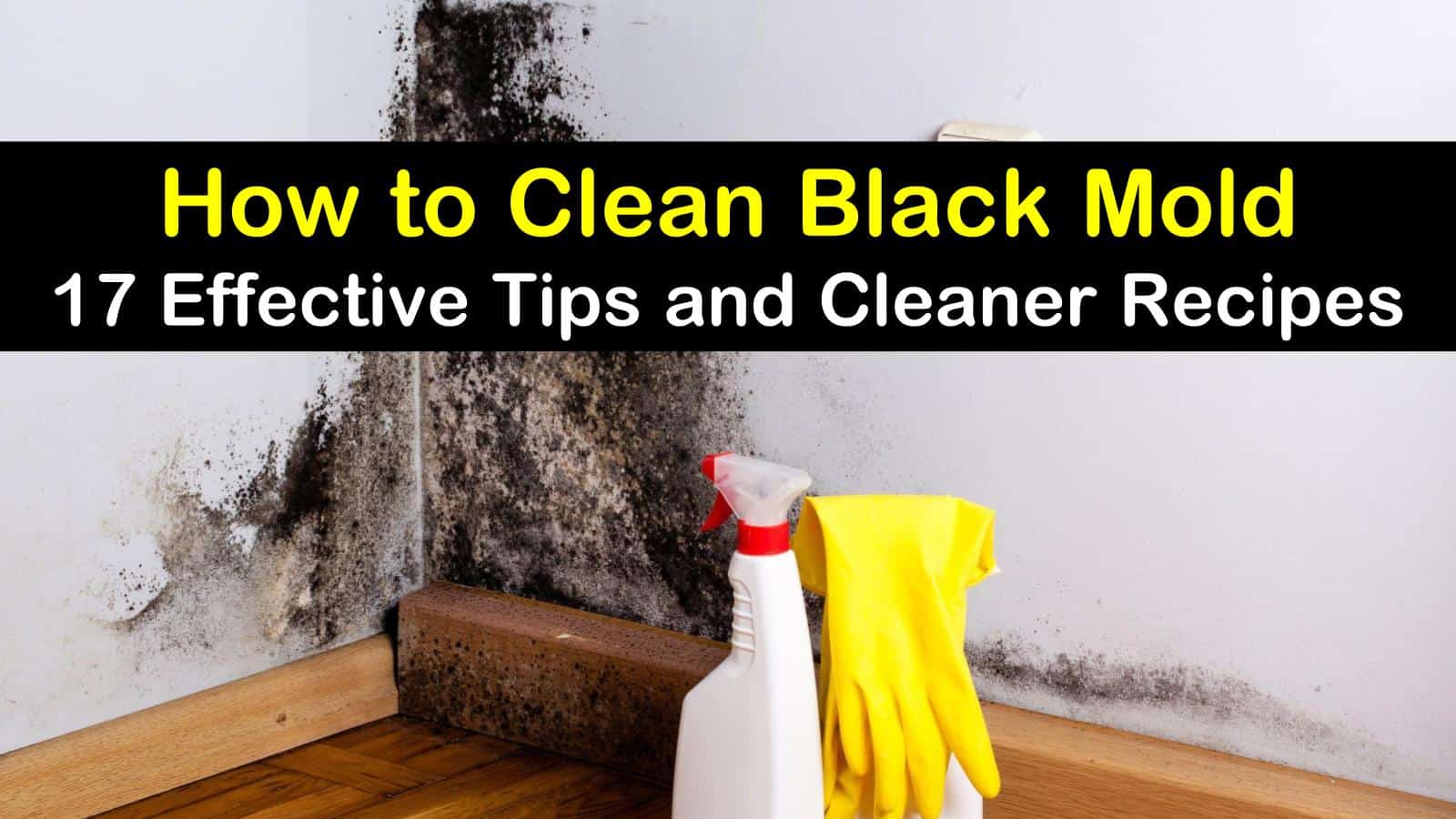 Tips and Cleaning Recipes You Need when Cleaning Black Moldy Spots
Cleaning black mold growing inside your household may take a little bit of time and research, but it will have great results for keeping your family safe and healthy. The following tips will get you started in the process to get rid of mold using cleaning recipes, mold prevention methods, and tips for identifying a mold problem early.
The hardest part with any black mold infestation is knowing exactly where to start. While the process may feel a little overwhelming at first, these easy cleaning tips and steps will show you what to do, no matter what stage of the cleaning process.
Locate the Area with the Mold
When you first embark on your mold-cleaning journey, you want to know precisely what beast you are dealing with and how to clean it. This process involves doing a quick assessment of the mold and the level of cleaning required. If you have recently suffered from attacks of itchy eyes, spontaneous coughing, and other lung-related fits, this may be an indication of mold in the household.
You want to know precisely where this mold is coming from, but the location is not always apparent. In cases where you suspect there is mold in the home, but you haven't yet located it, start with the main areas mold grows. Any area where moisture collects is a place you want to examine first.
Your first place should be the bathroom, under kitchen sinks, and even the roof. Porous materials like carpet are another major area where mold accumulates.
The high instance of mold growth on carpets results in pet accidents and spills that were not cleaned up right away. This issue is more likely to happen if the corner of carpeting is in a hidden area of the home, such as under the bed or behind furniture.
How to Identify Dark Mold
So you've found an area of your tiles or carpet you suspect is mold. But how do you know for sure? There are several indicators and signs to look out for when determining whether an area has, in fact, a mold infestation and not a water spot or build-up of dirt. The first thing you want to look for is any discoloration.
If there are white or grey splotches along the carpet, these are signs of mildew rather than mold. While these are generally discussed interchangeably and can even be treated using most of the same methods, mildew often requires less invasive techniques when cleaning. If black or blackish-green growth covers the area, however, this is mold.
Another standard indicator of mold is the presence of damp areas on a carpet. A wet spot on your carpet will dry after soaking up the excess liquid with a dry towel or even air dry on its own over time.
If the moisture doesn't dry over time, this is another clue of mold growing beneath the carpet. Not all mold will appear on the surface of the rug, and you may have to pull back a small corner of your carpet to verify.
Know When to Call in the Professionals
Now that you have located the mold, it's time to determine the type of treatment you need. How bad the area is determines whether a professional is required or not. The rule of thumb, in this case, is ten square feet of space.
Anything below this area of surface damage is something you can certainly handle at home on your own. An area that spreads further than ten square feet of space requires more drastic measures.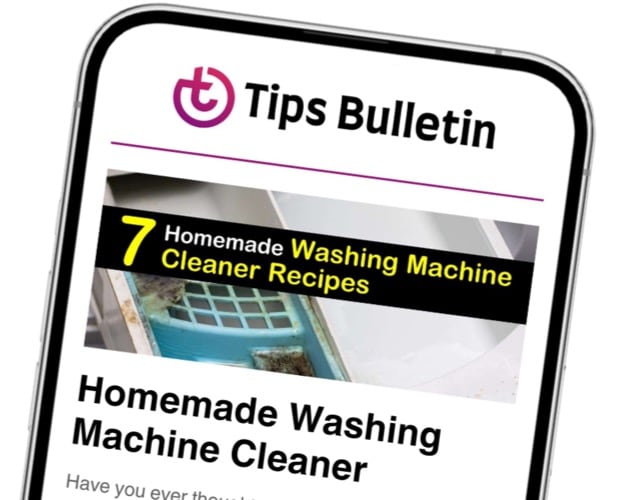 Finally, an email that Transforms Your Home.
Get the latest home and garden tips from our experts, delivered straight to your inbox.
Involving a professional in these cases is your best course of action. Knowing the types of mold you may have in your home is not essential. All mold infestations should be treated as health hazards and dealt with immediately.
Use the Proper Equipment when Cleaning Mold
When cleaning black mold, ensure you have the proper supplies to prevent further allergic reactions. These supplies should protect your eyes, face, and hands when cleaning. Wearing long sleeves and pants will also limit the amount of mold-to-skin contact.
Not all of the equipment listed is necessary when cleaning. However, as you possibly don't know the extent of your mold issue until you begin cleaning, it is helpful to have as many cleaning supplies and pieces of equipment on hand before you get started. A respirator, for example, is useful in areas with poor ventilation.
This will prevent the mold spores from circulating back into the air and into your lungs. If one recipe or method doesn't work, you can always work your way up to the next until you find a solution that eradicates the problem.
Cleaning Mold from Carpets
One of the best methods to remove black mold from carpetsis to use a powerful disinfectant like vinegar. White vinegar kills most germs and up to 80% of different mold varieties, including black mold. Combined with other incredible cleaning agents like baking soda, it absorbs excess moisture and prevents the return of black mold spores.
This recipe is relatively simple to make and not only takes care of carpets but is also great for dealing with a moldy mattress. Dilute the vinegar by combining it with water in a spray bottle to make spraying the area easier.
Squirt the mixture over the area, thoroughly soaking the mold with vinegar. Allow a few moments before dabbing the surface with a dry cloth. Soak up as much moisture as possible, then sprinkle the surface with the baking soda.
The baking soda should then sit for several hours, preferably overnight. Once it has time to absorb the moisture in the carpet, vacuum the leftover powder with a vacuum.
Replace Vinegar with Hydrogen Peroxide for a Potent Mold-Killer
If you don't have any vinegar handy, hydrogen peroxide is the next best thing. Similar to vinegar in its attack on mold, hydrogen peroxide is an effective anti-bacterial disinfectant. This cleaner should only be administered to light-colored carpets, however, as the peroxide will bleach darker carpets.
Before starting, test a small area of the carpet first. Once you are satisfied with your test, spray the combined ingredients over the carpet using a medium-sized spray bottle.
Blot the affected area using a dry cloth, removing as much of the cleaner with the fabric as you can. After the carpet has had plenty of time to dry, double-check the area for other mold spots. Repeat the process as necessary.
This recipe will also clean black mold off vinyl siding if you have that problem outside in a shady corner of the house. Mold likes the dark and tends to accumulate in these types of areas. Spray the solution on the mold, let it sit, and rinse clean with the garden hose. For stubborn mold, you may need to do a little scrubbing.
Try Steam Cleaning
Another excellent way to kill black mold in carpets or floor tiles is to use a steam cleaner. The high temperatures used to produce steam in the cleaners kills the majority of bacteria and molds that are harmful to homeowners. These molds include black mold, which dissolves in double time by using a strong carpet shampoo when cleaning.
Depending on the type of machine you have, you can either place the cleaner directly onto the carpet or add it to the steam cleaner's reservoir. This reservoir is designed to hold cleaning solutions and distribute them evenly across the carpet.
If you are applying the detergent by hand, use a soft cloth or even a bristle brush to scrub the surface of the floor. This cleaning solution also works on tile floors, using a scrub brush to work in between the tiles and clean the grout.
All-Purpose Mold Cleaner with Tea Tree Oil
Tea tree oil is ideal to tackle many cleaning issues, as well as being found in numerous healthcare products. An anti-fungal cleaner, tea tree oil is the perfect cleaning solution to break down fungus like black mold. Many homeowners also love the smell, which makes using this ingredient preferable to other components like vinegar and bleach.
To make this natural cleaning agent, add the water and tea tree oil to a spray bottle. Shake the bottle until thoroughly blended, then spray the area with black mold stains. Allow the tea tree oil and water solution to absorb into the location and air dry on its own.
Use this homemade mold killer on smaller spots of mold, like a patch you may find in the grout in the bathroom or flooring or for a piece of clothing that may have been put away in the attic. You could also use it for mold in the car.
Use Bleach to Kill Mold on Lighter Surfaces
When you want to kill black mold that has been growing on white or light-colored surfaces, bleach is a beautiful way to accomplish the task. Bleach is another fungicide that is perfect for removing mold from tiles, toilets, and bathtubs. When using this option, you always want to allow for an appropriate amount of ventilation to filter toxic fumes out of the room.
Do this by opening a window or turning on the exhaust fan. You also want to ensure you are wearing gloves and proper protective equipment to protect your face and skin from irritation.
For every cup of bleach you use, add a gallon of water. Scrub the area using a sponge or bristle brush. Be careful not to combine the bleach with any other solutions.
You do not have to rinse the bleach away when you are finished unless it is an area where food is prepared. The bleach solution will continue to protect the cleaning surface from mold growth moving forward.
Add Borax to Vinegar to Remove Dark Mold from Tiles
Your bathroom shower and floor tiles regularly suffer overexposure to water and steam from long, hot showers. It's only natural that they accumulate mold from time to time. The best way to treat your tiles is to combine this tag-team solution of Borax and vinegar.
Combine the ingredients in a small bucket to clean mildew with vinegar and Borax. Using either a bristle brush or sponge, scrub along the surface of your shower tiles to clear away the mold.
After evenly spreading the cleaner across the tiles, allow the remaining droplets to air dry. Repeat the process as needed to ensure all traces of mold are gone. Vinegar is also an ideal cleaner to clean mold off leather surfaces like couches, purses, and shoes.
Using a cloth dampened with vinegar, rub the moldy surface until the stain disappears. You may need to repeat the process a few times to ensure that all the mold is gone. Wipe dry with a clean cloth.
Clean Mold Using Grapefruit Seed Extract
Another phenomenal tool to have in your black mold removal belt is grapefruit seed extract. This ingredient uses citric acid, similar to other elements like lemon juice, to strip away and eliminate black mold. This cleaner works on almost every surface. It will draw mold out of carpets, countertops, and will even get rid of mold in shower.
To use this cleaner, add ten drops of the extract to every cup of warm water. Combine these ingredients in an easy to use spray bottle, then soak the affected area. Leave the spray on the tiles, carpet, or sinks for several minutes.
Once the cleaner has had sufficient time to work, wipe down the surface with a clean cloth. In the case of a carpet cleaning, soak up the remaining moisture with a cloth. Repeat this process as necessary.
How to Remove Mold from Tile Grout
Another fantastic cleaning solution to use Borax in is when cleaning the grout lines between your tiles. Though your tiles may come clean with a few swipes of a sponge, your grout lines need significantly more elbow grease. Lucky for you, this incredible cleaning solution makes cleaning your grout fast and easy.
When cleaning grout, it is helpful to have an old toothbrush for working away mold stains and particles stuck deep in the crevices. Apply the mixture over the grout and scrub with the toothbrush until all the gunk and grime loosen. Rinse the floor with clean water and then dry to prevent water damage.
Use a HEPA Vacuum to Reduce the Presence of Mold
One of the best techniques for being proactive in your fight against mold is to use a HEPA vacuum cleaner. While most vacuum cleaners pick up the primary particles of dirt and dust, they still miss many of the tiny particles hidden between the fibers. These small particles can impact your health in a big way, leaving behind mold spores, dust, and other allergens.
Using a HEPA filter reduces the number of mold spores left behind in your carpet. So if you have a spill, these naughty little allergens won't be able to latch onto the moisture to wreak havoc on your home and health. They will be long gone with the help of your HEPA vacuum.
Use Oxygenated Bleach to Clean Moldy Areas without Discoloration
Though we briefly touched on the fantastic qualities of using oxygenated bleach in a steam cleaner, using a cleaner like OxiClean is another excellent way to remove black mold. Similar to how bleach works, OxiClean disinfects and eliminates odors, which is why it appears in most laundry solutions.
The added benefit of using oxygen bleach, however, is that there is no worry of actually bleaching the clothes. It does not use whitening agents, and therefore will leave the color intact.
Start by combining the ingredients in a large bucket. Ensure the materials thoroughly blend before using them to clean. Let the solution soak on the tiles, carpet, or whatever surface you are using, for approximately 15 minutes.
Scrub with a bristle brush, then rinse thoroughly with warm water. This recipe works exceptionally well on larger areas, and can even work as a homemade algae remover for your deck or patio.
Ensure Proper Air Ventilation at All Times
One of the best methods for preventing mold growth is reducing the humidity in your home. Accomplishing this step is as easy as lowering your thermostat and providing adequate ventilation. Understandably, you don't want to keep your thermostat so low that your utility payment skyrockets to the price of your mortgage payment.
Regulating the temperature in your household by noting when the air is stuffy is worth lowering the temperature a couple of notches, especially when mold treatment may cost anywhere upwards of $1000. Opening a few windows to allow air to circulate throughout the house is another excellent way to keep mold at bay.
Doing this allows fresh air to continuously flow through the house, blowing away any stagnant air and removing trapped moisture particles from porous surfaces.
Leave a Dehumidifier Running in the Basement
Providing enough ventilation is only as good as the room offers. Not every room in the house has an open window or even a fan to keep air flowing through it. Your basement is a perfect example of this situation. So what do you do to prevent mold growth in your basement?
The basement is one of the places most susceptible to mold with its moist conditions. A dehumidifier works wonderfully to regulate humidity and removes excess moisture from the air. When placed in the basement, you may have to leave it running for hours on end.
Some homeowners even leave it running all night and day to prevent a more costly mold removal bill. This decision depends on your basement and how well the air flows through space. Start with a few hours a day and gauge the effects on the basement's humidity before running the dehumidifier all day long.
Use an Enzymatic Cleaner on Pet Stains to Prevent Mold
Another excellent way to prevent mold from forming on your carpets in the first place is clean pet stains immediately and with the appropriate cleaning solutions. Not all urine stains are visible at once, but using an enzymatic cleaner will breakdown the components of bacteria in urine no matter when you clean it.
Generally, you will notice a musty odor at first. This foul smell should keep the urine stain from progressing into mold without you noticing. Once you have located the stain, soak up the excess pee with a paper towel, and spray the area with the enzyme cleaner. This will completely obliterate the bacteria, which prevents the stain from transforming into a breeding ground for mold.
Final Pieces of Advice
Still unsure about where mold comes from and how to stop it? Here are just a few more tidbits of advice to help on your journey to ousting black mold from your home.
What causes mold?
Mold growth is a common manifestation that happens much more often than we would like to think. Microscopic mold spores already exist in the air naturally, waiting like little gremlins for the right growing conditions to multiply and attack. The perfect host for these mold spores to thrive is not challenging to find either.
They reproduce as quickly on paper as they do on lint and dust particles, which is why you often find mold growing on carpeting, cardboard boxes, and shower tiles. The second condition mold requires to flourish is the presence of excess moisture. Any circumstance that results in water damage may also produce an infestation of black mold.
Flooding and leaks are typical, especially if they go unnoticed in basements or pipes that stay out of the way for too long. If these areas remain uncleaned or are cleaned using the wrong cleaning products, mold may begin to form. Equally, mold caused by water damage doesn't always mean a dramatic inundation of water has occurred.
In some cases, too much humidity in the household will also trap mold spores and allow them to develop with ease. Monitoring the ventilation in your home and the level of your air conditioner is another step in the right direction for preventing mold.
What is the difference between mold remediation and mold removal?
When consulting a professional about eliminating a mold infestation, you may hear terms like "mold removal" and "mold remediation." Both work relatively the same way, though advertised as different services. Mold removal consists of removing all traces of the black mold from the household.
Since we know mold is a naturally-occurring organism in the air, it is also understood that this isn't entirely possible. Most companies will instead remove elements that are significantly damaged by molds such as carpeting or drywall, and sanitize the surrounding areas for a safer level of mold conditions. Creating this balance in normal mold levels is known as "mold remediation."
This process is what most mold removal companies, and even you at home, actually do when you eliminate damage caused by black mold. You are extinguishing the area of mold growth and implementing new strategies to prevent the mold from growing back again. It is not possible, however, to altogether remove all traces of mold spores from the air.
Now you have plenty of new tips and ideas to get you started in the black mold cleaning process. Always assess the situation before beginning to give yourself a definite plan of action. Use the necessary precautions when cleaning, and don't be afraid to leave the big jobs to the cleaning professionals. When it comes to your health, monitoring mold levels in your home is a must.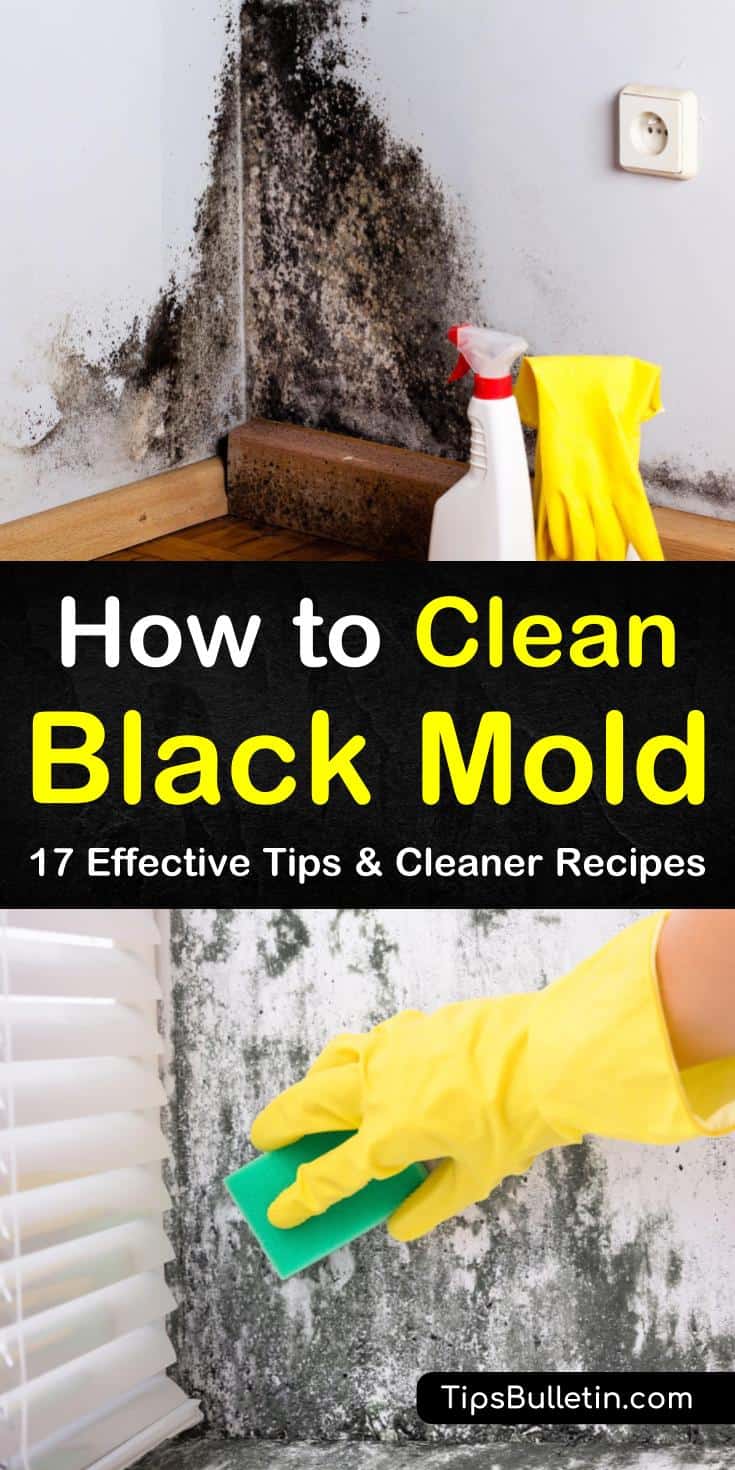 Hopefully, you enjoyed these black mold cleaning tips as much as we enjoyed presenting them to you. If you liked learning about mold removal, don't forget to share how to clean black mold from your household with all your favorite homeowners on Pinterest and Facebook.