Anyone who owns a pair is eager to explore how to clean black VansⓇ shoes without discoloring them. While there are various commercial shoe products for cleaning black VansⓇ, many rely on harsh chemicals and can ruin your shoes if anything goes wrong. Try a homemade shoe cleaner for black VansⓇ to save money and use supplies you already have at home to restore your shoes without the risk.
VansⓇ are an investment. These shoes make any outfit look appealing and give off an air of style and class. No matter how aesthetically pleasing VansⓇ are, they make a poor impression and ruin your outfit rather than complement it when they're dirty. Protecting your investment by caring for and cleaning your black VansⓇ using the proper methods is vital.
Keeping your favorite shoes clean doesn't have to be complicated. Though many people worry about treating dark shoes, there are several simple at-home techniques to make black shoes black again and keep VansⓇ looking amazing without faded spots.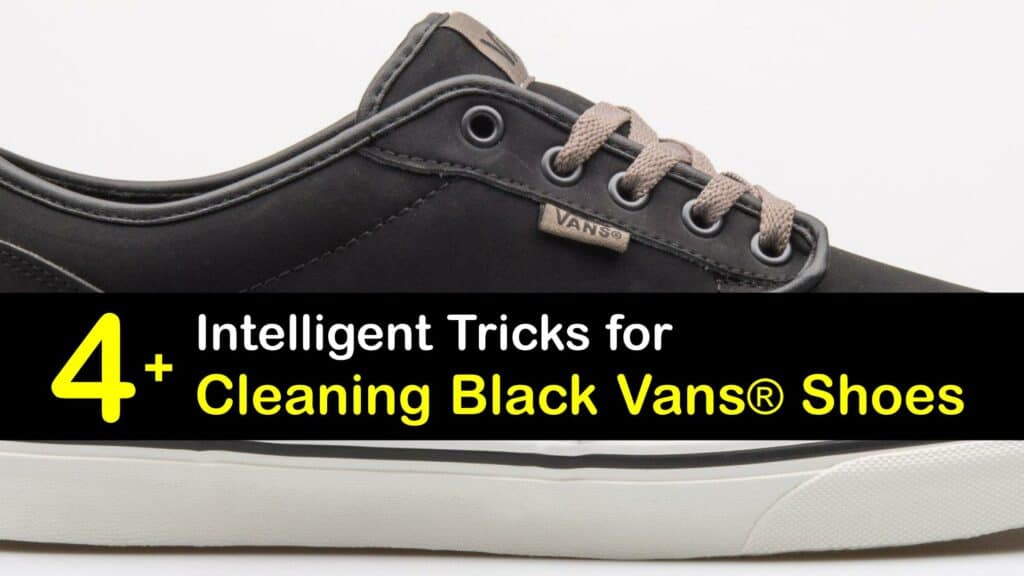 Fantastic Ideas for Cleaning Black VansⓇ
Knowing how to clean black VansⓇ shoes is essential if you have a pair. These shoes are stylish and make a great impression, but cleaning them might feel daunting when they get dirty or stained.
Fortunately, cleaning black VansⓇ is simple, with some knowledge and basic supplies. Everyday items make brilliant shoe cleaners and eradicate unwanted marks without harming the fabric of your VansⓇ.
How to Clean Black VansⓇ Shoes using White Vinegar
White vinegar is a cleaning giant and an ideal at-home remedy to renew your dirty and grimy black VansⓇ. As distilled white vinegar is an acid, dilute it first to avoid fading your shoes when using it as a cleaner.
Spray or wipe your stained shoes using the white vinegar solution, and let it sit on the fabric for 30 minutes to loosen the dirt. Rinse your VansⓇ with warm water to remove the vinegar and blemishes, and allow your footwear to dry in a warm, well-ventilated place.
If you use a white vinegar cleaner on leather shoes or suede shoes, wipe them afterward with a damp cloth to avoid caustic wear, and use a sponge to apply a leather conditioner to remove scuffs and restore shine.
Homemade Shoe Cleaner for Black VansⓇ
Besides making quick work of dirty dishes, liquid dish soap is excellent for washing your canvas or suede VansⓇ without causing damage. Make a straightforward mixture of dish soap to clean sneakers when you need a manageable way to clean your shoes.
Remove any loose dirt from your shoes. Dunk a soft cloth or soft brush into the soapy water and use it to clean your soiled VansⓇ shoes. Scrub heavy staining to release it from the fabric, and rinse and repeat as necessary until the original color of your boots is restored.
This dish soap solution is also fantastic for cleaning the rubber strip around your shoes' bottom or renewing dull laces.
Use Baking Soda to Clean Your Canvas Shoes
Baking soda is a multipurpose cleaner with many applications, from cleaning bathrooms and cooking to removing a challenging stain from your white or black shoes.
In addition to eliminating unwanted marks, baking soda is a powerful deodorizer and leaves your sneakers fresh and clean. Make a thickened paste with powdered baking soda and warm water for the easiest application.
Mix the powdered baking soda and warm water in a container until you have a thick paste. Dip a soft old toothbrush into the paste and use it to scrub the stain vigorously.
Work in circles, gently rubbing the paste into the dirt to lift it out of your shoes, and rinse thoroughly. Pat your VansⓇ with a paper towel to remove surface moisture and allow your black VansⓇ to dry naturally.
Use Concentrated Laundry Detergent to Eliminate Stubborn Stains
Sometimes running your shoe through the washing machine with a mild detergent isn't enough to remove discoloration. VansⓇ can go in the washer with detergent to eliminate tough, stuck on stains. Concentrating your laundry detergent and selecting the most effective cleaner for the job is crucial to removing unsightly marks.
Try color-safe bleach detergent to eliminate dirt and grime from your black VansⓇ without discoloration. Use a sponge to spread a generous amount of color-safe bleach laundry detergent over the dirty parts of your black shoes and scrub it in well using an old toothbrush or a soft shoe brush.
Let the detergent stay on the fabric of the shoes for 20 minutes to break down the stain, then wash your shoes in the washing machine on a regular cycle.
Use Whiteners to Clean White VansⓇ
While cleaning a black shoe focuses on avoiding lightening or fading the color, white shoes have their own cleaning challenges. Whitening and brightening agents like hydrogen peroxide are better used on light-colored shoes rather than black.
Rub surface dirt from your sneaker with a soft-bristled brush before applying any cleaning products. If stubborn stains persist after lightening treatments, use talcum powder to cover them. Apply masking tape to cover darker areas on your shoes to prevent accidental whitening.
Spritz warm water over the stained area, apply a fine dusting of talcum powder and use a dry cloth to pat it into the fabric to leave it bright and whitened. Apply talcum powder to a dirty shoe lace to cover any stains.
Skip expensive chemical cleaning products and save a trip to the store using a homemade shoe cleaner for black VansⓇ. Everyday items like distilled white vinegar, baking soda, and dish soap make efficient cleaners to tackle the most challenging stains without damaging your beloved shoes.
Don't panic if your black VansⓇ get stained. Grab the items you have on hand and use a brilliant homemade shoe cleaner to restore them to their former glory.
If you loved this article on how to clean black VansⓇ shoes, please share these brilliant tips for cleaning black VansⓇ with your friends and family on Pinterest and Facebook.