Window blinds come in many different sizes and materials, but their purpose remains the same: to control the quantity of light coming into a room. Whether the windows they guard are large or small, blinds are a noticeable aspect to every room, and the best blinds are clean blinds. This prominent presence is why it is essential to learn how to clean blinds without taking them down.
Not having to remove them makes it easier to maintain them. Many people advocate for taking the blinds out of the windows each time they get cleaned.
However, this can present more work, especially if detaching them is a complicated process. Keeping them up doesn't mean that the cleaning is less thorough, but learning the right methods does make it easier to conduct an effective clean.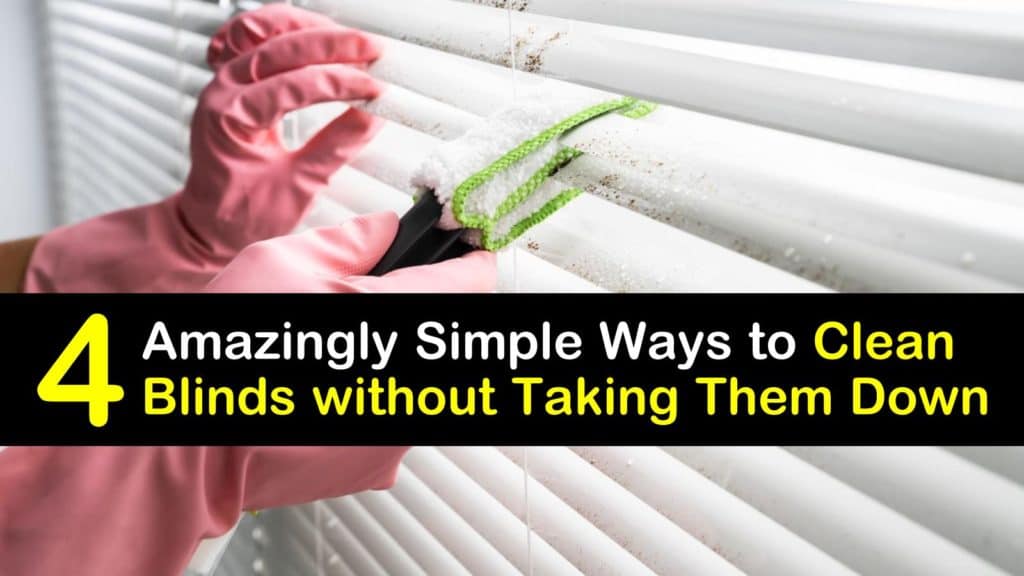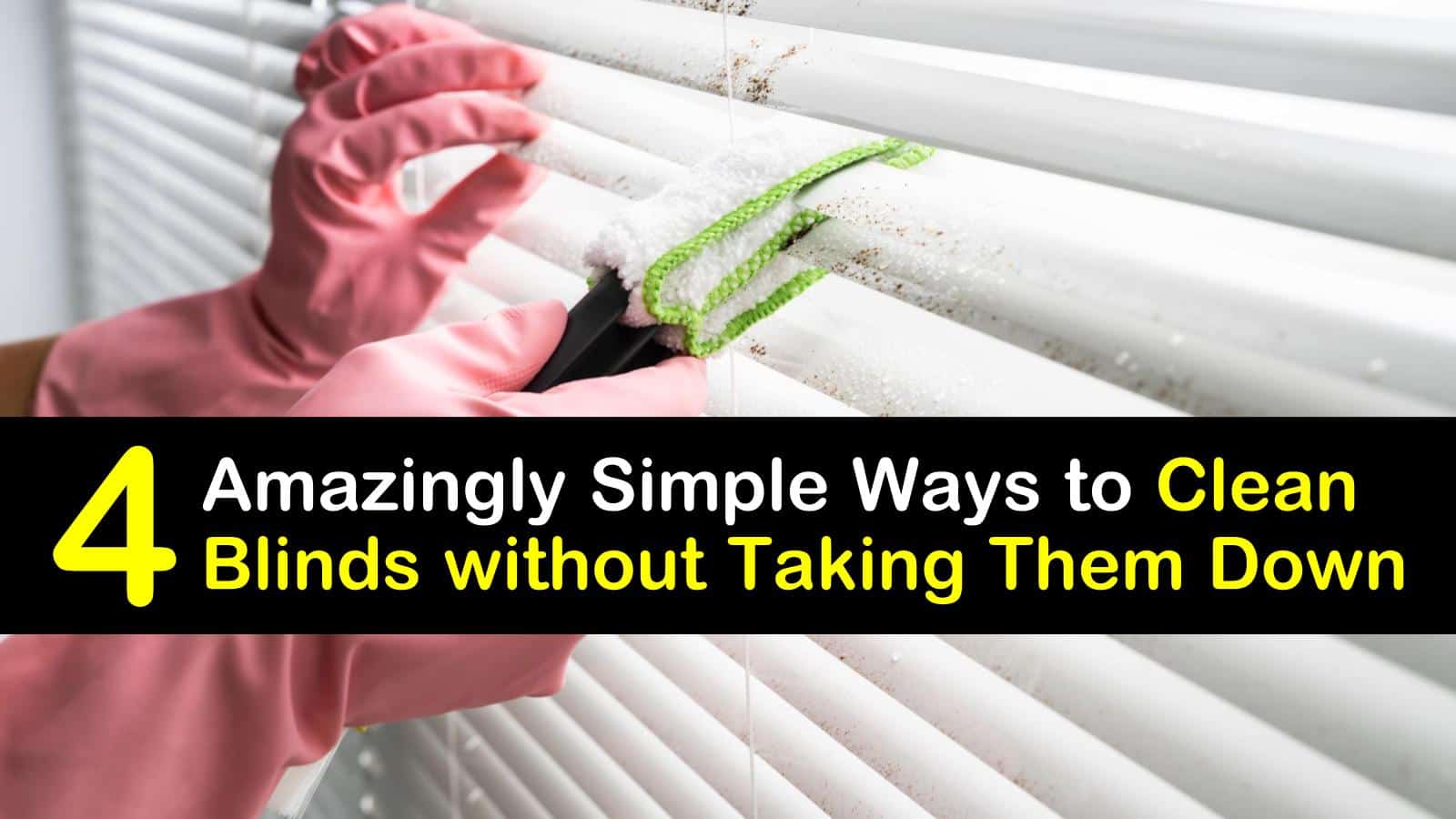 Cleaning Blinds Manually
There is no reason that cleaning blinds can't be a DIY job, no matter what types of blinds you have. Clean vinyl blinds in much the same way you do with those made from metal. Washing them should be a regular part of sanitation and can be done quickly using our cleaning tips.
Ways to Clean Mini Blinds without Removing Them
The processes that we have listed for cleaning blinds start by helping you to remove the dust particles gathered on the blinds. Dust can cause discoloration of plastic and wooden blinds. We also list options useful for spot cleaning if the problem goes deeper than dirt.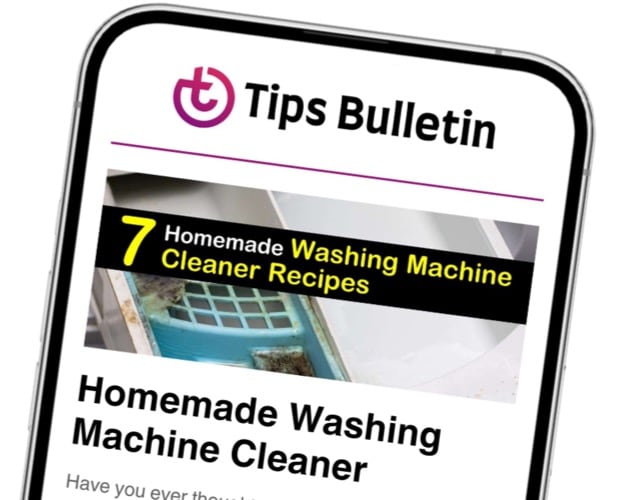 Finally, an email that Transforms Your Home.
Get the latest home and garden tips from our experts, delivered straight to your inbox.
How to Clean Blinds without Taking Them Down: Vacuum Them
When it comes to dirty blinds, clean almost any kind of curtain with a vacuum cleaner for a thorough cleaning. A vacuum with a brush attachment can also be used for other types of window coverings, removing hair, dust, and grime.
Using the brush attachment, gently run the vacuum over the vertical blinds or coverings, going over each one of the slats. Vacuuming is also an excellent way to clean Venetian, vinyl blinds, and fabric blinds.
Feather Duster
If using a vacuum only removes the initial layer from the blinds, it may not be the best way to finish. A significant part of home cleaning is dusting, and the same applies as a cleaning solution to blinds.
Use a feather duster to clean wooden shutters, aluminum blinds, and faux wood blinds. It is a quick way to clean blinds even in the middle of doing window treatments or other household chores.
Soapy Water
The first two options are great for general blind cleaning, but sometimes they need a deeper clean. Using a dish soap and warm water combination is applicable for spot cleaning on plastic blinds or as a natural aluminum cleaner. Never use water mixtures to clean wood blinds as it can cause warping.
As one of the ways to clean aluminum blinds without taking them down, mix a mild dish soap in a tub of water. Use a soft cloth dipped in the water and wring out to gently wash over each slat to effectively clean window blinds.
Make sure there isn't too much water left to prevent any water damage. Drying with a clean cloth ensures that you are not left with unsightly water spots.
Bleach can be added to water if there is any mold or hard stains on the blinds. Only use bleach if you wash plastic blinds, since the bleach may discolor wood or faux wooden blinds.
Baking Soda Blind Cleaner
Baking soda always makes an excellent cleaning solution, and you can use it for cleaning blinds manually. Another kitchen solution involves using vinegar to clean around the home as well.
Although most people use baking soda if they are going to take the blinds down and allow them to soak, it can also be one of the ways to clean mini blinds without removing them. Mix up the soap, water, and baking soda in a tub.
Take the soft cloth and soak it in the water. Wring it out to rid it off excess water and one after another, run the damp cloth over the blind's slats. Afterward, dampen a cloth with clean water and wipe off any residue left. If a lot of water is left on the blinds, dry them with a dry rag.
You can also add the ingredients to a spray bottle and spritz your cloth before wiping each slat of the blinds.
Although it is common practice to clean window blinds by taking them off and soaking them to get a deep clean, there are many ways for how to clean blinds without taking them down.
If you neglect the blinds for too long, it causes a lot of grime and dust to build up over the outside. If you install blinds in a kitchen area, oil and grease can even stack on top of it, depending on the type of cooking.
You don't need to clean blinds too often. When it comes time for a spring cleaning or an autumn air out, include the windows and their companions in the process.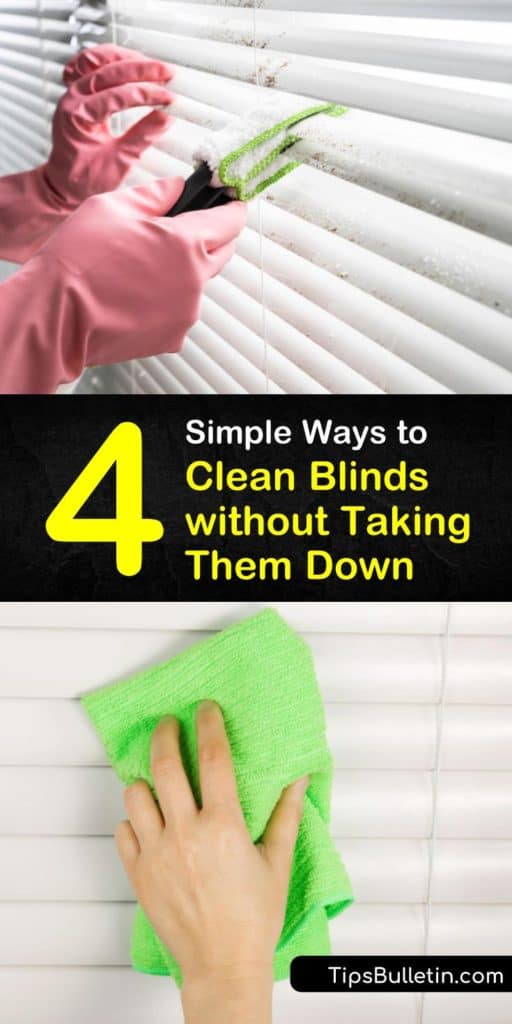 If you discovered new methods for cleaning blinds without taking them down, please share these blind cleaning tips on Facebook or Pinterest.