Brushed aluminum gives so many ordinary things beauty, including kitchen appliances, hubcaps, and bathroom faucets. What makes brushed aluminum stand out from other metal finishes is its striated, silver marks. To keep this unique finish looking its best, you must learn how to clean brushed aluminum correctly.
Regular scrubbing goes a long way in preventing unwanted damage as it keeps it free from dust and debris. Minor scratches and scuffs that mar the outside happen from just everyday wear and tear. They are also caused by not keeping the brushed aluminum clean enough. No matter how they appear, scratches and scuffs ruin the overall look of brushed aluminum.
Learning the different ways to clean brushed aluminum helps reduce the appearance of these unsightly marks, but it's just not enough. To keep this unique finish looking shiny and new, you must learn how to remove scratches from brushed aluminum, too.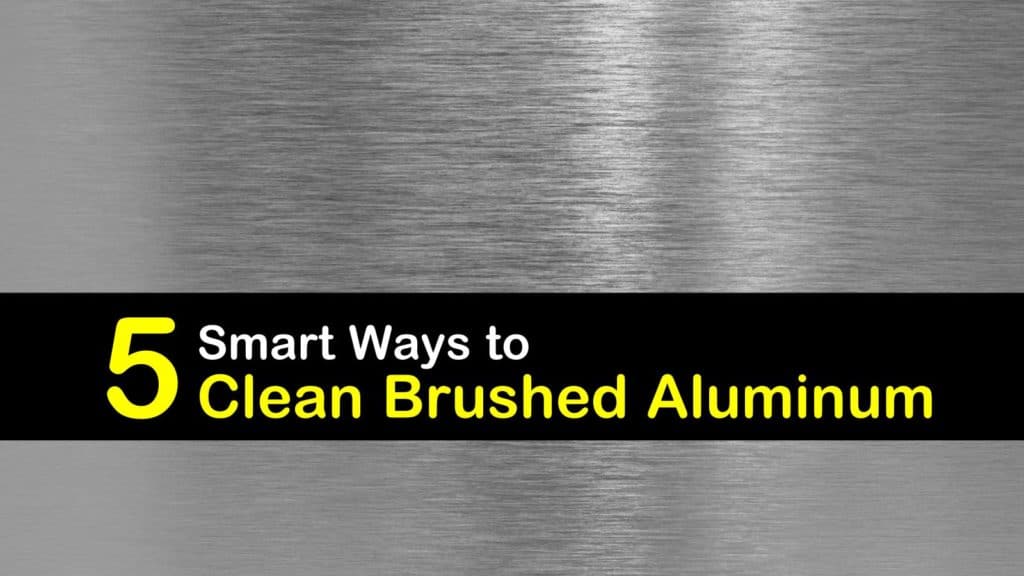 Tips and Tricks to Clean-Brushed-Aluminum Surfaces
To keep aluminum shiny, regular washing is a must. Polishing aluminum is necessary after periodic deep cleaning, too. Unlike when you clean aluminum door frames and siding, remember that brushed aluminum is not as strong as stainless steel, so be careful when scrubbing.
Different Ways to Clean Brushed Aluminum
The best aluminum cleaner is a damp towel and a drop or two of liquid dish soap. If the wet cloth isn't enough, scrub with a sponge or non-scratch cleaning pad.
99% isopropyl alcohol works well to remove fingerprints from dishwashers, fridges, and anything else. Never use steel wool or copper scrubbers as they ruin the delicate finish.
Even with regular cleaning, aluminum oxidation and stains happen, especially on cookware. Removal requires a few extra steps. Before you can remove any anodizing or tarnish, you must tackle the built-up grime and grease.
To clean aluminum boats with vinegar or any other object, scrub the object with soapy, hot water and a sponge. Treating anodized areas is one of the best uses for vinegar and water. Make an acidic solution with one cup of distilled vinegar and one cup of water to clean and polish anodized aluminum.
Drop a rag into the liquid, wring out any excess, and scrub. Rinse it out and wipe again until any build-up is gone. For stains and other discolored areas, create a paste by mixing one tablespoon of water with two tablespoons of cream of tartar.
Smear it on the stain with a paper towel and let it sit for three to five minutes. Scrub with a dry sponge or wash cloth. Remove excess paste with a new cloth.
Use vinegar to clean an aluminum trailer or boat, too. It is often enough to get the job done right.
How to Clean Brushed Aluminum Finish before Shining
Polishing the object shines it up and keeps it looking new. Spray it with Windex or other glass cleaner and then wipe it down. To protect the finish and brighten the aluminum, spread a thick coat of metal polish with a fresh rag.
Work it in with circular motions and add more cleaner, as necessary. Gently buff with a rotary buffing tool or a soft towel. Too much pressure can damage the delicate surface.
Wiping from top to bottom, remove any excess with a dry lint-free towel. Use a clear metal sealant to protect the finish. Read and follow the directions from the packaging.
Soap and water and glass cleaner are often used to clean aluminum engine parts when you want to show off your favorite vehicle under the hood, too.
Brightening Brushed Aluminum with Household Ingredients
Before doing anything else, grab a lint-free, soft cloth to wipe down the brushed aluminum. This step gently removes any grit, debris, or dirt and prevents unwanted scratches.
Before applying the homemade metal polish for cleaning anodized aluminum or other types of aluminum surfaces, rinse it with a vinegar and water solution. Pour half a cup of vinegar and half a quart of water into a bucket. Dunk a washrag in the bucket, wring out excess liquid, and wipe everything down. Rinse and repeat.
Create a baking soda paste by mixing the baking soda with the lemon juice in a glass bowl. Apply it to the metal with a clean cloth using slight pressure to help remove discoloration. Soak a washrag in fresh, warm water, wring it out, and wipe away the paste.
Shine the metal with a multi-purpose household cleaner. Spray it on generously and wipe dry with a lint-free cloth.
You may find that the paste is the best way for how to get rust off aluminum, as well. It usually works well for small areas of rust.
Use this solution for cleaning aluminum windows or other aluminum items that have become dull with oxidation.
How to Remove Scratches from Brushed Aluminum
Use a scouring pad to remove minor scuffs and scratches easily. To prepare the object, cover all non-metal areas with masking tape to protect from accidental damage.
For best results, do this to the entire thing, not just a small space. This ensures a uniform look and allows everything to blend in rather than stand out.
Go with the metal's grain and lightly rub back and forth until the metal starts to appear shiny. Going against or across it makes the marks look worse.
If you can't see which way the grain goes, pick a direction, and stick with it throughout the process—the finer the grit, the better the results.
Grab a microfiber cloth and smear a thin layer of metal polish to the treated area. Continue rubbing in until it disappears; add more of the compound as needed. We recommend using an aluminum one, but any metal type works.
Apply a metal wax or sealant with a pad. Using even strokes while alternating the directions, rub until the wax is fully absorbed into the metal. There should be no streaks. Remove the masking tape and discard.
Can You Sand Deep Scratches?
Deep scratches require a bit more work than minor ones, but they aren't impossible to remove. Evenly spray the aluminum with WD-40 to lift the particles as you start sanding, so they don't cause new damage.
Use 220-grit sandpaper with an electric sander or a sanding block. Pressing firmly, alternate directions as you sand. Continue this process until the deepest mark disappears. This is known as wet sanding, so double check you are using suitable sandpaper.
Smooth out the work you just did with 1500-grit paper. Again, press firmly and alternate directions until the smaller marks are gone. Shine it up with 3000-grit and then spray WD-40 directly on the sandpaper to help make the metal extra-shiny.
With a pad and circular motions, work in the specialized polish. Begin in the center and move slowly outward. Don't be alarmed if it starts to turn black.
If it doesn't, exert more pressure as you work the stuff in. Buff in a circular direction with a separate cloth until you achieve the desired shine and look.
Thank you for learning all about cleaning and how to remove scratches from brushed aluminum safely. If you found any of our ways to clean brushed aluminum helpful, please share with others on Pinterest and Facebook so they can learn how to clean brushed aluminum correctly.