wYour vehicle is shiny on the outside and nearly spotless on the inside, except for the floor mats. Believe it or not, but your car looks only as clean as the car mats. Our cleaner tips and recipes show you how to clean car mats, whether they are upholstery or rubber, to give your vehicle the final touch it needs to be immaculate.
Carpet mats and rubber floor mats serve a very vital purpose in the cleanliness of your car. They protect the floor carpeting of your car's interior from road grime and dirt particles carried in on the bottoms of your shoes. They also protect the floor from accidental spills that result from eating and drinking on the go.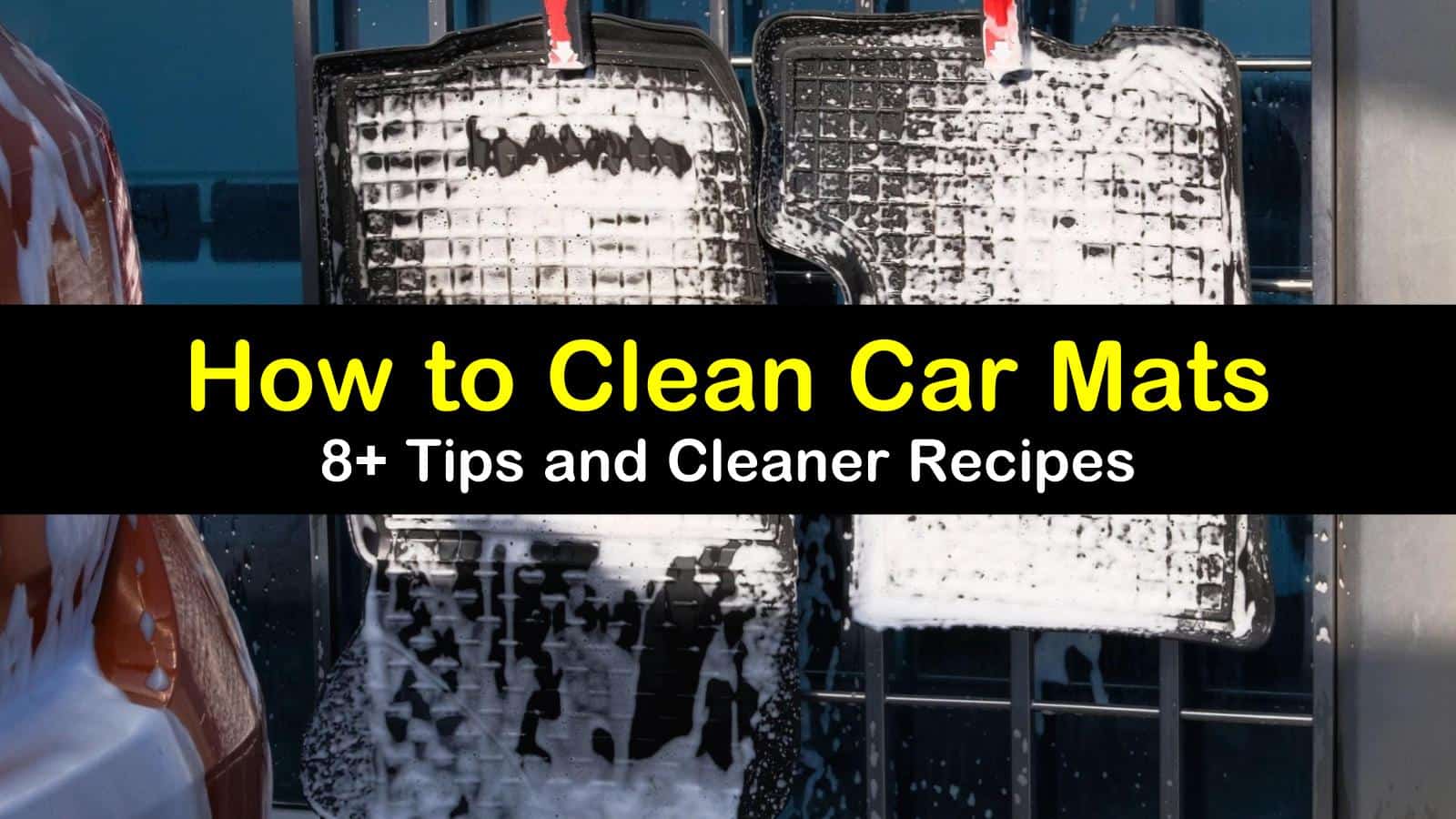 Best Ways to Clean Car Mats
We have several cleaning methods and techniques to help you get those floor mats clean so they can continue protecting your car's carpet while looking brand new at the same time. You will be surprised at how much cleaner your vehicle looks after the car floor mats are clean.
Preparing Car Mats for Cleaning
Before you begin cleaning the car mats to remove stains and odors, you need to get them ready for washing. Removing loose dirt and debris beforehand makes your job easier and also prevents spreading more dirt while scrubbing.
Vacuuming Car Mats
Open the doors of your car and remove the mats by folding them into themselves carefully to prevent dirt and sand from spilling over onto the floor. Shake loose the sand and dust outside or strike them against a hard surface to remove dirt embedded in the fibers.
Lay the mats on the ground and use a vacuum cleaner with an upholstery cleaner attachment to suction up as much dirt as possible from both sides of the floor mat. You can also use a high powered vacuum at the local car wash.
Quick Way to Clean Rubber Car Mats
Rubber mats are often used in cars to protect the carpeting from rain and snow. These mats may be made entirely out of rubber or have a rubber backing. Here is the best way to clean rubber car mats that are rubber on both sides.
Remove the rubber mats from the car and make sure that they are free of loose dirt and debris. If the floor mats are not too dirty, you may be able to spray them down with a garden hose or power washer to get them clean.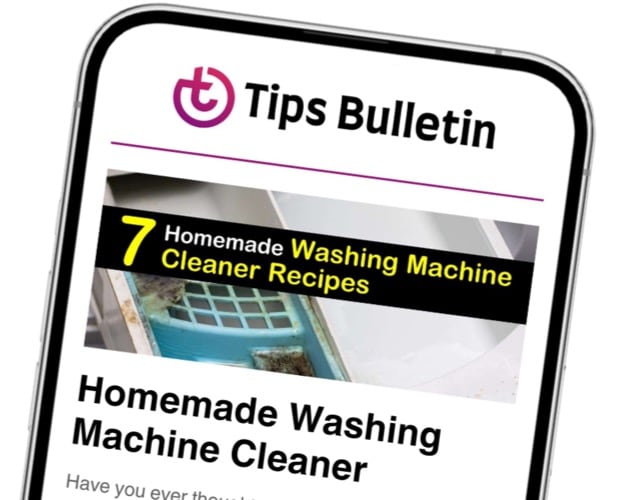 Finally, an email that Transforms Your Home.
Get the latest home and garden tips from our experts, delivered straight to your inbox.
For extra dirty mats, fill a bucket with warm water and add some baking soda and laundry detergent. Dunk a scrub brush into the soapy water and scrub each floor mat on the topside only.
If they are not that dirty, you can use a sponge to clean them. Rinse the top side of the mat off with a water hose. Lay the mats in a sunny location to air dry before replacing them inside the car.
Washing Carpet Car Mats in the Washing Machine
While you may be wondering, can you wash car mats in the washing machine, the answer is yes and no. If they are made solely of carpet material, they can be machine washed, but if they contain any rubber or plastic, clean them by hand.
Machine Washing Cloth Car Mats
If you are unsure whether you can put your car's cloth mats into the washing machine, check for a care label. Once you have identified that they can, follow the care instructions.
Generally, you place the mats into the washer with laundry detergent and wash them with cold water on the gentle cycle. Air dry.
Deep Cleaning Carpet Floor Mats
For carpet style floor mats, you can use old fashioned soap and water rather than store-bought cleaning products to get them clean. You can also use this recipe as a DIY car carpet shampoo.
Remove the car mats from the car and make sure that loose dirt is removed with the proper method. Mix water and detergent in a bucket and dip the brush into the soapy solution. Apply the brush to the top side of the floor mat and gently scrub away dirt and grime using a circular motion.
Repeat with each floor mat. Use a garden hose to rinse the dirty soap off the mats with clean water. Allow them to air dry.
They will dry faster if you place them in a sunny location. You can also use a shop vac to suck out as much excess liquid as possible.
Clean Car Floor Mats with a Steam Cleaner
Steam cleaning a floor mat is a great way to suck out dirt and bad odors. You can also target stained areas using a brush attachment. Our strategy shows you how to clean car floor mats made of fabric or carpet using a steam cleaner.
Steam Cleaning a Car Floor Mat
Remove the car mats from the car and place them on a flat surface. Begin by vacuuming the floor mats to remove loose debris and dirt. Fill your steam cleaner with upholstery cleaner per the manufacturer's instructions.
Use the brush attachment of the steam cleaner to clean each mat. Start at the top of the carpet, work your way down, and repeat in the next section.
Overlap each section to ensure that the entire mat is clean. Allow the mats to dry completely before placing them back in your car.
Power-Clean Car Mats with Vinegar
Many times, cleaning an area rug by hand is the most effective way of getting it clean. Using a proper cleaning solution and a little elbow grease, you can control how much work needs to be done to remove stains. This recipe is ideal for removing salt stains from the floor mat and as a car carpet cleaner.
Combine the white vinegar and water in a spray bottle and shake well. Remove the car mats from your vehicle and make sure that they are free of dust and dirt by giving them a hard shake.
Spray the cleaning solution onto one of the mats and use the scrub brush to brush away salt stains. Repeat with each floor mat. Make sure that the floor mats are dry before replacing them in the car.
Vinegar has a multitude of uses. You can also use this simple recipe as a homemade Cricut mat cleaner or to clean your shower mat.
Remove Stains from a Floor Car Mat
If you've ever had a mishap with an oil leak, you may spot the evidence on the floor mats of your car. These oil stains can be unsightly. This recipe shows you how to clean up oil stains from a car mat.
Blot as much of the oil stain as possible using a clean cloth. Pour the water and vinegar into a spray bottle and add the detergent. Shake the bottle to mix gently and then spray the solution onto the oil stain.
Use a sponge to scrub the stained area with a circular motion. Do not rub the stain outward. Continue working the stain with a fresh cleaning solution until it is gone.
Removing Odors from Car Mats
Even after a floor mat is clean, there may still be lingering smells to remove. Baking soda is an excellent carpet odor remover and works well as a deodorizer on car floor mats.
Car Mat Odor Remover
Begin by shaking and vacuuming the mats. Lay the floor mats on the ground and sprinkle a decent amount of baking soda onto the surface of each one. Use a bristle brush to gently scrub the baking soda into the material.
Let the mats sit for about 20 minutes as the baking soda absorbs bad odors. Use a vacuum cleaner to suction up the baking soda powder.
Best Way to Dry Car Carpet Floor Mats
After you clean the floor mats of your car, you need to make sure that they are dry before returning them to the floor in front of the car seats.
Not allowing them to dry may cause moisture build-up between the mat and the floor carpeting, leading to mold and mildew. Clotheslines are an uncommon sight these days, so we'll show you an alternative.
One of the best ways to dry car floor mats is to hang them in the sun. Hang a coat hanger on the porch railing, tree branch, or any other location that is readily available.
After you clean each floor mat, secure it to a coat hanger with clothespins. Doing this will allow both sides to dry at the same time resulting in faster drying time.
Forgetting about the car mats is easy to do while car washing the car interior. Having an immaculately clean car only goes so far if your vehicle's floor mats are stained over caked in dirt.
The first step to a clean car carpet mat is understanding which cleaning recipe works for which kind of stain. Now it's all up to you to put that knowledge to work, roll up your sleeves, and grab that elbow grease. It'll feel like you have a new car again!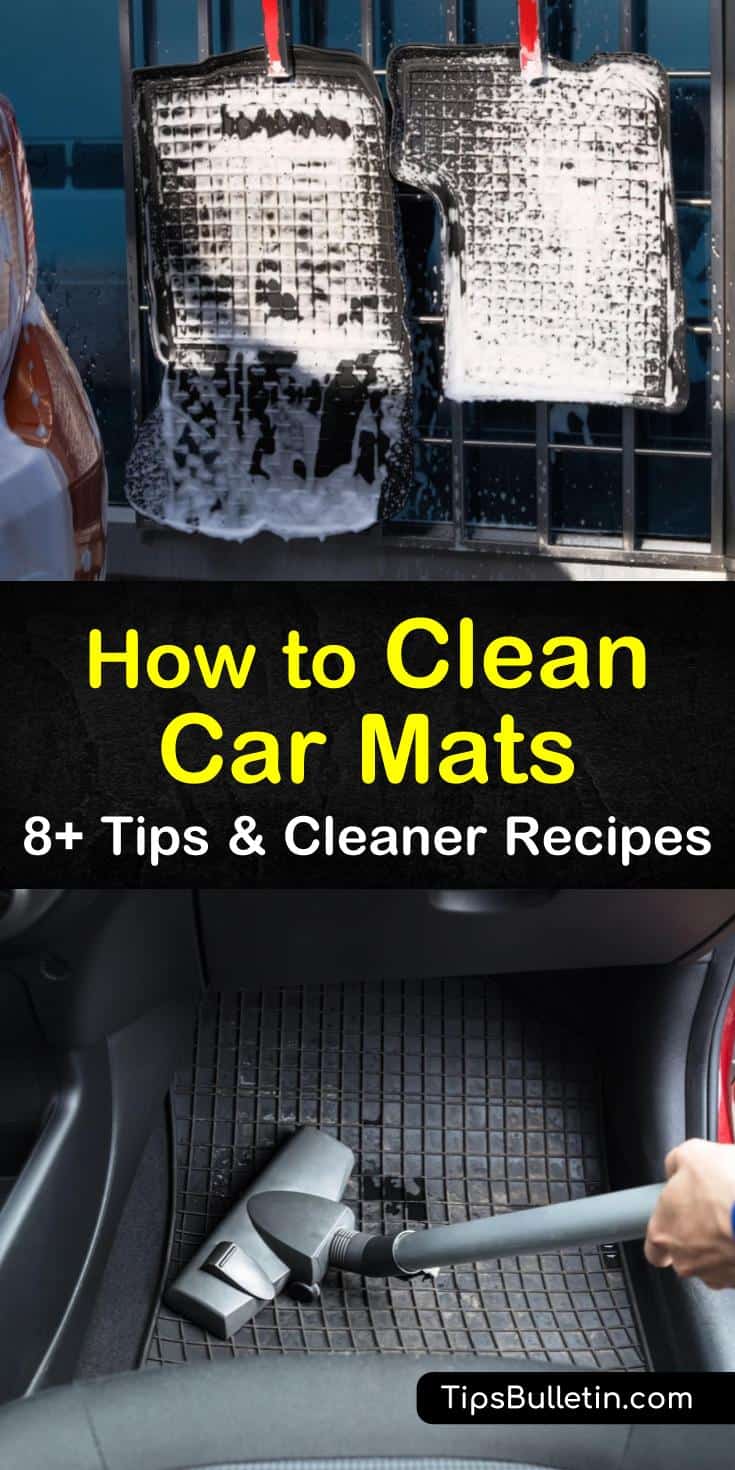 We hope that you enjoyed our tips showing you how to clean car mats and that you'll pass these floor mat cleaning recipes on to your family and friends on Pinterest and Facebook.