Our cars can be like a second home to many of us. It's where we listen to music on our daily commute, eat a quick bite between home-cooked meals, and it even doubles as extra storage space from time to time. So, knowing how to clean car seats jumps to an essential skill when coffee spills or other unexpected accidents stain our seats.
If you have any pets or small children, you know the struggle of keeping those carpets and seats pristine. All it takes is one quick, sharp turn to send your toddler's chicken nuggets flying from their hands and into the crevices of their car seat. Cleaning car seats seems like such a pain, especially since access to your car is a little bit trickier than removing stains from your living room.
However, not all your car cleaning endeavors require fancy equipment or cleaners with toxic fumes. Finding the most convenient solution of how to wash car seats is simple with these fantastic cleaning tips and recipes to keep cars spotless and smelling fresh.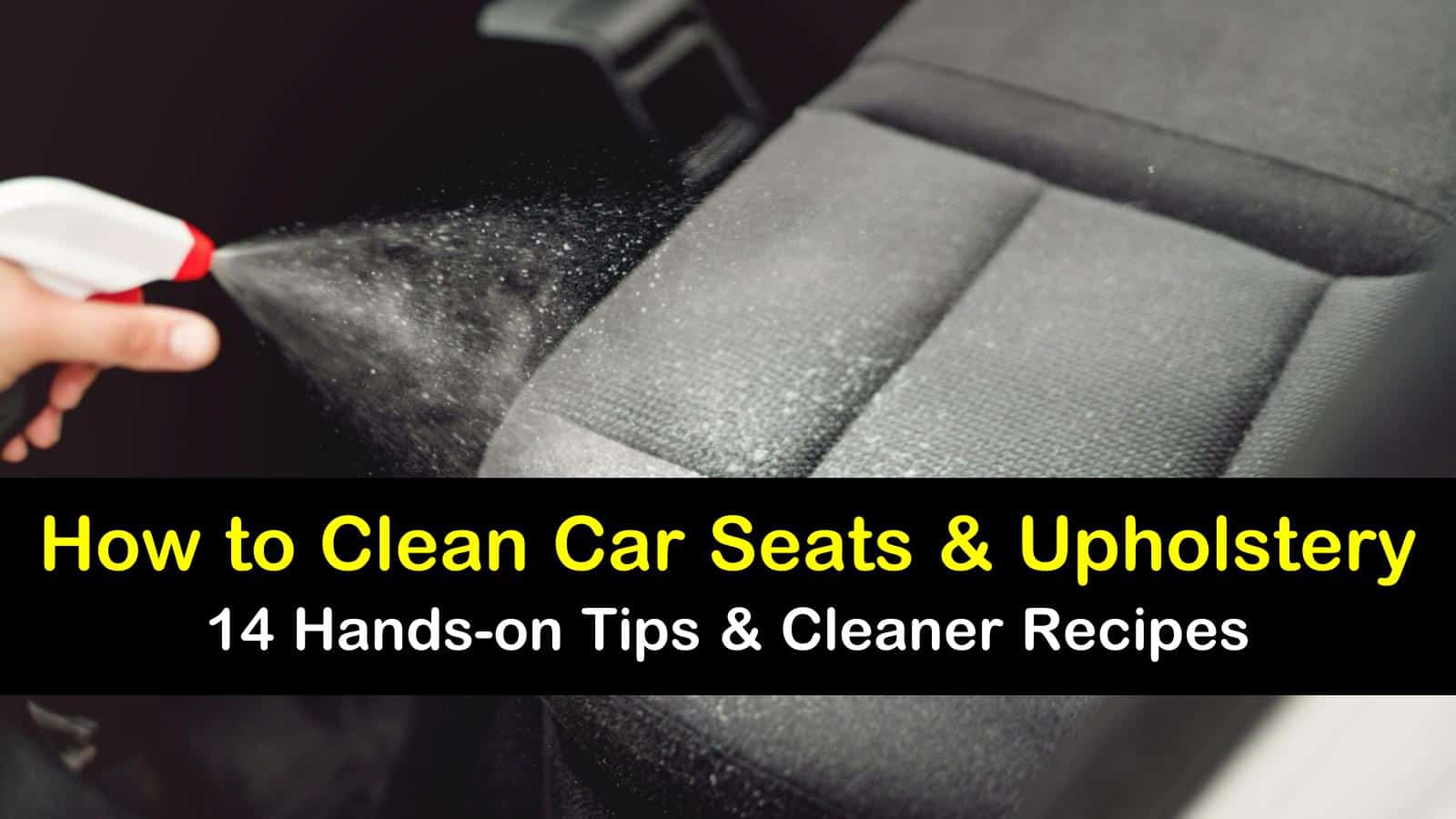 Incredible Tips for How to Wash Car Seats and Upholstery
Your car upholstery takes on a ton of dirt and gunk in its lifetime. Whether it's carpets and floor mats collecting loose debris from your shoes or food and organic stains on the seats themselves, there are some typical supplies you should keep on hand for both regular and spot cleanings.
While not all these supplies and machines are necessary, it helps to have them in case of an emergency. The same can be said for any of these tips and recipes, so it is always wise to have more than one car cleaner in your batch of household products.
Start Every Clean by Removing Debris
The first step to take when cleaning your car is to remove loose dirt and debris from your car seat crevices and floors. While this includes discarding larger items by hand, you also want to use a vacuum to suck up smaller crumbs and particles and remove pet hair from car seat. If you have a handheld vacuum, this works best to remove dog hair from car upholstery and cat hair.
Otherwise, using an extension cord that reaches the driveway or an outlet in your garage is another easy way to access those fantastic upholstery attachments on your vacuum. When all else fails, use your local gas station's vacuuming station.
Use Dish Soap and Water for a Routine Clean
Now that you have started with a fresh, clean slate, it's time to use a mild car upholstery cleaner. Always start with the gentler cleaners first, then work your way up to more powerful cleaners. Dish soap is an excellent starting point since it won't damage your upholstery and already is a fantastic degreaser.
For the best way to clean cloth car seats on a regular basis, mix the ingredients and scrub across the surface of your car seats with a soft cloth. Don't soak the seats with the mixture, though, as this makes it difficult for them to dry and could potentially cause mildew within the cushions.
Instead, lightly apply the cleaner in an even spread. Sop up any excess moisture when you finish scrubbing and allow the upholstery to air dry with the windows open. You could also use a hair dryer on a low heating setting to speed up the process.
This mixture is also ideal to use when you wash your car at home. It's simple and inexpensive to make and does a good job on the majority of the dirt that the exterior of your auto accumulates.
How to Clean Car Seats with Borax
If your car receives its fair share of food crumbs and spills, then using one of the stronger car fabric cleaners may be necessary. For a deeper interior cleaning of fabric seats, add some Borax to the above ingredients. You can also throw in some of your favorite essential oils to rid your car of musty odors and lingering smells.
To make this car upholstery cleaner, mix the dish soap and Borax in a large bucket. Slowly add the boiling water to the mix to ensure it blends evenly. The boiling water is perfect for disinfecting the car seats and other fabrics.
Add in your drops of lavender essential oil, or whichever essential oil you prefer, then whip the concoction until it is nice and foamy. Clean cloth car seats using a clean towel and a circular motion.
Steam Cleaning Car Seats for Spectacular Results
Another way to deep clean car seats is to use a steam cleaner. While not everyone has one on hand, they are available to rent in some grocery stores and completely worth the cost, especially if your car needs some serious help in the cleaning department. Your steam cleaner will work wonders.
Combine both ingredients in the reservoir chamber of the steam cleaner, then follow the manufacturer's instructions for using the machine. Any spot cleaning can be done after steam cleaning, but clean the area again once finished. This method is perfect for most areas in your car, including the best way to clean a car headliner, floors, and seats.
Use a Detailing Brush on Carpet Ceilings
The ceilings in our vehicles are often the last things we think about when cleaning the car interior. Most spills fall downward, right? However, our headliner collects dirt particles transmitted through the air or even smoke.
And even though it is rare, splatters of food and liquids do sometimes make their way up before plunging back down again. One way to brush away loose dirt from the top of your car is to use a detailer brush. This tool is a wonderful interior brush that works great even when using cleaning agents.
Spray the brush with your cleaner of choice and scrub the contents into the ceiling upholstery. Doing this will also limit the amount of liquid used on your ceiling, meaning that excess soap or water doesn't fall back down on you.
Best Method for Cleaning Floor Mats
Floor mats protect the floors from stains and messes, but they are not immune to stains themselves. Using floor mats makes it easier to clean your car floors since these removable pieces can be taken out and even cleaned indoors when necessary.
The following recipe is also safe to use on leather upholstery. Try this option as one of the best home remedies for cleaning leather in your car or a piece of leather furniture in your home.
After mixing your ingredients and selecting your favorite fragrance in an essential oil, scrub the floor mats with a soft bristle brush. The interior brush you used on your ceilings also works perfectly.
Scrub until all dirt and latched-on hairs have been pried free. Stubborn stains may require repeat treatments. Set your floor mats out to dry in a warm, sunny location and return them to your vehicle when they are ready.
How to Wash Car Seats Made from Leather
Cleaning leather seats can be pretty intimidating for the first time washer. You don't want to ruin the sensitive material by using harsh chemicals or oils that seep into the leather and destroy it. Using gentle cleaning agents like baby soap and vinegar is the best way to clean leather car seats without damaging them.
When cleaning your leather seats, don't saturate the area. Only spray the area directly with the cleaner when the gunk and grime are particularly challenging to remove.
Otherwise, spray a soft lint-free cloth with the solution and wipe the leather down. Finally, dry the leather off, removing all traces of the cleaner with a microfiber cleaning cloth.
Spot Cleaning Car Seats and Upholstery with these Fabulous Recipes
Though the occasional routine cleaning is necessary for keeping your car smelling and looking great, the most common car cleanings come from mini stain emergencies. Not all stains fighters are created equally, and some stains require specific ingredients to come off quickly. Follow these helpful hints to lift stains and salvage your car's interior.
Remove Ink Stains from Car Upholstery
When you ink pen tumbles out of your purse and onto your tan car seat, it may feel like all hope is lost. However, there are two cleaning products you can use to effortlessly remove ink from leather or from your clean cloth seats – hairspray or rubbing alcohol.
If using rubbing alcohol, ensure that you use a solution that is at least 70% proof when cleaning. Add a dab or two to a cleaning cloth, then blot the stain until it lifts away.
For darker-colored seats, test a hidden area of your car before using it. When using hairspray, coat the stain with the product and dab away until the stain disappears, similar to using the rubbing alcohol.
How to Fight Stubborn Stains on Leather
Cloth seats are not the only ones that need saving from stains. A good leather cleaner is also necessary when it comes to removing stains from this delicate material. The best cleaning product to use in this case is lemon juice, combined with a tablespoon of cream of tartar for a gentle abrasive.
Mix the two in a small container, then apply using a soft toothbrush. This tool is especially helpful when it comes to scrubbing a small area and protecting the remaining sections of your back seat from unnecessary scratching.
Once you have loosened up the stain, wipe away the cleaner using one corner of a damp microfiber towel. Use a dry corner of that same microfiber cleaning cloth to dry the surface of your leather seats when finished.
Tackle Grease Stains with Cornmeal and Salt
If you order your food on the run or put any makeup on in the car, then a grease stain is an inevitability. Even lipstick makes its way onto our car seats and upholstery, leaving an oil-based stain that is tough to remove. Some great degreasing products to use are dish soap, salt, and cornmeal.
Combine the salt and dish soap to create a thick paste. Spread the paste over the grease stain using an old toothbrush and gently scrub the stain. The salt scrapes away the stain without scratching the material, while the dish soap is incredible for breaking down grease.
Let the formula sit for approximately five minutes, then rinse with warm water. Afterward, sprinkle a little bit of cornmeal over the stain. You may not need to use both tablespoons. For stubborn grease stains, allow the cornmeal to sit overnight before vacuuming it up in the morning.
Lift Coffee Stains with Glass Cleaner
Coffee is practically a staple in our morning routines and gets us through even the toughest commutes. But when you spill that precious liquid all over your fabric car seats, you want to clean up immediately. There are many ways to address this coffee stain issue, all of which involve using cold water.
Use a clean cloth to absorb as much of the coffee stain from your fabric as possible, using cold water to blot the stain. Apply a couple of drops of dishwashing liquid or laundry detergent to lift the stain.
Sometimes, a little bit of homemade glass cleaner will also help. Afterward, dry the area with a hairdryer to ensure the coffee stain is gone.
Get Rid of Smoke Stains on Ceilings with OxiClean
One primary stain you see in car ceilings is smoke stains. The smoke rises to the top, leaving an unappealing, yellowish-brown residue of nicotine on the headliner of your car. While a steam cleaner will usually take those stains right out, you may want a more convenient solution you can use every week.
An alternative method for removing smoke smell and stains is to spray the top of your car with an OxiClean stain remover. Scrub the upholstery using your detailer brush and watch the stains gently fade away.
Wash Away Vomit with Club Soda
Whether it's you, your family members, or even your pets, getting car sick results in a nasty mess to clean. Luckily there are some phenomenal cleaners designed to take the stains and stink of these kinds of messes promptly out of your car seats. Substituting these ingredients is also easy, with laundry detergent acting as an excellent replacement for dish soap.
Mix the dish detergent, vinegar, and club soda in a large container, and start scrubbing the area with a clean cloth. Allow the club soda mixture to soak for approximately five minutes, then rub again and rinse with cold water.
Sprinkle a few pinches of baking soda overtop of the spot and leave it for about 30 minutes to absorb residual smells and deodorize your carpet, as well. Vacuum the remaining powder.
Use Baby Wipes for Water Stains
If you accidentally left your window cracked, or maybe you have a leaky moonroof, water stains will wreak havoc on your car's interior. One excellent way to combat these stains and leave your vehicle looking brand new is to use baby wipes for removing water stains from car upholstery.
If you've ever used these wipes outside of cleaning a baby's bottom, you know they are fantastic little cleaners for almost every purpose. Even if you don't have little ones, keeping a supply of baby wipes on hand is a great idea.
When removing stains caused by water spots, start by absorbing as much of the moisture with paper towels or a dry cloth as possible. Scrub the baby wipe over the area with the stain, then dry with a low setting on your hairdryer. Viola! No more water stains.
Some Final Things to Know About Your Car Seat Cleaning
If you are still curious about the maintenance of your car's interior, these final pieces of advice will help. Using preventive measures is a spectacular way to keep your vehicle looking great and will make your job cleaning even more effortless.
How often should I clean my car upholstery?
Ideally, deep cleaning of your car upholstery should happen once a month. This process includes vacuuming, spot treating, and using some form of cleaning agent throughout the entire car. Spot cleaning can be done as needed, of course, and should take place as soon as you notice the stain for the best results.
While it does take some time and plenty of elbow grease, performing regular cleaning in the interior of your car will make it easier for you to maintain as you go. Dispose of trash daily, and use mats or other protective measures to reduce the need for cleaning.
What are some ways I can prevent stains and keep my seats clean?
There are plenty of ways to protect your car, depending on the type of situation and area that needs protecting. Car mats are your first line of defense since they collect pet hair and dirt from shoes with the added benefit of being removable. These mats make cleaning your car floors more convenient, but they are not the only items you can add for easy-care and removal options.
To avoid pet stains, use a pet seat or slipcover whenever you are transferring your pet from one location to next. Some mats even double as booster seats so that little dogs can peer out the window. Seat covers are another a wonderful way to add color and style to your car's interior and are easy to detach and wash indoors when needed.
If you don't want to cover the whole seat, however, there are smaller mats designed to catch food and crumbs that fall from car seats. These slipmats are placed directly beneath your toddler's car seat and will even prevent gouging and creases caused by child seats.
We've gone over some incredible different options for cleaning every inch of your car's interior. But don't just take our word for how revolutionary these cleaning tips are. Try them out yourself the next time your car upholstery needs a little extra love and care.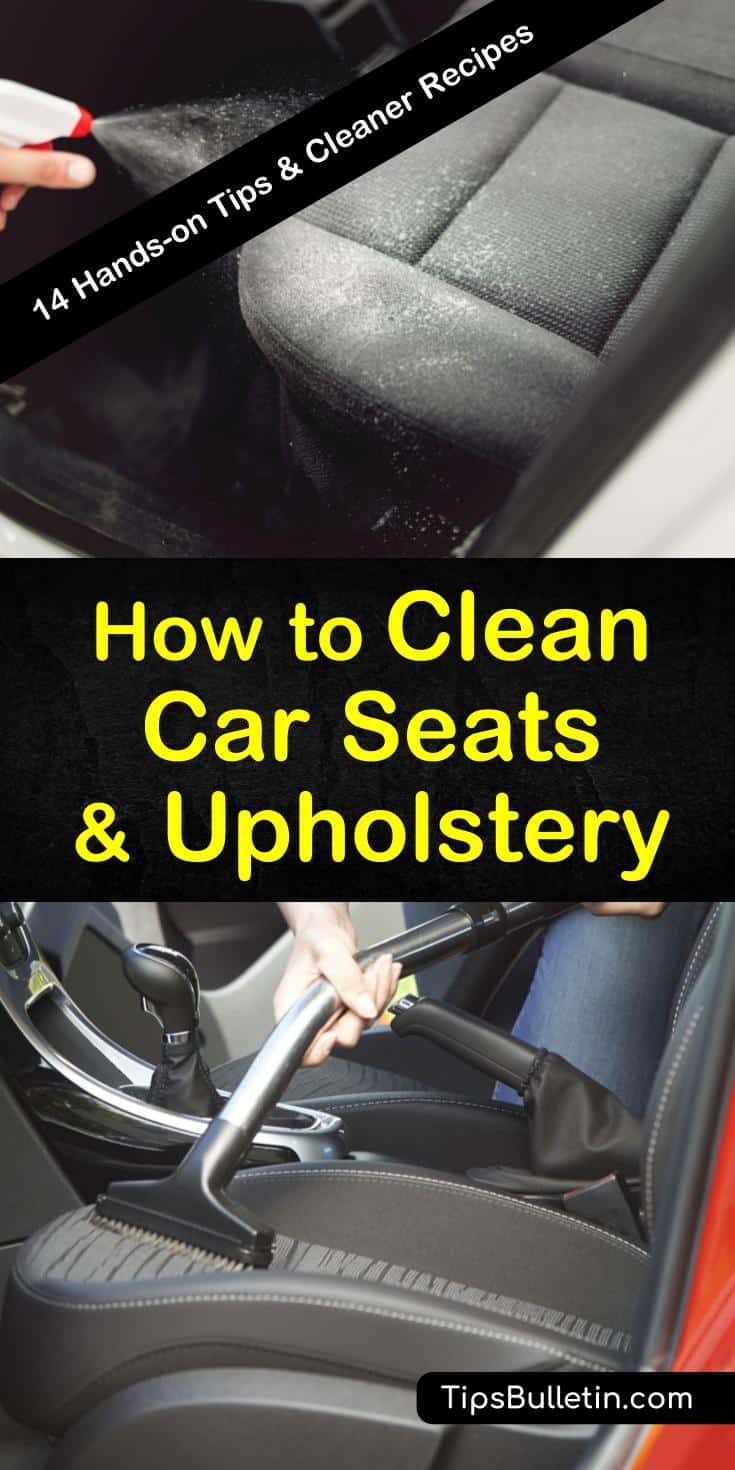 If these tips and recipes for cleaning car seats were everything you needed and more, please remember to share how to clean car seats with friends and family on Pinterest and Facebook.