Having a car is one of the great modern conveniences and gives us freedom and the ability to travel wherever we wish to go. But, our vehicles also get dirty over time, and stains and smells can accumulate and make our drives less pleasant. Understanding how to clean car upholstery can prevent the interior of your car from getting out of control.
When you make cleaning car upholstery a regular task, you keep your car looking gorgeous inside and out. This guide helps you maintain your car and ensure that it keeps looking its best.
We show you how to clean different materials, including cloth and leather, and you'll also get some DIY tips for keeping heated and vented seats dirt and grime-free. Our article shows you the best way to clean car upholstery and ensures that your drives are pleasant and enjoyable.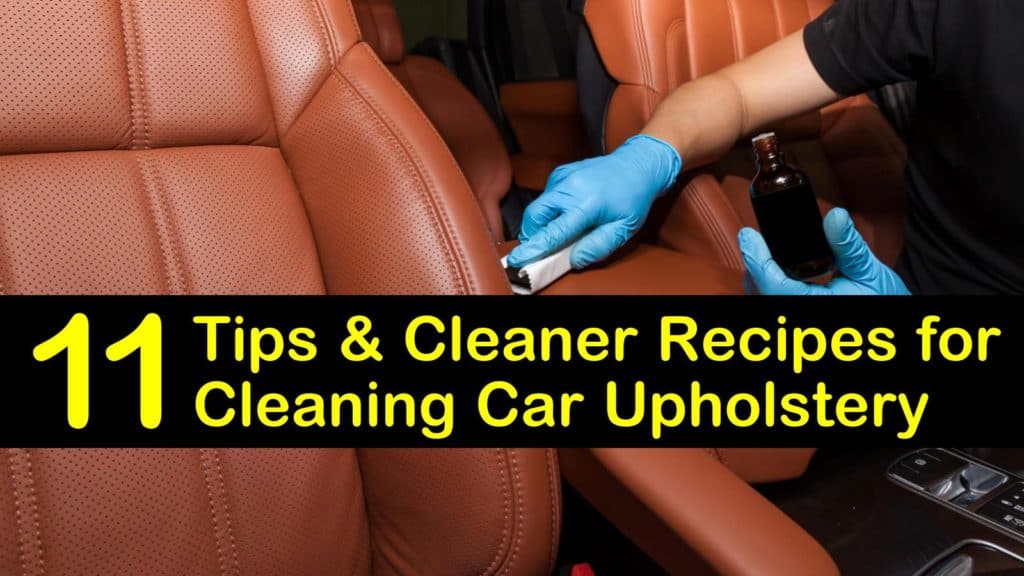 The Best Ways to Clean Car Upholstery
Before you reach for the auto upholstery cleaner, it's a good idea to make sure that you've taken care of regular maintenance. It's simple to avoid many stains and bad smells if you take some necessary preventative measures and give your car a little TLC about once a week while going about your regular car washing.
There's no cause to pull out automobile carpet shampoo to get the job done; all you need are some simple tools and a trash bag.
Cleaning Car Upholstery – General Cleaning Tips
In this section, we demonstrate how to clean car upholstery using low-impact and natural methods. You'll learn how a vacuum and toothbrush can help you prevent long-term damage to your upholstery and keep your auto looking its best.
We help you set up a cleaning schedule and show you the best way to maintain a happy and clean car.
Vacuum the Car Seats and Floor
Much of the debris and stains in your vehicle come from dirt and grime, and you and your passengers bring it in whenever you take a drive. Your shoes track in mud, and every time you eat in the car, you leave crumbs and wrappers.
If you don't clean this kind of junk out of the car regularly, it causes permanent stains and smells on your upholstery. A vacuum and trash bag once a week can prevent long-term issues.
The smart way to clean car seats is to first begin by removing large debris and throwing it away. Use a foxtail to sweep loose dirt and debris into a dustpan, and throw that away as well.
Vacuum the car's interior thoroughly, including the back seat, and use the crevice tool to pick up dirt that's worked deeply into the seats. Weekly vacuuming makes a world of difference to the inside of your car and makes car cleaning much less of a hassle.
Use a Toothbrush on the Seams
Vacuuming takes care of many of the issues that might cause stains, but it won't be able to budge more ground-in dirt that gathers around the upholstery seams. To clean these areas, think smaller and reach for an old toothbrush.
A toothbrush digs into spots the vacuum can't touch. Monthly cleaning with a toothbrush keeps your car pristine.
Use the toothbrush to scrub at the upholstery seams. Make sure to get the hard-to-reach spots that might have avoided the vacuum, and use a slightly dampened cloth to clean away the loosened dirt. Repeat until the seams are clean.
Keep Your Floor Mats Clean
The poor floor mats get the worst treatment of all in our cars, and we tend to overlook them. Floor mats are vital components of our cars and protect the underlying carpet, so give them as much care as you do the upholstery and carpeting.
Don't go nuts with the cleaning, either; give them the same treatment you give to the rest of the car interior. When you vacuum the car, beat the mats outside to remove loose dirt, and if the mats are cloth, give them a thorough vacuuming.
If the mats are wet from rain and mud, pull them out of the car, rinse them off, and let them dry to prevent a musty smell from developing. A few minutes a week cleaning your mats is essential if you want to maintain a clean car.
How to Clean Car Upholstery
Regular maintenance is crucial for long-term cleanliness, but even the most faithful low-impact cleanings won't be able to prevent every stain and smell from developing. Try to always have some ready-to-go cleaning options on hand.
However, your cleaning approach depends on your upholstery type. Leather, cloth, and vinyl seats all require different tactics to keep them clean and happy.
Cleaning Different Materials and Seat Types
Here are some cleaning tips for all sorts of seats and materials. We show you how to get cloth, leather, and vinyl upholstery dirt-free without causing damage. You'll also get suggestions for cleaning different seat types, including bucket seats and heated or vented seats.
Use Glass Cleaner on Vinyl Seats
There's a reason you find vinyl tile in areas that get a lot of traffic and dirt. Vinyl is easy to clean and difficult to stain, which makes it the perfect material for kitchen and bathroom tiles.
These same properties make vinyl ideal for vehicles that have a high risk of spills or stains such as family cars. Just like vinyl tile, vinyl upholstery is usually simple to keep clean. Most of the time, all you need is glass cleaner to make a DIY car upholstery cleaner.
Spray glass cleaner on any spots in your car that require cleaning. Let the car's upholstery cleaner sit for a minute, and then use a soft, clean cloth to wipe the seats dry.
Stains should wipe away with relatively little effort. Use glass cleaner on vinyl as often as needed. If you don't have glass cleaner available, diluted white vinegar is an excellent substitute.
Tackle Tough Stains on Vinyl With Baking Soda
It's possible to get by with only glass cleaner when cleaning vinyl, but occasionally, you'll encounter a tough stain that requires a more heavy-duty approach. When you encounter a stain on vinyl that your glass cleaner won't touch, it's time to reach for the baking soda.
Because oil-based cleansers harden vinyl, baking soda is the best option for stubborn stains. It's a world-class stain remover and one of the best car seat cleaners around.
Add equal parts baking soda and water to form a paste. Spread the cleaning solution on any stains with a cloth, and wait ten minutes.
Use a clean cloth to scrub at the paste until the stain lifts away. Add a tsp of liquid dish soap to a quart of cold water, and gently clean away any crumbs or debris.
Clean Your Cloth Seats With Liquid Dish Soap
If you've done much DIY cleaning, you're likely already familiar with how effective a cleaner liquid dish soap is on all kinds of materials. Liquid dish soap is one of the most versatile cleaning products in your home arsenal.
It gets coins clean and is a great and gentle way to remove fleas from pets. It's the perfect option for cleaning fabric upholstery, too, and is one of the best DIY seat cleaners and carpet cleaners in your home.
Add equal parts dish soap and cold water to a spray bottle. Remove any seat covers and send them through a machine wash and dry as you work on the seats. Spray down the seats and let the cleaner sit for a minute.
Gently scrub the seats with a soft-bristled brush. Dip a cloth in warm water, and then use the material to rinse the seats, blotting gently at the fabric. Re-soak and rinse the cloth frequently as you work. For tougher stains, replace the cold water in the cleaner with club soda.
Hit Your Cloth Seats With a Steam Cleaner
Despite the best efforts in your car upholstery cleaning, you'll run across an occasional stain on your fabric seats that sticks around. For example, you need to know how to get chewing gum off a car seat with ice or peanut butter. When you find yourself with a car full of other stains that won't budge, you might consider renting a steam cleaner.
Steam cleaning gets down deep and lets you pull smells and filth out of your car. It's a detailer's secret weapon. Always follow the manufacturer's instructions when using a steam cleaner, and wear all appropriate safety gear, including glasses and gloves.
Take your time when steam cleaning the cloth, and keep the hot water reservoir filled as you work. You might have to repeat the cleaning to get the fabric thoroughly clean the first time you use this method but it's definitely worth the effort.
Get Your Leather Seats Clean
Leather car seats are a pleasure to sit in when clean, but they can get dirty fast. Leather is tricky to clean; you must be careful of what you use to clean it to avoid damage.
Fortunately, you have the perfect cleaner sitting in your home right now. Liquid hand soap works brilliantly on leather upholstery and cleans away mild stains without trouble. Use this cleaner anytime you want to clean leather.
To make this "back to basics" DIY interior car cleaner, combine three parts hand soap to one part cold water in a bowl. Apply the seat cleaner with a clean cloth and scrub gently at the leather to remove stains. Use a clean cloth soaked in warm, clean water to rinse the seats and bring back a nice shine.
Take Care of Leather Seats With a Commercial Cleaner
If your hand soap cleaner doesn't lift out a stain, don't go for a tougher cleaning agent. Cleaning leather can be tricky, and a commercial leather upholstery cleaner is the perfect tool for the task.
Leather cleaners won't damage your upholstery if used correctly, and they leave your leather supple and smelling great.
Stick to the manufacturer's directions when you use commercial leather cleaner. Wear gloves, and make sure to test the cleaner on small areas that are out of sight in your car before you use it on the visible areas.
Protect Leather Bucket Seats Using Conditioner
Leather bucket seats are comfy and hug you as you whiz around corners in your sports car, but they're prone to dirt and grime buildup in the seams and crevices. To avoid this problem, reach for a good leather conditioner.
A leather conditioner protects your upholstery and acts as a barrier against future stains and damage. Oil-based conditioners can stick to upholstery and clothes, so it's best to avoid them.
Use a water-based conditioner, and make sure that it's pH-neutral. Apply your conditioner with a clean cloth, and wait 20 minutes or so before you use the car again. Condition your car seats once a year or more often if they get heavy use.
Clean Vented Car Seats With a Vacuum and DIY Cleaner
You might run across leather seats that are vented for breathability and to allow for heating and cooling of the seat. Perforated and heated seats are comfortable and convenient, but those little holes are perfect spots for dirt to hide. To clean vented seats, use a DIY cleaner and vacuum.
Begin by vacuuming the seats. Move the vacuum nozzle slowly across the seats, and make sure to get into the nooks and crannies. Once you've pulled out as much dirt as possible, combine three parts hand soap to one part cold water in a bowl.
Dampen a cloth with the cleaner and scrub at any stains on the seats, whether you need to remove mud stains from car seats or have another unwelcome stain. Soak another cloth in warm water, and use it to rinse the seats.
To keep your car interior smelling fresh, make a homemade car air freshener with essential oils and baking soda. Mix a half a cup of baking soda and about 20 drops of your favorite essential oil in a jar with cheesecloth fastened in place as a lid. Put the jar in your console cup holder or in the door to enjoy a pleasant scent whenever you get in the car.
We hope you had an enjoyable journey exploring our suggestions on the best way to clean car upholstery.
Our cars let us drive wherever we want and provide us with freedom, but they can get dirty and smelly if we don't maintain them. Our guide helps you find the perfect cleaning option for your needs.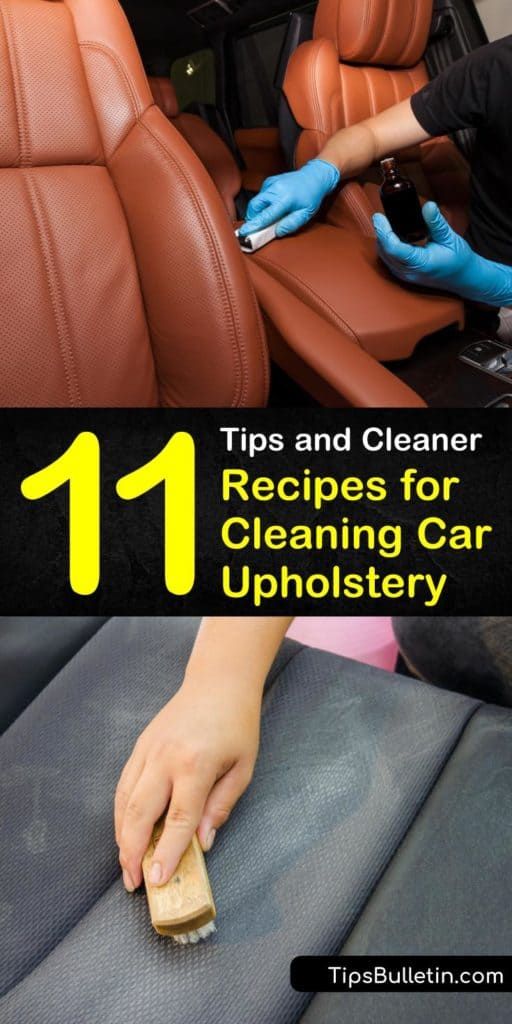 Thanks for reading our cleaning car upholstery pointers. If you liked finding out how to clean car upholstery, Pinterest and Facebook are great venues for sharing our upholstery cleaning methods with your friends and family.