Have you ever wondered how to clean carpet without a machine? If so, you are not alone as most of us with carpet wonder if there are easy ways to clean carpet without a machine. Sure, professional carpet cleaners provide outstanding results, but they use industrial carpet cleaning machines with a variety of harsh cleaning chemicals.
A high price tag also accompanies their excellent job. Luckily there are several ways to deep clean a carpet without a carpet cleaner. These simple methods rely on using household ingredients as a cleaner to remove various carpet stains, along with a little know-how and a lot of elbow grease.
Some of the simplest strategies require using a vacuum cleaner to vacuum up any loose dirt and debris, but like steam cleaning, there are alternatives to vacuuming. Whether you want to deep clean your carpet or need to remove some unsightly stains, let us show you how to clean carpet without a machine.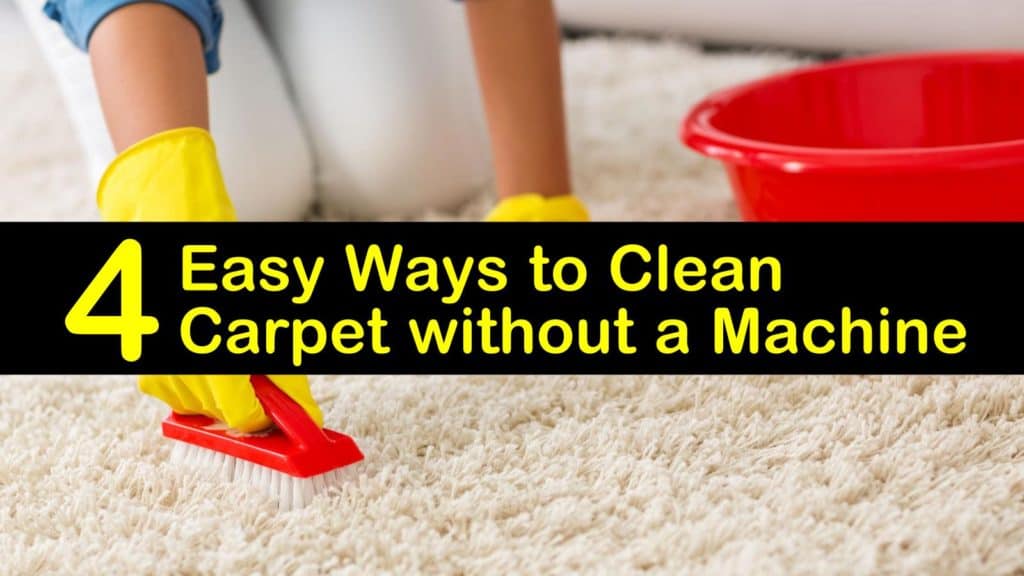 Ways to Clean Carpet Without a Machine
Before you deep clean your whole carpet or start to clean a rug without a steam cleaner, it's important to remove all loose lint, hair, dirt, and debris from the surface first. Vacuuming is the easiest way, but a stiff-bristled broom paired with a dustpan also does the trick even in high-traffic areas.
To improve the stiffness of the bristles on your broom, wrap them with a large rubber band. If you don't trust your broom skills, invest in a carpet sweeper.
How to Clean Carpet Without a Machine
Vinegar and water work great if you plan to clean carpet yourself. The cleaning solution does require a bit of scrubbing and plenty of patience but provides excellent clean up results without a steam cleaner.
Inside a small bucket or a stainless bowl, mix the vinegar and the cold water. Use a soft-bristled scrub brush dipped in the cleaning solution to gently scrub your carpet. Be careful not to oversaturate your carpet. Blot up any excess cleaning solution with a soft cloth.
Repeat the gentle scrubbing process and blotting until you are satisfied with how it looks. The vinegar cleaning solution works well in a spray bottle, too. It's one of the best ways to clean mud out of the carpet and eliminate most other types of stains.
If using a spray bottle, liberally spray your carpet and allow it to sit for several minutes. Use a microfiber cloth to blot the carpet without damaging carpet fibers.
If you need to clean hair dye from carpet fibers, ditch the brush and dab a clean cloth with the cleaner onto the stain instead. Repeat with fresh sections of the cloth until the stain is gone.
You can also use this simple and inexpensive recipe as a DIY carpet cleaner for cars and trucks. Take care of stains from mud and other debris quickly and it is easier to get rid of them.
Best Way to Deep Clean a Carpet without a Carpet Cleaner
Regular vacuuming is best for deep cleaning carpet without steam cleaner. What many of us fail to realize is carpet discoloration occurs when carpets are not cleaned enough.
The longer you go between vacuuming your carpets, the dirtier and more discolored they appear. Dirt and grime are walked upon, allowing it to become ground down into the carpet where it works its way deep into the fibers. Make your own carpet cleaning shampoo with this easy dish soap stain remover.
To create a good carpet cleaner solution, mix 1/8 teaspoon of dish soap with hot water inside of a spray bottle. Swirl the water around to gently mix the ingredients, but be careful not to shake it excessively; you don't want sudsy water. In a separate container, mix equal amounts of table salt with baking soda, stirring gently to combine.
Sprinkle the powdered mixture over the area of your carpet you want to deep clean. Spray the dish soap and water solution directly onto the powdered mix and allow it to sit for five minutes. Gently brush the carpet in a single direction with a soft-bristled brush.
Brushing gathers up any loose hair and debris, making it easier to discard. Move 90° and gently brush from the next path. Continue moving 90° until the area is clean. Press old rags down into the carpet to pull up excess water from the cleaning solution.
Once close to dry, spray with clean water to rinse the soapy mixture from the carpet. Soak up the fresh water with dry rags. This method is ideal for spot cleaning, but also works to deep clean the entire carpet, but use a bigger brush.
The baking soda in this recipe is the best way to get smell out of carpet, too, as it neutralizes all kinds of unpleasant odors.
Natural Ways to Clean Carpet without a Machine
Club soda is a natural cleaner that is great at getting blood out of carpet, as well as wine stains. To spot clean your carpets, spray club soda directly onto the stained area and then blot up with paper towels. Repeat spraying and blotting until gone.
To clean the whole carpet, use warm water mixed with a small amount of Castile soap. Mix the Castile soap and warm water inside a small bucket, dip a rag into the solution and wring out the excess liquid. Gently scrub the carpet with the cloth. Use a second clean towel to soak up the excess water.
Mix one quart of warm water with ¼ teaspoon vinegar and one tablespoon liquid dish soap. Apply to the stained section and allow it to soak for several minutes. Blot up as much excess cleanser as possible and allow the carpet to air dry.
When cleaning carpets, bleach, or cleaning products containing bleach are not recommended on dark colors due to discoloring. Hydrogen peroxide works better than bleach to treat stains, including mold and mildew.
Only use 3% hydrogen peroxide, as anything more substantial causes discoloration. Test a small area before applying to any stains.
For mold mildew and other stains, mix one cup of 3% peroxide with five cups of water. To get coffee out of carpet or other tough stains, use undiluted peroxide. Apply the peroxide solution to the stain and allow it to sit for five minutes. Blot up excess peroxide with an old cloth. Repeat until the stain disappears.
How to Clean Area Rugs with Snow
During the winter, use snow to clean a wool area rug, handmade rugs, or area rugs. The best snow to use to clean your rugs is the dry and powdery kind. To begin, drag the rug outside and shake it to remove all loose dirt and debris. Lay it down and allow it to sit outside for 30 minutes to get it used to the colder temperatures.
Cover the rug with up to five inches of snow. Use a broom to help evenly distribute the snow across the entire rug's surface. Beat the snow into it with the flat side of a broom, similar to how you would beat one hanging on a line or fence.
The cold air causes the ammonia inside the snow to turn hidden dirt into a solid. Let the rug sit outside covered with snow for 20 minutes. Flip it over and repeat the process.
Once clean, remove as much snow as possible. Hang the rug up on a fence or clothesline for 30 minutes to allow the snow to evaporate, but the best part is it prevents the carpet from getting wet.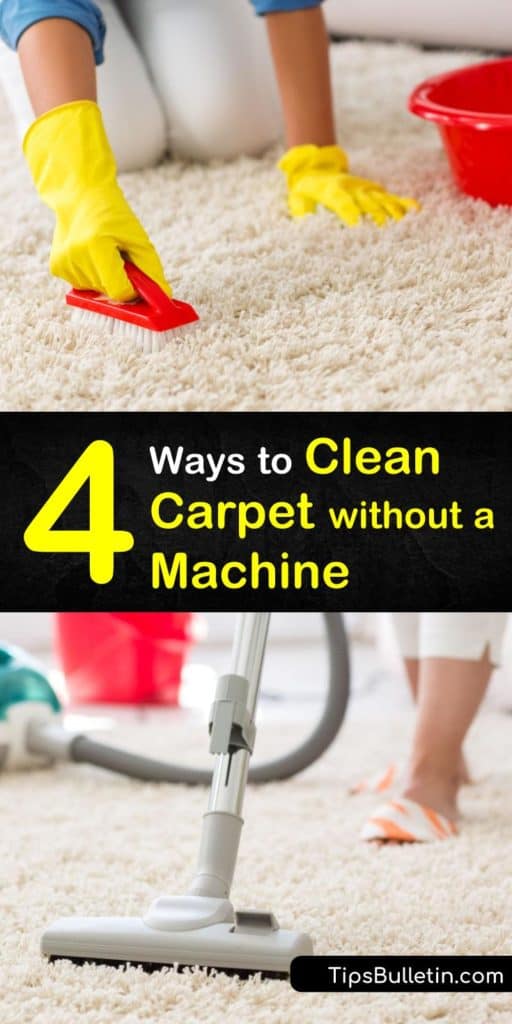 Thank you for reading our thoughts on how to deep clean a carpet without a carpet cleaner. If you found any of our carpet cleaning tips useful, share on Facebook and Pinterest so others can learn how to clean carpet without a machine, too.