Although cast aluminum is used in kitchenware, car parts, and even patio furniture, this relatively lightweight and durable metal is not as well-known as cast iron or steel. Nonetheless, if your cooking pan or the intake manifold from your GMT 600 or Chevy Impala has developed a build-up of grime, you're probably wondering how to clean cast aluminum.
The first thing to note is materials you should avoid when cleaning cast aluminum. For any aluminum surface, do not use an alkaline product, such as baking soda or ammonia. Don't use steel wool, but rather a soft-bristled toothbrush or non-abrasive scouring pad. If you look on vBulletin-based forums, you may find advice to polish car parts with bead blasting.
Although a glass bead shot from a blaster leaves aluminum parts shiny and smooth, this method requires specialized equipment. Therefore, we recommend using a simpler homemade cast aluminum cleaner.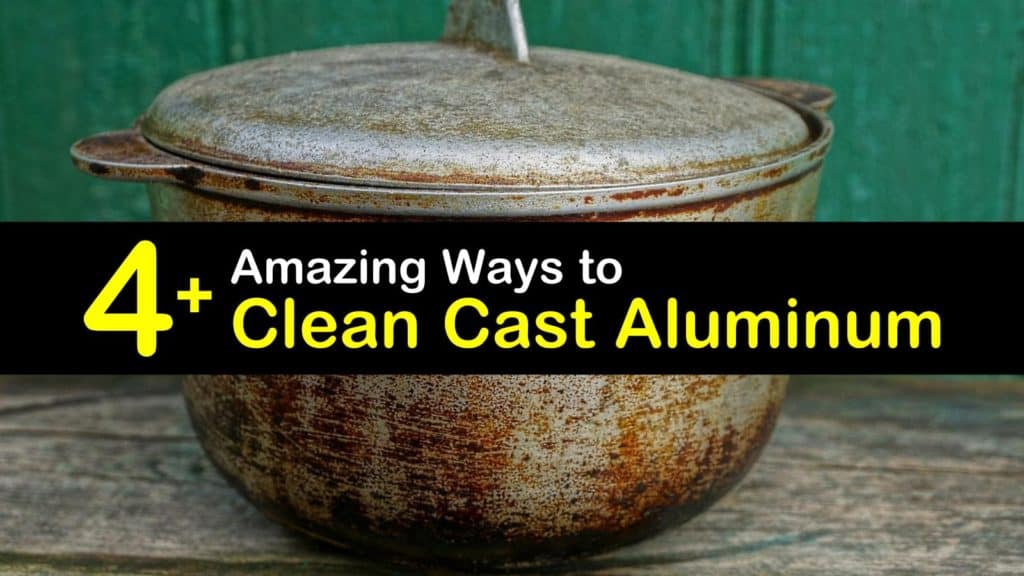 Best Ways to Clean Cast Aluminum
Many of our methods for cleaning cast aluminum use everyday ingredients like lemon juice and cream of tartar. With a little elbow grease, these natural products clean cast aluminum like a charm.
We also mention a few commercial options so that you'll have all the information necessary for getting your item squeaky clean.
How to Clean Cast Aluminum with Lemon Juice or Vinegar
Use an acidic household cleaner to remove the crud from your cast aluminum cookware, furniture, or even silver. Vinegar cleans silver by breaking down the dirt but allowing the metal to shine. Combine either one part lemon juice with four parts water or equal parts white vinegar and water.
Spray the cleaner onto your item and rub it with a soft cloth. To remove stains and stuck-on food from pots and pans, boil the cleaning solution right in the pot.
Bring water to a boil in the dirty pot. Use more or less water depending on the pot's size, but make sure to add the correct proportion of vinegar or lemon juice.
After the water boils for ten minutes, pour the mixture down the sink, let the pot cool off, and then wash it with a non-abrasive scrubbing pad.
This recipe is also suitable to clean aluminum window frames. Add the cooled solution to a spray bottle or bucket and apply to the aluminum to get it squeaky clean.
Add the mixture to your pressure washer to clean aluminum siding. Be sure to rinse well afterward.
DIY Aluminum Wheel Cleaner
How do you clean aluminum car wheel rims? Use a good aluminum cleaner like dish soap. This liquid successfully cleans more than dishes. It makes an ideal cast aluminum cleaner. The recipe is easy to remember: combine equal parts water and dish soap.
Soak a dish sponge in the cleaning mixture and squeeze out the excess liquid. Wipe the dirt and grime from the bare aluminum and then give the rims a good rinse with a hose.
This combination also works sometimes to remove rust from aluminum surfaces, but you may have to try another method if you don't get the results you had hoped for.
Using Oven Cleaner to Wash Aluminum
Use the tools for cleaning an oven to wash a cast aluminum pot or intake manifold. Run an aluminum pan through a self-cleaning oven for one hour, making sure first to remove any non-aluminum components, such as screws or handles.
The oven's high temperature transforms any food remnants into a powder that's easy to rinse away. To clean an intake manifold, apply a thick layer of oven cleaner to the gasket or IMG.
As a side note, if you've put on some serious mileage since the initial join date for the car's intake manifold and cylinder head, see a professional about getting the gasket replaced.
In the meantime, wait for about an hour and then scrub at the manifold with a wire brush. Finish by rinsing away the cleaner.
Ways to Clean Cast Aluminum with Cream of Tartar
Do you have an old container of cream of tartar sitting in the back of your cupboard? This acidic powder is a powerful cleaner for, among other things, cast aluminum pans. Clean tarnished aluminum or rid the surface of burn marks and other stains with a paste of cream of tartar and water.
For cleaning corroded aluminum, boil the solution inside your pot for 15 minutes before pouring it down the drain. Scrub the cooled pan gently to remove any food residue. If boiling is not appropriate for your item, soak it in a mixture of cream of tartar and water.
Then, scrub in a gentle circular motion with a soft-bristled toothbrush or non-abrasive pad. To polish aluminum, combine two tablespoons of cream of tartar with one cup of hot water.
Rub the paste into the metal and use a buffing pad to make the surface shine. Wipe off the mixture with a soft cloth.
Cleaning Cast Aluminum with Chemicals
We don't usually suggest employing commercial cleaning products, not with so many effective DIY solutions. However, chemicals are often an alternative to taking your item to the shop.
For cleaning your car's cast aluminum intake manifold, apply one of the following products with a toothbrush, then rinse carefully. Simple Green can corrode aluminum, so make sure to rinse it off exceptionally well.
Other options include carb cleaner, MAG wheel cleaner, and WD-40, which acts as a particularly powerful degreaser. Once you clean your manifold, you may choose to apply an aluminum brightener.
If so, wear eye protection and a respirator, as this is strong stuff. If you want to coat the manifold, we don't recommend a clear coat, since that may make aluminum turn dark. Instead, use an aluminum-colored paint.
What are the Side Effects of Commercial Aluminum Cleaners?
If you decide to use a commercial cleaning product on a car part, it's essential to educate yourself about potential side effects. Non-toxic and biodegradable Simple Green is a safer option.
However, it can still cause skin irritation and damage red blood cells, so make sure you are in a well-ventilated area and wear goggles and gloves. The other chemicals that we've mentioned—carb cleaner, MAG wheel cleaner, WD-40, and aluminum brightener—all cause some degree of skin and eye irritation.
They're also dangerous if inhaled or swallowed. It's vital to wear goggles and gloves and to work in an area with adequate ventilation.
Carb cleaner and MAG wheel cleaner are potentially carcinogenic. Along with aluminum brightener, they can harm aquatic environments. Carb cleaner and WD-40 are both flammable. Finally, aluminum brightener can damage tissues and bones.
How to Maintain Cast Aluminum Pans
The most straightforward cleaning strategy is generally not needing to clean in the first place, although that's easier said than done. Nonetheless, an easy-to-implement best practice for cleaning aluminum is avoiding steel wool and alkaline ingredients like baking soda.
Also, don't apply nonstick spray or run your cast aluminum pan through the dishwasher. Before hand-washing your pan, give it time to cool. Clean it with a non-abrasive scrubber and warm soapy water. Finish by rinsing the pot and wiping it dry with a clean cloth.
If you know that you won't be washing the pan for a while, leave it soaking with water and a little cream of tartar. A final tip: every couple of months, rub one teaspoon of vegetable oil onto your cast aluminum pan to prevent food from sticking to it.
Because it's such a versatile material, there are many ways to clean cast aluminum. It wouldn't make much sense to use the same method to clean a pot that you use for making dinner and a car part.
Although some strategies work for different types of items—for example, polishing with cream of tartar—you'd be unlikely to apply WD-40 to a frying pan.
How to clean cast aluminum is a question whose answer incorporates many facets. You now have an overview of strategies and considerations for cleaning a wide range of aluminum objects.
We hope you found our tricks for cleaning cast aluminum helpful and would appreciate it if you shared these aluminum cleaner recipes with your friends on Facebook and Pinterest.