Pets and strays leave many a frustrated homeowner searching for answers on how to clean cat spray off a wall. Cats frequently stop utilizing the litter box to communicate with you about a health problem, how they feel about alterations to the house, or their litter box.
Outdoors, unneutered male cats mark their territory by spraying pee on walls and other objects. Since cats might spray for multiple reasons, it pays to learn how to remove cat urine smell from walls.
It's crucial to eliminate the smell of cat urine rather than mask it with fragrances or perfumes. Address any scent marking as soon as possible by using straightforward tricks for getting cat pee out of walls. The quicker the cat urine is cleaned up, the faster you get rid of the smell of cat spray and encourage cats to stay away from that area in the future.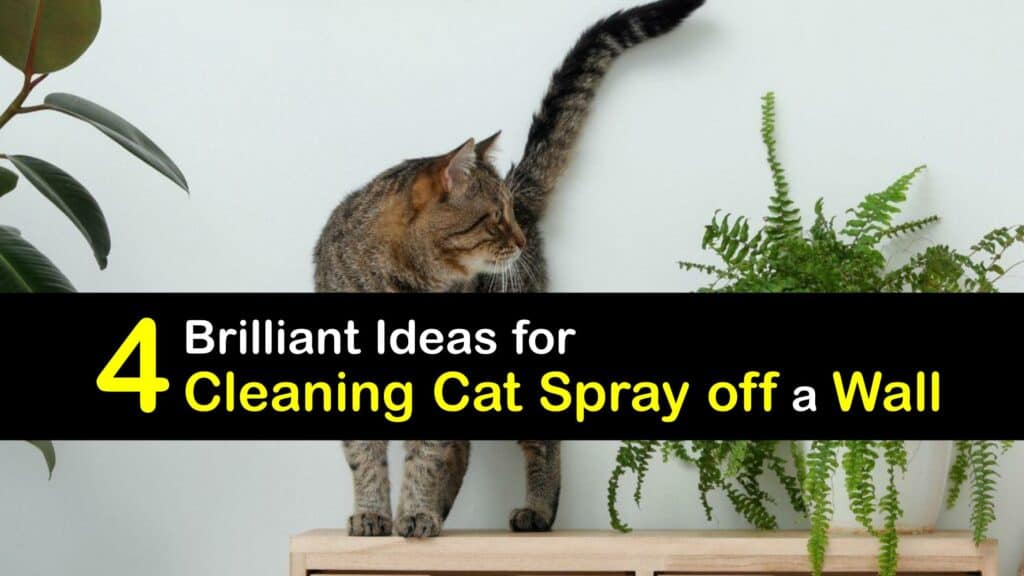 How to Remove Cat Urine Smell From Walls
Sometimes you have to discover how to clean cat spray off a wall even if you don't own a pet. Most pet owners select the best cat food and provide excellent care for feline friends, including cleanup, but getting cat pee out of walls is a little more frustrating when strays are responsible.
It can often be helpful to use a non-toxic cat deterrent to help prevent your cat from spraying on the wall and avoiding the mess.
Scent marking or spraying is a natural part of male cat behavior. Eliminating the odor helps discourage male cats from peeing on your walls again.
How to Clean Cat Spray off a Wall With Dish Soap
Though dish soap is primarily used in the kitchen, it has many roles in house cleaning and makes quick work of cat odor or a persistent pet stain. Using liquid dish soap, create a budget-friendly cleaner to eliminate the cat spray smell.
Dip your sponge or brush into the soapy water and use it to wash the smelly parts of your wall. When the urine is gone, use a clean, damp sponge to remove the soap and any remaining residue. Clean painted walls with a soft sponge or cloth, and use a scrubbing brush on hardier walls such as those made from brick or wood.
Use White Vinegar for Getting Cat Pee Out of Walls
White vinegar is a cleaning legend and a perfect way to oust the cat pee smell from the walls inside and outside your home. Tea tree oil has antibacterial functions and reduces vinegar's overpowering scent, which some may find unpleasant.
For large problem areas, use a garden sprayer. Shake the liquids together, spray evenly over the odorous wall surface and leave to air dry.
Cleaning Cat Spray off Walls With Oxygen Bleach
You can use oxygen bleach to eradicate cat urine odor in your house or a tough cat urine stain. It is an efficient and safe odor remover for cat spray smell. Before using anything to eliminate the cat smell, make sure it doesn't contain chlorine bleach.
Ammonia is present in cat pee, and hazardous fumes are produced when it reacts with regular bleach. With oxygen bleach, stains and odors are erased safely.
Oxygen bleach usually is considered a laundry booster. Still, it has several other purposes, including cleaning various materials like painted surfaces, brick, ceramic tile, and vinyl plank.
Add a scoop of oxygen bleach to a gallon bucket of hot water, and stir the mixture until it dissolves. Apply the cleaner to the wall and let it sit for five minutes. Throw away the cleaner, half-fill the bucket with cold water, and scrub the wall again with water to rinse.
Get Cat Urine Smell Out of Walls With Enzymatic Cleaner
Enzyme cleaners are ideal for carpet cleaning, removing litter box smell, tackling general pet odor, and eradicating cat pee odor from walls. DIY enzymatic cleaner for cat pee is designed to eradicate strong pet urine odors. This powerful odor eliminator makes it effortless to clean cat urine from many wall surfaces.
Soak up any excess urine with a paper towel, and spray the enzyme cleaner liberally over the wall surface. The enzymes break down the odor-causing uric acid crystals in pet urine to neutralize the stench.
Don't stress over figuring out how to remove cat urine smell from walls. Though the urine smell is often overpowering and persistent, cleaning cat pee doesn't have to be complicated. Select a simple yet efficient remedy like white vinegar or an enzyme cleaner and rid yourself of the lingering cat pee odor for good.
If you loved this insightful article on how to clean cat spray off a wall, please share these fantastic tips for getting cat pee out of walls with your friends and family who struggle with cats spraying on Pinterest and Facebook.