Coffee pot stains are unsightly, unpleasant, and painful to erase. Whether it's the mark of an old pot or mug on a wood table, a blot from a cup of coffee on your favorite work shirt, or unsightly coffee rings on the inside of your coffee maker, you don't want them there. This guide is here to teach you how to clean coffee pot stains and keep them from returning.
Unfortunately, coffee is a particularly frustrating stain to remove. If you get it on your clothes, you're almost assuredly going to need some stain remover or bleach to get it out, even if you catch it early. The same goes for tables and coffee pots, too. Even coffee mugs can fall victim to the dreaded brown coffee ring!
In this guide, we'll walk you through the best ways to remove these stains from your favorite coffee pots. Some of them will even work for getting coffee stains off of other things! With the techniques and know-how in this article on how to clean coffee pot stains, you'll be well-equipped to prevent these stains from plaguing your house again!
Clean Coffee Pot Stains the Easy Way
There's no need to worry about those nasty stains in your coffee pot any longer. We have the best ways to clean a glass coffee pot or one made from something else, too. It's not hard to learn how to clean coffee pot stains and get rid of them for good, but different recipes work for different materials.
You don't want to clean a glass coffee pot the same way as you clean a stainless steel coffee carafe, for example, and you wouldn't use the same method to clean hard water stains as you would coffee rings.
In the same way, a ceramic mug needs different stain removers than glass and stainless steel. In the remainder of this guide, we'll go over the best methods for cleaning stubborn stains and rings from these items to ensure that the stains are gone and that each type of coffee maker looks as good as new.
Coffee Pot Stain Removal with Vinegar
White vinegar is a fan-favorite at-home cleaner that's both natural and gentle, and it's reliable and versatile, too! With how many different things vinegar can clean around the house, it should be no surprise that it's useful for coffee pot stain removal, also.
Whether your coffee maker has a lot of stains or just a few, use this simple solution for cleaning coffee pots with vinegar and you'll probably never use anything else.
To use this coffee stain remover, fill your coffee pot halfway with vinegar, then halfway with hot water. If you're using a glass coffee pot, let the equal parts mixture sit for at least 20 minutes to lift the stains away with ease.
If you have a stove-safe stainless steel coffee pot, heat it on the stove until it comes to a strong boil, then turn the heat off and let it return to room temperature naturally. You can carefully swish both pots around during the process to help dissolve some of the stains, and you can also add a teaspoon or two of baking powder for a bit of extra foaming power if desired.
Rinse pots thoroughly with soapy water to remove the vinegar odor after cleaning, or run them through the dishwasher if they're dishwasher safe. Let them dry thoroughly on a paper towel or soft cloth before returning them to your coffee machine.
Vinegar is so beneficial for stain removal that it can also clean stained coffee mugs and get them back to like-new condition and it can also get coffee stains out of cotton and other types of clothing. No home should be without a large gallon jug of this amazing natural product.
Use this recipe to remove coffee stains from stainless steel surfaces like the stove, too. It's a great all-around cleaner for the kitchen.
Removing Coffee Stains from Coffee Pot with Salt and Ice
Salt and ice cubes, while not as effective as vinegar, combine to form a much less stinky solution to removing your coffee rings and stains. Removing coffee stains from coffee pot with salt and ice is a favorite secret of coffee-making professionals everywhere.
To get rid of coffee stains with these simple ingredients, all you need to do is to add the salt and the ice cubes to your coffee pot. This method is particularly useful for cleaning a coffee glas carafe, but it should work for most stainless steel ones, too.
Carefully swirl the ice and salt mixture around the pot until the coffee stains lift, then rinse it out with cold water. If you have a glass pot, be sure that it's cooled to room temperature before you add anything cold to it to prevent it from shattering.
Rinse your containers well with dish soap and clean water so that you're not left with coffee tasting like salt the next time you use it! You could also use this home remedy to remove coffee stains from cups, or even get rid of tea stains in your mugs.
Remove the Toughest Coffee Rings with Hydrogen Peroxide and Baking Soda
Baking soda and hydrogen peroxide combine to create a genuinely potent home-cleaning solution. This recipe pairs the two ingredients with a sponge or scrub brush and a little elbow grease to get the worst stains out of your coffee carafes.
Who knew that you could take care of cleaning a coffee maker without vinegar? You probably already have these two amazing ingredients in the cupboard.
For this natural home remedy to get rid of stains, add the ingredients to your coffee pot, then swirl them around the container for at least a minute. Leave the formula in the carafe for up to 30 minutes for a bit of extra effectiveness, but if you're in a rush, you may be able to make up for that time with a bit of elbow grease. Rinse your carafes thoroughly with dishwashing soap and freshwater when finished.
While you clean your coffee pot, don't forget about your grinder. Clean a coffee grinder by adding white rice to the reservoir and turning on the machine or hand-cranking it. The rice removes bits of coffee grinds left behind and leaves a nice clean grinder for your next batch of brew.
How did you like our coffee pot stain cleaning guide? As far as cleaning recipes go, all of these options are rather quick and easy. Honorable mention goes to lemon juice and denture cleaner, but they weren't fast enough to make our quick-cleaning list! These methods can help you get the coffee grounds out of your Keurig, Cuisinart, or French press, too, if needed.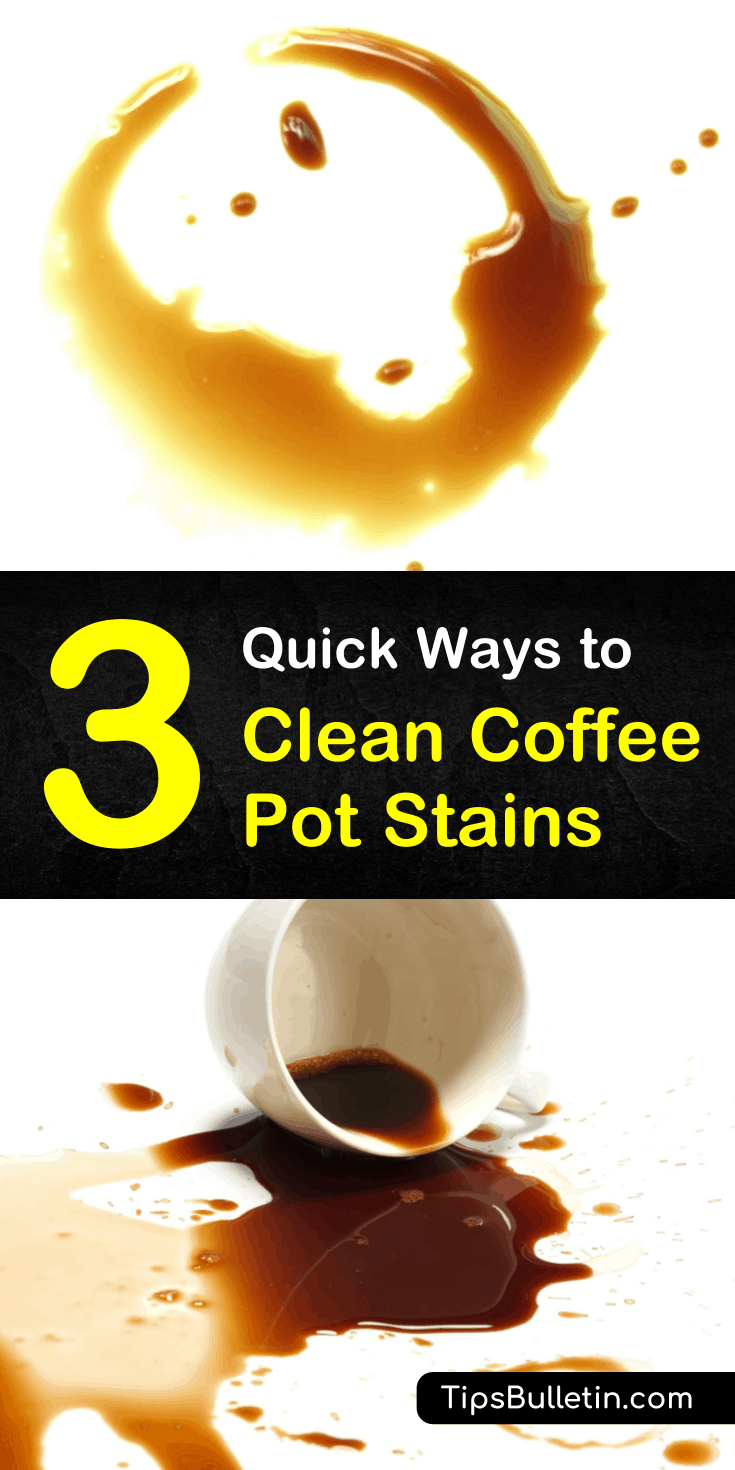 If you liked our guide on how to clean coffee pot stains, please share these coffee ring cleaning tips with your relatives and friends on social media!