When you finish a labor-intensive but much-needed remodeling job, finding out how to clean construction dust from walls comes next. The cleaning phase of your home remodeling tasks is the final and most crucial step. Construction dust cleaning begins as soon as all the equipment leaves, regardless of whether you undertook the remodeling or had professional contractors work on your property.
A complete cleaning is required to create a presentable and safe atmosphere, even if the contractors you've worked with have previously done some tidying up. When left unaddressed, dust particles pose serious health risks to your family. To protect your eyes and airways from dust particle pollution, wear protective equipment when removing tile dust from walls and flooring.
Make your home look incredible and clear the air of dust by learning how to clean sawdust off walls. Use simple tricks to quickly and efficiently eliminate all traces of dust from your living spaces.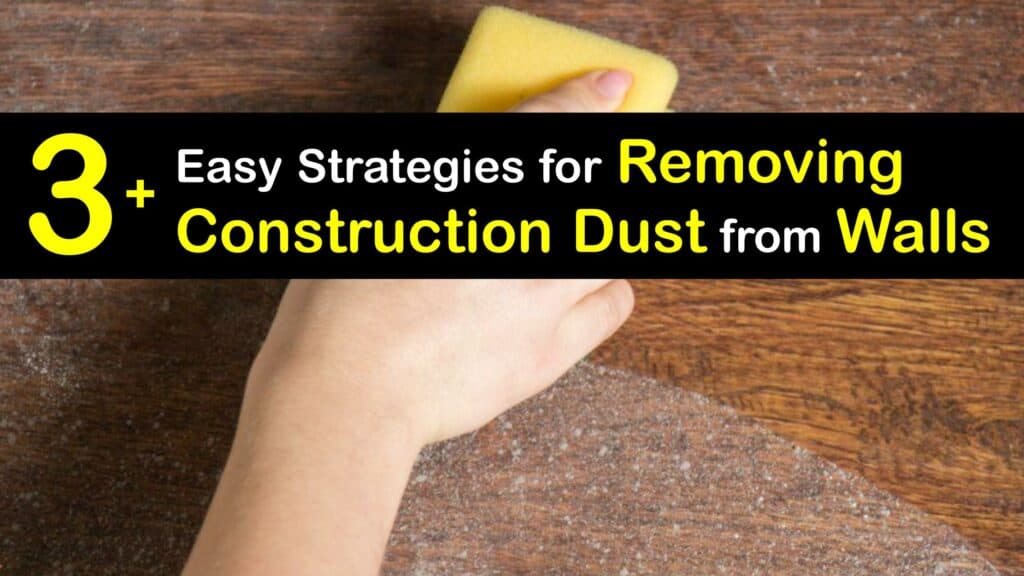 How to Clean Sawdust off Walls Effortlessly
Discover how to clean construction dust from walls and eradicate the need for an expensive commercial cleaning service. After you follow the way to remove glue from a concrete wall or have excess dust after another type of construction project, proper cleanup is required. Removing tile dust from walls may seem daunting following a large-scale remodel or extensive DIY on your home.
Complete dust containment is imperative to ensure the health of your family or colleagues and cleaning mortar off tiles before grouting ensures you complete the best job. Use simple tricks to eliminate all traces of building dust from the environment.
The Importance of Removing Tile Dust From Walls
If wood, tile, or drywall was sanded or sawed during your restoration job, extended exposure to construction dust that hasn't been completely cleared might impact your health. Respiratory issues and allergy symptoms may result from prolonged contact with these irritants.
Dust containment is paramount for good hygiene and health. After a construction project, the fine dust left behind clogs your air filter and clings to wall surfaces and the floor. Always wear a dust mask when you get rid of drywall dust in the air and complete house cleaning after construction work to prevent the inhalation of dust particles.
The same applies if you need to clean up wood dust from a home project. You can make a wood dusting spray with vinegar and water to pick up the wood shavings. Wear a mask and gloves to help prevent skin exposure.
How to Clean Construction Dust From Walls
The first step in your deep cleaning is to clean drywall dust and other debris with a wet/dry vacuum. Hand collect large chunks and dispose of them to avoid clogging up the machine.
Use your vacuum per the product manual. Before vacuuming and the fastest way to clean walls before painting, wear a dust mask and eye protection to prevent unwanted contact with dust particles. Work methodically, vacuuming as much dust as possible from the floor and walls.
Cleaning Construction Dust From Walls
Dry dusting is the next stage of dust cleanup. A construction dust mop is a microfiber dust head on a long or telescoping handle to make high ceilings accessible.
Work with the dust mop in a systematic pattern. Begin at one end of the dusty room and move across, dusting down the walls and floors in long, smooth strokes. Pick up the collected dust in a dustpan, and wipe the entire space until there is no visible dust.
The
Best Way to Clean Construction Dust off Walls
After vacuuming and dusting, a dryer sheet is an excellent tool to give your walls and floors an appealing dust-free visage.
Wipe the walls with a lightly damp cloth and run a wet mop over the floors. Then, go over your home surfaces with a dryer sheet to collect any remaining dust particles. Dryer sheets are incredible dusting tools as they negate static to pick up more debris and prevent dust from settling.
Once the hard floors and walls are clean, you may still need to work on upholstery cleaning, window cleaning, and carpet cleaning to eliminate all traces of drywall compound and construction dust from your living space. There are also many home remedies for cleaning walls after initial dust removal to ensure all traces of dust are gone.
The dangers of chronic exposure to construction dust are evident when confronting the first cleaning. Consider an office cleaning or post construction cleaning service to assist in removing building dust from your living areas if you have present or prior respiratory health issues or are hypersensitive to dust.
Figuring out how to clean sawdust off walls doesn't need to be a challenge. Follow our straightforward steps and make dust collection a breeze.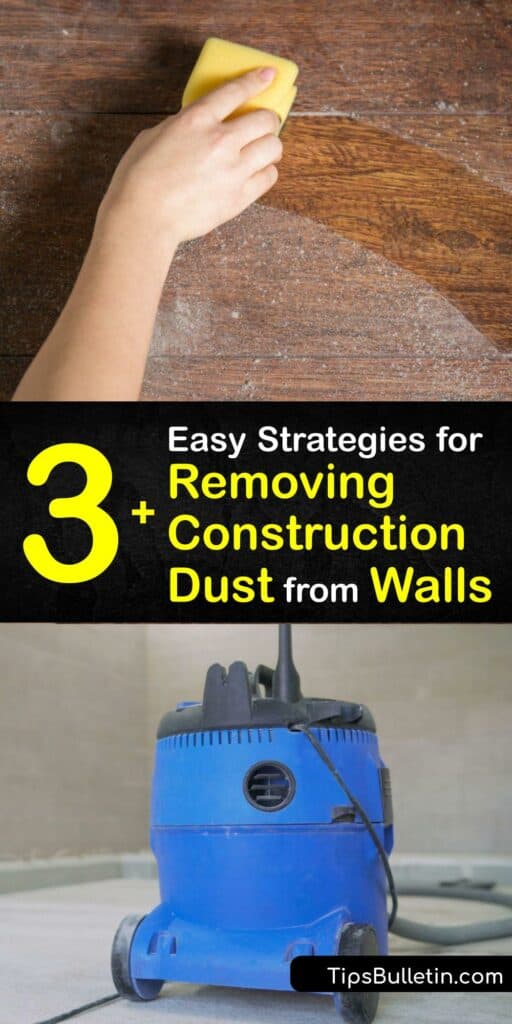 If you loved this article on how to clean construction dust from walls, please share these brilliant tips for removing tile dust from walls with your friends and family on Pinterest and Facebook.