Copper mugs are best known as the standard vessel for Moscow mules, a mixture of vodka, ginger beer, and lime juice. You don't want to serve an ice-cold beverage to guests only to notice that your mule cups are coated with grime or tarnish. We'll show you how to clean copper mugs so that you'll be able to avoid this awkward situation.
There are different types of copper Moscow mule mugs. Some are made of stainless steel with copper plating on the outside. These cups eliminate any risk of copper getting into your cocktail, although the outer copper layer is thin and fragile.
There are also solid copper mugs, sometimes with a layer of lacquer. You'll know that you have a lacquer-coated mug if it becomes dusty and grimy rather than tarnished. Copper cups without a protective coating react with air and moisture to develop a patina.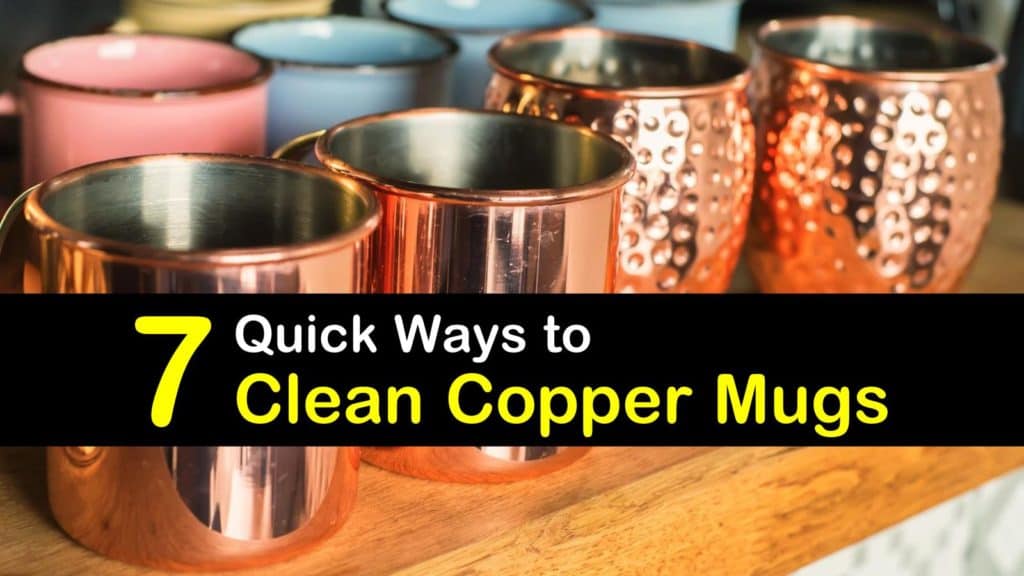 Best Methods for Cleaning Copper Mugs
One of your first questions when purchasing new dishes is whether they are dishwasher safe. Can you wash copper mugs in the dishwasher?
Unfortunately, not, but you can use ingredients that you probably already have around the kitchen, like lemon juice and ketchup, in combination with a little elbow grease.
Routine Cleaning for Copper Cups
Hand washing your Moscow mule mugs after every use is crucial for keeping their copper surface pristine. Wash with mild dish soap, hot water, and a soft sponge. Just make sure to avoid abrasives like steel wool that scratch copper.
Finish by drying the mug thoroughly with a dry cloth. Wipe away all water to prevent tarnishing. Soap and water is also the best way to clean copper pots for everyday cleaning.
Washing Copper Mugs with Lemon and Salt
This method is one of the best cleaning solutions for a Moscow mule copper mug. Cut a lemon in half and sprinkle a generous quantity of table salt onto one of the cut surfaces.
Use the salty lemon half to scrub the mug until the metal shines. Rinse the cup to wash away the copper cleaner, then dry it thoroughly with a cotton cloth.
How to Clean Copper Mugs with Lemon Juice
You don't need a whole lemon to take advantage of this fruit's cleaning powers. A simple method is to rub a mixture of equal parts lemon juice and baking soda onto tarnished areas with a soft cloth. Finish by rinsing and drying the mug thoroughly.
Alternatively, mix lemon juice into two tablespoons of cream of tartar a little at a time until it forms a paste. Gently rub the cleaner around the copper, then rinse and dry the mug thoroughly.
Baking soda is mildly abrasive, as is cream of tartar, which is also slightly acidic. Reserve the cream of tartar solution for tough stains to avoid scratching the copper unnecessarily.
Ways to Clean Copper Mugs with Vinegar
If you like, use white vinegar instead of lemon juice to clean your copper mug. You have a couple of options – one involving baking soda, the other salt.
To clean copper with baking soda, sprinkle some on the mug. Rub at the tarnish with a cloth soaked in vinegar until the copper is shiny. Finish by thoroughly rinsing and drying the cup.
Alternatively, shake together one cup of vinegar and one and a half teaspoons of salt in a spray bottle. Squirt the cleaner onto your mug. Let it work for 30 minutes, then rub it away with a clean cloth.
This recipe also works quite well as the best way to clean copper pipes if they have a lot of dirt and corrosion.
Removing Resistant Tarnish from Copper Cups
If you're seeking a natural way to clean copper that's badly tarnished, we have the recipe for you. This salt-and-vinegar paste is one of the most effective ways to clean copper mugs.
Mix the ingredients into a paste, then spread it thickly on the mug. Cover the cup with plastic wrap or place it in a sealed plastic bag. Leave the mixture in place for at least four hours, or overnight for more stubborn stains.
Wash the mug with hot soapy water, rinse it off, and dry it thoroughly. If necessary, repeat the process. Or, rub at the small remaining sections of tarnish with a little of the paste on a soft cloth.
Ways to Clean Copper Mugs with Tomato Products
Using a red paste to clean your copper mug may seem counterintuitive. However, tomato paste, tomato sauce, and ketchup all dissolve stains with their acidity.
The thickness of a product like tomato paste ensures that it sticks to your mug long enough to be effective. Rub the paste into the mug with a cloth, rinse, and dry.
Washing Copper Mugs with a Commercial Cleaner
We don't generally encourage using commercial cleaning products or harsh chemicals to wash household items, especially not when there are so many DIY options. However, sometimes a store-bought solution seems the most straightforward.
Bar Keepers Friend is an excellent choice for cleaning copper, although it requires a few warnings. Do not use this product on a lacquer-coated copper mug. Also, do a spot test on a small area and make sure to wear gloves.
Start by flushing out the mug with warm water and drying it off. Apply the Bar Keepers Friend to stained areas with a cloth or wet sponge. Finish by rinsing the cup again and wiping it dry with a soft cloth.
How to Maintain Copper Mugs
There are a few best practices to reduce the likelihood of tarnish developing on your copper cup. First, always wash it by hand. Harsh dishwasher detergent damages the metal and eats away at any lacquer that protects it against tarnishing.
When washing copper mugs, do not use abrasive cleaning tools like steel wool, which scratches the metal. Instead, use a soft sponge or cloth. If you're having trouble reaching any areas, use an old toothbrush.
Finally, make sure that you dry copper cups carefully after every wash. Water and air are what cause tarnish to form on copper. You can't do much about the oxygen, but you can wipe away the water.
Is it Safe to Serve a Moscow Mule in a Copper Mug?
Some people have raised concerns about drinking Moscow mule cocktails in their classic copper cup. The fear is that the copper leaches into the beverage, causing symptoms like stomach pain and vomiting.
The United States Food and Drug Administration warns that copper should not come into contact with foods with a low pH. Lime juice, a key ingredient in the Moscow mule recipe, is highly acidic.
However, the cocktail would have to sit in the cup for several hours for there to be any risk of copper poisoning. Therefore, it seems relatively safe to continue serving Moscow mules in copper mugs. To be entirely sure, you could use copper mugs that are lined with a different metal.
Copper cups bring an elegant, unique touch to your kitchen. You'll amaze your guests if you serve them a homemade Moscow mule in one of these beauties. They'll be even more impressed if the cups are shining like new.
It's easy to achieve that clean-copper-mugs feeling. You now know how to clean copper mugs with ingredients already in your pantry and fridge, combined in simple recipes.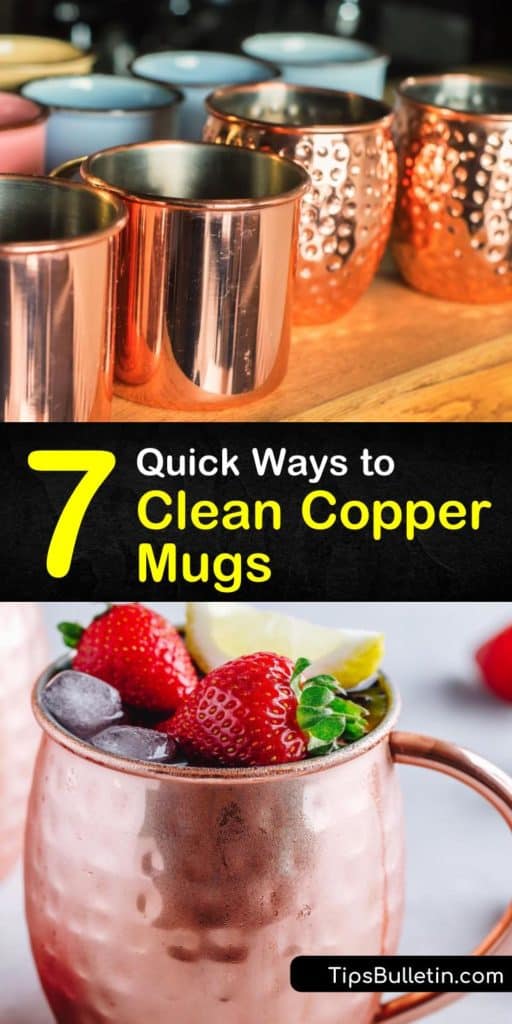 If you found these mug cleaning tips useful, please share these copper cleaning recipes with your friends on Facebook and Pinterest.