Copper has an undeserved reputation as being hard to clean. It does need a little special attention from time to time and there is a special process for how to clean copper pots. However, the process is quite easy and should not scare you away from purchasing or using this wonderful material.
Best of all, you can care for your copper with all natural materials, keeping your home and the environment healthy. For cooking, you absolutely cannot find a better material than copper. It conducts heat evenly and efficiently, exactly the properties you want in your cookware.
Moreover, don't discount the decorative value of copper. You can proudly hang those copper pots in your kitchen to add a little aesthetic appeal to the space.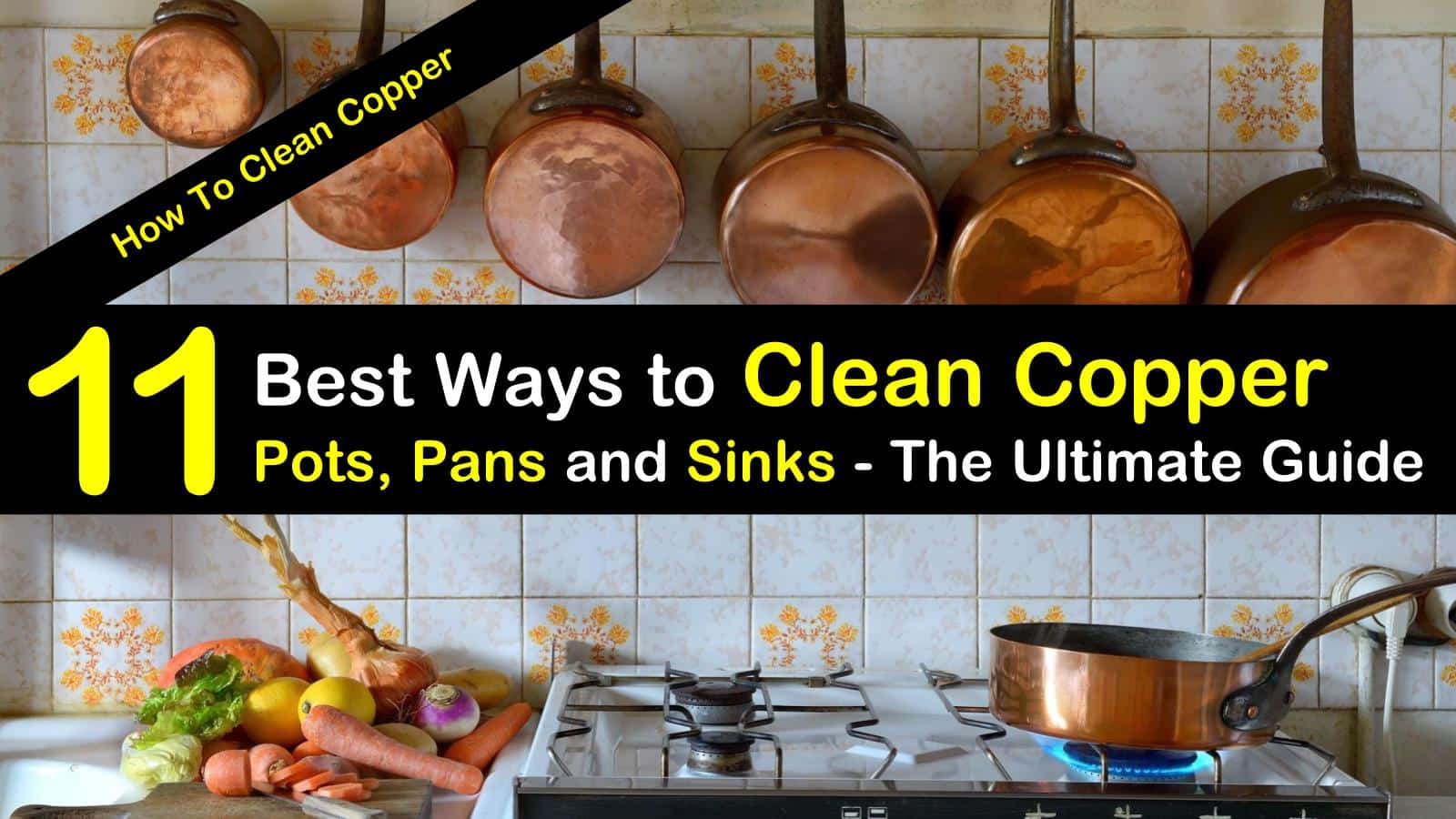 How to Maintain Copper – Effective Cleaning Techniques
To help you understand how to care for your copper, I have put together this article with cleaning tips and methods to keep all your copper bright and shiny. Take care of your copper, and it will last for a long time.
Try several of these different DIY metal cleaning solution recipes to see which are your favorites and use them whenever your copper or other metal objects need a good washing.
Wash and Dry Your Copper Cookware as Usual
In most cases, hot water and a little dish soap will quickly get them clean. It is important to dry copper completely after washing, however. Water remaining on the pot encourages tarnish to form.
Use a Commercial Copper Cleaner
If you do find tarnish, black spots, or a green-blue patina, a mildly abrasive copper cleaner such as Brasso or Wright's Copper Cleaner quickly cleans it away. Sprinkle copper cleaner on the spot and scrub with a damp sponge. Rinse thoroughly and dry.
Perhaps you don't have any copper cleaner, or you want to use natural cleaners. These methods are the best way to clean copper naturally.
Use Lemon and Salt
The acidity of the lemon, combined with the abrasiveness of the salt make quick work of mild tarnish. Cut a lemon in half and sprinkle the surface with table salt. Rub the tarnished spots with the salted lemon and rinse. Dry thoroughly.
Coarse Salt and Cornstarch
Two simple home ingredients, coarse salt and cornstarch, make a very powerful tarnish cleaner and polish recipe.
Make a loose paste of the lemon juice, salt, and cornstarch. Rub on copper with a soft cloth and allow it to sit on tough spots and rub again. Rinse with warm water and dry with a soft cloth.
This home solution also works well to clean stubborn stains and get burnt food out of a pot or grease from a cast iron skillet without harming the surface. It's important to remember, though, that after cleaning your cast iron, season it so that it's ready for its next use.
Use Lemon and Baking Soda
Mix equal parts lemon and baking soda and rub on tarnished spots with a soft cloth. The baking soda is mildly abrasive while the acid in lemon juice dissolves the tarnish. Rinse thoroughly and dry.
Clean Pots with Vinegar
Soak a cloth or rag in white vinegar and apply a little elbow grease to remove tarnish from the surface of pots and pans. When the cloth becomes soiled with tarnish, move to a new section of the cloth and keep rubbing.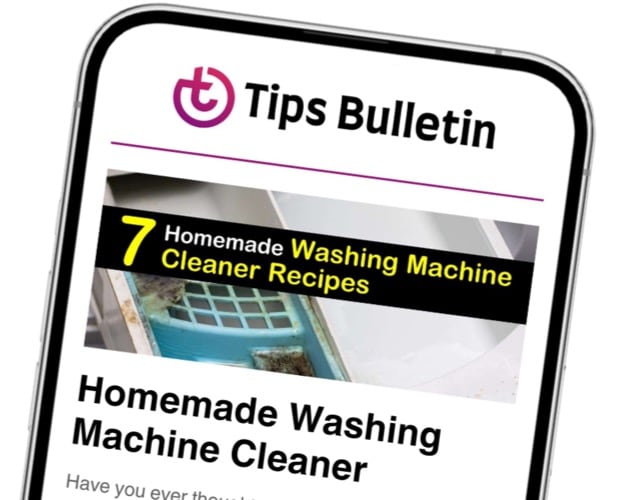 Finally, an email that Transforms Your Home.
Get the latest home and garden tips from our experts, delivered straight to your inbox.
This method takes a little work but results in a beautiful shine. Rinse the item thoroughly and dry. You can also use this method to take care of cleaning aluminum pots and pans.
Cleaning Copper with Tomato Paste
Like vinegar and lemons, tomatoes are acidic and provide the cleaning action. The thickness of the tomato paste helps hold it in position for longer cleaning time and a better shine.
You can use tomato paste, tomato sauce, or ketchup for this quick cleaning tip to clean copper or to clean stainless steel pots, too. Rub the tomato paste over the pot with a clean rag to get rid of unwelcome and unsightly stains. Rinse and dry.
Tomato products also work well as a way to clean aluminum pots and pans, too. Since almost everyone has a bottle in the fridge, it's simple and inexpensive.
DIY Cleaner for Copper and Brass
This quick DIY brass cleaner recipe cleans copper or brass without harsh chemicals or too much work. A quick mix and rub are all it takes.
Make a paste of the ingredients and rub on copper or brass with a soft cloth. Rinse and dry. For more on homemade copper cleaner recipes, check out our copper cleaner tips.
You want to keep your brass objects and copper pans nice and shiny, whether they are simply decorative or if you use them regularly. If you have a little time and don't mind using a little elbow grease, your copper and brass can be clean in no time. How to remove tarnish from brass and copper has never been easier!
Lemon Juice and Cream of Tartar
Cream of tartar is a mild acid and slightly abrasive. Combine two tablespoons of cream of tartar with enough lemon juice to moisten and form a paste. Rub the mixture on the copper with a soft cloth. Rinse and dry completely.
If you have baked-on gunk on your cake pans, this paste will also take care of it, too. Before using your cake pan again, though, remember how to grease the cake pan the next time so you won't have any cake pieces stuck on again.
Cleaning Tough Stains and Tarnish on Copper Pans
Use a mildly abrasive sponge with any of the above methods to give extra scrubbing power for tough stains and tarnish. Use as needed and avoid scratching your copper. It is best to avoid abrasives completely whenever possible, so use this method only if all else fails.
Cleaning Badly Tarnished Copper
When your copper item is badly tarnished, your first inclination might be to grab a Brillo pad or some abrasive cleanser and start scrubbing. This is a huge mistake.
Abrasives like steel wool or common cleansers can scratch the copper and leave it damaged beyond repair. The safest way to clean badly tarnished copper is to use a homemade copper cleaning paste, time, and a little elbow grease.
Mix the ingredients together to form a loose paste. Slather a thick layer of the mixture onto the copper with your hands, covering the entire item with a layer of paste. Wrap the item and paste in plastic wrap or place it in a plastic bag and seal.
Allow the copper to soak in the paste for four hours or more. Wipe away the paste from a small area with your finger. If the copper needs more time, replace the paste, put it back in the plastic wrap, and allow it to sit overnight. Wipe off the paste and wash the copper item in hot soapy water, rinse, and dry.
Repeat the process as needed until all tarnish is removed. If only a few spots of tarnish remain, rub them with the paste and a soft cloth. Polish the copper dry with a soft cloth. Apply a thin layer of oil to prevent future tarnishing.
How to Polish Copper Bottom Pans
Copper bottom pans and pots are excellent for cooking. The copper conducts heat extremely well and heats the pan quickly and evenly. Many people avoid them, thinking that they are hard to clean.
However, cleaning copper bottom pans does not need to be a chore. For everyday use, clean copper bottom pans like any other pan. Use hot soapy water and a soft cloth. Rinse thoroughly and dry the pan completely with a towel.
Drying copper is necessary because water encourages the copper to tarnish. If black spots or tarnish develop on your copper bottom pans, clean them easily.
Removing Black Spots on a Copper Bottom Pan or Pot
Put an inch or so of water into the copper bottom pot or pan. Place a larger frying pan or skillet on the stove burner and pour in enough white vinegar to cover the bottom of the pan by about ½ inch.
Add one teaspoon of salt, bring the vinegar to a boil and turn off the heat. Place the copper bottom pot into the frying pan or skillet. Allow the pan to soak in the vinegar for approximately ten minutes. Remove the pot from the vinegar and rinse it thoroughly.
If tarnish remains, dip a sponge in the hot vinegar and sprinkle with salt. Scrub the pan to remove all stains.
Cleaning a Copper Sink
Your copper sink has a natural patina that protects the surface and keeps it from tarnishing. However, some foods can damage the patina or even damage the copper sink.
How to Wax a Copper Sink
Over time, the patina on a copper kitchen or bathroom sink will begin to degrade. If this continues, the copper may tarnish. Clean and protect the copper sink by applying a high-grade plumbing wax whenever you notice that water no longer beads up on the surface.
How to Best Wax a Copper Sink
Use a high-quality plumbing wax or a carnauba wax that contains no polishing agent. Clean the sink with soapy water and dry completely. Dab a clean, soft cloth in the wax and spread over the sink surface, covering it completely.
Let the wax stand on the surface for five minutes, or according to the directions on your product. Buff the waxed surface with a clean, dry cloth. Apply once a month to keep your copper sink surface looking like new.
How to Wash Copper Jewelry
When cleaning jewelry, it's important to identify the different types of metals and gems that comprise the item. You often have a mixture of copper and other materials, including gemstones or other metals. A good DIY jewelry cleaner will clean and protect all materials.
The best ways to clean copper jewelry include being sure that any method you use is safe for the other materials as well as the copper. These methods are recommended for pure copper jewelry and may not be safe for other materials. Use with care.
Cleaning Lacquered Copper Jewelry
Lacquered copper jewelry that needs cleaning, but is not tarnished, cleans easily with soapy water. Rinse it completely and dry. Then buff the dry jewelry with a jewelry polishing cloth.
Soak Copper Jewelry in a Cleaning Solution
Stir the ingredients and place the jewelry in the solution and soak for a few minutes. Remove from the solution when clean, rinse thoroughly, and dry completely.
Deep Clean Copper Jewelry
When your jewelry has many crevices that need cleaning, this method is the easiest.
Place the jewelry in the solution and bring to a boil over medium-low heat. Allow the solution to boil for a few minutes. Now, remove the jewelry using tongs and allow to cool completely and rinse thoroughly and buff completely dry.
Cleaning Copper Mugs
Copper mugs clean up nicely with the use of lemon, salt, and a little elbow grease. Best of all, this method is environmentally friendly and uses only natural ingredients. There is no chemical residue to cause problems later.
Natural Copper Cleaning
Cut a lemon in half and sprinkle the cut surface of one-half with a liberal amount of salt. Rub the lemon half over the mug for a few minutes. Use the lemon to scrub the surface of the copper until it shines.
Rinse the mug thoroughly; you do not want any lemon juice left behind to cause tarnish. Dry the surface completely.
If you do not have a lemon, you can accomplish the same results with vinegar and baking soda. Dip a soft cloth in vinegar and sprinkle the mug with baking soda.
Rub the mug and baking soda with the vinegar soaked cloth until the surface is shiny. Now rinse completely and dry with a towel.
Getting Copper Pennies Shiny
Until mid-1982, pennies were made of 95% copper. Since 1982, pennies are mostly zinc. To clean copper pennies made in 1982 or earlier, use this method.
Put the vinegar and salt in the container and add the pennies. Let them soak for five to ten minutes. Remove the pennies and rub the surface with a soft cloth. Finally, rinse well and towel dry.
Is Copper Cookware Safe?
You may have read or heard that copper is poisonous and should not be used for cookware. I want to assure you that modern copper cookware is completely safe and easy to use. Modern copper pans are lined with an alternate metal on the inside.
The copper never comes into contact with your food and poses no danger. There are a few special use copper utensils that are not lined, such as a copper bowl for beating egg whites. These utensils, when used for their intended purpose are completely safe. You have nothing to fear from modern copper cookware and utensils.
Why is Copper Best for Cooking?
Copper conducts heat extremely well and spreads the heat evenly across the bottom and up the sides of the pot. Copper pots and pans have no hot spots, so you don't have to worry about burning and sauces separating because of uneven heat.
Copper is a better conductor than aluminum or stainless steel. Many pot makers will brag about the thickness of the aluminum core designed to spread the heat.
Don't be fooled; a good-quality copper pot is better than the thickest aluminum core, only silver conducts heat better. (And silver is a poor choice for pots and pans for many reasons.)
Clean and polish aluminum in a similar way to cleaning copper. Usually, soap and water get most of the grime off your cookware but be prepared to use a little elbow grease for stubborn spots.
How to Prevent Copper from Tarnishing
Copper naturally tarnishes over time with exposure to the air and water. There are several ways to prevent tarnishing, the right method for you depends on the item and how you use it. Consider these methods to prevent tarnish on your copper items:
Cleaning Green Off Copper Pipes
The green tarnish that forms on copper pipes is no different from the tarnish that forms on your copper cookware; it is just in a more advanced stage. As copper tarnishes, it first forms brown or black spots which turn green over time.
The green tarnish is not harmful to your pipes, but it does look unsightly. If you want to clean the pipes back to their shiny copper finish, you can use any of the copper cleaning recipes we have given you above.
Probably the most used method is to rub the pipe with a salted lemon and allow it to sit for a few minutes before cleaning the lemon juice and salt off. You may need to repeat the process a few times to return the copper to its shiny surface, but it will work.
I hope you have enjoyed this article and that you learned more about how to care for your copper items. I have tried to cover every method of cleaning copper and information about cleaning different types of items.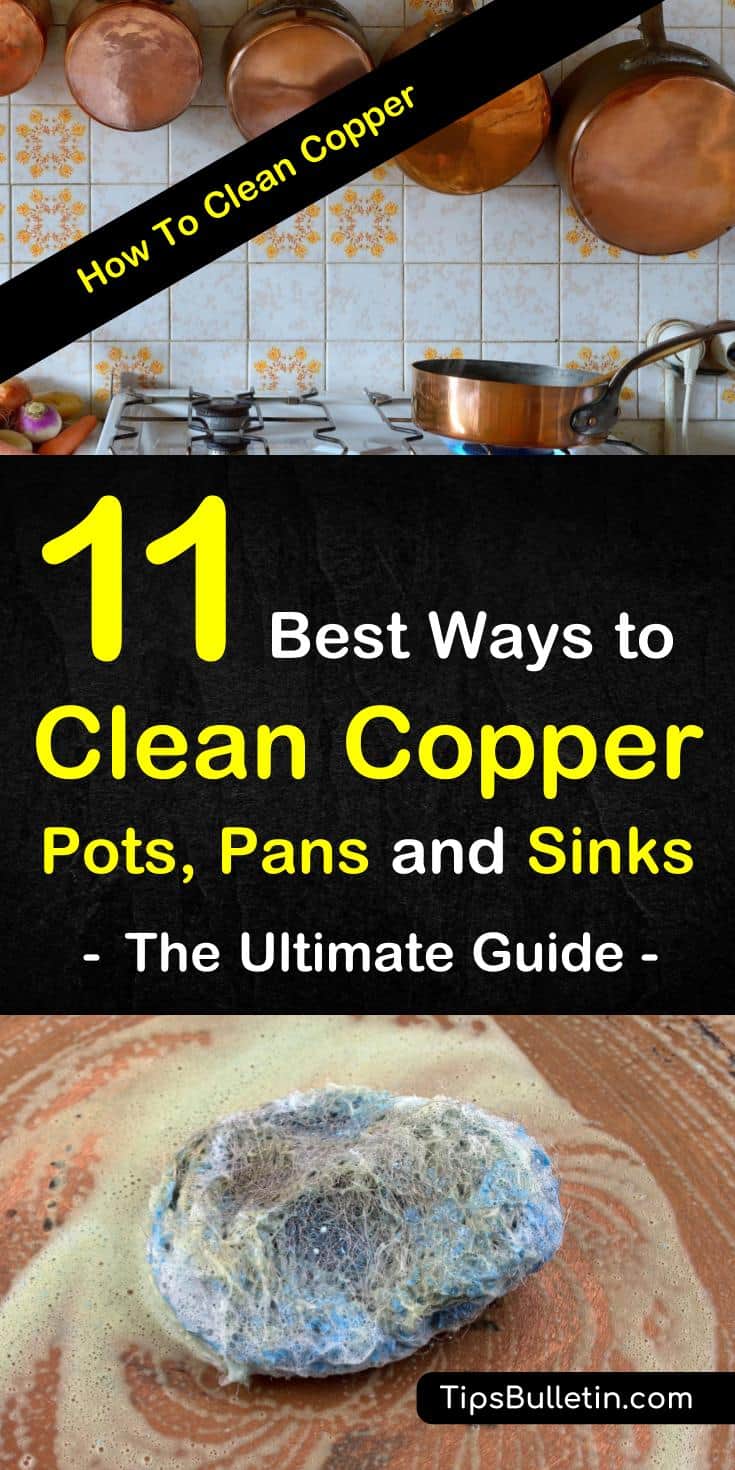 If you enjoyed this copper cleaning and polishing article and found it useful, please pin it or share it on social media. Let's spread the word about how easy copper is to clean and care for so that more people will feel confident purchasing and using this natural material.