Dentures and dental implants are a great way to bring your beautiful smile back. However, even though they are false, those teeth still require daily cleaning. We'll show you how to clean dentures using several different methods to keep them fresh and white.
Dentures come in both full and partial types. Partials fill the spaces left behind by lost teeth and fasten with metal attachments to natural teeth. A full set of dentures replaces all of the teeth on the top and bottom of the mouth.
Both types make the job of chewing food easier and instill a sense of confidence. While it's easy to think that dentures require less care than natural teeth since they are false, this assumption is incorrect. The American Dental Association recommends cleaning them daily with your gum tissue to prevent gum disease, keep your mouth smelling fresh, and stop the teeth from discoloring.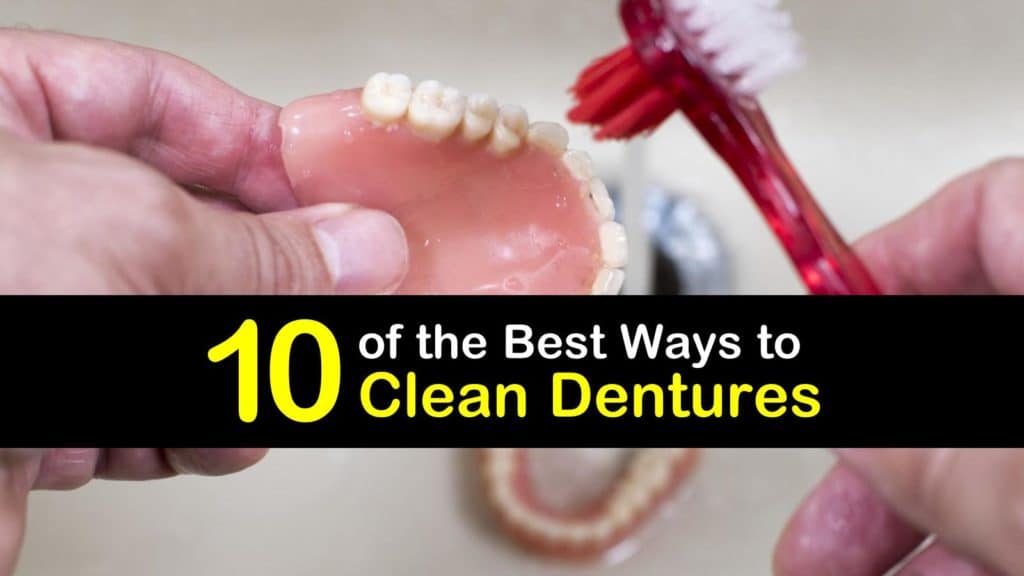 The Best Ways to Clean and Maintain Dentures
There are several different ways to perform denture care, and how you clean them depends on whether you prefer to use a natural method or a store-bought cleansing solution.
How to Clean Partial Dentures with Metal using a Toothbrush
A basic toothbrush is the easiest way to clean false teeth, but it's vital to brush with soft bristles to halt damage to the teeth. Here is how to clean partial dentures with metal to remove bits of food and plaque.
For cleaning a retainer or your dentures, remove the appliance and use a soft-bristled toothbrush with a small amount of mild soap or toothpaste to brush away plaque, food, and other deposits.
When cleaning false teeth, make sure to clean around the teeth and attachments and then rinse them under cool, running water until it runs clear.
Soap and water also makes the best homemade night guard cleaner but you can try one of the other methods listed here for stubborn stains.
Cleaning Dentures with a Denture Brush and Paste
There are many ways of cleaning dentures, and a soft brush is a must for all denture wearers. A dental brush has a unique shape that cleans all denture areas and is a handy tool for your teeth cleaning kit.
Slip the dentures out of your mouth and place them on a towel beside the sink. Squirt a small amount of denture paste on a dental brush and wet it with some warm water.
Brush the dentures in all areas, including the curves and grooves, to remove debris and denture adhesive. Use gentle force to prevent scratching the surface. Hold the dentures under cool, running water to flush away residue.
How to Clean Dentures by Soaking Overnight
Daily brushing is essential, but the best way to clean dentures when you're not wearing them is to soak them overnight. While there are a variety of natural soaking cleaners, a store-bought soaking solution is one of the most convenient.
Follow the directions for your chemical cleaner to check for preparation and soak time, and fill a denture container with the appropriate amount. Set your dentures into the container, close it with the lid, and set it in a safe bathroom area overnight.
In the morning, remove them from the container and hold them under running water to rinse away the cleaner while lightly brushing away bits of food and plaque with a dental brush. Empty the container and clean it for the next use.
Whitening Dentures with Hydrogen Peroxide
If you prefer to use simple ingredients to whiten your false teeth, hydrogen peroxide cleans dentures naturally, and you probably have a bottle in your medicine cabinet. It is an oxidizing agent, antiseptic, and disinfectant with antibacterial activities.
To use this effective homemade denture cleaner, pour the recommended amount of hydrogen peroxide and water into a bowl that is large enough to fit your false teeth.
Remove your dentures and place them in the bowl of natural whitening liquid for half an hour. Remove them from the container after soaking and hold them beneath running water to rinse away all hydrogen peroxide.
Hydrogen peroxide is also a great homemade retainer cleaner. Retainers can grow bacteria, and 3% hydrogen peroxide will keep them clean and free from bacteria.
How to Sanitize Dentures using White Vinegar
There are so many uses of white vinegar that it's almost impossible to list them all. Cleaning dentures with white vinegar is ideal for an overnight soak. This liquid has natural sanitizing abilities and kills bacteria in your teeth, making it a good choice for keeping them clean.
To clean retainers with plaque or your dentures, pick a container large enough to accommodate your appliance, and fill it with water and vinegar. Remove the dentures from your mouth and soak them in the sanitizing liquid for half an hour.
After the time is up, take them out of the liquid and rinse them beneath running water to flush away the vinegar.
Removing Denture Stains and Odors with Baking Soda
Cooking is not the only thing baking soda used for. Baking soda has been an ingredient for cleaning teeth for a long time, so it is easy to see why it makes an excellent denture cleanser.
It helps whiten teeth while removing foul odors, and there is probably a box in your kitchen right now. As well, baking soda will remove plaque from dentures and fake teeth to keep your breath smelling fresh.
Remove your dentures and set them on a soft towel on the counter. Mix the baking soda and water in a small bowl or container, dip the head of your toothbrush into the paste and scrub it gently on your dentures.
Clean each of the teeth and all of the crevices and curves. Rinse the dentures beneath running water until all of the baking soda washes away.
Cleaning Dentures with Mouthwash
If you're in a hurry to get your dentures clean and do not have any of the other cleaning essentials, mouthwash does the trick. A quick soak in this solution freshens the teeth and rinses away food debris.
Pour mouthwash into a container that is large enough for your teeth. Remove your dentures and place them in the mouthwash to soak for 15 minutes.
Do not soak them overnight or for long periods in an alcohol-based mouthwash to prevent the acrylic base from drying out. Rinse them under cool water to flush away food.
Ways to Clean Dentures with Salt
While salt seems like an odd ingredient to clean your teeth, it's actually a convenient way to deodorize and disinfect them while getting rid of bacteria. Use salt with a toothbrush or prepare it as an overnight soak.
Get a soft toothbrush wet with warm water and add a dab of salt to the bristles. Remove your dentures from your mouth and brush them lightly with the salt.
If you prefer to soak them in salt water overnight, fill a denture container with water and one tablespoon of salt and submerge the dentures in the liquid until the morning.
Rinse them thoroughly under cool, running water to clean away all of the salt and debris before placing it into your mouth.
Using Floss to Clean Partial Dentures
Even if you have partial dentures, you can't get away from flossing. Using floss on your partials and natural teeth removes bits of food stuck between them and keeps them looking good.
Denture Floss Cleaning
Remove a long strip of floss and wrap each end around a finger. Use the floss to clean between each tooth of the partials, as well as the natural teeth in your mouth, and slide it up and down to clean the surface, making sure to go down to the gum line.
Taking Care of Dentures to Prevent Stains and Breakage
Dentures do not have the strength of natural teeth and require special care to keep them looking like new. Not caring for them correctly leads to stains and discoloration, and even breakage.
Always remove and rinse your dentures after each meal to clean away stuck-on food and loose particles. Brush and clean your dentures daily using a denture soak, soft brush, and cleaner to remove food debris, plaque, and adhesive.
Consider using a sonic denture cleaner to clean at a microscopic level for optimal results. Use a container with a lid to soak your dentures. The cover prevents them from taking a tumble in the middle of the night.
They are weaker than natural teeth and prone to cracking, so always keep them in a safe place, such as a soft towel, when you prepare to clean them.
Place a washcloth at the bottom of the sink while rinsing to ensure the dentures aren't damaged if they slip from your hands.
Avoid using hot water to clean dentures to prevent warping. If your dentures become uncomfortable, it may be time for a denture reline. Stay away from bleach products that weaken and change the color of dentures and tarnish the metal of partials.
There are so many benefits to getting partial or full dentures. However, dental care doesn't stop after you get false teeth.
It's important to use the right dental cleaning solution to prevent plaque buildup, remove food particles, and keep your mouth smelling fresh.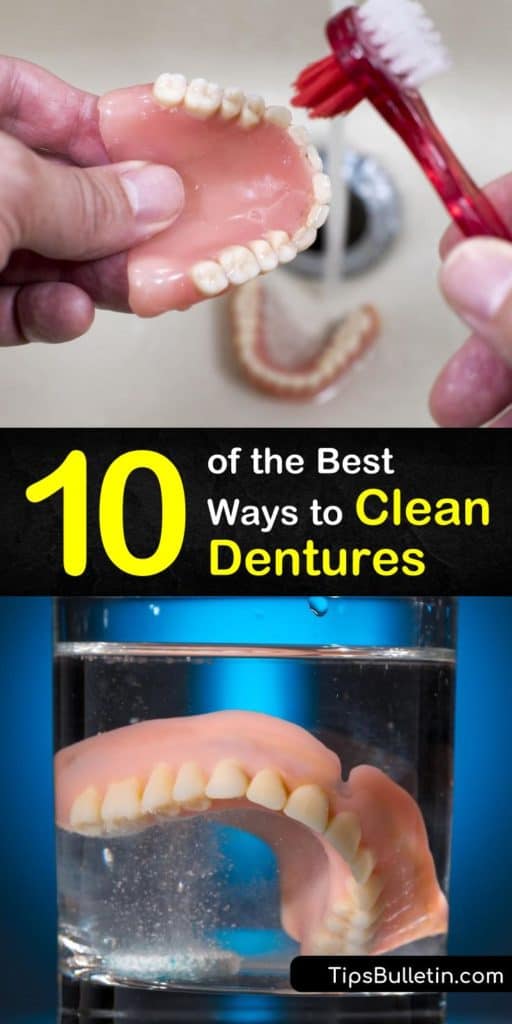 We hope that knowing how to clean dentures gives you the smile that you deserve, and we'd love it if you'd share our denture cleaning tips with your circle of friends and family on Pinterest and Facebook.