Suede shoes offer a level of elegance that is unmatched when it comes to dress shoes. A pair of suede shoes provides style and beauty that look great and add a stylish touch to almost any outfit. When you learn how to clean dirt off suede shoes, you successfully maintain your shoes as if they are brand new.
Because handmade suede shoes are a considerable investment, keeping them in the best shape possible is necessary. In the Elvis song, "Blue Suede Shoes," he did not want anyone to step on his suede shoes, and for a good reason!
One aspect of suede shoes that drives customers away is the seemingly tricky cleaning process. With the tips we offer, you can immediately get dirt stains out of suede shoes while keeping the delicate material in its most favorable condition.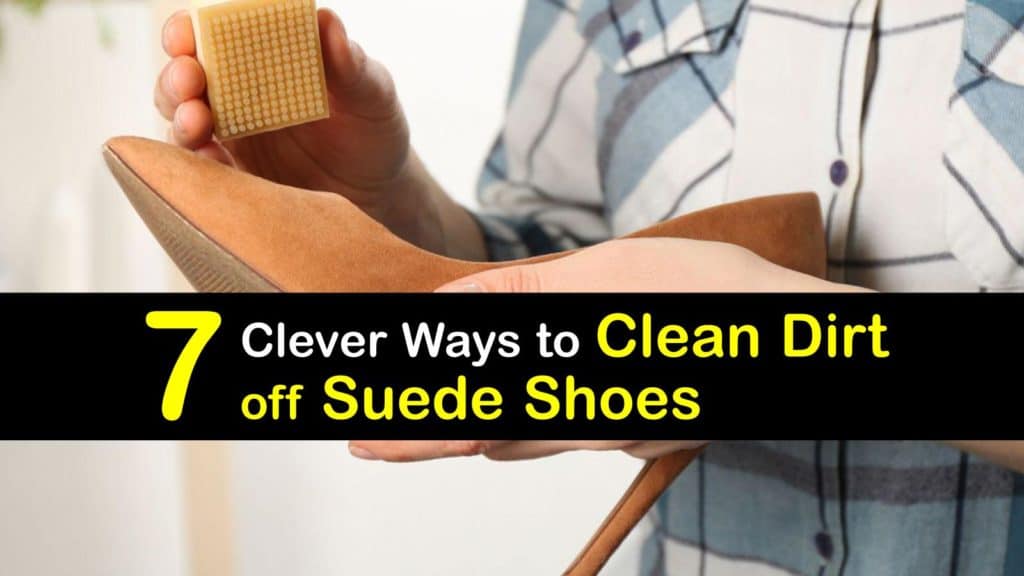 What Cleans Suede Shoes and Boots?
In addition to dirt stains, we also show ways to remove grease from suede shoes, scuff marks, water stains, and dirt from normal wear and tear.
Suede shoes provide a fashionable touch to your outfit while remaining breathable, lightweight, and heat resistant. You may think that to remove dirt from suede shoes you need expensive cleaners.
However, cleaning suede shoes is easier with the help of already popular household cleaning items, whether you are looking for a way to clean black suede shoes or those of another color.
Solvents like white vinegar, baking soda, and liquid dish soap are just a few products that clean suede shoes and suede boots without damaging the sensitive material.
In addition to showing you how to clean suede shoes with the right items, we also describe the correct motions that eliminate stains quickly.
How to Clean Dirt off Suede Shoes with Vinegar
If your suede shoes have some tough stains or excess dirt, use vinegar. Even stains from food, wine, or salt do not stand a chance when faced with vinegar.
Vinegar is an acid that breaks through dirt and grime almost effortlessly, making it easy to remove dirt from suede shoes.
The way to clean a suede coat or shoes with a stain is to pour a small amount of vinegar on a clean cloth and wipe the stained area gently, ensuring you cover the entire stain. Let the vinegar dry before rubbing a suede brush on the stain.
To clean Uggs with vinegar or another suede shoe type, rub the suede brush in a circular motion to remove the unwanted mark. Apply a little bit of force as you use your cleaning brush, so the loosened dirt breaks free from the suede.
Vinegar also makes an excellent DIY sneaker cleaner and deodorizer and it works quite well as a way to remove mold from suede shoes, both inside and out.
Remove Dirt from Suede Shoes with Baking Soda
Part of keeping your suede shoes in their best condition is to avoid getting them too wet. Baking soda powder is an excellent way to eliminate tough grease and dirt stains when washing suede slippers or shoes without getting the material wet. Use the powder to clean white suede shoes or those of another color with the same results.
Baking soda acts as a great natural DIY shoe deodorizer, too, so it eliminates odors. Discovering how to clean suede shoes with baking soda is simple. Sprinkle baking soda powder on the stains and let it sit for 15 minutes to allow the ingredients to work.
To clean suede boots at home and using a soft nail brush, rub the spot in a circular motion until your suede shoes are restored. The bristle pattern on a nail brush does an exceptional job at loosening all the dirt and grime on your suede shoes without harming the fabric and is the best way to clean suede sneakers if you don't have problems with stains.
To deodorize shoes, sprinkle baking soda on the inside of the shoes, shake it around to cover all interior areas, and let it sit overnight. Dump out the baking soda the next day.
Cleaning Oil Spills on Suede with Cornstarch
If you dump oil on your suede shoes, it is best to clean it as soon as possible so it does not settle into the suede. Cornstarch is the ideal cleaner to treat oil on your suede shoes and an ideal component of a homemade Nubuck cleaner.
Sprinkle enough cornstarch on the oil spill to cover the entire surface. The cornstarch will absorb the oil molecules immediately, but make sure to leave it on the surface for about an hour.
With considerable pressure, use a suede brush on the spill, rubbing in a back and forth motion. If the oil remains, sprinkle more cornstarch on the shoes and let it sit overnight before repeating the brushing process.
After a spill it's important to remove oil from suede shoes quickly before it causes a permanent mark. This common pantry stable can help save your suede shoes.
How to Remove Salt Stains with Dish Soap
Salt stains are common on black suede shoes, especially in winter when streets and sidewalks are sprinkled with salt to prevent ice and snow build-up. The most efficient tool to treat salt stains is liquid dish soap.
Stir the dish soap and warm water in a medium-sized mixing bowl. Dip an edge of your soft cloth in the soapy water and squeeze it firmly to release the excess water.
Dab the salt stain with the fabric gently, ensuring you do not press too hard on the suede. After the mixture dries, use an old toothbrush or suede brush to remove the salt stains.
Get Dirt Stains out of Suede Shoes using a Pencil Eraser
A quick way to remove minor stains on your suede shoes is to utilize a pencil eraser, whether you are keeping white shoes clean or those of another color. When you get dirt stains out of suede shoes using an eraser, make sure the eraser is completely clean before applying it to suede shoes.
Carefully rub a paper towel in a circular motion over the dirt stain. Apply a pencil eraser to the dirt mark, rubbing it in a circular motion to not spread the stain.
When you remove dirt from suede shoes, a pencil eraser is gentle on the suede material, unlike an emery board.
Fixing Wet Suede Shoes and Boots
Water damages suede's sensitive material. If you accidentally spill water on your suede shoes, treat the spill right away. If you do not handle a water spill right away, the suede becomes stiff.
Blot the water with a cotton ball, microfiber cloth, or paper towel to absorb as much water as possible.
Sprinkle a little baking soda on the water and let it sit for 15 minutes before using a suede brush on the shoes to act as a suede eraser. Learning how to clean dirt off suede shoes and water damage is fast with baking soda.
If your shoes are overly wet and you need to wear them soon, the best way to dry suede shoes fast is with a hair dryer. Be sure not to get the heat too close to the shoes and brush the nap gently to keep it from getting stiff.
How to Prevent Stains on Suede Shoes
Everyday household items like hydrogen peroxide, baking soda, and white vinegar can remove dirt from suede shoes. There are also ways to prevent your suede shoes from receiving stains in the first place by using a protectant.
Use a high-quality Nubuck suede protector spray on your suede shoes or make your own homemade suede conditioner from vinegar and olive oil. Spray the entire shoe with the protectant to avoid tears, dirt stains, and water damage.
The ideal time to apply a protectant is as soon as you purchase your suede shoes. Place a shoe tree in each suede shoe and spray the protectant, letting it dry before you wear them.
Suede shoes are made out of a lightweight material that looks great. Discovering how to get dirt stains out of suede shoes is necessary to keep the fabric looking brand new and free of unwanted marks.
Cleaning suede shoes is quick when you use baking soda, dish soap, or cornstarch.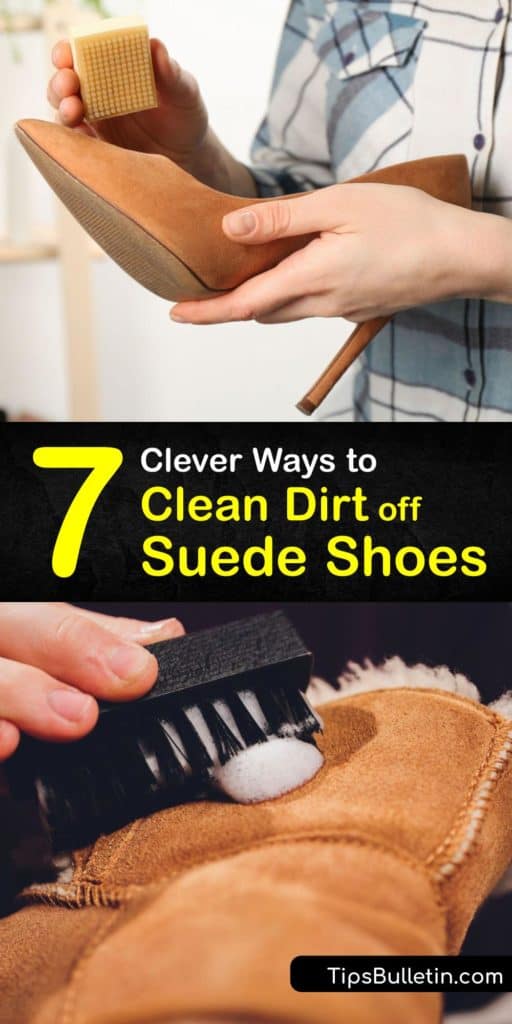 If you found out how to clean dirt off suede shoes, share this article with ways to remove dirt from suede shoes with your friends and followers on Pinterest and Facebook.