Over time, painted walls begin to lose their bright colors because of dirt, grime, scuff marks, and grease stains. To restore the full color in your bedroom and kitchen walls, you must learn how to clean dirt off walls with the correct tools.
Only wash your walls up to two times a year, so the cleaning products do not leave streak marks. This article shows you how to get rid of smudges and other spots with an effective cleaning solution.
In addition to explaining what cleaning products remove dirt from walls, we also explain the differences between paint types and what sponges do not cause damage to walls.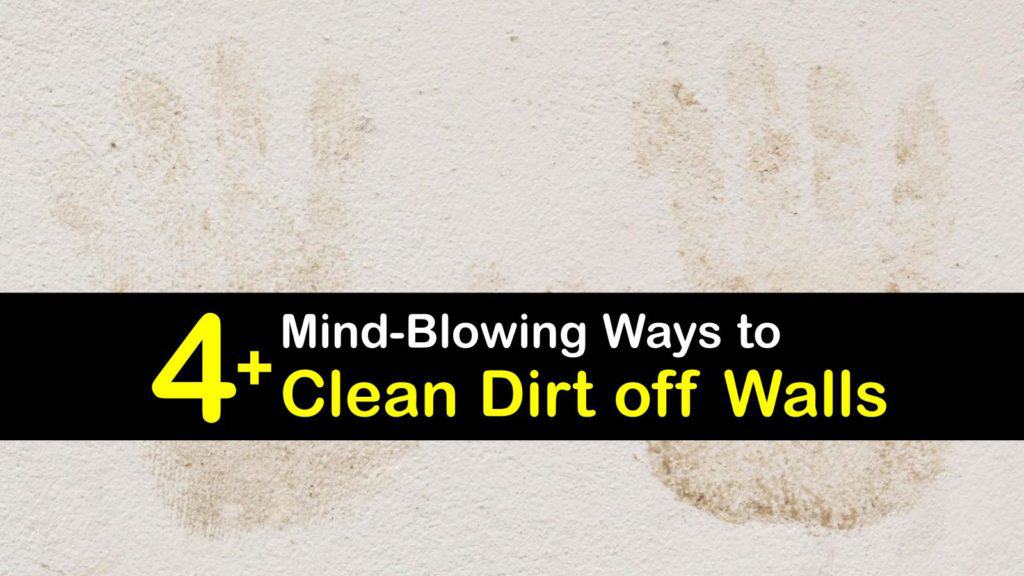 Removing Dirt from Walls is Simple
When you clean-walls, one of the most important things to understand is that different types of paint each demand their own cleaning method.
Additionally, specific cleaning agents are better for small areas versus an entire wall. Cleaning dirt off walls does not take a long time when you utilize proper cleaning products like baking soda or vinegar.
When you implement a DIY wall washing method, it's important to know how to wash the walls in the proper direction. Whatever cleaning method you choose as the way to get rid of dirt on the wall, start at the top and work downward.
Beginning at the top of the wall allows you to clean dirt efficiently and saves time. Another helpful thing to remember when cleaning dirt off walls is to scrub in a circular motion to clear away as much dirt as possible.
Scrubbing in a circular motion also cleans stubborn stains on a small area of the wall rapidly.
How to Clean Dirt off Walls Based on Paint Type
There are three different finishes on walls that all require specific cleaning agents. If the color on your walls is fading, you may not have to add a fresh coat of paint.
Instead, simply cleaning dirt off painted walls is a terrific way to restore the bright colors in your room.
Eggshell finishes are less durable than other types of paint, so make sure you do not scrub the wall too hard to clean scuff marks off walls with flat paint and avoid harsh chemicals.
A semigloss finish is sensitive to scratches and degreaser cleaners. Latex paint comes clean with soapy water. On walls with a latex paint finish, make sure to avoid abrasive sponges, as they cause scratch marks on the surface.
Cleaning Dirt off Walls with Dish Soap
Before cleaning your walls or ceiling, brush away large pieces of dust and use a long-handled mop or broom to remove cobwebs from the ceiling or as an easy way to get rid of paint on walls that is peeling or flaking. A smooth surface is easier to wash.
Liquid dish soap is not just for cleaning your dirty dishes. The ingredients in dish soap also work to remove dirt from walls.
Dish soap lifts tough grease, dirt, and stains on any surface the solvent interacts with, making it simple to get crayon marks and grime off your walls.
To make the best wall cleaning solution, fill one bucket with a combination of dish soap and warm water to clean the walls. Pour warm, clean water in the second bucket for rinsing your sponge.
Using a damp sponge, wash your walls from top to bottom in a circular motion. Between each section, wring your sponge out in the second bucket to clear excess dirt.
Remove Dirt from Walls Using Baking Soda
For minor spots and wall discolorations and to clean baseboards with vinegar as well as light switches, use a baking soda and white vinegar paste to restore your walls. This mixture is also perfect to get nicotine off walls.
Baking soda is a standard household cleaner because it cuts through tough dirt and grime, just like white vinegar. Forming a paste out of these two powerful cleaning solvents allows you to treat even the toughest stains and clean grease off walls with ease.
Continuously stir your baking soda and vinegar until the consistency is uniform. Gently scrub the stain with a sponge, allowing the paste to act as an eraser for stains or for cleaning dried blood from painted walls. Using a damp cloth, wipe away the cleaner.
Rinsing the cleaning mixture is important, so the baking soda does not eat away at the paint on your walls over time. With baking soda and vinegar, cleaning dirt off walls and minor stains is simple.
You could also use plain vinegar for wall cleaning. It's what to use to wash walls before painting to remove grease, dirt, and any other stain.
Bleach is an Excellent Cleaning Agent for Walls
Another standard household cleaning product to remove dirt from walls is bleach. Bleach is a disinfectant that kills almost all the germs and bacteria on the surface.
Before applying a bleach mixture to your walls, use a duster to remove cobwebs and loose dust particles.
Soak your sponge in the bleach-water mixture before applying a thin layer of cleaner on your walls. Before applying the sponge to the wall, wring out the excess water so you do not use too much bleach.
After letting the bleach sit on the wall for 15 minutes, rinse it away with a damp cloth. If you have a high ceiling, use a brush attachment to reach and clean the top of the wall.
What Sponge Cleans Walls the Best?
As you learn how to clean dirt off walls, you must know what kind of sponge to utilize to not leave scratch marks. Use a non-abrasive, cellulose sponge because it is gentle on soft walls while also cleaning efficiently.
When you use a cleaning device with a bristle, it increases the chances of scratch marks and other damage to the walls. No matter what wall-cleaning technique you choose to use in your home, make sure you use the cleaner sparingly.
Before scrubbing your walls with a sponge, wring out the excess water. Using a damp sponge prevents streak marks on the wall and makes cleaning go faster because there is less leftover residue to wipe away.
Cleaning dirt off walls in your house or when you get scuff marks off walls restores the color and brightens up the room. Although you do not have to remove dirt from walls in your home often, it is essential to practice the proper cleaning techniques.
A cellulose sponge is the best way to protect your walls from excess damage and scratches. Another benefit of cleaning walls is that popular household cleaners like vinegar, bleach, and baking soda effectively remove dirt, stains, and scuff marks.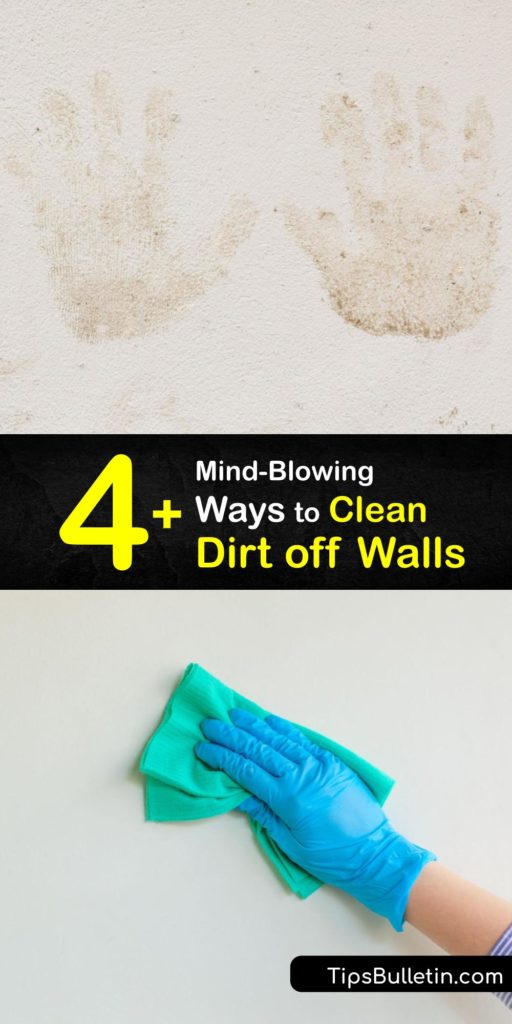 If you learned how to clean dirt off walls, share these tricks for cleaning walls with your roommates and neighbors on Pinterest and Facebook.