Do you know the secret to clean-looking tile floors, walls, and countertops? Clean grout. Knowing how to clean dirty grout is essential for tiled areas that look sparkly clean. Tiles are dirt and stain-resistant, but grout is porous.
It absorbs any grease, grime, or spills it comes into contact with, especially in the kitchen. Soap scum, mildew, and mold are the main culprits that cause dirty grout in the bathroom. For this reason, it's essential to know the best way to get rid of mold.
It will not only extend the life of your tile but ensures it always looks impressive. There are several cleaning dirty grout formulas to try and find different options to find the best performer for your backsplash. Fortunately, we outline general household products you can use to clean grout.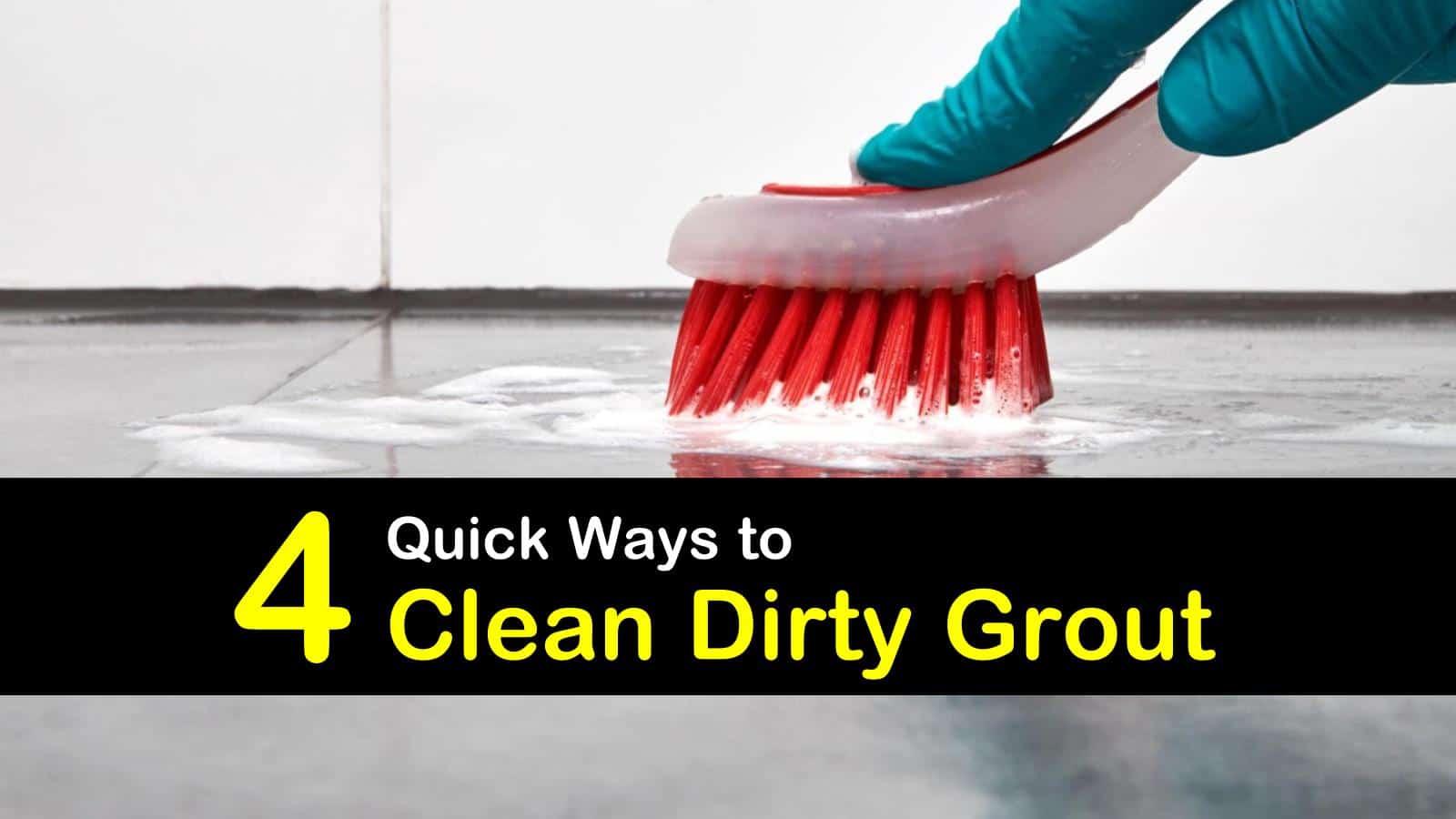 We'll show you some proven cleaning grout techniques, plus cleaning tips and tricks for reducing grime over time. With just a little effort, you'll have dazzling tile floors and shower tiles free of grout stains.
Best Way to Clean Dirty Grout in Tile Floor 
A steam cleaner is a perfect example of an easy grout cleaner and is the best way to clean dirty grout in tile floor. It uses pressurized steam to clean tile and grout. Visit your nearest home improvement store to find a steam cleaner to purchase or rent.
Carefully read through the manufacturer's manual for assembling, filling, and starting the machine. Afterward, fill the reservoir with clean water to the fill line and turn it on.
Move the cleaning brush moderately over the grout to lift the dirt and grime from the grout and kill mildew. The floor tends to be slippery, so wipe the excess moisture with a clean, dry towel.
Cleaning Dirty Grout and Sealing
Cleaning grout lines can be a tough and tedious process. Once you have the white grout looking spotless, use a grout sealer to prevent future staining by creating a protective surface over any backsplash. Carefully follow the manufacturer's guide when applying the grout sealer.
1. Homemade Cleaning Grout Paste
By quickly wiping tiled areas, you can miss dirty spots since grout lines are deeper than the tile surface. Try out this tile cleaner paste to help your wall and floor tiles sparkle. Homemade cleaning grout solution acts as an all natural drain cleaner guaranteed to leave your drain smelling great.
DIY Grout Cleaning Paste

¼ cup hydrogen peroxide
An old toothbrush or scrub brush
Warm or hot water
¾ cup baking soda
Dry towel
Clean water
1 tablespoon dish soap
Make a paste using hydrogen peroxide, dish soap, and baking soda. Apply it to the grout lines using an old toothbrush or scrub brush. Let it sit for a quarter hour even if you see a bubbling reaction.
Rinse with warm to remove the solution. Wipe off remaining residue with a dry towel, then mop the floor with clean water. 
2. Cleaning Grout with Oxygenated Bleach
Unlike chlorine bleach, oxygen bleach is not only non-toxic and eco-friendly, but it also lacks harsh fumes. Moreover, it doesn't stain colored grout lines. Hydrogen peroxide is an excellent oxygen bleach; though, it's often sold in diluted solutions, thus decreasing its cleaning power.
DIY Oxygen Bleach Cleaner

2 tablespoons of oxygenated bleach
A cup of warm water
Stiff bristle brush
Clean water
Dry towel
Mix the oxygenated bleach with warm water to form a paste in the ratio of about two parts oxygen bleach to one part water. Ensure that you've mixed thoroughly for the bleach to be fully activated. Apply a little of the cleaning solution to a small section of the grout to test for colorfastness before cleaning the entire floor.
Once you've made sure that no tiles or grout are being discolored, pour enough of the cleaning solution to cover the grout lines. Apply some elbow grease when scrubbing the solution into the grout lines using a stiff bristle brush, including the floor edges where dirt and grime often accumulate.
After rinsing away the bleach with clear water, wipe the tiles with a dry towel. Let it air-dry overnight before using a grout sealer.
3. Cleaning Grout with Chlorine Bleach
Household chlorine bleach is one of the most effective and most used grout cleaning solutions. Even though it's a powerful cleaning agent, caution is required when handling it.
Begin by wearing protective gear like safety glasses and rubber gloves (..). Also, wear some old clothing so you won't need to learn how to get bleach out of clothes or if you can even solve this problem.
Open the windows and turn on fans to ventilate the house because chlorine bleach is toxic and releases noxious fumes. Dip the grout brush into the bleach solution and apply some elbow grease to scrub off the grout stains. Rinse thoroughly with clean water and dry the surface with a clean, dry cloth. Let it dry overnight.
4. Cleaning Grout with Baking Soda and Vinegar
Baking soda and vinegar solution are amazing dishwasher cleaning agents but should never be used to clean natural stones. The acidic nature of the vinegar solution often etches stone tiles whereas baking soda (alkaline not acid) isn't as effective as other alkaline grout cleaners.
DIY Baking Soda and Vinegar Grout Cleaner 

3 parts baking soda
1 part water 
White vinegar
Spray bottle
Bristled scrub brush or toothbrush
Mix the measured baking soda and water to form a thick paste and apply it to the grout lines. Combine an equal amount of white vinegar and water in a spray bottle and spray the baking soda paste till bubbling begins.
Once the bubbling stops, scrub the grout lines with a toothbrush or a bristled scrub brush. Mop the floor with plain water.
How to Clean Dirty Grout with Commercial Grout Cleaners
It's advisable to try grout cleanser and mildew removers in the order of harshness. Start with an alkaline cleaner, then oxygen bleach, followed by chlorine bleach, as necessary. Tile grout ought to be cleaned two to three times a week with cleaning products made for removing soap scum.
However, this frequency depends on the location of the tile and how heavily people walk on the surface. For instance, tiled wall surfaces may not be cleaned this frequently, but shower tiled walls need it due to lots of moisture and constantly humid conditions.
For new tile and grout, ensure that you begin your grout-cleaning procedure with prevention. Use a grout sealer 10–14 days after the grout cures. We hope you've learned a fast and reliable way to clean dirty grout in tile floor.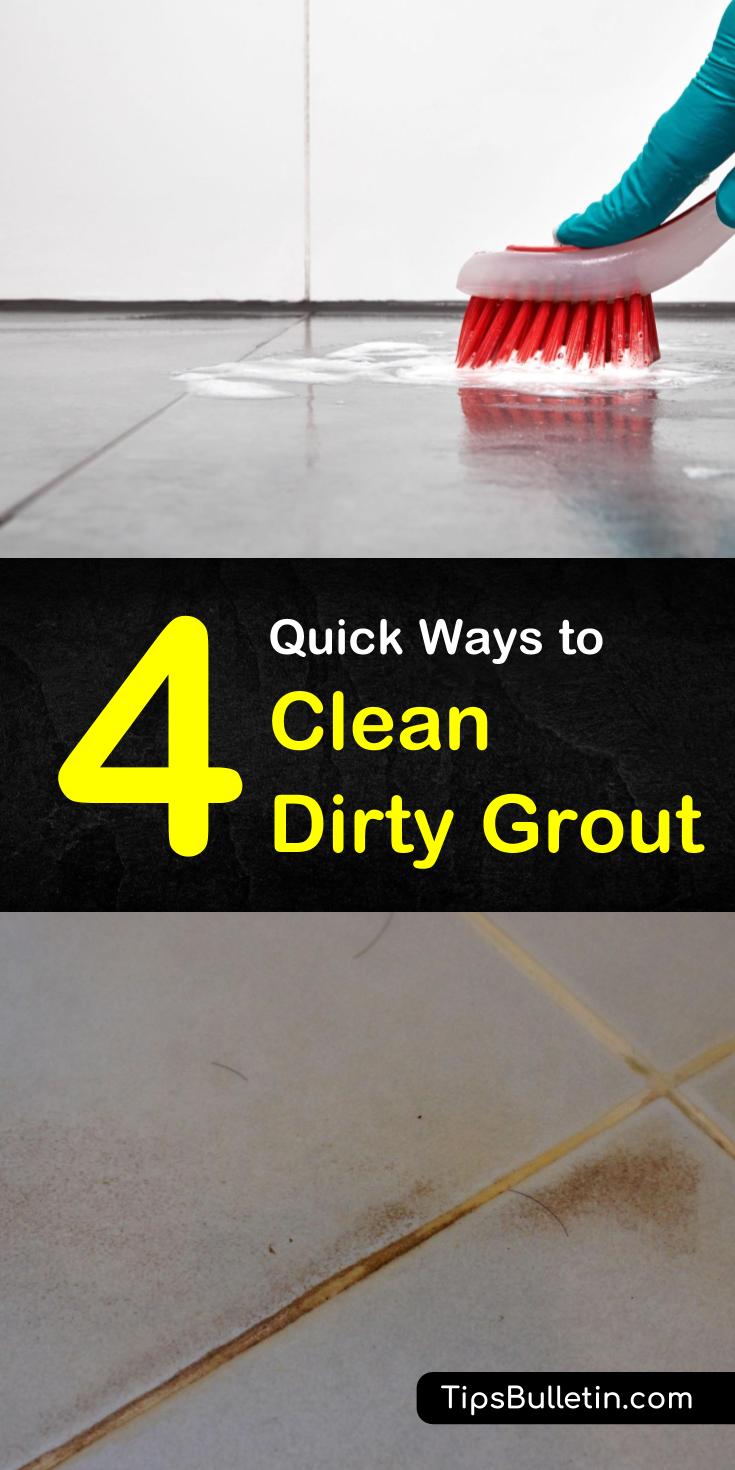 If you learned a little something about cleaning grout in this article, it would be great if you could share these tips and tricks on how to clean dirty grout with friends and family on Facebook and Pinterest.