If you find yourself keeping your socks and shoes on while walking on the carpeting in your home for fear of getting dirty feet, it's time to clean your rugs. Not only are filthy carpets an eye-sore, but they often emit a stench. We show you how to clean disgusting carpet using several techniques and help you restore it to its former glory.
Rugs are a magnet for dirt, especially in high traffic areas, whether in your home or workspace. Not only that, but grimy carpet fibers attract more dirt, leading to a never-ending cycle. Unfortunately, carpet cleaning is not very simple, especially if you use the wrong techniques.
While it's tempting to rip out the entire carpet and replace it with a new rug, this is not always feasible. Spot cleaning with carpet cleaner and deep cleaning with a carpet cleaning machine, such as a Bissell, are sometimes all the rug requires to remove stubborn stains.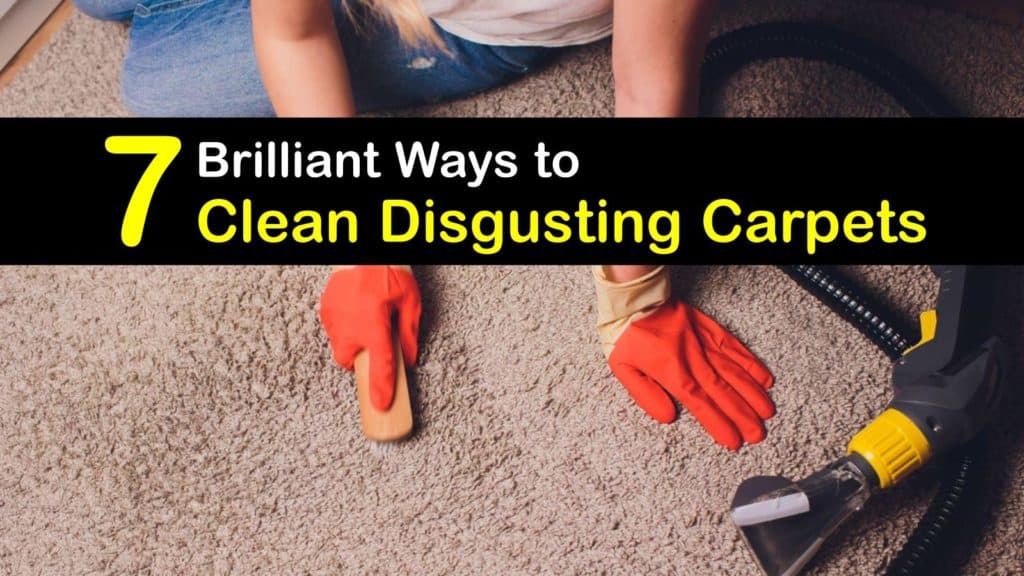 Ways to Clean Filthy Carpeting
No matter how wonderful the rest of your home looks, a dirty carpet is the first thing to catch the eye. We show you how to clean your carpets using the right cleaning solution and stain removal methods.
The First Step to Remove Dirt from Carpet
A carpet that hasn't been cleaned in a long time is caked with ground-in dirt, and it's important to remove as much of the dried filth from the fibers as possible before using a wet cleaning solution.
Here is how to pretreat and remove dirt from carpet by agitating and vacuuming.
Cleaning carpet by hand isn't too fun but it is effective. The first step is to agitate the carpet fibers and loosen up old, dried dirt. Place a scrub brush in your hand and press the bristles against the rug. Use a back and forth and circular motion to agitate the carpet. Continue doing this over the entire area of dirt.
Set your vacuum cleaner to the appropriate setting for the carpet shag and vacuum each section back and forth. Make a second pass over the rug with the vacuum in the opposite direction to ensure all dirt and debris comes free from the fibers.
Cleaning a Really Dirty Carpet with a Steam Cleaner
If you have access to a steam cleaner, this is the perfect tool for cleaning a really dirty carpet. These machines use a cleaning solution and hot water and suction to clean-carpets and remove stains.
Follow the directions for your steam cleaner model and add the recommended amount of water and cleaning solution. Start at one side of the carpet and move slowly across the surface with the cleaner, making sure not to miss any spot.
Pay special attention to the extra-dirty areas. Allow the rug to dry completely before vacuuming it and allowing foot traffic or replacing furniture.
How to Clean Disgusting Carpet to Remove Stains
White vinegar is an acidic liquid that dissolves and loosens sticky substances such as grease, and baking soda is a gentle abrasive that removes foul odors. Combine the two in a spray to make a carpet stain remover that is both cheap and natural.
To use the best homemade carpet cleaner, start by shaking a box of baking soda over the dirty carpet. Pour equal amounts of hot water and white vinegar into a spray bottle and add a couple of drops of dish soap. Shake the container gently and spray the cleaner over the baking soda.
Let the ingredients bubble and fizz, and then clean the area with a damp sponge. After the stain is gone and the carpet is dry, go over the floor with a vacuum cleaner to suck away leftover residue.
Use Hydrogen Peroxide to Clean Nasty Pet Carpet Stains
Hydrogen peroxide is a gentle bleach and disinfectant that kills bacteria and a useful solution to remove dirt from carpet and eliminate pet stains.
When the cleaner comes into contact with grime, its bubbling reaction pulls the stain away from the carpet fibers for easy cleaning.
To make this homemade carpet cleaner for pet urine stains, mix warm water and hydrogen peroxide in a spray bottle and shake it well. Sprinkle baking soda over the stain and spray the cleaner on the powder.
After it bubbles for a few minutes, scrub the carpet gently with a soft-bristled brush to loosen up ground-in dirt. After it dries, vacuum the area thoroughly.
Cleaning a Grimy Rug with Borax
Cleaning a really dirty carpet is no fun at all, but combining the power of Borax, salt, and white vinegar makes the job easier. These three ingredients create a powerful carpet cleaner to remove most stain types.
Make a cleaning paste by combining Borax, white vinegar, and salt in a bowl. Spread the mixture over the carpet dirt, and scrub it with a soft brush.
Let it sit for several hours, and then use your vacuum cleaner to suck up the dry powder and dirt. Repeat the process if any of the grime remains.
Try this remedy for mold on carpet, too. It can be quite effective if the area is not too extensive.
Using Club Soda to Remove Water-Soluble Stains
Believe it or not, but club soda is excellent for removing carpet stains in a pinch. The water and carbon dioxide help soften the dirt and bring it to the surface for quick and simple cleaning. It's also a great option for homemade upholstery cleaner without vinegar.
Pour club soda on a sponge or cloth and dab at the carpet stain to soak it. Rinse the sponge with hot water, wring out the excess liquid, and scrub the rug using a circular motion.
Keep cleaning the area with club soda and hot water until the stain is gone, and then blot the surface dry with paper toweling.
Remove Carpet Dirt with Soapy Water and Elbow Grease
If you don't own a steam cleaning machine and need to get slime out of carpet without vinegar, regular old dish detergent and water do the trick. While this method requires quite a bit of elbow grease, time, and patience, the final result is well worth it.
Fill a bucket with hot water and squeeze in a couple of squirts of dish soap. Use your hand or sponge to agitate the water to create a soapy solution and dunk the brush into the water.
Scrub the dirty carpet with the brush, using a circular motion, and re-dunk it in the water as needed.
Get a sponge wet with warm water, wring it out, and clean the carpet to remove soap residue. Let the rug completely dry, and then vacuum it to remove loosened dirt.
There is nothing grosser than an old carpet or area rug stained with grime, mildew, and other unknown nastiness. While many carpet stains are easy to remove with soapy water, sometimes a machine, strong cleaners, and elbow grease are necessary.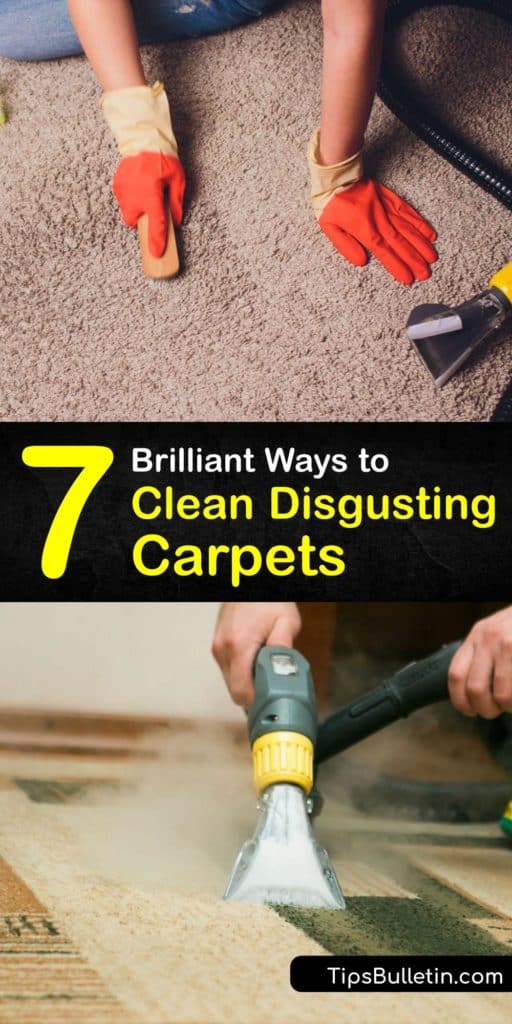 We hope that learning how to clean disgusting carpet restores your rug's fresh appearance, and we'd love it if you'd share our carpet cleaning methods and solutions with your family and friends on Pinterest and Facebook.