Engineered hardwood floors are a type of manufactured material that displays many of the same qualities and appearances of solid hardwood flooring. While real hardwood floors have thicker surfaces than their faux counterparts, engineered flooring is more affordable, easier to install, and much more resistant to water damage. So, how to clean engineered hardwood floors without ruining the surface?
While these floors are almost as durable as solid wood in terms of structure, the surface of engineered wood floors easily damages when exposed to harsh cleaning products. This type of flooring consists of multiple layers, with the top layer being the only real piece of wood.
This wear layer uses only a thin piece of decorative wood, which makes the brittle nature of wood floors even more fragile. As a result, cleaning engineered hardwood floor areas is a challenging task for even the most skilled floor cleaning veterans. Luckily, the best homemade cleaner for engineered hardwood floors, in this case, is patience.
Sparkling Ideas for Cleaning Engineered Hardwood Floors
When you start cleaning hardwood flooring, one of the essential components of doing it right is using the proper tools. Using the wrong equipment will quickly destroy that top wear layer of your floors in just a couple of cleanings. Refer to the list below for the safest ways to clean engineered hardwood floors.
One thing you will notice right off is that most of these items are soft cleaners. The only exception is the vacuum cleaner, which we will get to later on down the list. The key is not to scratch the thin veneer on your wood planks, so anything sharp, rough, or acidic is a definite "no."
These items can also be used as part of the best way to clean linoleum floor or that made of another material. Sweeping or vacuuming is always a good first step prior to in-depth cleaning.
Use a Dust Mop for Regular Cleanings
You want to clean your engineered wood floors regularly. One of the best ways to clean is to sweep for dust and dirt using a broom or dust mop. Even dirt can make a massive difference to the surface of your flooring.
Any particles left on the floor may eventually grind into the soft material. This issue causes scratches or scuff marks on the wood, and will even cause your wood floors to lose that beautiful luster.
Give high traffic areas extra love and care when dusting, such as entryways and kitchens. Use a simple dusting spray as the best way to dust wood flooring to get rid of debris before tackling deep cleaning.
How to Clean Engineered Hardwood Floors with a Vacuum
Using a vacuum cleaner to suck up as much dirt and dust from your floors as possible may seem like an easy solution. Unfortunately, not all vacuums are safe for engineered wood. Many vacuums use a rotating bristle bar, which sinks into the carpet to remove hair and fluff up those carpet fibers.
They're great for maintaining that full, plush carpet look, but not so great for hardwood flooring. These rough bristles scratch at the surface of your floors when vacuuming, causing way more damage than it's worth.
This predicament doesn't mean that you have to sacrifice the ease of using a vacuum altogether. One alternative is to use a lightweight vacuum without a rotating bristle bar. This option will prevent scratching while still allowing you to get the same amazing clean you love from your vacuum cleaner.
Cleaning Engineered Hardwood Floors with Microfiber
We've already discussed the importance of sweeping your floors and using a dust mop. Another helpful tool you'll encounter, however, plays a role in these same functions. Microfiber is an excellent way to grip all those tiny dirt and dust particles without scratching your floor with a lint-covered cleaning cloth.
Many companies even have a microfiber mop option for their cleaning equipment. These mops use a removable microfiber pad, which you swap out for a new one after the old one returns from its last cleaning.
Best Homemade Cleaner for Engineered Hardwood Floors
If you want to do a deeper cleaning to eliminate gunk and grime from your floors, a damp mop is the best floor cleaner out there.
In many cases, simply adding warm water to the mop is enough to remove stuck-on particles, get rid of water stains, and remove evidence of simple spills. If that isn't enough, however, add in few drops of dish detergent or oil soap to tear through grease and eliminate unsightly stains.
When mopping, always follow the grain of the wood and wring out any excess water. The less water used, the better. If any liquid remains after you've finished cleaning, quickly soak it up with a dry cloth or towel. This solution is also the easiest way to clean baseboards while you're cleaning the floor.
Clean Your Engineered Hardwood Often
While the number of days between cleanings varies based on the number of people in your home, it is universally agreed upon that regularly cleaning your engineered hardwood is the best practice. When it comes to sweeping or dry mopping your floors, this should be done daily.
For deep cleaning, wash your floors once a week or, at the least, once every other week. For more drastic maintenance repairs like applying a polish or wax to your floor, this only needs to happen about once a year.
Make a DIY hardwood floor polish from simple vinegar and olive oil. Not only does this mixture clean the floor and remove scuff marks, but it also conditions the floor and leaves it shining.
Use a Commercial Cleaner like Bona
For a fantastic wood flooring cleaning solution you can make yourself or pick up in stores, the first place to look is Bona. Bona is a wood floor cleaning company that develops supplies like dust mops, cleaning rags, and floor polishes that are specifically geared toward hard floor products.
Use this cleaner for regular cleaning or to remove Sharpie from floors or other stains that are difficult to eliminate. Most importantly, Bona is also a reputable hardwood floor cleaner, meaning you can use this product on tough stains or deep cleanings without damaging the material.
There are multiple products and cleaners available on Bona's website. When purchasing materials, ensure you get the cleaning solution designed for your particular floor type and for the type of cleaning you are doing.
Avoid Harsh Chemical Cleaners
Your hardwood floors are delicate and need special care when cleaning them. Unlike laminate floor tiles that may look like wood, acidic, or corrosive cleaning products should never touch your floor.
Cleaners to avoid are listed below. Sometimes you can spot clean floors with vinegar or lemon juice but only use a very small amount in and rinse it completely.
These cleaners eat away at the wood, eroding the material over time to form cracks, creases, and a dull surface. If you have engineered flooring in your kitchen, be careful when cooking with any form of acetic acid and citric acid.
These may easily splash onto your floor and can damage it if not cleaned up right away. While rubbing alcohol can be effective in cleaning a whiteboard, it is also not a great choice for taking care of your engineered floors.
These solutions can be used as a laminate floor cleaner as long as you are careful when using them. Avoid saturating the floor and rinse with clean water after using them. Dry with a towel.
Clean-Up All Spills Immediately
Because excess moisture damages wood easily, clean up any spills as soon as they hit the floor. These spills may also leave behind a sticky residue that seeps into the wood, ruining it.
If it doesn't, you'll have to spend extra time cleaning the floors, which will add more stress to the wear layer of your floor. Other problems you may run across with spills are acidic drinks and cleaners. These quickly ruin wood or cause discoloration.
Fix Gouges and Nicks with Wood Putty
We may try our hardest to keep our floors scratch-free, but they still happen. Wearing high heels may cause it. Your puppy's toenails or a dropped item may cause it. Either way, there is a solution to salvage those small scratches by using wood putty.
To use this method, apply a small dab of putty over the hole in question. Remain any leftover putty, then allow it to dry for an hour before touching it or walking over the area again.
Keep Your Floor Out of the Sunlight
While none of us plan on uprooting our hardwood floors and taking them for a stroll around the park, they still receive plenty of exposure to sunlight through windows and when used to build patios or decks. The UV light in sunshine wears down the color on your engineered wood flooring, making it appear dull and faded.
One way to keep your floors from fading is to place drapes or curtains in areas with excessive sunlight. For outdoor features, use a strong finish and attach awnings to offer the wood more protection.
Avoid Heat Damage to Wood Floors
Your engineered wood flooring is relatively resistant to heat. But, even it can't handle the constant output that many electronics put out in a day. If you've ever walked into a freezing technology lab and wondered why it was so cold, that's the reasoning behind it.
Electronics put out a ton of heat, so when your hardwood floors are regularly exposed to those kinds of temperatures, it will cause damage over time. To prevent this, place a cooling mat under your electronics, or move your electronics off the floor altogether.
Reduce Moisture in Your Household
Since we know water causes significant damage to engineered hardwood floors, limiting their exposure to water is critical. One way to do this is to maintain the humidity levels in your household. This is especially important in locations where the moisture in the air is particularly high.
One way to reduce this effect is to run a dehumidifier in the room with the flooring for a few hours to remove excess moisture. You can also lower the air conditioning until the humidity reaches a manageable level.
Apply a Powerful Finish to Protect Flooring
One way to preserve the quality of your hardwood floors is to use an aluminum oxide finish. This finish is perfect for engineered wood that needs refinishing or protection for outside elements.
Not only does this finish offer scratch resistance from dirt particles, but it will also protect against the effects of UV rays. After some time, the aluminum oxide finish even reverses part of the damage caused by sunlight. In these cases, it restores some of the coloring and luster of your floors.
Place a Rug in High Traffic Areas
An excellent option for preventive floor care is to use a rug. One particular place you'll want to start is in entryways. Place a mat outside to encourage your family and guests to wipe off their feet before tracking dirt inside. You may also want to place a new rug on the inside of your door for extra protection.
Placing a mat in other areas around the house that see a high amount of foot traffic is also a great way to keep your engineered wood safe. Make sure that you shake off any dirt from these rugs at least once a week to prevent particles from moving onto your floors.
Pad Underneath Large Items
Similar to setting up a rug in your home to prevent the traction of dirt particles, adding a soft pad beneath the bottom of furniture and home decor makes a significant impact in reducing the number of scratches.
If the couch gets bumped, it won't produce an unsightly stain. Equally, any home decor on your floor will not rub up against your hardwood top layer when wearing these mini coasters.
Avoid Rough Cleaning Products
If you haven't noticed yet, your engineered wood flooring scratches easily. Okay, so you probably did notice, but sometimes it's a habit to use abrasive cleaning materials when trying to knock out stuck-on particles and stains.
Using a bristle brush, especially those made out or wire bristles, or steel wool should be avoided at all costs. If you need to remove something from your floors, try a microfiber scrubber instead.
Don't Use a Steam Cleaner
While we often view the steam cleaner as an indispensable ally when cleaning floors, in the case of engineered hardwood, it does far more damage than good. Because this floor cleaner uses hot water in large amounts to clean floors, the veneer quickly absorbs these excessive amounts.
By allowing all this water to seep into the top layer of the wood, it damages the material in a way that cannot be easily repaired. Even though engineered wood is less susceptible to water damage than regular wood, it does not mean it is impervious.
You now have several different tips and ideas to rely on when cleaning engineered hardwood floor sections in your home. Avoid any unnecessary cleaning solutions, stick with basic dusting, and provide your hardwood floor with all the love and care it deserves. Once you've mastered those few floor cleaning staples, nothing will stand in the way of your beautiful wood flooring.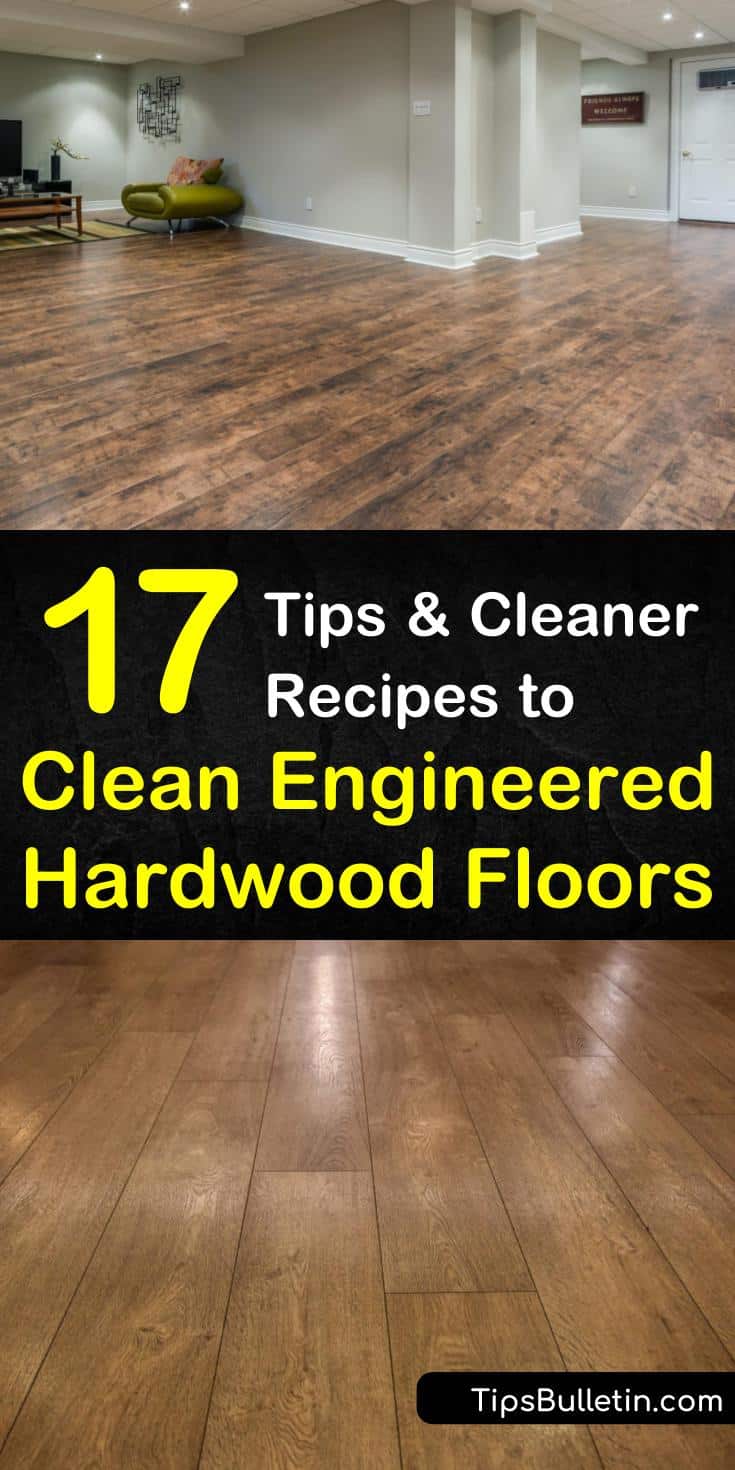 If you enjoyed these engineered wood cleaning dos and don'ts, remember to share how to clean engineered hardwood floors with everyone you know on Facebook and Pinterest.