Surprisingly, even epoxy grout can grow mold, which means we have to know how to clean epoxy grout. Some types of mold can grow in the grouting, backsplash, and also the tile surface. Even the grout residue and other sealants can be a fantastic place for mold to grow. Learning how to clean epoxy grout will prevent each of these issues.
DIY is always the best way to solve a problem, and you will become better at solving these problems yourself the next time. Be careful if your grout color is anything but white, however. Chemical mold remover can damage that color and your tiling.
These tips will clean grout haze without any damage to your showers. You can clean epoxy grout without any concerns. A toothbrush with a stiff bristle or a scrub pad are the only tools you need.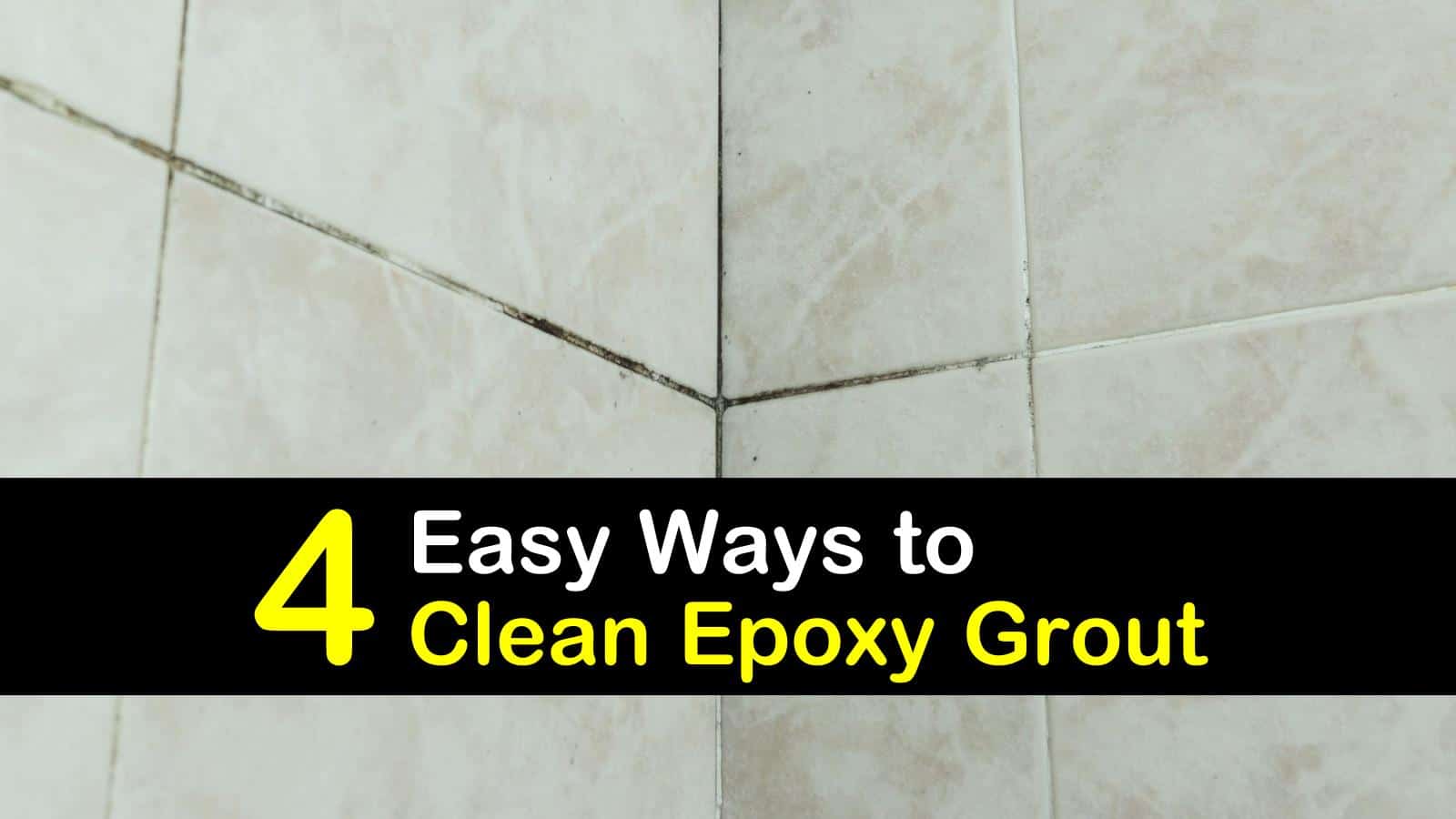 Cleaning Epoxy Grout
Mold and mildew grow where there is a lot of humidity in the air. The specks of dirt and dust caught in the water provide just the right nutrients for it to thrive. So, to remove the mold and mildew, we need to expose it to things that are not nutritious for it. We can use vinegar, bleach, or an alkaline solution to kill them.
Vinegar Epoxy Grout Remover
Ceramic tile is as close to perfectly stain resistant as possible and cleans up easily. The grout lines aren't so lucky, however. The roughness can attract a ton of dirt if the installer didn't do a complete job.
If epoxy residue was left behind, cleaning could be even harder. Vinegar is the best way to remove grout haze that may be clouding the surface of your tiles. In addition to cleaning epoxy residue, if you encounter mold on your tile or grout, this natural mold cleaner recipe is ideal for taking care of the black spots and sanitizing the area, as well.
This epoxy grout remover contains vinegar, which can be somewhat acidic. If you see grout falling off the walls, or the colorant changing, try one of our other tips. This is a heavy duty solution that cuts through the worst stains.
This vinegar mixture can be your best friend in removing dirt and it makes a dynamite shower grout cleaner. Use a scrub pad soaked in the vinegar solution and rub it against all the grout lines, from the ceiling to the floor of your bathroom.
Rinse it off with clean water after about 15 minutes. The discoloration or the dirt will come off the walls and your bathroom countertops. If you have significant areas of mold, this might solution may not be strong enough to get rid of that. You'll need natural ways to kill mold instead.
Cleaning Epoxy Grout with Bleach
Cleaning epoxy grout with bleach is another easy option. This grout cleaner will rub out the discoloration and dirt from your grout lines with ease.
Decant the recipe into a spray bottle. Spray it all over the epoxy resins of your countertops and shower walls to remove grout stains anywhere they show up. With a circular motion, use a scrub brush on the resin and the surface of the tiles.
Don't scrub too hard, but do put in enough effort to remove the dirt. It'll work well enough that you can avoid using Aqua Mix, and instead use our epoxy grout cleaning tips.
Depending on the type of grout you have, this recipe may not be appropriate. Double-check by doing a little research first.
You may also have some luck with baking soda. Many people clean grout with baking soda by making a paste and rubbing it onto the grout. Usually, a quick rinse is all that's required but you can scrub the area with an old toothbrush if needed.
How to Clean Epoxy Grout with an Alkaline
An epoxy grout film remover like this one is easy to make. It'll be a stripper of mildew off of natural stone and porcelain tile as quickly as grout.
It is easy to make an alkaline grout joint cleaner at home. This grout cleaner is valuable because it won't remove the sealer, but it will remove the epoxy grout haze on your wall and floor tiles. Mix the recipe, and scrub it on the walls with a scrub pad.
Make sure to cover all the grout. After you have done that thoroughly, wait 15 minutes for the solution to have the effect you want. Then rinse it off with a clean scrub pad or the showerhead. Presto, clean shower grout!
If how to clean epoxy grout isn't enough to have a beautiful bathroom, you might want to rely on a DIY ceramic tile cleaner.
Pressurized Steam is the Professional Solution
If you still aren't satisfied with how clean your tiles are, you might want to use the professional solution – a steam cleaner. You can rent a tile and grout steam cleaner at most hardware stores. Of course, this solution uses hot water rather than other household supplies to boil off the dirt.
Dirt and stains will come right off the tile grout on the walls and even off your tile floor. Use steam to remove epoxy paint from a fiberglass bathtub, too. Test a small area first, though, to see exactly how the machine works at removing stains. Once you know how to use it effectively, and without damaging the urethane surfaces, go over your white grout and stone surfaces carefully.
To prevent mold, you must follow a few other suggestions. You will have to dehumidify your bathroom, and that means buying a dehumidifier or turning on the fan. A fan pushes the damp air out of the bathroom.
If your grout is beyond repair, you may need to tackle removing old dry grout from tiles and replacing it with new epoxy or cement grout. This way you can start over with fresh clean grout and it will be easier to maintain.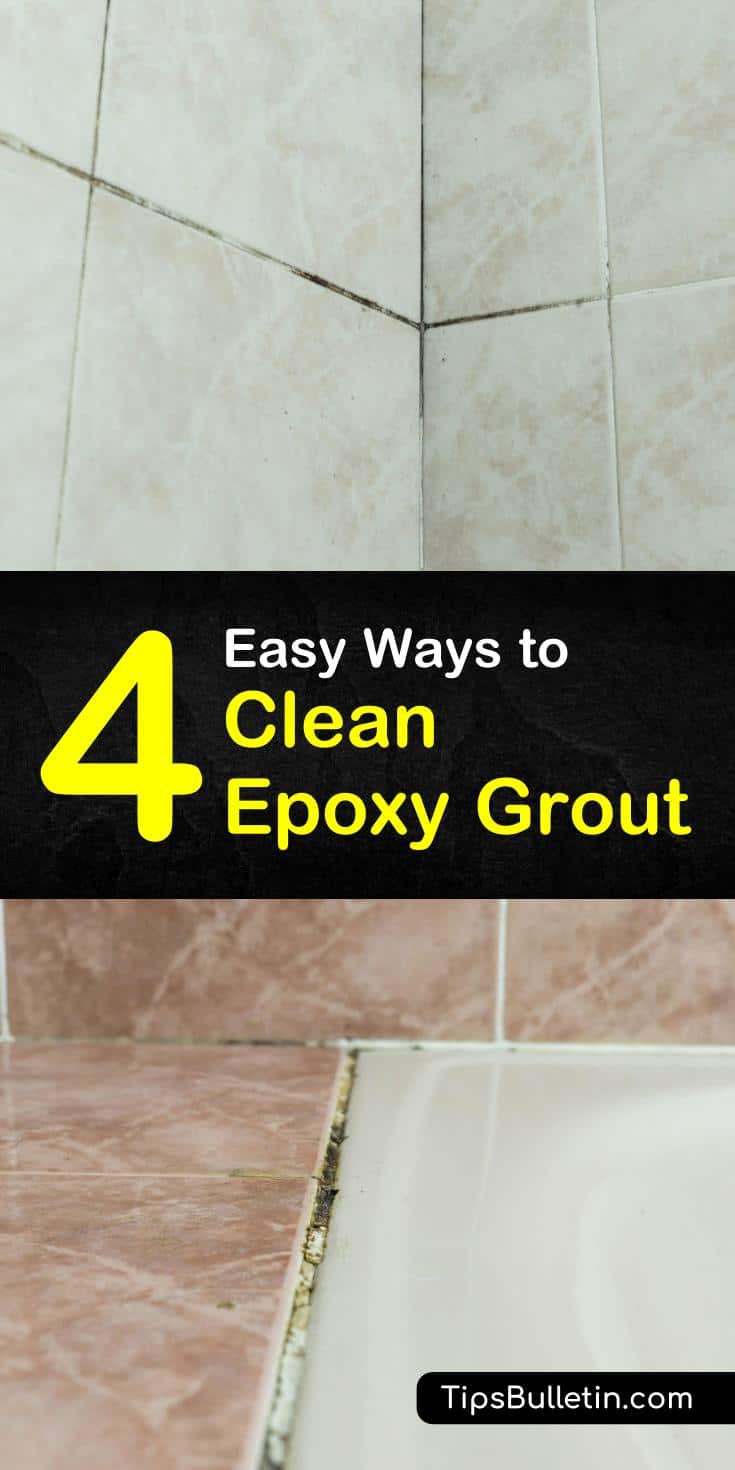 Now that you are an expert at how to clean epoxy grout, share your newly won knowledge of epoxy grout cleaning with others on Pinterest and Facebook!