Are you scratching your head over how to clean exterior bronze door hardware after noticing yours looking dull? Cleaning exterior bronze door hardware is integral to creating an excellent first look of your home for your guests and family. Your front door area is the first thing visitors see. Clean door handles give a good impression whether your home has solid brass, polished chrome, or bronze hardware.
Antique hardware adds character, whether for cabinet knobs or entry doors. These stylish fixtures require extra care; the appropriate cleaning protocols to ensure they don't become scratched or tarnished. Don't buy expensive chemical bronze cleaners from the hardware store.
Use natural items around the house to save money and avoid exposure to toxic compounds. Choose your favorite technique based on the ingredients you have and your preferences. Learn how to polish exterior bronze door hardware with pantry items to keep your doors appealing and inviting.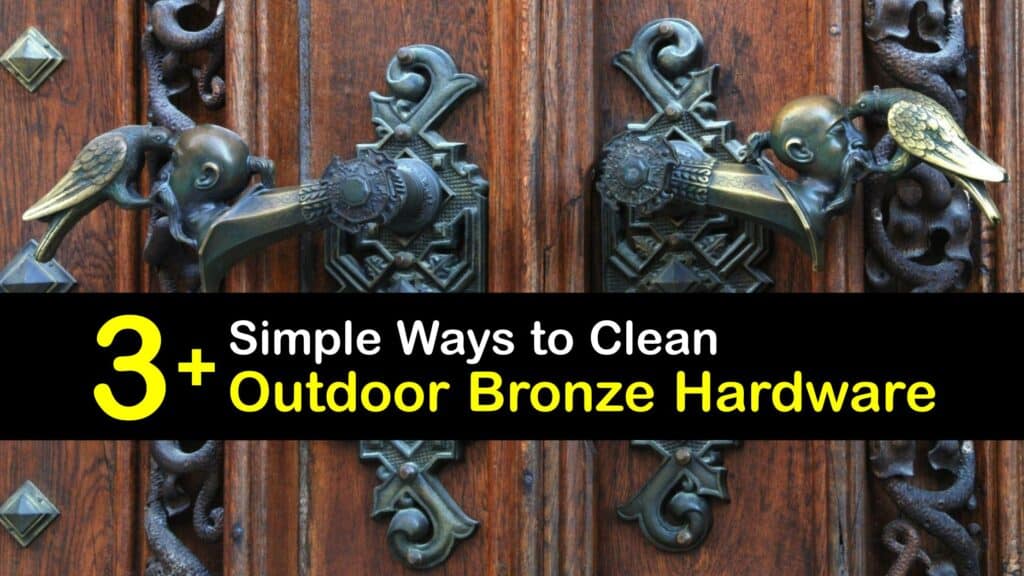 How to Polish Exterior Bronze Door Hardware Quickly
You're not alone if you're unsure how to clean exterior bronze door hardware. Many homeowners aren't confident about the correct technique to clean their door fittings without damaging them.
Explore our tips for cleaning exterior bronze door hardware with dish soap, steel wool, and ketchup and making brass antique looking with vinegar. Ensure there's always a clean brass door handle to greet your guests with some elbow grease and pantry items.
How to Clean Exterior Bronze Door Hardware
White vinegar is a powerful cleaner to darken and tarnish brass to look antique and keep antique bronze exterior door hardware clean and polished. When combined with flour and salt, vinegar makes a mess-free cleaning paste.
The acetic acid in the vinegar cuts through stubborn grime. It eliminates buildup to restore tarnished brass to its former shine. Find distilled white vinegar in the canning aisle at your local grocery store.
Mix the vinegar, salt, and flour in a bowl and use a soft cloth to spread the paste on your exterior door hardware. After the paste rests for at least an hour, use a clean cloth to rinse it off, let it dry, and add a few drops of olive oil to a microfiber towel to buff it to a shine.
Note: Never use this white vinegar cleaning method on lacquered brass, as the acidity of the vinegar may damage or remove the lacquer.
Cleaning Exterior Bronze Door Hardware
Steel wool is the most painless way to strip spray paint off metal hardware at home. Choose fine grit #0000 steel wool from your neighborhood hardware store.
Focus on rubbing the steel wool back and forth over the paint to remove it. Wipe the knob with a damp cloth and finish with a coat of brass polish. Always use a fresh piece of wool for each new project you start, as damaged steel tendrils could scratch antique brass.
Clean Old Bronze Door Handle Parts With Dish Soap
Dish soap is a mild soap that cuts through dirt and grease, so it's ideal for cleaning bronze or stainless steel door pieces. Mix a tablespoon of liquid dish soap into three cups of warm water to make a DIY brass cleaning and polishing solution for door knobs and hardware in your home.
Dip a clean sponge or cloth into the liquid, use it to clean your door hardware, and wipe the soap away with a fresh, damp cloth. Finish by polishing exterior bronze door hardware with a soft cloth for a seamless finish.
Clean an Aged Bronze Door Handle With Ketchup
Though we typically put it on fries, ketchup is an excellent way to clean door knobs, oil rubbed bronze exterior door hardware, or brass door handles. Ketchup contains vinegar, giving it the same cleaning abilities thanks to acetic acid.
Coat your bronze door accessories in ketchup and let the sauce rest on the surface for up to two hours. Damp a microfiber cloth in distilled water and wipe away the condiment. Use a clean cloth to polish the region with brass polish or olive oil.
Did this article help you learn how to polish exterior bronze door hardware? A clean brass doorknob ensures your front door looks its best, so your home has a clean and cared-for overall look.
Don't let dirty bronze hardware bring down your curb appeal. Use proven home remedies to make quick work of keeping bronze or brass door fittings clean.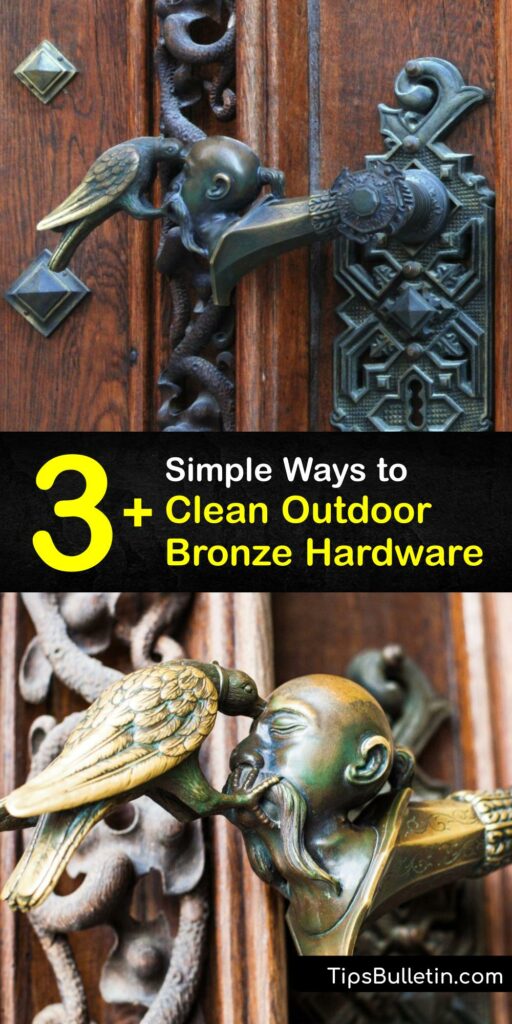 If you loved this insightful article on how to clean exterior bronze door hardware, please share it with your friends and family cleaning exterior bronze door hardware on Pinterest and Facebook.