With the hustle and bustle of life, the seats in your car have probably suffered many accidents and spills. You don't need to take your vehicle into the detailer for cleaning, however. We'll show how to clean fabric car seats at home for a fraction of the cost of professional care.
If you're like most people, you probably spend a lot of your time in your car. You've likely also had your share of lunches on the go while driving. A little spilled coffee here and a ketchup stain there can add up. If your car's upholstery is in some need of a clean up, then you've come to the right place.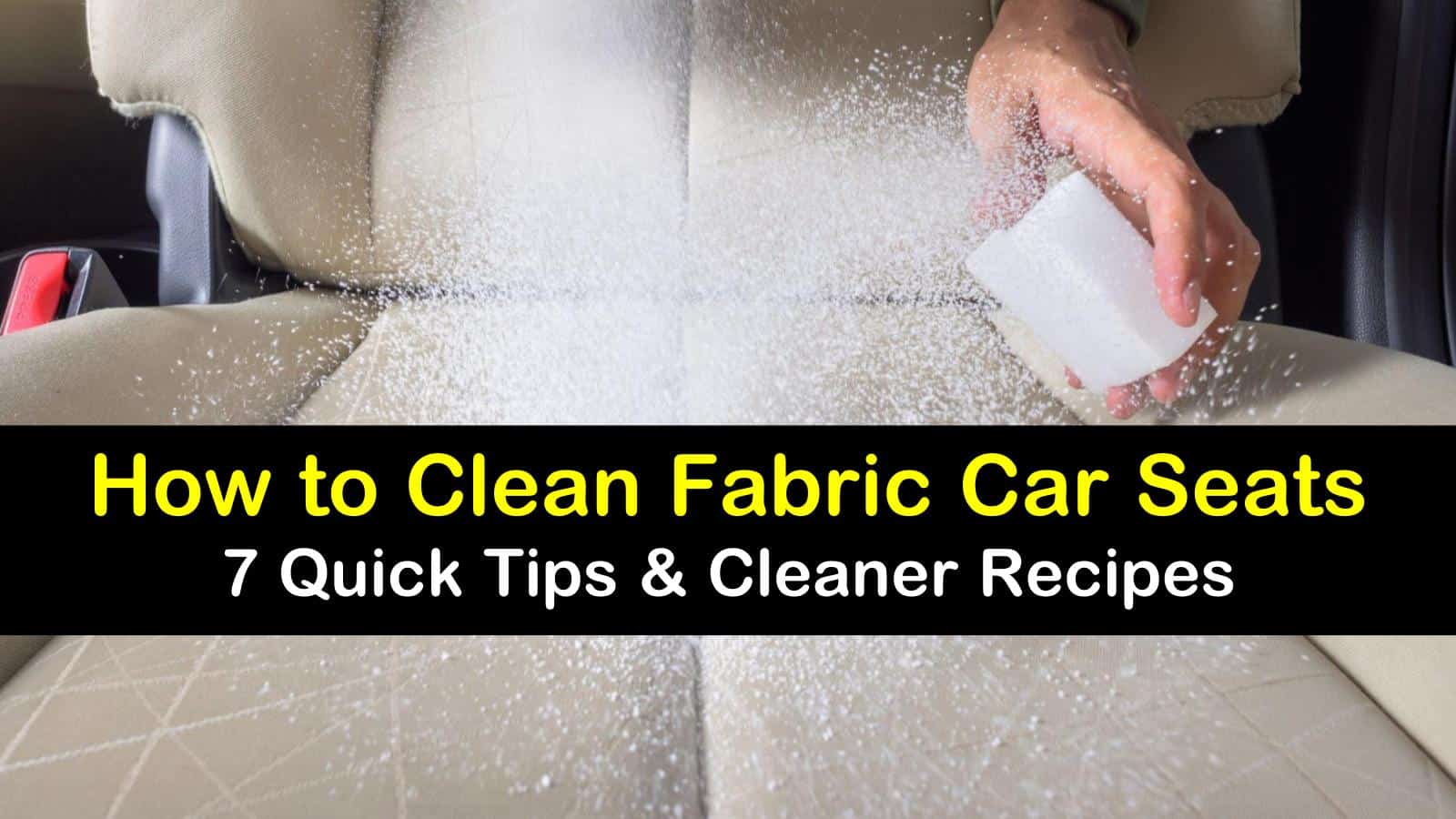 How to Clean Fabric Car Seats
It is possible to get the clean cloth your car seats had once upon a time. All you need is the proper upholstery cleaner, some elbow grease, and a little bit of time to remove stubborn stains off the car seats. The following methods will give you the cleaning solution that your car interior needs.
1. The First Step in Cleaning Car Seats
There is a step you should take before you begin cleaning the car seats with a cleaning solution, and that is to vacuum away any loose debris, dirt, and hair from the fabric's surface. Vacuum the car seats after using a cleaning solution on them, as well, to remove any dried cleaning residue and dirt.
Vacuuming Cloth Seats
There are two ways that you can vacuum out your car. The first is to take it to your local car wash or gas station. Many of these automotive places have a high suctioning vacuum that you can use for cleaning your car.
You can also opt to use your vacuum cleaner at home to get the job done. You'll probably need a heavy-duty extension cord so that you can easily reach all areas of your car's interior. Use the hand-held vacuum tool to clean the seats, making sure that you get into the crevices of the seat upholstery and along the seams.
2. How to Clean Car Interior Fabric Stains
If you need to do a touch-up job on your car seats to remove stubborn stains from small areas, use the following method for how to clean car interior fabric stains.
Fabric Car Seat Stain Remover

1/4 cup baking soda
1 cup of warm water
Toothbrush
Combine the baking soda and water in a small bowl and then lightly apply a layer of the solution to the stained area of the fabric. Use the bristles of a toothbrush to work the stain out of the material using a gentle circular motion. For difficult stains, allow the mixture to sit on the stain for about 30 minutes before scrubbing. Use a damp, clean cloth to clean away residue.
3. Cleaning Car Seats with Club Soda
Club soda makes a pretty good upholstery fabric cleaner for cars if the seats are soiled lightly with dirt. Club soda is a weak acid and consists of water and carbon dioxide. While it is probably not useful for heavy-duty cleaning, it can work quite well for light cleaning.
Club Soda Cleaning Method
Pour some standard club soda into a spray bottle and spray it onto the surface of the car seat. Use a scrub brush to get the soda into the fabric and loosen the dirt. Use a clean towel to wipe away residue.
4. Best Way to Clean Fabric Car Seats
The following technique is the best way to clean fabric car seats because of its ingredients. The dish soap and hot water will scrub surface dirt while the vinegar will break up and loosen grime that is more embedded into the fabric. Vinegar is an all purpose cleaner that also works well for cleaning leather car seats.
Heavy Duty Car Fabric Cleaner

1 cup white vinegar
Dish soap
1 gallon of hot water
Interior brush
Microfiber towel
Bucket
Pour the hot water and vinegar into a bucket and add a few drops of dish soap. Dip the brush in the solution and use the scrub brush to clean a small area of the seat.
Follow this by using a damp towel to wipe the residue away. Repeat in sections until both the front and the back seat are clean.
5. Cleaning the Car Seats with Laundry Detergent
Probably one of the simplest ways to clean cloth car seats is to use laundry detergent. More than likely, you have some sitting in the laundry room.
Detergent Car Seat Cleaner

Laundry detergent
Water
Microfiber cloth
Get the cloth wet with warm water and pour a little bit of the detergent onto it. Use your hands to work the soap and water into suds on the cloth. Wring out any excess liquid to prevent saturating the car seat.
Use the cloth to wipe the stained areas of the seat using circular motions. Once the stain is gone, dampen a clean cloth with cold water and wipe all of the soapy residue from the seat.
6. How to Freshen Car Seat Fabric
If your car seats aren't stained or soiled, but you still want to give them a fresh, clean scent, try a DIY fabric refresher. The following method is the simplest way to remove odors from the car seat using only one ingredient.
DIY Car Seat Odor Eliminator
Baking soda naturally absorbs odors and works quite well on car seats and car carpeting. Sprinkle some baking soda onto all fabric areas of the seats. Allow the baking soda to sit for a few hours and then vacuum.
7. Making Your Own Car Seat Freshening Spray
If you enjoy the smell of store-bought air fresheners, but you're looking for something a little more natural, make a fabric freshening spray using a few simple household ingredients.
Car Freshening Spray

1/2 cup white vinegar
1 cup distilled water
1/2 cup rubbing alcohol
15 drops of essential oil
Spray bottle
Start by picking your favorite essential oil. Citrus oils provide a fresh, invigorating scent while lavender is slightly floral and promotes relaxation.
Mix the vinegar, water, alcohol, and essential oil in a spray bottle and shake well. Lightly spray the seats with your homemade freshener and wipe using a dry cloth.
You probably spend quite a lot of time in your car. Using the right recipes to clean car upholstery can make those seats look, feel, and even smell like new. Just imagine how good the interior of your car will look once you go through the process of cleaning cloth and fabric seats using the right car upholstery cleaner.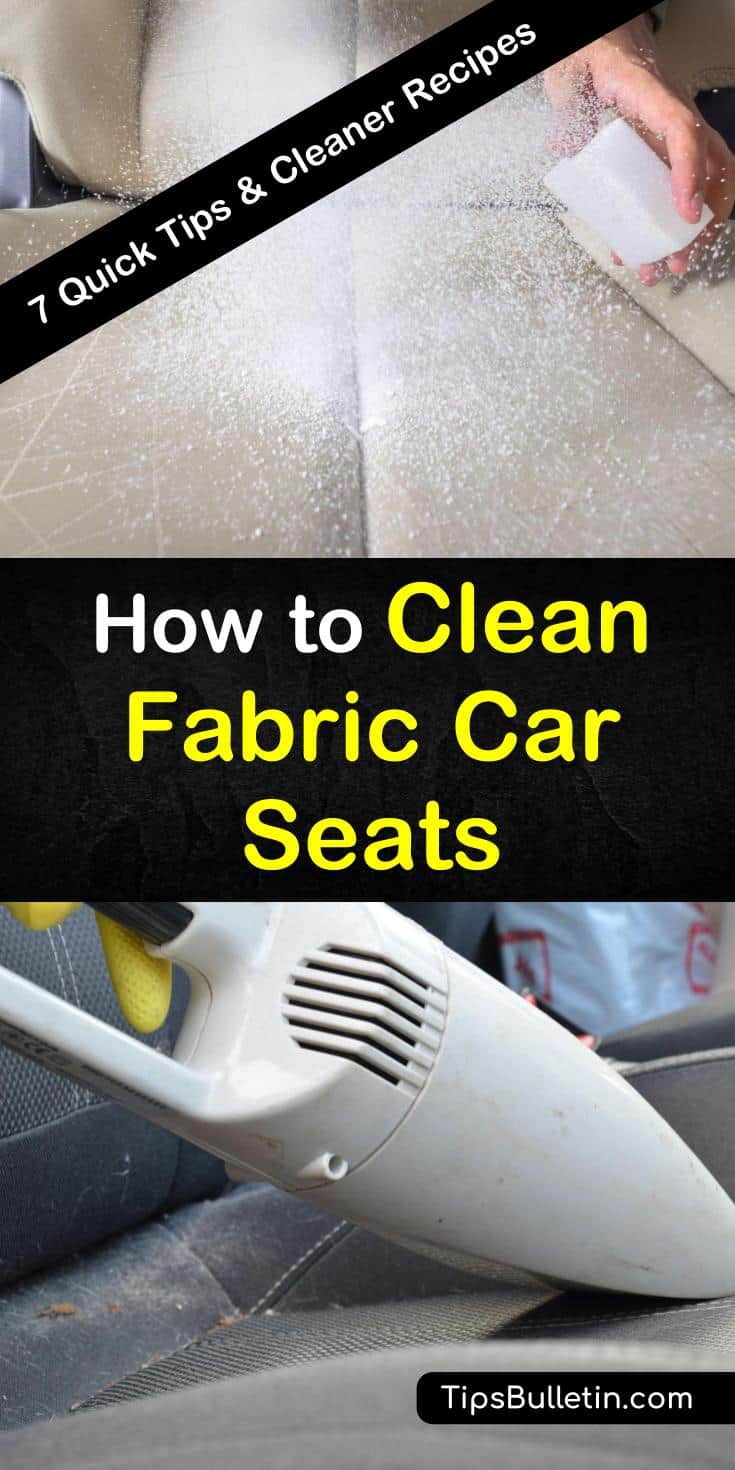 Car upholstery cleaning won't be a chore as long as you're using the right cleaning products. Now that you're aware of the ins and outs of how to clean fabric car seats, why not share these car seat cleaner tips with your friends on Facebook?