The right necklace or earrings can make all the difference when choosing an outfit. However, with the delicate materials and many crevices, it's easy for jewelry to accumulate grime. We're here to help you learn how to clean fake jewelry without causing damage.
There are many commercial jewelry cleaning solutions for fine jewelry made of precious metals like solid gold, but these won't work for more common costume jewelry. When it comes to plated jewelry or other kinds of accessories that aren't of the highest quality, you need to be diligent about keeping them clean.
This means you should be looking through your jewelry box regularly so you can clean your favorite pieces. The best thing about jewelry cleaning is that you can make your own cleaner at home with a few easy-to-find products. Next time you have to clean jewelry, raid your cupboards, and follow our easy guide.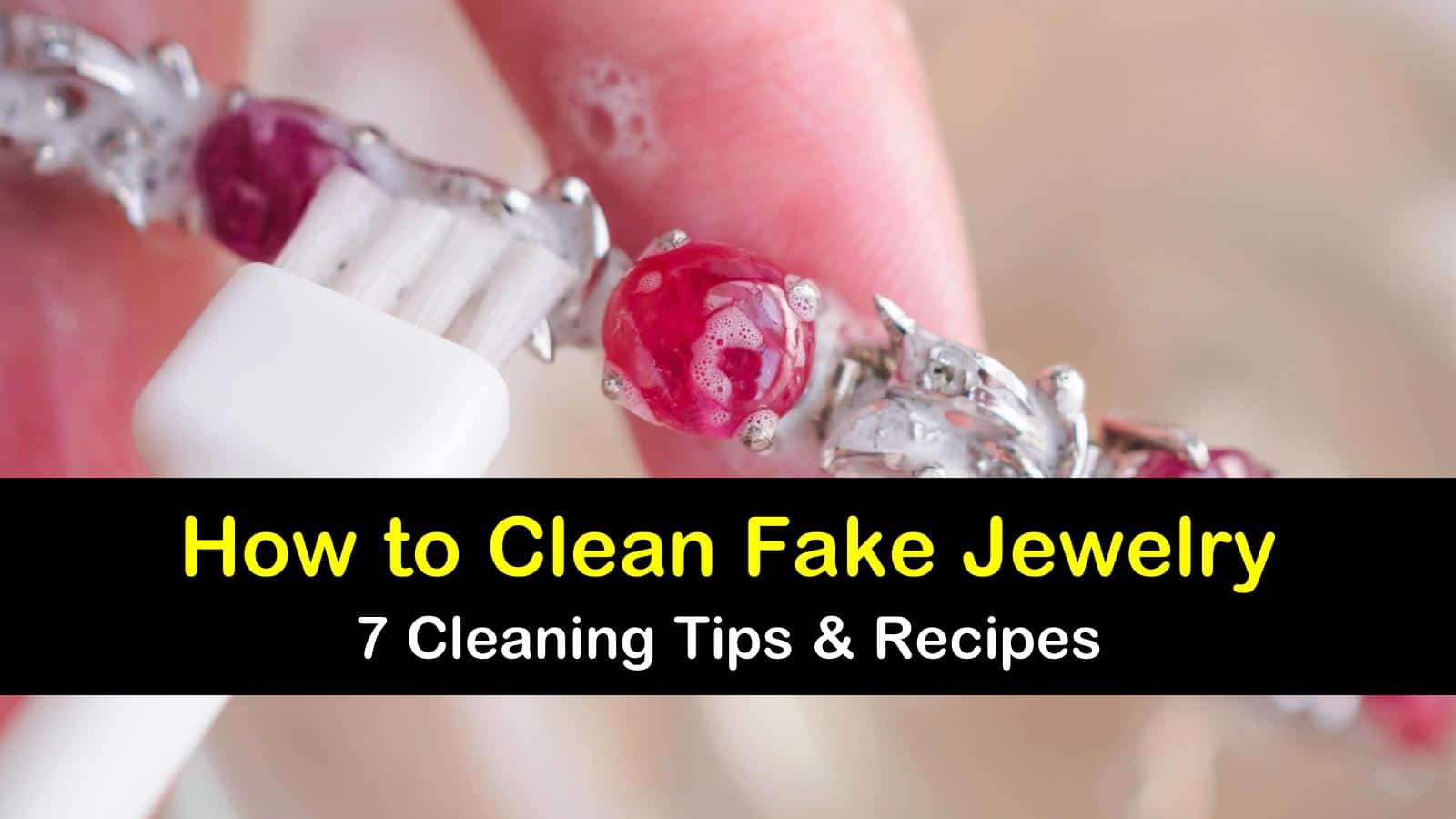 Tips for Cleaning Fake Jewelry
Before cleaning any jewelry, it's important to know what you have, or at least have some idea what it's made from. There is a different way to polish a silver necklace or clean copper jewelry than a bracelet or ring that is made from stainless steel or pewter. The process is also different for how to restore costume gold jewelry.
You can use a magnet to tell, in part, from what your jewelry is made. Pure silver and gold do not react to a magnet, while other metals like stainless, brass, and pewter do.
Cleaning stainless steel jewelry or jewelry other than silver, gold, or platinum is easy if you first identify the type of metal. Then, you can choose the appropriate home remedy for jewelry cleaning and shine it right up again without worrying about harming the material.
Tips for How to Clean Fake Jewelry
To clean your jewelry, you need to find the right cleaning solutions. However, there are a lot of ingredients that are safe to use to clean gold, silver, and gemstones that are harmful to costume jewelry. Remember to use as little liquid as possible.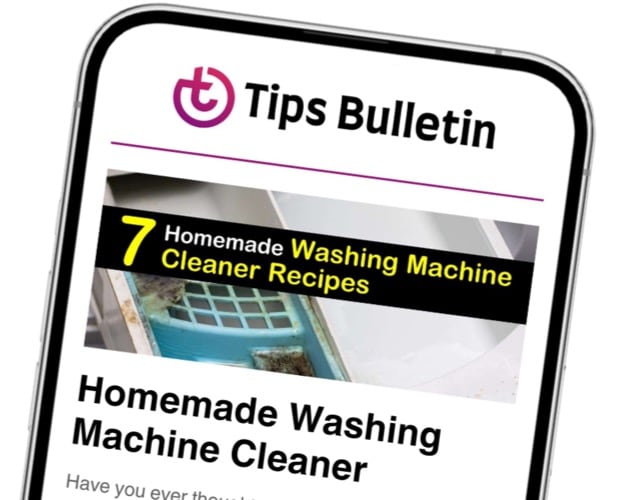 Finally, an email that Transforms Your Home.
Get the latest home and garden tips from our experts, delivered straight to your inbox.
Fake jewelry uses a lot of glues and adhesives, and too much moisture can weaken them or destroy them completely. This means you should never leave your fashion jewelry to soak. Additionally, you need to stay away from very acidic ingredients.
This includes household items like white vinegar and ammonia, which would otherwise make a great at home jewelry cleaner for gold and diamonds. If you do use these ingredients, use them sparingly, and treat your piece of jewelry gently while cleaning.
Clean Pewter Jewelry with Mild Dish Soap
Pewter is a metal that is susceptible to discoloration, as it darkens over time. However, pewter cleaning is easy and can get your pieces looking good as new.
The first step to cleaning pewter jewelry is to wash it in soapy water. Pour some hot water into a bucket or small dish and add a few drops of mild dish soap.
Grab a soft cloth and dip it in the water and gently rub the piece. Using warm water, rinse the soapy jewelry and dry it with a soft, clean towel.
How to Clean Cheap Jewelry with Baby Shampoo
Cheaper jewelry that is not high in robust metals requires much more care during cleaning. When it's time to clean costume jewelry, the best ingredient is baby shampoo.
Add equal parts baby shampoo and water to a dish. Grab a soft toothbrush and gently scrub the surface. For hard-to-get areas, use a Q-tip or toothpick.
Rinse off your jewelry with cold water and dry it with a microfiber cloth. If your jewelry has rhinestones, it's essential to make sure it doesn't get too wet as they could loosen from their casings.
Clean Brass Jewelry with Lemon
You can learn how to polish brass jewelry just like your other jewelry pieces made from other materials. However, brass is a much hardier material than what you see in most fake jewelry. This means it requires harsher ingredients to remove tarnish.
This brass cleaning solution is excellent not only for your jewelry but also for any other brass products that are beginning to tarnish. You can also use it to make copper shine and to clean silver jewelry and other tarnished silver products.
In a bowl, combine the flour and the salt and add in the vinegar. Mix well to create a paste. Grab an old toothbrush and dip it in the mixture and cover the jewelry with a thick layer of paste.
Be sure to get into any cracks and crevices in the jewelry or other brass pieces. Let the mixture dry until it begins to flake.
Grab a clean, soft cloth and rub the rest off. Slice up the lemon and then cover the bottom of a shallow bowl with baking soda. Dip the lemon into the baking soda, coating the cut side of the fruit.
Rub the slice over the brass to remove any leftover tarnishing. Rinse the piece of jewelry with hot water and dry thoroughly with a soft towel.
This natural jewelry cleaner removes even the most stubborn tarnish and stains from built-up gunk, fingerprints, and other dirt.
How to Clean Fake Gold
Fake gold jewelry is an excellent alternative to the real deal. It still looks nice and costs much less, but it can also have a much shorter lifespan than if you don't care for it properly. If it's fake, you cannot clean gold jewelry the same way you do the real stuff.
There is a different approach you need to take in how to clean fake gold. Tarnished fake gold jewelry tends to rust, so the first step is to figure out how to get rust off jewelry. Toothpaste is the best DIY jewelry cleaner for rust, and it's easy to use.
Grab an old toothbrush put some toothpaste on it. Coat your jewelry thoroughly and rinse it off in a cup of water. Wipe your item dry with a paper towel.
Use Aluminum Foil to Clean Sterling Silver Pieces
If you've tried to clean silver jewelry, then you need to forget everything you learned. You cannot use the same cleaning products on sterling silver. The best way to clean tarnished sterling silver is with aluminum foil.
Line a baking tray with clean aluminum foil and spread your jewelry out on top. Dust the jewelry with a layer of baking soda, so each piece is covered.
Boil some water and then slowly pour it over baking soda-covered jewelry. Flip over your items and repeat this process. Rinse your sterling silver jewelry and dry with a clean cloth.
How to Care for Clean Jewelry
While cleaning jewelry is the only way to get it looking as good as new, there is a lot you can do to keep it in good condition. Make sure you always keep your jewelry dry. This means you should take it off before washing your hands, showering, or doing any other tasks where it might get wet.
You should also keep your jewelry away from body lotion or perfume, as it may not react well with your pieces. Jewelry should be the last thing you put on when getting changed, and the first thing you take off. Keep it away from air as often as possible, whether that means keeping it in a zip-seal lunch bag or wrapping it in anti-tarnish paper.
Prevent oxidation and discoloration by coating your jewelry with clear nail polish. With these easy tips and recipes for cleaning fake jewelry, you can keep your favorite pieces around for much longer.
You can cut back on your visits to the jeweler with regular cleanings without fear of damage. Remember to be gentle and avoid harsh ingredients, and your jewelry will be sparkling in no time!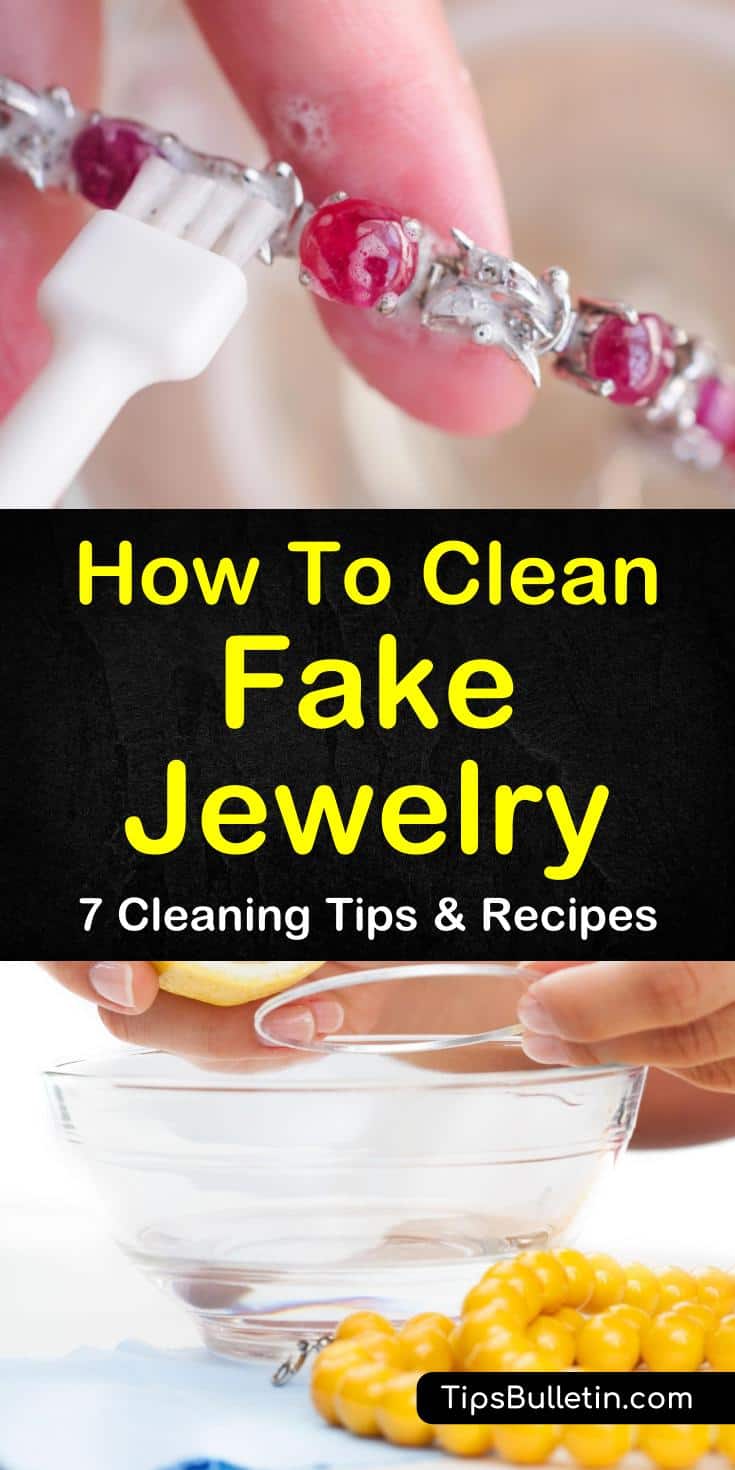 We hope you found these home remedies for cleaning cheap jewelry helpful! If you were able to learn how to clean fake jewelry, then share our cleaning hacks on Facebook.