Tile floors might look nice, but learning how to keep the tile floor grout clean is a different story. No matter how often you mop or what you use to mop with, the grout between the tiles always looks dirty. If you want your tile floors looking their best, you need to learn how to clean floor tile grout.
There are several methods for cleaning floor grouting available, but they all do not clean the same. Some people prefer store-bought tile grout cleaners, while others enjoy using homemade, all-natural tile grout cleaners.
No matter what your preference is for floor grout cleaner, we are here to show you how to clean floor tile grout quickly and easily with products you already have around your home.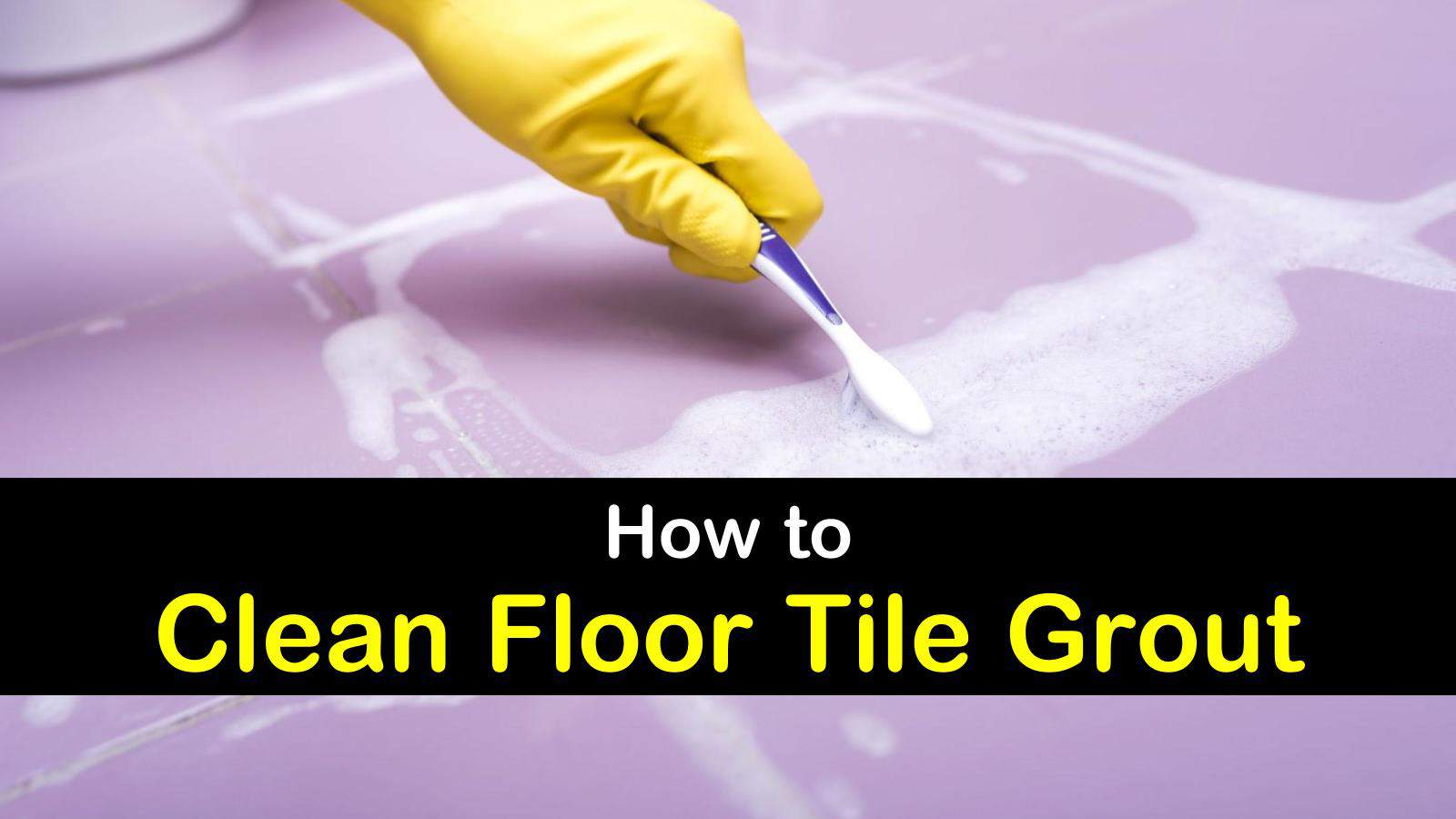 Efficient Ways to Clean Floor Tile Grout
Take a look among your cleaning supplies, and you're sure to find something that will work to get that nasty tile grout clean. There is no need to buy expensive cleaners when you likely already have some cleaning supplies in the closet.
You can make your own DIY bathroom products for the kitchen or other household areas with simple, everyday ingredients. We also have a couple of ideas for how to clean floor tile grout without scrubbing. It doesn't get better than that!
How to Clean Floor Tile Grout with Baking Soda and Vinegar
This tile cleaner recipe is a two-step process that combines the cleaning power of two common cleaning agents – baking soda and vinegar – to clean grout. Add a few drops of your favorite essential oil to mask the vinegar smell, if you like.
For this vinegar baking soda cleaner combine one part water and three parts baking soda to make a thick paste. Use your fingers to spread the baking soda paste across the grout. The baking soda paste is safe for all colors and styles of tile but proceed with caution when using vinegar as it may damage limestone and marble.
Combine equal parts water and white vinegar inside a spray bottle. Shake to mix and spray liberally over the baking soda paste. The baking soda will start bubbling up immediately.
Again, do not use vinegar solution on natural stone tile. Once the fizzing stops, use either a scrub brush or a toothbrush and scrub the grout lines. Focus on the corners and edges of the grout to ensure they get cleaned, as well.
Use a mop and some hot water to remove the cleaning residue. You will need to rinse the mop often so the residue doesn't spread around the floor.
If you have had new grout installed and there is some residue on your tiles, use this mixture to remove grout from tile surface so that your tiles and grout remain shiny clean. It's never been easier to remove dried grout from a tile, but seeing is believing!
Best Homemade Tile Grout Cleaner
If you are looking to clean tile grout with as little elbow grease as possible, this grout cleaning recipe is for you.
Sprinkle your dirty grout with baking soda. Pour the hydrogen peroxide in a spray bottle and spray the baking soda. Let the solution fizz for about ten minutes.
Scrub the grout lines with a grout brush. Mop entire floor with warm water to remove all cleaning residue.
Cleaning Floor Grouting with Oxygenated Bleach
Oxygenated bleach is safe for most tile types and can also be used when cleaning laminate flooring. If you have colored grout, you may want to try a different method, as the cleaner's bleaching ability may discolor colored grout.
Combine the bleach and water right before cleaning dirty grout for the best results. Pour enough bleach solution to cover the entire grout line and allow to soak into the grout for several minutes. Using nylon-bristled brush, scrub each grout line using a back and forth motion, making sure to get corners and edges where grime accumulates.
If needed, you can increase the cleaning power of the bleach solution by mixing an even stronger solution or by scrubbing the soiled areas with oxygenated bleach powder directly. Always pour the powder into a separate container before dipping the brush in it. Rinse with clean water poured onto the grout lines and dry with a clean mop or a towel.
You can also use hot water with a squirt of dish soap to help clean up the grout cleaner. Be careful when using oxygenated or chlorine bleach for grout cleaning as they both contain harsh chemicals that are extremely harmful to breathe.
Bleach in any form is corrosive, and it may destroy your grout and tile floors over time. Use chlorine bleach or any other soap scum remover cleansers that contain chlorine bleach sparingly on your grout.
Before using any bleach-based products, ensure there are no traces of any cleaners left, but especially vinegar. Any amount of vinegar mixed with bleach will result in toxic chlorine gas that is very dangerous.
All Natural Floor Grout Cleaner
This kitchen floor grout cleaner is also safe to use in bathrooms, showers, and everywhere else grout is present. This recipe uses three main ingredients, with each component being highly effective in different ways. Hydrogen peroxide releases bleaching oxygen ions when mixed with baking soda and the dish soap cuts through dirt and removes grease.
To remove paint from floor tiles or grout or to clean another stain, create a paste with the above ingredients and apply with a scrub brush or old toothbrush. Allow the cleaner to sit for at least 15 minutes. The longer it sits, the better it is, as it gives the cleaning products time to work together to remove stains.
Rinse with hot water and wipe with a towel while gently scrubbing to remove any leftover cleaner from the grout lines. Learn how to mop floors the right way with a cotton or sponge mop with hot water. Rinsing and mopping after cleaning the grout crucial as it ensures no trace of cleaning solution is left behind for the cleanest looking floors.
Cleaning Tile Grout with a Steam Cleaner
Yes, you can use a steam cleaner to clean grout, but only use steam on unsealed grout or if you plan to replace your grout sealer as the steam from the cleaner is powerful enough to remove all of the sealants during cleaning. If you don't own a steam cleaner, you can rent one from many local home improvement stores.
The steam cleaner must have a steam hose and small brush attachment. Read the manufacturer's instructions before using the steam cleaner. Fill the water reservoir and do not add chemicals or soap, as they are unnecessary. Turn on the steam cleaner so it can pre-heat before cleaning tile grout.
Your instruction manual will tell you how long to wait before using it. Starting on one side of the room, move the brush slowly back and forth over each of the grout lines and ceramic or slate tile floor until you have worked your way across the room.
Steam is capable of lifting the toughest grout stains, as well as killing any mildew present. Use a dry towel or mop to remove any excess moisture from the steam cleaner on the tile floor.
Pressure Washing Your Grout
Pressure washers with DIY pressure washer soap work to clean, but use with caution. The force of the spray may cause dirt and grime to splash onto your walls. If using in the bathroom, the pressure washer makes short work of cleaning tile and grout but again, be cautious.
Old grout may crumble under the pressure washer's force. Water may seep in through any cracks and saturate the inner wall. Laminate, hardwood, carpet, and other non waterproof flooring can become damaged from the mess created when using a pressure washer. If using a pressure washer to clean grout, do so sparingly.
Clean Your Grout with Dishwasher Detergent
For grout that has a lot of build up from years of neglect, you can use dishwasher detergent and some warm water to get it clean. This method works wonders for those who thought they would never see white grout again. Mix one tablespoon of dishwasher detergent with some warm water to form a thin paste. Mix the soap until it is almost entirely dissolved.
Apply the cleanser to grout with a toothbrush and allow to sit on the grout for up to 15 minutes. Scrub the cleaner with an old toothbrush to get those grout lines clean. Use a rag to wipe off all of the detergents and then rinse thoroughly with warm water.
This solution also works as the best way to clean a shower; not only the grout but the tiles, as well. Get rid of soap scum, hard water stains, and mildew with this simple but effective cleaner.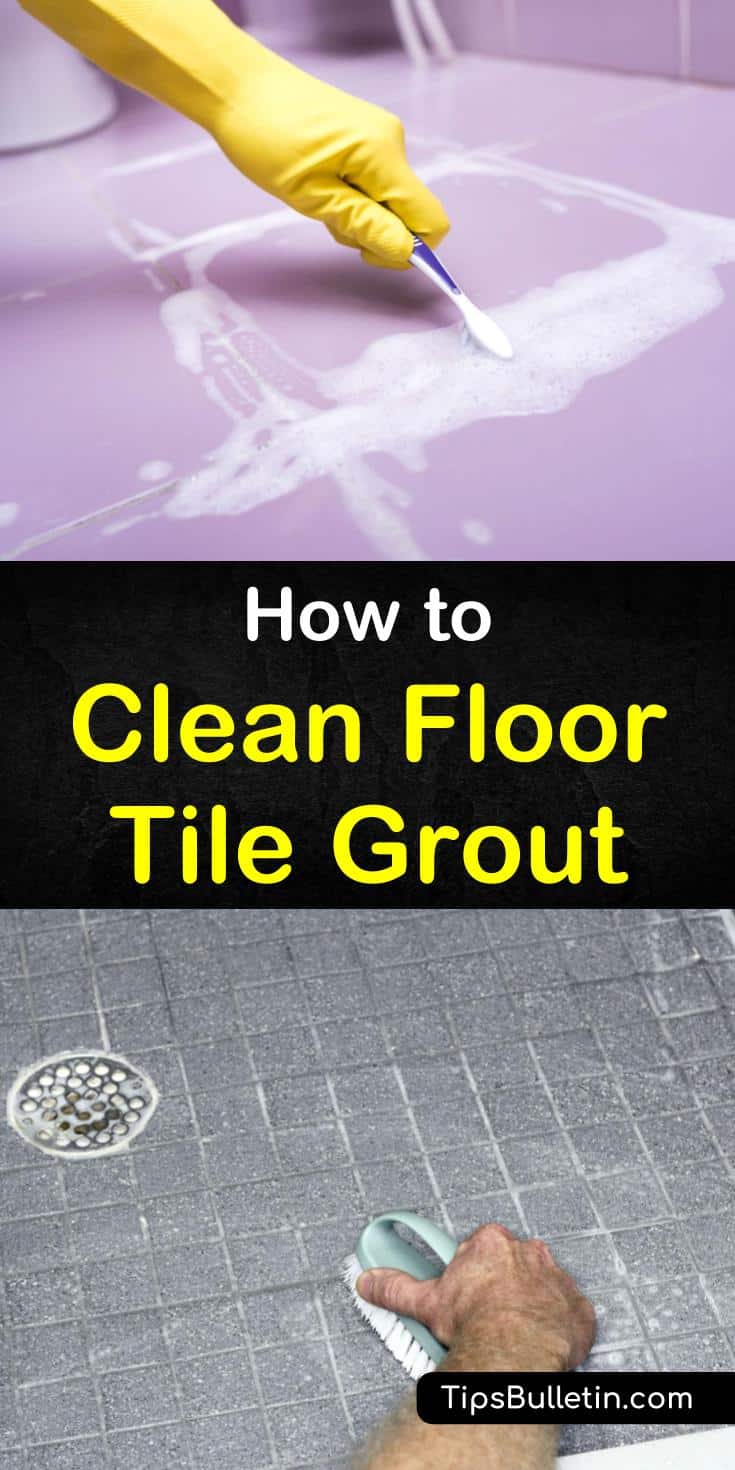 Thank you for reading our cleaning tips and recipes for the best tile grout cleaner. If you have found any of our tips for cleaning floor grout useful, please share with others on Facebook and Pinterest so others can learn how to clean floor tile grout.