Your front-loading washing machine may be a thing of beauty on a typical day. With high-efficiency characteristics that save you money on energy and use less water and detergent, who wouldn't want to show this washer a little love? But when it comes down to knowing how to clean front load washer, that's where your relationship gets a bit more complicated.
There are numerous ways to clean a front loading washing machine, all of which require some extra special attention when compared to top-loading devices. Unlike a top loader, front loaders are much more susceptible to mold and mildew smells, especially since excess water and detergent often sit in the drum after use.
This issue is hardly significant, however, if you have the right tools and strategies in place to properly maintain your machine. All you have to do is follow these quick and easy ways to clean a smelly front load washer until you find the technique you like.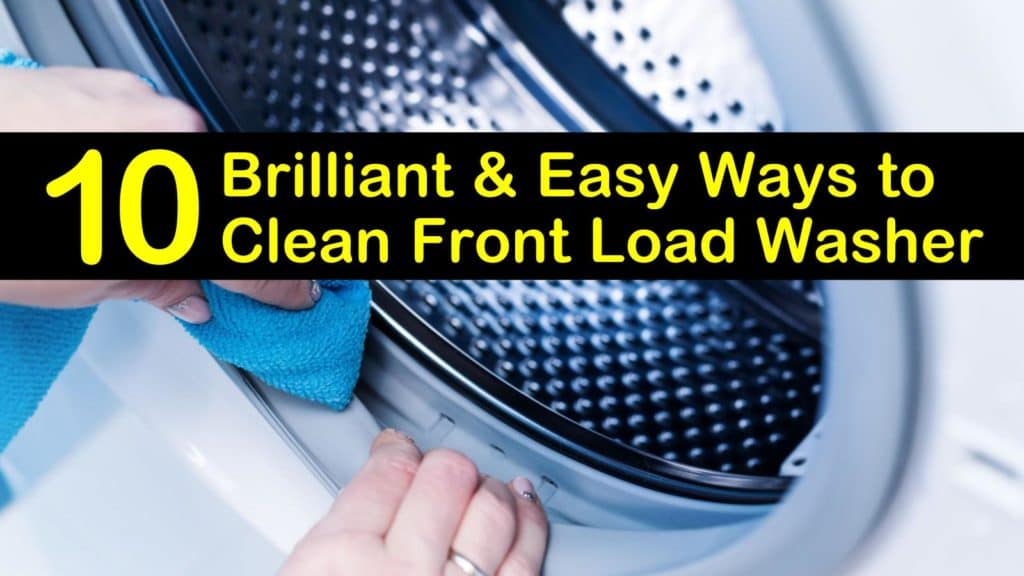 Fantastic Tips for Cleaning a Front Load Washing Machine
When it comes to regular cleaning, once a month is the recommended time frame between washes. Doing so not only keeps your machine smelling fresh and free of mold, but this same courtesy extends to the clothes themselves. Discover ways to clean the rubber seal on a washing machine by creating a routine to prevent unnecessary build-up from forming in the first place.
Empty Drum and Clean Separate Parts
Before you start working on the bigger picture, don't forget all the smaller working parts that go into making your washer run smoothly. While this portion may seem like a no brainer, empty the drum, scrub the inside of a washer agitator, and ensure there is absolutely nothing left behind.
There's always that one stray sock still clinging to the sides. After removing everything, detach the detergent tray and bleach dispenser for a separate clean. In most cases, all that's required for a thorough clean is a little bit of soapy water and a toothbrush. Soak the detergent dispenser in a sink filled with soap and warm water and scrub all along the surface.
Work the bristles into crevices and across any movable parts to ensure nothing remains lodged between the smaller pieces. If you notice traces of mold on either dispenser, then a more in-depth cleaning with bleach is necessary.
Clean Out the Front Loader Gasket
Another critical step in the cleaning process is to rinse the rubber gasket. Over time, this seal accrues lint, soap scum, and whatever other gunk chooses to linger between the creases, leaving a potentially nasty and smelly piece of necessary equipment.
When cleaning, check for any larger objects that may have been left behind in pockets as well, such as coins, paper clips, or bobby pins.
Other common particles to look out for include dust or hair, which quickly contribute to clogs in the gasket. Do a thorough sweep of the area with a dry cloth and check for any black spots that indicate mold or mildew growth in between the rubber seal.
If you notice any mildew or mold in front loading washing machine, treat the area with a cup of bleach. Repeat this same process along the rubber of the door seal to prevent any build-up.
How to Clean Front Load Washer
Once you've taken care of the smaller parts, you're ready for a DIY front load washer cleaner recipe. This formula incorporates two of the best ingredients in the industry, vinegar, and baking soda, to provide a deep clean for your HE washer. When combined inside the machine, they create a powerful reaction that foams and breaks down dirt and grime that line the surface.
To take care of a smelly washing machine and get rid of debris that may be stuck to the interior, start by adding the baking soda directly inside the drum. Close the washer door and add the white vinegar to the detergent tray.
Set your washing machine to a basic cleaning cycle or a regular wash depending on what model you have. Make sure to run the device on a high-temperature setting to make the two ingredients more effective and eliminate all unwanted stains and odors.
Cleaning Mold with Bleach
If you notice any issues with mold, take care of them immediately. The easiest solution, in this case, is bleach, though you must be careful to never mix it with other cleaning agents like vinegar or baking soda. Not only does these harm the front loading washer itself, but it also releases toxic gases when combined with products like vinegar.
Add the bleach to the bleach dispenser and run the machine on both a rinse and wash cycle. After the washer runs its course, run a second rinse cycle with hot water to remove any last stray elements of bleach. If you have a separate fabric softener dispenser, clean this out with the bleach, as well, using a soft cloth.
Wipe Down the Washer's Exterior
Cleaning the outside of your front loader is just as important as the interior. Dust, lint, and grime also collect on the surface of the machine, which eventually make their way onto your clothing. It's unsanitary to let it remain uncleaned.
Use an all-purpose cleaner like the one above or one purchased from a store. Wipe down everything from the top of the front loader to the inside and outside of the washer door. Soak up any lingering soap suds with a dry cloth or paper towel when finished.
More Ways to Clean a Front Loading Washing Machine
One critical tool to keep in your washing machine cleaning arsenal is a powerful stain remover. Learn how to clean stains out of a washing machine drum with this easy at home cleaner. For the most part, cleaners like bleach and vinegar work well on their own. Yet, when it comes to more difficult stains, you may feel better having a few more ingredients to rely on as well.
Apply a little rubbing alcohol to a cloth and scrub the affected area. Once you eliminate the stain, rinse with a damp cloth, then run a light cycle.
This last step may sound unnecessary, but not doing so may risk the alcohol discoloring the next set of clothes you place in the laundry. In this case, it's better to be safe and just run a quick rinse through the washer.
Use a Routine Cleanser with Oils
For regular, quick cleaning, use an oil-based solution that contains ingredients that fight mold and mildew. Tea tree oil has properties that not only keep mold and mildew at bay but kills them in the event they arise. Citrus extracts like grapefruit oil, as well as vinegar, act as powerful disinfectants to sterilize the drum.
Use this combination once a week on your front load washer to limit the amount of build-up on the interior. Spritz a little along the surface, then let it sit for a couple of minutes before wiping clean. It's an excellent way to deodorize stale odors, too!
After Cleaning a Front Load Washing Machine
One of the simplest ways to maintain your washing machine is by taking a few extra steps to keep it dry. Wet clothing that isn't quickly transferred to the dryer after the clean cycle completes contributes significantly to the state of mildew and nasty buildup in the washer.
One way to avoid this is by removing clothes from the basin as soon as they finish their cycle. Another way to limit the amount of excess moisture left behind by the cleaning process is to manually dry any remaining liquids or water droplets after the washer runs its course.
All you have to do is swiftly wipe down the drum, lid, and gasket immediately after switching the laundry. It's one extra step but a relatively easy and painless one. Leaving the door open in between loads to air dry is another excellent way to ensure no moisture sticks around in the basin.
Take Proactive Measures to Prevent Mildew
The type of laundry detergent you buy also impacts the condition of your washer. Their highly efficient design means these front-loading washers require less soap to clean clothes successfully.
However, this concept may be a tough habit to break for some, and they often end up overdoing the amount of detergent. Too much soap in the wash means plenty remains in the basin afterward, which eventually develops into issues like mildew or funky smells.
One solution is to use a HE detergent, which uses a low-suds formula explicitly geared toward these types of machines. With fewer suds, less of the filmy residue remains to create complications for the homeowner.
Don't Forget About Your Dryer
Your dryer needs just as much love and attention sometimes, especially when it starts to develop an odor. Treating a smelly dryer is similar to handling a washer with a pungent aroma of mildew.
Both often arise from the same issue, though dryers are less likely to have moisture left behind in the drum. Either way, it's a great recipe to add to your cleaning DIY projects.
To clean inside of dryer drums, use vinegar and other everyday disinfecting products for best results. Remove all lint from the trap and pay some extra attention to the dryer vent as well when cleaning.
When using this cleaning solution, mix it in a large spray bottle, mist the surface, and wipe along the top with a microfiber cloth. This formula also works on top load dryers or the different parts of your dishwasher.
Hopefully, you found these strategies for cleaning a front load washing machine as simple as they are useful. There is never a wrong place to start when it comes to finding the perfect fit for all your laundry room maintenance essentials, so choose the one that feels the most comfortable and go from there. If you decide it's not the right method for you, change it up the following month and try something new.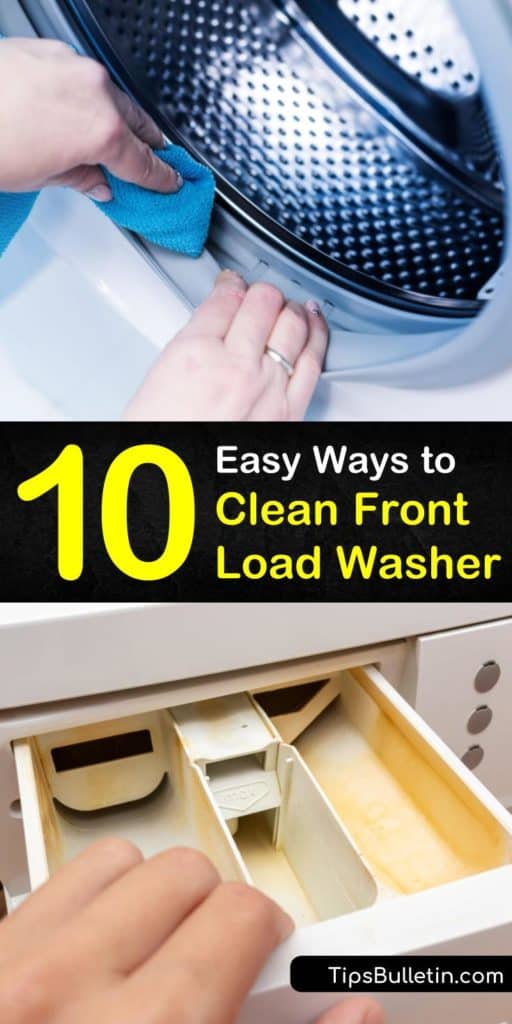 If you enjoyed finding out how to sanitize your washing machine, then please share these fantastic ideas on how to clean front load washer with friends and family on Facebook and Pinterest.