Galvanized metal is a type of steel that's hot-dipped into a zinc coating to prevent corrosion and boost the materials' durability and longevity. The underlying steel is resistant to rusting and mineral deposit build up, but it still requires regular cleaning and proper care. Learning how to clean galvanized metal is one of the most accessible home improvement techniques to help the material appear more beautiful and last much longer.
You might see hot-dip galvanizing steel to make gutters, sheet metal, staircases, balconies, and car doors and hoods. Sometimes it's also used to create gardening containers, fences, roofs, ladders, outdoor walkways, and so much more.
It's become popular in recent years thanks to the farmhouse decorating style. Cloudy and milky appearances are a thing of the past with regular cleaning.
Use our quick ways to clean galvanized metal to restore the shine to the surface of your metal. Regular cleaning practices keep the material looking great longer.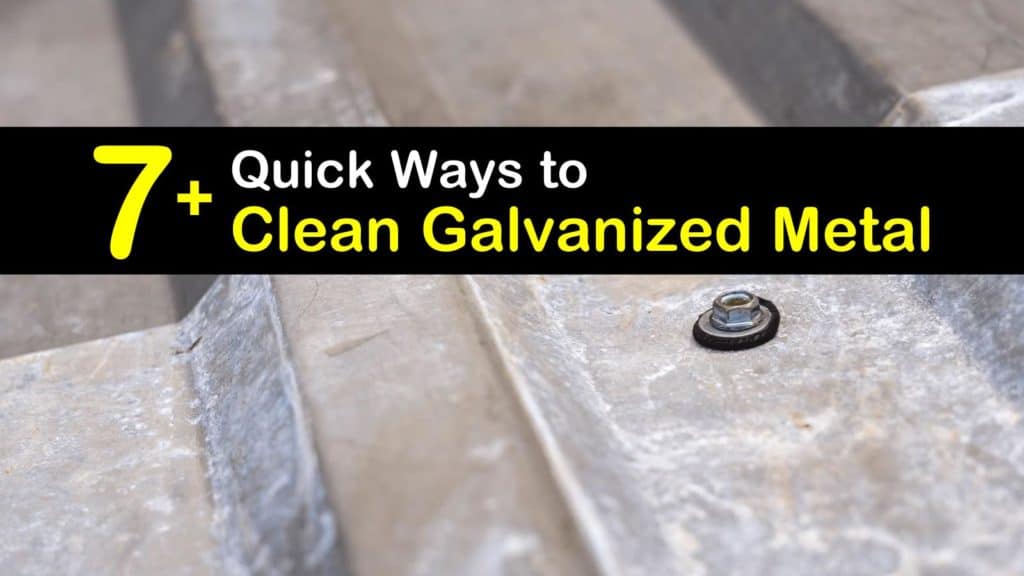 Quick Ways to Clean Galvanized Metal
Before cleaning, prepare the metal as you would when you clean brass hinges free of grime or tarnish. Many metal pieces have a protective coating to prevent oxidation you must clean first.
Try rinsing with water to get rid of particles like rocks or sand that may scratch the metal. Rinse your galvanized metal with clean water from a garden hose as a first step to clean a metal roof or use a damp cloth for a smaller metal item. Cleaning away dirt and debris now keeps dirt and streaks from appearing on your galvanized steel.
Learning how to clean galvanized metal and perform regular maintenance is essential to the longevity of the material. Remove dirt and chemical build up that may form on the steel when you see it to make cleaning more comfortable later.
Wash Galvanized Steel with Soapy Hot Water
Follow the rinse with a hot water wash. It is the fastest way to clean galvanized metal. All you need for this basic clean is hot soapy water, a bucket to hold it in, and a soft brush.
To make this natural metal cleaning solution, combine hot water with the dishwashing soap in a bucket and mix it well. Use a soft-bristled brush to move the cleaning solution around in circular motions, starting from the outside. Repeat along the entire metal surface.
Scrub Metal with Liquid Laundry Detergent
Instead of using dishwashing liquid and water, scrub the steel with laundry detergent. Make sure to avoid cleaning with harsh cleaners, which could dissolve the zinc oxide in the galvanized coating and reduce the lifespan of your steel.
Add detergent to a bucket of water and scrub the entire steel surface using a nylon or plastic brush. Pay attention to problem areas or anywhere dirt builds up.
Only scrub galvanized metal using this method sparingly. Remember to use a nylon or plastic brush, or the steel could interact with the color of the brush and change colors.
You can also use this remedy to try to strip spray paint from metal, too.
Use Truck or Car Wash to Clean Steel
Alternatively, truck or car wash solutions are perfect for cleaning steel automobiles or large surfaces. A designated galvanized metal cleaner, like a DIY rust removal solution, reduces corrosion and rusting in the future.
Purchase the cleaning products from your local automotive store. Follow the directions and warnings on the bottle, and rinse the steel thoroughly with cold water.
Try a Pressure Washer for Large or Tall Areas
A low-pressure power washer helps you clean large or tall sections of galvanized steel, such as the siding or roof of a building. This process is much more straightforward and faster than trying to hand clean a large surface area.
If you don't have a pressure washer, rent one near you. Look for a power washer with a psi of 1450 or below.
Otherwise, the top galvanized coating of the steel may face damage. Spray the area with hot soapy water or your favorite cleaning solution, then quickly rinse the steel.
Remove a Wet Storage Stain with White Vinegar
If you see any hard water stains on your metal, add white vinegar to your hot water bath or clean the area with it directly. White vinegar is the best way to clean patio furniture made from metal.
It removes wet storage stains, hard water build up, grime, mineral deposits, and rust. Mix one part vinegar with ten parts water in a bucket.
Apply the solution directly onto the metal using a soft cloth or start scrubbing the stain with a soft nylon bristle brush.
Other alternatives to white vinegar to get rust off metal surfaces include ammonia, lime juice, and rust dissolver. Make sure to wear protective gloves with these options to prevent chemical burns.
Request Chemicals to Treat the Metal
Chemical passivating treatments are available from some steel manufacturers. Like a galvanized metal cleaner, they reduce the likelihood of white rust or wet storage spots. The process also protects the steel from your environment.
When a professional comes out, they cover the steel with a thin coating of water-based chromate. The extra money you spend on passivating the material saves money in comparison to replacing the steel later.
Neutralize Alkaline Deposits with Baby Powder
Tiny white deposits on your steel surface are called alkaline spots. They form when hard water calcium grows, but cleaning removes the stains quickly.
Mix one part baby powder and two parts milk in a bowl. Use a toothbrush or a small cleaning brush for scrubbing the metal surface. Rinse the surface thoroughly with warm water to wash away alkaline deposits.
Dry and Wax Galvanized Steel Using a Soft Cloth
An essential step in cleaning galvanized metal and stainless steel is always to dry it with a soft cloth. Never skip the drying process or store steel in a wet or poorly-ventilated location. Otherwise, you may leave moisture behind that contributes to water spots.
If you're wondering, "will stainless steel rings tarnish" the answer is yes. Any metal eventually will tarnish, but stainless steel is less prone to tarnishing than to becoming dull or discolored over time. Always rinse the soap from the metal and completely dry it.
Apply a store-bought metal polish next using a soft lint-free cloth. Waxing metal helps small scratches appear nearly invisible and increases the lifespan.
If you go to the car wash to regularly clean a large galvanized surface like a car or truck hood, for example, you might skip this final step.
Why Does Cleaning Galvanized Metal Require Extra Care?
Galvanized metal has an outer layer of protection against oxidation and corrosion, which is what makes steel last so long. It's an effective mode or protection.
The coating is zinc oxide, and the zinc both protects the metal chemically and physically. It creates a barrier from outside harm and reacts as a sacrificial anode, which means the coating pulls any corrosive effects into itself rather than affecting the metal underneath.
However, the zinc coating becomes less effective over time. Eventually, the coating ceases to exist. Regular cleaning is the only way to help the barrier last longer and keep galvanized metal looking like new.
How to Clean Galvanized Metal of Peeling Old Paint
Finally, most paints react poorly with galvanized metal. The paint and the zinc in the steel are not harmonious. Over time, the paint starts to peel and chip away.
Scraping old paint from galvanized steel is quick and easy with a plastic or wooden scraper. Avoid using metal to scrape steel, as it damages the surface. Sandpaper or a non-metal wire brush also works, but these tools might cause discoloration in some metals.
Start scraping the paint free in large sections, working your way around the steel. Remove the remaining paint using a standard paint thinner and nylon or plastic paintbrush from your local hardware store.
Add the paint thinner to the metal using a rag, then work the solution in with the paintbrush. Scrub to chip the paint away as long as necessary.
For paint that feels hard, try using a non-alkaline paint stripper. Removing hard paint is much more difficult without it. Rinse the chemicals from the paint remover off the steel thoroughly with fresh water after you remove the paint.
Clean it next using any of your favorite methods above. Galvanized steel becomes discolored if it's left outside for long periods. Regular cleaning removes any brown or black color from natural weathering and keeps the material in top shape.
Proper care also keeps the zinc coating from oxidizing, which prevents other issues like white rust and grime that cause damage to the underlying steel. With gentle cleaning and organic solvents, your galvanized steel becomes shiny again.
Whatever cleaning process you choose, make sure to always dry the steel after getting it wet. Water should never sit on steel for long.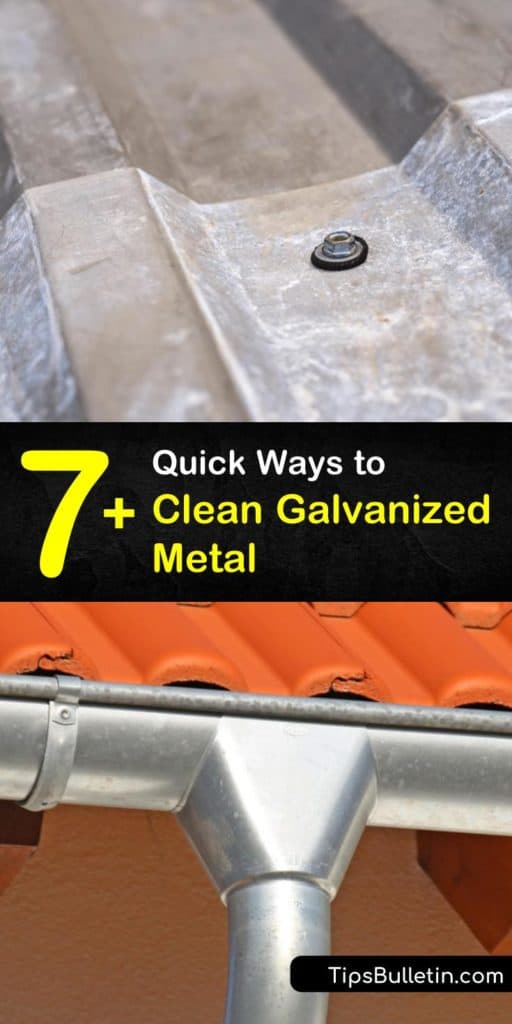 If you enjoyed learning how to clean galvanized metal using our quick tips, please share our post about metal cleaning with your friends and family on Pinterest and Facebook.