Your glass shower doors collect soap scum and grime with every use, requiring a thorough cleaning as often as possible. Doing this once a week may feel like a chore that requires enough elbow grease to merit a shower all on its own. However, learning the proper techniques and recipes for how to clean glass shower doors will save you time and keep you from working up too much of a sweat.
The soapy residue is not the only problem shower doors face. When mineral deposits like calcium react with the leftover soap inside your shower, they leave an unsightly film over your tiles and glass known as hard water stains. Learning the best methods for how to clean glass shower doors with hard water stains will keep your tiles and doors looking great even longer.
Ready to dive in? These recipes and tips provide you with several ways to clean your shower doors, whether you want to try one at a time or multiple at once. Your best DIY cleaner for glass shower doors is just a short read away!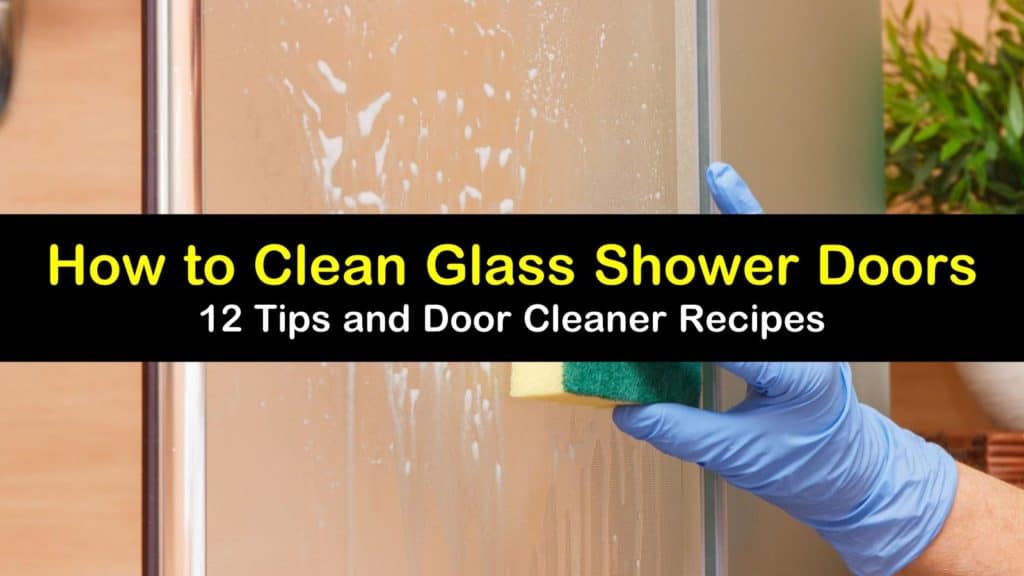 Cleaning Glass Shower Doors with Hard Water Stains and Soap Scum
The best place to start on your shower cleaning journey is with a mild cleaning solution. You never want to risk damaging your tiles with a cleaning routine that introduces harsh chemical cleaners every week. Instead, start with the safest cleaning methods, like dish soap and vinegar, then work your way up to harsher cleaners like ammonia.
Vinegar: The Best DIY Cleaner for Glass Shower Doors
One of the best ways to clean your shower doors is to use a glass cleaner that also removes gunk and grime from surfaces.
Vinegar is a great way to remove mineral buildup and soap scum from your showers, while also disinfecting the area from common bacteria. Creating a homemade bathroom cleaner spray using vinegar will make blasting through tough spots a breeze.
Using distilled water when cleaning is especially important to reduce the number of mineral deposits on your shower door. Add the ingredients to a medium-size spray bottle and shake thoroughly before applying.
The type of essential oil you want to use is entirely at your discretion. This ingredient masks the smell of vinegar and leaves a fresh new fragrance in your bathroom, though some types of essential oils like lemon or eucalyptus offer additional cleaning qualities.
Use this recipe as the best way to clean mirrors, too. The surface will shine!
Use a Mild Dish Soap before Moving to Stronger Chemicals
One of the gentlest, easiest, and most efficient ways to clean your shower is to use a cleaner like dish soap. Both liquid dish and dishwasher soap make incredible degreasers that work similarly on cleaning grime and hard water stains as they do on removing grease in the kitchen.
There are multiple ways you can use liquid soap, whether by applying it directly to a squeegee or sponge or diluting with water first. It's one of the easiest ways to clean inside double-pane patio doors. No matter which way you choose, make sure to dry the area with a lint-free cloth after cleaning to reduce water spots.
Add Rubbing Alcohol for a Stronger Cleaning Solution
Vinegar is an excellent cleaner on its own that can lessen both mildew and other common bacteria found in your bathroom. Rubbing alcohol and vinegar are also a great way to clean sliding glass door tracks when hard water stains and gunk build up under the shower door. When combined with other powerful cleansing ingredients like rubbing alcohol, the results are phenomenal.
Rubbing alcohol can sometimes replace vinegar in recipes, especially if you only have one or the other lying around your home. Both are amazing disinfectants that will have your showers looking great in no time.
To create this recipe, mix the ingredients in an easy-to-use container, like a spray bottle or small bucket, though a spray bottle is generally preferable when cleaning inside your showers. Shake the bottle, then spray the glass. For tough stains and water spots, let the mixture sit for 15 minutes before scrubbing.
This homemade fiberglass cleaner for shower doors is ideal since it has dual cleaning capabilities. It's beneficial anytime you can use one cleaner for multiple purposes in and outside the house.
For dirty windows, try this solution for removing hard water stains from glass windows, whether inside or out.
Wipe Down Your Shower Doors and Walls with a Magic Eraser
Another stupendous supply to have in your arsenal for cleaning shower doors is a Mr. Clean Magic Eraser. Many homeowners use these miracle cleaners to erase everything from crayons on walls to Sharpies on tiles. These Magic Erasers use tiny scrubbers that are activated by moisture and break down soap scum.
Adding a small amount of water before using is the best way to clean your shower doors, without completely saturating the eraser. You can also help the eraser's cleaning power along by adding a couple of drops of dish soap without water to power through challenging water streaks.
Clean Your Shower Heads to Reduce Soap Scum
Another great way to get ahead of shower glass stains is to reduce the output of gunk and grime caused by your shower head. Your showerhead also collects mildew and germs caused by water deposits if left uncleaned for too long.
Removing and cleaning it every so often reduces the amount of mildew buildup inside it and also lessens any adverse effects it may have on the inside of your shower.
To make a shower head cleaner, start with a tub that is large enough to submerge your shower head fully. Pour the vinegar into the container first, then add in the baking soda. Wait for the bubbling to stop before you add and clean the shower head.
Let the solution soak overnight, then rinse off and dry the showerhead in the morning. This mixture is also safe to use on stainless steel.
How to Clean Glass Shower Doors with Commercial Cleaners
Most of us recognize Rain-X as a popular brand for automotive cleaners and supplies. While we may use Rain-X to replace our windshield wiper, the company also produces glass cleaners that work wonders on other glass surfaces in your home.
Because Rain-X glass cleaner is specifically for your car, which sees a high incidence of weathering from rain and moisture, this makes the commercial cleaner the perfect cleaning solution for glass shower doors. Use this cleaner the same way you would any other glass cleaner. Spray the area, then wipe clean with a paper towel or microfiber cloth.
Use Lemon Juice as a Glass Cleaning Solution
Lemon juice is another spectacular solution for how to clean glass shower doors. It uses citric acid to break down soap scum and reduce the appearance of water spots. When paired with a cleaner like toothpaste, however, you end up with an excellent cleaning solution that can be used from tile grout to shower doors.
When creating this formula, you will want to use the toothpaste separately. Start by applying just a small dab of toothpaste at a time to an area with particularly difficult water spots and let it soak into the glass for a few minutes.
If you are scrubbing in hard-to-reach nooks and crannies, especially on the trimming of showers, and need to clean aluminum frames, too, using an old toothbrush is the best way to get into those cracks. Use the lemon juice solution to clean the doors when finished. Where the toothpaste works better as a spot cleaner, the lemon juice completes the process for the entire shower.
Try Dryer Sheets When Cleaning Shower Doors
It may seem like a strange solution to your cleaning problems, but using dryer sheets work wonders on glass shower doors. Using this method a couple of times a month reduces the amount of buildup and keeps showers looking better longer.
Start by taking one dryer sheet from the box and wiping down the sides of the door. To avoid an excessive amount of water, use the moisture from the shower to clean with the dryer sheet. Dry the surface thoroughly with a cleaning cloth when finished.
Clean with a Gentle Abrasive to Remove Hard Water Spots
Another fantastic solution to clean glass shower doors with hard water stains is to use salt. Salt has a problematic relationship with cleaning water stains. While overuse of minerals like salt in your shower water can leave behind deposits, it also acts as a powerful abrasive that won't damage your glass.
Mix the salt in hot water until adequately diluted. Using a sponge, wipe the mixture across the tiles, starting from the top, and working your way down. Once finished, wipe the area dry with a clean cloth, preferably one made from lint-free material.
Take advantage of this simple homemade shower cleaner to tackle hard water stains or soap scum on your shower walls and the floor, too. The salt will quickly eliminate tough-to-clean spots and with a thorough rinse, your shower will sparkle again.
How to Clean Glass Shower Doors with Hard Water Stains Using a Water Softener
A water softener is another way to reduce the appearance of hard water stains. What water softeners do is remove certain harmful minerals from the water to eliminate the occurrence of hard water buildup in your shower. While this does not mean you won't have to continue to clean your shower doors, this will reduce the amount of cleaning significantly.
Some showerheads claim to double as water softeners, though they are not always efficient. Most water softener systems are installed outside of the shower but leave your hair and skin looking great.
An All-Purpose Bathroom Cleaner for All Your Needs
If you want to save yourself a little bit of time, creating an all-purpose bathroom cleaner is an essential tool. Cleaning your bathroom should take place as often as cleaning your shower doors anyway, which means a one-stop cleaner leaves you with fewer interruptions and buckets.
The best way to administer this particular solution is to add the ingredients to a large spray bottle. This way, you can clean shower tiles and doors, as well as floors and mirrors, with ease. Use it as a way to clean aluminum shower doors, too.
On more challenging areas, let the solution sit for several minutes before rinsing. You may also want to use a soft toothbrush or bristle brush to scrub the different areas of your bathroom.
Use Ammonia for a Deep Cleaning of Shower Doors
Though many of us try to avoid harsh chemicals as often as possible, sometimes they are unavoidable. The best shower cleaner to use in this case is ammonia, which also works on shower tiles and floors. Creating a shower spray with diluted ammonia will make cleaning the area more accessible and reduce unnecessary contact with the cleaner.
When using this method, always make sure you take proper precautions. Though ammonia is perfect for glass cleaning, it can irritate skin and eyes. Wearing safety glasses and gloves when using this homemade shower door cleaner will prevent getting the solution on your hands and face when you clean shower doors.
Final Tidbits of Cleaning Advice for Your Glass Shower Doors
These recipes should get you started and point you toward the best cleaning products to get frosted glass off shower doors. In case you still have questions, we have compiled a list of some more useful cleaning tips to steer you along the correct path.
How often should I clean my glass shower doors and walls?
A thorough cleaning is critical to keep shower walls and doors from accumulating too much soap buildup. While a deep wash with chemicals is only necessary about once a week, using a squeegee after every shower use will also reduce the buildup in your showers.
Wipe a dry squeegee along with the glass doors from top to bottom to remove excess moisture and reduce the occurrence of water spots. When used throughout the rest of your shower, it can also prevent mildew from building up within the nooks and crannies.
What equipment should I have with me when cleaning glass shower doors?
There are many different supplies and pieces of equipment to keep handy when cleaning your shower. While you may not need to use them all, these supplies are often useful in emergency cleaning situations throughout your house. Consider adding these to your essential household cleaning kit.
A microfiber cleaning cloth is one of the best ways to clean shiny surfaces. It also absorbs most moisture and works on stainless steel appliances, most floors, and shower tiles. Equally, having a spray bottle and toothbrush make most cleaning chores more manageable, especially those that require getting into small crevices and cleaning vertical surfaces.
Gloves and safety glasses should also be kept on hand if you plan on using chemicals like bleach or ammonia. Whether you are planning a regular cleaning or deep clean of your glass shower doors, these recipes and tips are indispensable.
The allure of eschewing a shower curtain for frameless shower glass doors means reducing the amount of mildew on a cloth or plastic surface. While the trade-off means fighting hard water stains and soap scum, these are easily rectified using these amazing cleaning solutions.
If you enjoyed learning about these glass door recipes, don't forget to share how to clean glass shower doors with everyone you know on Facebook and Pinterest.